Gambling has never been more accessible, especially this 2023. You can bet wherever and whenever with an internet connection, a capable device, and basic know-how.
The online gambling market is thriving and will likely grow to around $100 million by 2026.
This article will dig deep into online gambling statistics, revealing global numbers, net losses, addiction numbers, and industry growth and trends.
Let's get to it!
Editor's Choice
62.4% of players

gambled with

online slot machines

.

Ghana and America have

200+ registered gambling websites

.

70-80%

of the

100 million online bingo players

worldwide are

women

.

Football

is the

largest sports betting market

, with a

market share of 24%

.

Bitcoin

was the

most popular cryptocurrency

among gamblers, accounting for

72.80%

.

About

2.5 million Americans

have

severe gambling addiction

problems.

Australians

incurred the

most gambling losses

, with

$1,288 per capita

.

Online gambling

will be a

$95.05 billion industry

by the

end of 2023

.
Setting the Scene: Global Online Gambling Industry Statistics
The online betting industry has many factors that push the market to where it is now. Convenience, accessibility, and varied ways to earn money are some of its driving forces.
With a boom in internet usage partnered with the rise of blockchain casinos, it's unsurprising that the market was worth around $80.81 million in 2022.
The statistics below shall provide an analysis of the current and projected state of online betting, exploring various factors within a worldwide industry.
Gambling Stats in the Oceania Region 
When the first online casinos started appearing in Australia in the early 2000s, online gambling in the region has since been steady.
Legalizing online gambling in Australia in 2017 has opened the country's market to various possibilities and players.
Let's explore the region's multi-billion-dollar gambling industry.
1. Australia expects a $7.2 billion market growth by 2028.
(Market Research)
The Australian online gambling market expects a 7.09% growth rate from 2023-2028. Sports betting accounted for the most market share.
Some of the most bet-on sports online include:
Horse racing

Football

Rugby

Cricket

Tennis
2. 80% of New Zealanders have played online casinos in any form.
(Statista, PMCA Online, Radio New Zealand)
New Zealand bans online gambling except for state-run online lottery, horse racing, and sports betting. The regulation made 1 in 10 New Zealanders wager on sports or racing.
The average gambling spending per player is $572. Here's where and how much they gamble:
Pokies:

$204

Lottery:

$160

Casino:

$128

TAB's racing and sports betting:

$80
Europe Gambling Stats
With Europe's regulated online gambling industry, the market could grow from $47.1 million to $79.4 million (2023-2028), with a CAGR of 11.01%.
The industry's limitations are still apparent in some countries. In France, 13% of people think the gambling laws are tight, while fewer people agree in Great Britain and Italy.
Europeans who have participated in online gambling by country:
Great Britain: 70%

Italy: 69%

Poland: 65%

Denmark: 61%

France: 60%

Spain: 60%

Germany: 58%

Sweden: 58%
Discover more interesting online gambling statistics on major European countries below.
3. UK's gross online gambling yield from April to September 2020 was £3.1 billion.
(Mordor Intelligence, Statista)
Brits' online betting, bingo, and casino gross gambling yield fell in 2020 from the previous year. Although sports bettors grew by 6.9% in 2019, they decreased to 5.3% in 2020.
The COVID-19 pandemic knows no exception that even online gambling wasn't immune to it.
4. With a $2.3 billion projected market growth, Germany's online gambling will soar by 2028.
(Market Research)
Germany has 16 states with regulated online gambling, favoring online operators to gain millions of players nationwide.
With more players accessing gambling sites and apps, online gambling in Germany will experience rapid growth.
5. Spain noted an 18% gross gaming revenue increase in the third quarter of 2022.
(Global Information, casino.org)
Spain's gambling market keeps a steady growth and is a strong economic force. As one of the most avid gambling countries worldwide, the market would climb 13% CAGR from 2023-2028.
Online slot machines are the go-to option for most players, leading the industry's market share. Let's look at how much online casino games contribute to the market.
Slots: 62.4%

Sports betting: 36.97%

Roulette: 28.8%

Poker: 8.36%

Bingo: 1.53%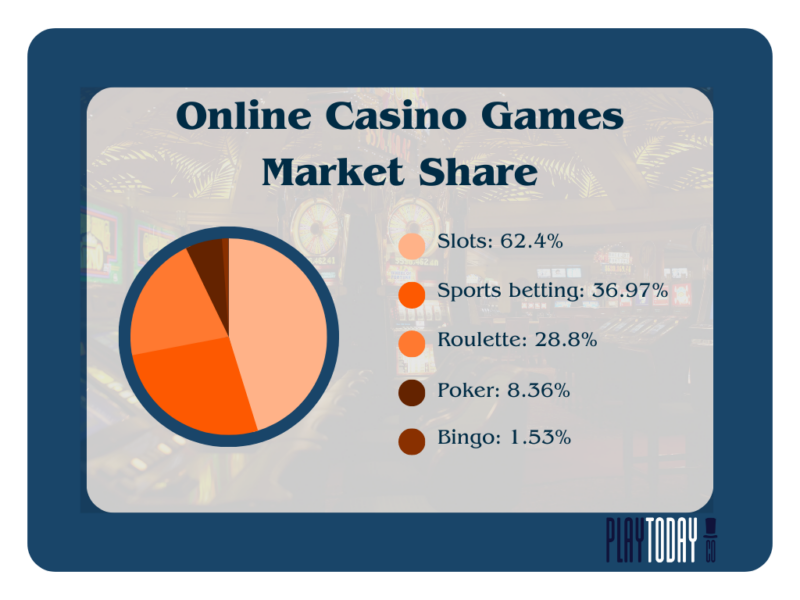 Gambling Stats in Asia
Asian online gambling started in the early 2000s. Popularity surged due to technological innovations, increased disposable income, and regulations.The region is worth $60 billion, with an annual growth rate of
 8.49% from 2023-2027. The preferred games in the Asian market vary by country.
China and Vietnam:

Sports betting

Philippines:

Online casinos

India:

Online lotteries and poker

Japan:

Mobile gaming

South Korea:

Mobile gaming and esports
Asia held the most market share in global mobile gaming. With

600 million Chinese gamers

, China is yet to be the world's largest esports market.
Let's look at the online gambling industry in some Asian countries.
6. China's online gambling market will reach over $15.7 billion by 2028.
(Market Research, Reuters, imarc)
With a whopping $9.9 billion in revenue in 2022 and $145 billion in online wagers, China's market is a force to reckon with. The market would grow by 7.3% from 2023-2028.
The growing interest in domestic and foreign gambling sites providing better rewards and high winning rates offers a favorable market outlook in China.
7. The COVID-19 pandemic boosted Japan's online gambling market, surging by 6.56% CAGR.
(Market Research)
When the pandemic broke in 2020, many Japanese gamblers shifted online. The shift increased online gambling demand, upping the market's size and profit.
By 2033, Japan's online gambling market valuation is $14.48 billion.
Gambling Stats in Africa
The African gambling market has a compound annual rate of 12% from 2020 to 2025, reaching over $40 billion by 2025.
Many offshore gambling companies see this opportunity to tap into the African market potential and expand their regional operations.
Some of the biggest industry players worldwide that have established their presence in Africa include:
Bet365

William Hill

Ladbrokes
Explore more of Africa's online gambling performance below.
8. 287 registered gambling websites in Ghana accept wagers on different forms.
(Translation Royale)
While Ghana has 9 legal gambling outlets spread over three cities, online gambling has become more widespread.
Athletics and footballs are the only games played and gambled on by Ghanaians. The lack of sporting events made them venture into wagering on lottery, bingo, and casino.
Ghanaians have a wide range of online gambling options:
Casinos: 185

Sportsbooks: 34

Mobile casinos: 25

Bingo: 19

Poker: 18

Lotto: 4

Daily Fantasy Sports: 2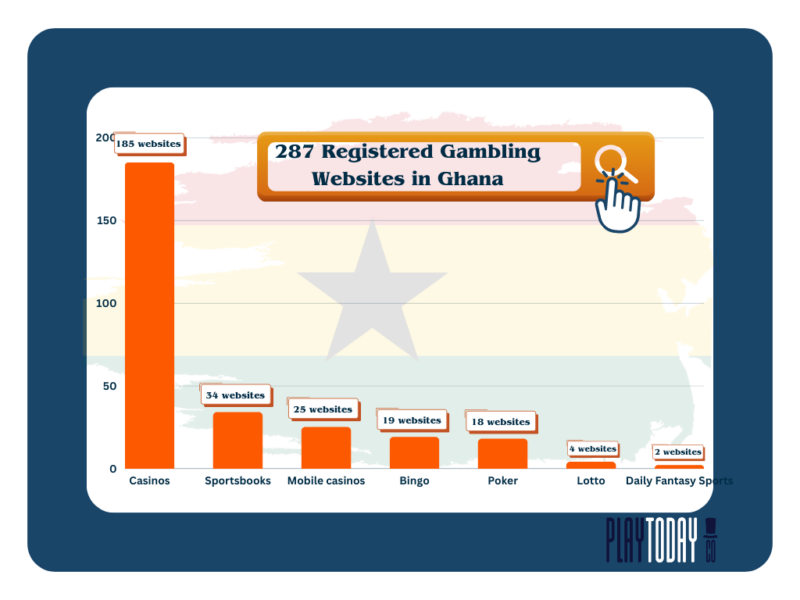 9. Kenya's gross revenue tax decreased from 20% to 7.5%, boosting the country's gambling industry.
(NTV Kenya, The Kenyan Wall Street)
Kenya is one of the biggest gambling markets in Africa, along with Nigeria and South Africa. The Kenyan online gambling industry has a yearly growth rate of 7%.
The revised taxation system and the wide acceptance of gambling positively affect the growth.
10. South Africa drew R3.2 billion in taxes from online gambling in 2020.
(NGB South Africa, Statista)
The government benefits from a legal and regulated online gambling market, from crime decreases to tax revenue increases.
With South Africans spending R34 billion a year on gambling, the market would generate $736.30 million in 2023, growing by 8.20% from 2023-2027.
North America Gambling Stats
Over the next five years, the North American online gambling industry expects to register a CAGR of 11.78%. High access to the internet and mobile devices supports market growth.
Online casinos are gaining popularity in the region. Players can access registered offshore platforms and 200+ American online casinos to play remotely:
Let's find the leading North American countries in the online gambling market.
11. The US recorded around $5.02 billion in income in online wagers in 2022.
(Forbes, American Gaming Association)
The US's first 11 months of 2022 saw the country break its previous gambling revenue record by 13.5% ($53.04 billion).
The record included a 35.2% increase in the US's iGaming sector, equivalent to $5.02 billion.
12. Canada's gambling industry will shoot from $12 billion to $50 billion in the next decade.
(Reader's Digest, Globe Newswire)
Smartphones are a big factor in increased online gambling in Canada. 84.4% of Canadians owned a smartphone, accounting for a 4.1% increase since 2018.
More locals use mobile devices, as shown in 9 out of 10 bets placed via apps. Better graphics and storage space have made online gambling more appealing to players.
Gambling Stats in South America
South America has a promising online gambling industry. Regulated markets remain steadfast, while countries with favorable regulations have potential on the horizon.
With more people gambling online, the market will register a 14.41% growth rate between 2023-2028. Mobile phones create a favorable outcome for operators and players.
Find out other factors below!
13. A 3% online gambling tax increase is being pushed for Argentina's pandemic recovery.
(Gambling Insider)
Argentina has the largest market share in South America's online gambling market, with a population of nearly 45 million.
Online gambling in the region will make $2.4 billion in annual revenue after the government raised the federal tax from 2% to 5%. Provinces and cities have different taxes.
For example:
Buenos Aires: 10% on GGR

Provinces in Buenos Aires: 25% on GGR
14. The Colombian gambling market grossed $300 million in 2021 and had an 18% boost in 2022.
(CDC Gaming Reports)
Colombia has become the first country in South America to regulate online gambling. The thriving market recorded a state revenue increase from 2021-2022.
📉

2021

$300 million

📈

2022

$475 million
With a population of over 50 million, a mobile penetration of 56%, and a passion for football, the country presents a massive opportunity for online gambling.
Gambling Stats in Antarctica
There aren't many places more remote than Antarctica. The uninhabited region of the Earth's frozen, southernmost part made online gambling non-existent.
Internet is only allowed if it doesn't interfere with work. However, the connection is poor due to cell tower unavailability and extreme weather conditions.
The chances are higher for gamblers to bet on when a massive iceberg will break off.
Understanding the Demographic Statistics of Online Gamblers
"Knowing your customers is key to success" is a basic business principle that holds as true for online gambling as other businesses.
While online gamblers vary from country to country, here's a quick look at the average player's profile:
Gender:

Male (60%) and Female (40%)

Age:

18-35

Preferred Devices:

Mobile (50%), Laptop (40%), PC (26%), Tablet (18%), SmartTV (3%)

Where Players Gamble:

At home (96%), At work (11%), While traveling (10%), At a pub (8%), At a sports venue (5%)
Get to know the target audience of the online gambling market.
15. Men comprise more players than women of the 80 million online gamblers worldwide.
(Focus On)
The gambling participation rate rises dramatically for male players. 77% of males aged 25-34 gambled in the past, with nearly 60% gambling once a week.
Take a look at these online gambling gender distribution:
Canadian players:

82.4% men and 17.6% women

Kenyan players:

69% men and 44% women

Australian players:

54% men and 45.8% women

British players:

25% men and 17% of women
16. 70-80% of online bingo players worldwide are women.
(casino.org)
Another major factor that needs to consider outside of nation-by-nation progress is the rise of female gamblers. They now play a more active role in profit margins than ever.
Of the 100 million online bingo players worldwide, women aged 30 to 50 comprise most of the market.
17. Online gambling is common among people aged 34.
(InTarget)
As gambling becomes increasingly online, the average age of gamblers decreases as online gambling platforms become more accessible to tech-savvy young adults.
Millennials and Gen Zs form a big part of the online gambling market in some countries.
Country
Age Range
Percentage

UK      

16 – 24

25 – 34

16.9%

23.5%

Canada

 

 

18 – 39

20 – 29

70%

47%

China

 

 

35 and below

36 – 50

51 – 65

50%

37%

9%
👉Reminder:
As online gambling becomes more accessible to younger people, it's crucial to know that most countries require gamblers to be 18.
18. US online gambling customers tend to be high and low-earners.
(Business News This Week, bonus.com)
The income levels of online gamblers vary. In the US, high and low-income groups gamble the most online, while it is less prevalent among middle-income earners.
The US online gambling percentage based on annual income is as follows:
| | |
| --- | --- |
| Income Range | Percentage |
| $100,000 above | 26% |
| $75,000 – $99,999 | 25% |
| $50,000 – $74,999 | 20% |
| $25,000 – $49,999 | 19% |
| $25,000 below | 23% |
Knowing the Real Score of Online Sports Betting Statistics
Sports betting is a popular pastime worldwide. With a CAGR of 11.34 % from 2023-2028, the online sports betting market will be $109 billion by 2028.
Technology has created a dynamic landscape, providing gambling enthusiasts with immersive experiences, advanced analytics, and convenient platforms to bet on sports.
Let's see how online sports betting is shaking up the market.
19. A survey revealed 13% of US gamblers bet on sports at least once a month.
(American Gaming Association)
The US sports betting market generated $920 million in 2019. With 41 states introducing sports betting regulations since 2018, the US annual revenue will reach $8 billion by 2025.
20. Football accounted for the largest sports betting market share in 2022.
(Grand View Research, EIN News)
Football registered a market share of over 24% in 2022, followed by basketball and baseball (10%) and horse racing (8%).
Rank
Sports Type
Percentage

1     

Football

24%

2

Basketball and Baseball

10%

3

 

 

Horse Racing

8%
The ever-increasing annual sports events, such as NFL, IPL, and EFL, contribute to the rise of sports betting.
21. 61.6% of online gambling revenue in 2020 came from sports betting.
(Tech Business News)
Mobile sports betting has become one of the primary platforms for betting on favorite sports teams, players, and leagues.
With a global sports betting market share of 70%, mobile sports betting accounted for 48.9% of the gambling market worldwide.
Counting on the Statistics Behind Crypto Gambling
Crypto casinos are one of the latest online gambling trends shaping the industry's future as we know it. Interest in crypto gambling rises because of these cryptocurrency features:
Faster payments

Improved security

Better transparency
Let's track the growth of crypto gambling, with thousands of active players in some of the best blockchain casinos worldwide.
22. The crypto gambling market is worth $250 million.
(Crypto Wisser)
The global crypto-gambling market's estimated value is a quarter of a billion. The market will likely grow in value as hybrid casinos increase.
23. Crypto bets increased 2.2 times between Q1 2021 and Q1 2022.
(SOFTSWISS)
Increased mobile payment adoption gives more people easy access to cryptocurrency. As a result, the total crypto bets more than doubled in the same period between 2021 and 2022.
📉

Q1 2021

2,925,599,422

📈

Q2 2022

6,342,214,971

(116.7% growth)
24. 35.96% of all bets in the first quarter of 2022 used cryptocurrencies.
(SOFTSWISS)
Crypto gambling is rising since only 26.30% of all bets used cryptocurrencies in the first quarter of 2021. Meanwhile, bets with fiat currencies declined in the first quarter of 2022.
📈

Q1 2021

73.7%

📉

Q2 2022

64.04%
25. 50% of all Bitcoin transactions are gambling-related.
(Before You Bet)
Although far from mass adoption, more e-commerce websites support cryptocurrencies as a payment method.
While Bitcoin transactions mostly occur in crypto casinos, other purchases that use this include:
Real estate

Cars

Jewelry

NFTs

Insurance
26. Bitcoin accounted for 72.80% of all cryptocurrency bets in Q1 of 2022.
(SOFTSWISS)
Crypto bets using Bitcoin were the most popular among crypto gamblers.
Here are the popular cryptocurrencies used by players:
Bitcoin: 72.80%

Ethereum: 13.45%

Litecoin: 6.45%

Dogecoin: 2.56%

Tether: 2.79%
27. There were 304 crypto casinos at the end of 2021.
(Bitrates)
30% of the crypto casinos process exclusive cryptocurrency payments, while 70% accept crypto and fiat currencies.
Players find it inconvenient as 80% of crypto casinos undergo KYC checks. Good for them, as most casinos only require an email registration and only for large withdrawals.
28. Crypto gamblers wager around $3 million worth of cryptocurrencies daily.
(Casino Guardian)
Crypto casino gambling is more popular than ever. Crypto gamblers have increased, with 30,000 using the digital currency to bet at least once a week.
Uncovering Gambling Addiction Statistics
The past 15 years saw significant changes to the gambling environment, including the increasing online gambling addiction concerns.
About 2.5 million Americans have severe addiction problems. Key motivators behind this global health concern include:
High accessibility to online gambling

Immersive interface of platforms

Ease of spending money
Problem gambling can happen to anyone, but the findings below will surprise you.
29. Men are 81% more likely at-risk or problem online gamblers than women.
(NCBI)
Gambling is one of the most frequently reported addictions among players. As online participation is higher among men than women, gambling problem is common for the former.
Here are the online gambling problems at a glance:
20 million

Americans are at risk of gambling.

Problem gamblers in California spend

$46,000

yearly.

Suicidal rates are

15x higher

among problem gamblers than non-gamblers.

74%

of problem gamblers play slot machines.
30. 15% of players consider online gambling more addictive than land-based gambling.
(NCBI)
It is easier for 19-28% of online gamblers to spend more money on online gambling platforms than in physical gambling facilities.
The convenience of digital payment methods increases gambling and losses, especially for problem gamblers, as they feel they are not spending 'real' money.
31. Two-thirds of adult gamblers reported early exposure to gambling.
(American Psychological Association)
Gambling habits have a direct relationship with early exposure to the activity. Preventive measures must be factored into adolescents to reduce the prevalence of problem gambling.
Adolescent problem gambling can create complexities, such as:
Criminal behavior

Poor academic performance

Financial difficulty

Depression

Suicide

Low self-esteem

Lack of social interaction

Substance abuse
Capturing Wagering Net Losses Statistics
People lose money in gambling, but heavy gamblers lose the most. Australia has the highest gambling losses worldwide, with around $1,200 per person yearly.
The chances of winning aren't too bad on any given day. Gamblers won 30% of the days they wagered. However, continued gambling might not be the best bet.
Let's keep tabs on how much money gamblers put at stake.
32. Over 420,000 British gamblers lost at least £2,000 annually.
(The Guardian)
The gambling industry singled out online casinos for a reason. 50,000 individuals play the game for eight full days a year and lose an average of £5,000.
Interestingly, 20% of the poverty-stricken regions accounted for the most online gambling losses, contributing 25% to the industry's revenue.
33. 95% of heavy gamblers lost money to online gambling.
(Business Insider)
Most of the top 10% of biggest bettors lost money, with some losing tens of thousands of dollars. In the small set of winners, few won more than $150.
34. Australia's net losses in online sports betting rose to A$7.1 billion in 2021.
(Reuters, Steve Robson)
In 2021, Australia ranked 3rd in online gambling losses globally. The country recorded an 80% swell in the online sports betting market losses from 2019, around A$3.2 billion.
The latest data saw 1 in 10 Aussies participating in online gambling in 2022, spending around A$7 billion that year on online gambling.
Growth and Trends Behind the Online Gambling Industry
Gone are the days when gambling enthusiasts had to go to the nearest casino. Gambling is now at the fingertips with few taps on devices anytime and anywhere.
As a multi-billion industry, it's crucial to understand the dynamics of online gambling worldwide. Make sure to read the factors behind the growing market.
35. Experts forecast the online gambling market to balloon to $95.05 billion by the end of 2023.
(Statista)
The industry will see a 17.62% increase in revenue for online gambling worldwide.
The increase highlights a consistently growing shift in how people participate in gambling activities, as the stats show a massive 142.78% rise from $39.15 billion in 2018 to $95.05 billion in 2023.
| | |
| --- | --- |
| Year | Amount |
| 2017 | 34.58 |
| 2018 | 39.14 |
| 2019 | 45.78 |
| 2020 | 55.16 |
| 2021 | 67.05 |
| 2022 | 80.81 |
| 2023 | 95.05 |

36. The Russo-Ukrainian war's global effects spread to online bets, leading to a decreased CAGR of 9.1% by 2027.
(Business Research Company)
The escalation of the Russo-Ukranian war in 2022 had short-term but significant impacts on the global economy, including online gambling, which primarily worsened due to the pandemic.
Statistics show a 0.2% decrease in CAGR by 2027 compared to what was initially forecasted in 2023, which was 9.3%, amounting to $88.64 billion.
37. Less than ⅓ of global players use digital wallets when gambling online.
(Paysafe, Analytics Insight)
The online gambling industry's growth brought many payment options for players. 3 of 10 (28%) global online sports bettors prefer digital wallets. 
Here are some of the most popular payment methods used by players:
Credit and Debit cards

E-wallets

Bank transfers

Cryptocurrency
The Bottom Line
In the era of technological advancements, it's no surprise that online gambling is a multi-billion dollar industry. With emerging global trends, the industry continues to expand.
The advent of online platforms, mobile devices, applications, cryptocurrencies, and laws significantly transformed the gambling scene.
If these trends continue, exciting times are ahead for gambling enthusiasts worldwide.
FAQ
What is the most popular online gambling activity?
Sports betting has become the most popular online gambling activity, with a market share of 40.3%, followed by poker ($3.7 billion), casinos ($2 million), and lotteries ($1 million).
Who are the target audience of online gambling?
On average, 60% of online gamblers are male, and 40% are female.
What gambling game is the most addictive?
Electronic gambling machines and online casinos are more addictive than lottery tickets.
How much money do people lose from gambling?
The US lost $100 billion in gambling yearly, with male and female gamblers owing an average of $55,000-$90,000.
How does crypto gambling work?
Users deposit their chosen cryptocurrency into their casino wallet, play games using these funds, and withdraw winnings back to their crypto wallet.
List of Sources: