Mobile gaming statistics are getting more interesting, and the mobile gaming industry is becoming more dynamic and popular. 
As of 2023, gamers can download and enjoy over 700,000 mobile games in the Google Play and Apple App Store.  
Here are some critical mobile gaming statistics you don't want to miss. 
Editor's Choice:
📱 The global mobile game industry was worth $92 billion in 2022.
📱There are around 500,000 mobile gaming apps available on Android.
📱The App Store offered 295,676 mobile games in Q4 2022.
📱The US accounted for 29% of global mobile game spending in 2022.
📱The mobile game ad revenue for sports games declined by 14% in 2022.
📱Statistics show that 63% of mobile gamers are women.
📱Millennials make up 32.7% of mobile gamers.
📱In 2023, 191 million people played mobile games in the US.
📱$2 million is the record for money spent on game microtransactions by one person.
Mobile Game Industry Statistics and Market Overview
Mobile gaming is the most significant industry in the global video game market. In 2022, mobile games made up 50% of video game revenue worldwide.
Over the years, the mobile game industry saw exciting changes and developments captured by facts and stats. 
Here are some surprising statistics that will take you on a tour of the mobile game industry.
📝

Online gaming goes back to the 1950s when computers were introduced, changing how gamers played and becoming the precursor to eSports.
Take a trip down memory lane about the
rich history of online gaming
and how mobile games helped change the course of events in eSports.
Overall Mobile Gaming Industry Statistics
Since the existence of mobile phones, mobile games have become an essential feature. Its popularity is unsurprising, with over 7 billion mobile phone users in 2023.
Game developers partner with phone manufacturers to create over half a million games. The demand for these games equates to the sheer number of mobile phone users.
Find out how big the mobile gaming industry is and how much it contributes to the entire video gaming industry.
1. The global mobile game industry was worth $92 billion in 2022.
(Statista)
Mobile games earned the highest revenue in the global video game industry in 2022, accounting for 50% of the total income of the worldwide gaming market. 
Experts project the mobile gaming market to reach $286.5 billion by the end of 2023.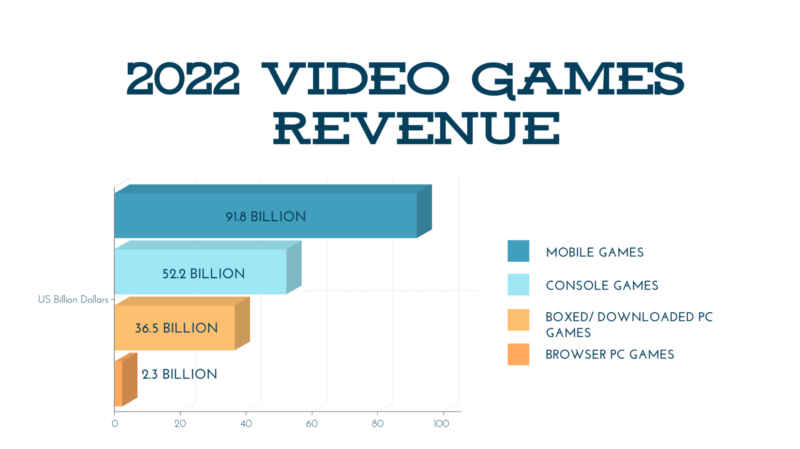 2. Around 500,000 mobile gaming apps are available for Android.
(Udonis, Statista)
Of the 700,000+ mobile games available in 2023, 71% are in Google Play Store. 
As of Q3 2022, around 490,000 mobile games were available in Google Play Store, showing a 3% increase from the previous quarter. 
3. 295,676 mobile gaming apps are available in the Apple App Store in Q4 2022.
(Headphones Addict, Statista)
The number of mobile games in the Apple App Store in Q4 2022 saw a 42% increase from Q3 2022 when there were only 208,360 gaming apps. 
The increase indicates that the Apple App Store cleaned its mobile gaming library.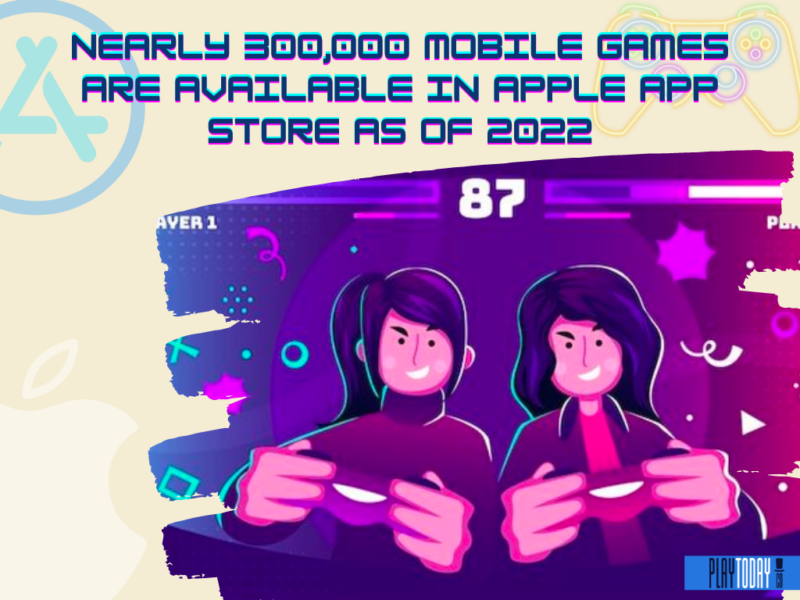 4. 191 million people in the US play mobile games in 2023.
(EarthWeb, TechJury)
Out of nearly 3 billion active mobile game players worldwide, almost 9% are from the US. 
By 2025, researchers project that the mobile gaming penetration in the US will grow to 53.3%.
5. The US accounted for 29% of global mobile game spending in 2022.
(Statista, PocketGamer)
The US was the biggest mobile gaming market worldwide in 2022. Statistics show that the US's total spend on Google Play was nearly $10 billion and $14 billion on iOS. 
Japan accounted for around 19% of global mobile game spending.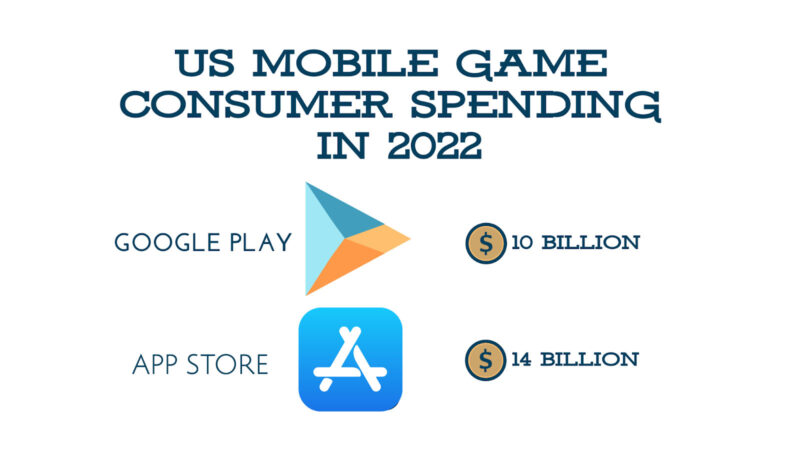 Top Mobile Gaming Revenue Statistics
Revenues in the mobile gaming industry are some of the most substantial in the gaming landscape. 
The following stats present interesting facts on how much the mobile gaming industry earns. 
6. With $3 million earned daily, Roblox has the highest mobile game revenue per day of all iOS games.
(AppleInsider)
Roblox is officially iOS's highest earner, earning $665.3 million in the first quarter of 2023.
Moreover, 70% of the money Roblox earns goes to its operations team, which is $2 million. Apple takes 30% of the profits and makes $1 million daily from Roblox. 
7. As of 2023, PUBG Mobile leads the list of highest-grossing mobile shooter games, with over $1.1 billion in revenue.
(Business of Apps)
PUBG Mobile is officially the top-grossing shooter game app as of May 2023. The game was developed by Tencent, the same company that created one of the top-grossing games, Honor of Kings.
Testimonials claim that the convenient user interface makes PUBG an engaging mobile app, placing the game on top of the best mobile shooter games for three consecutive years since 2020.
8. The mobile game ad revenue for sports games declined by 14% in 2022.
(Udonis)
Sports games may have done well on video games but not so much on mobile. Stats reveal that there are very few sports games available on mobile apps.
According to the same statistics, almost every mobile game users prefer Role-Playing Games (RPG) over other game genres.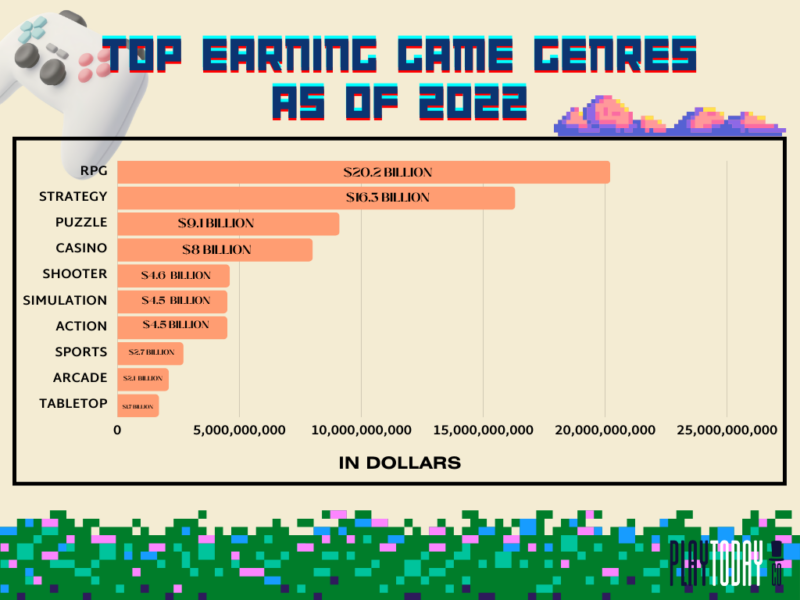 9. As of 2022, Google Play earned $42 billion in gaming and app revenue.
(Techcrunch, Mobile Marketing Reads)
From roughly $48 billion in 2021, revenue for Google Play was down to 11.6% year-over-year (YOY) in 2022 at $42 billion. 
The decline is attributed to macroeconomic factors such as global recession or inflation, as reported by Data. AI.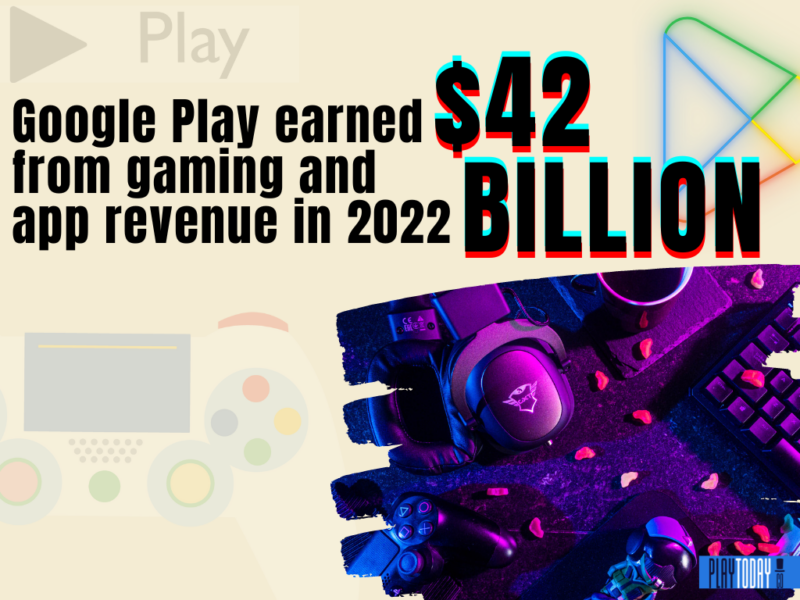 Mobile Gaming Demographics
The mobile gaming market is rapidly growing – to the point that from a $147 million revenue this 2023, the size will increase to $300 million by 2028.
Thanks to its diverse and dynamic demographics that continue to use and download mobile apps even after the pandemic, the market size will continue to soar for years.
Here are interesting facts and statistics about the user demographics of mobile games.
10. 63% of mobile gamers are women, mobile gaming industry statistics show.
(Forbes, Entertainment Software Association)
While men still play more console and PC games than women, in the mobile gaming aspect, only 37% of players are men.
Most women play hyper-casual games or games that can be paused at any moment. Moreover, mobile game statistics from 2019 showed that 42.6% of PUBG US mobile players were female.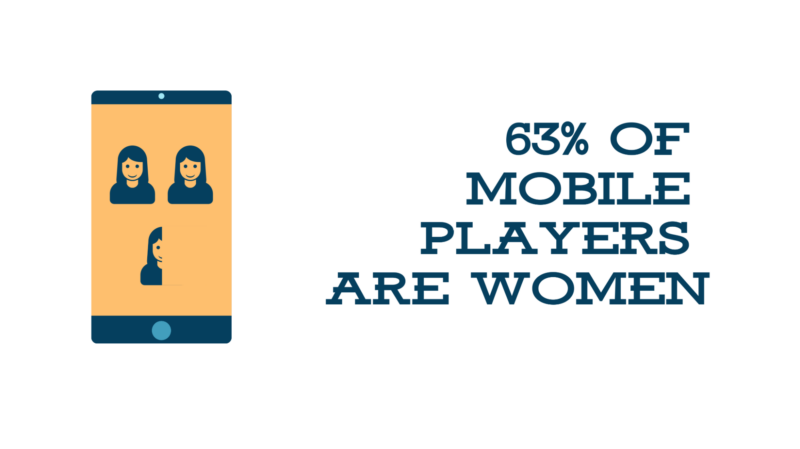 Statistics also prove that women play more frequently than men. The pandemic played a part in this growth when women turned to mobile games to escape and build connections during lockdown.
11. 32.7% of mobile gamers are millennials.
(Statista, Exputer)
Millennials are officially the largest mobile gamer demographic. 
Besides being the age group most mobile gamers belong to, millennials aged 23–38 spend the most time gaming. More precisely, 72% of active mobile game players are millennials.
Millennials are way older than their counterparts, meaning they have more spending power than other generations due to possibly having stable sources of income.
12. The average mobile gamer is 36.3 years old.
(Techpenny, Exputer)
The average mobile gamer's age is surprising since most people associate gaming with younger people. The reality is that almost ⅓ of mobile gamers are older than 45.
The average mobile gamer's age changed significantly from 2014 when it was 27.7.
Purchasing power is seen as the contributing factor to the growth of this age demographic when it comes to mobile players.
13. China has over 700 million gamers and is growing as of 2023.
(The China Guys, Worldometer)
The stats show how massive mobile gaming is in China. Their company, Tencent, produced two of the highest-grossing mobile games ever. 
Not only are they actively producing mobile games, but they are also playing them. 
Further, almost half of the 1.45 billion people in China are mobile gamers. 
14. Millennials spend 7.81 hours weekly playing mobile games in 2023.
(Galway Daily)
Surprisingly, millennials spend more hours playing mobile games compared to Gen Zs, who spend approximately 6.71 hours in mobile games.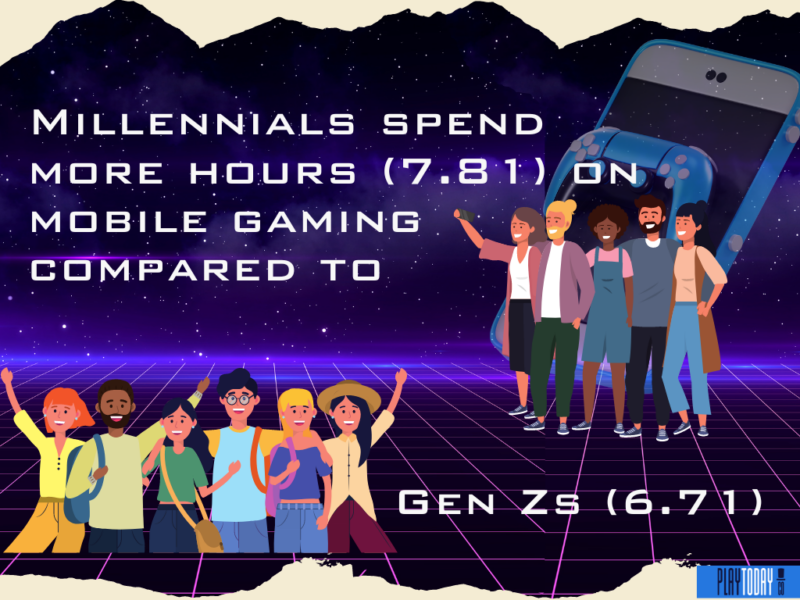 There are multiple reasons why millennials tend to spend more hours on mobile games. 
Nostalgia, emotional attachment, income, and openness about their love for gaming are some factors believed to drive this number.
Striking Mobile Gaming Stats
Apart from industry trends and demographics, there are more interesting statistics that will get you hooked on mobile gaming more.
This section will give you fascinating info on the mobile gaming world you don't want to miss, so read on.
15. $2 million is the most money spent by a single person on a mobile game.
(The Daily Californian, Venture Beat)
Stephen Barnes holds the record for the most money spent by a single person on a mobile game. The appliance store owner from Houston spent $2 million on Modern War.
Later on, Barnes helped stage a boycott along with approximately 6,000 players. They demanded fixes in the game from Gree, the company that developed Modern War.
✅ While Barnes's money spent might sound crazy to most players, this is a typical scene for the "Whales, the VIPs." 
Just remember to enjoy and spend within your means.
16. Hyper-casual games dropped to 25% of all downloaded games in 2022, but still the highest.
(Business of Apps)
Hyper-casual games saw a decline in the percentage of all downloaded games, from 30% in 2020 to 25% in 2022. 
Despite the drop, these simple, free-to-play, engaging, and not time-defined games remained the most downloaded genre in 2022.
Here are the most downloaded mobile game genres in 2022: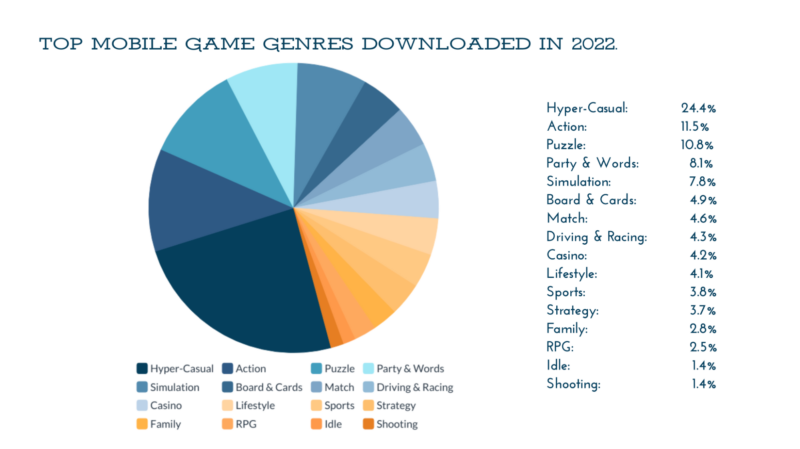 17. 64% of free-game players are willing to watch an ad.
(Think with Google, Business of Apps)
These players will likely watch the ad if they get something in return, such as a free life, additional skills, etc.
Ads became a standard in free mobile games. It is the primary source of income for these games. Players can opt to get the paid version to avoid ads.
Studies also show that 82% of mobile gamers prefer free mobile games with ads to paid mobile games without ads.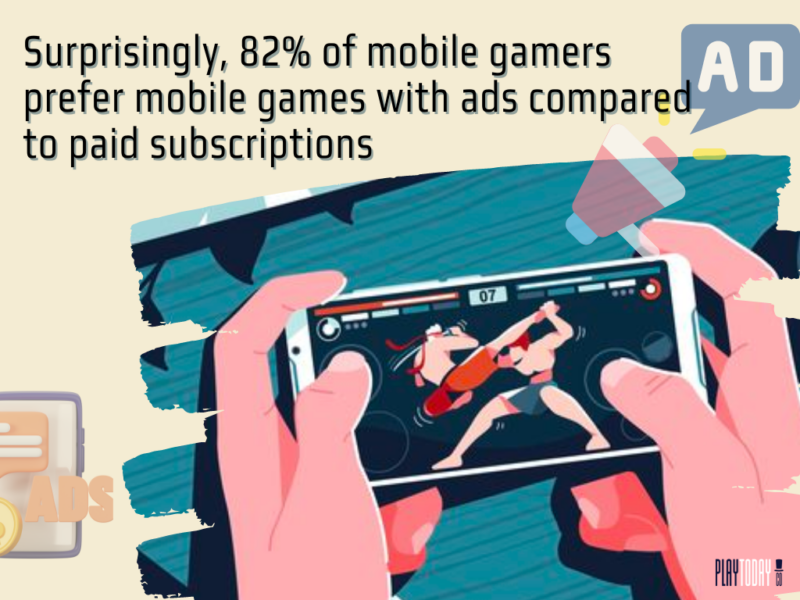 18. Subway Surfers reached 304 million downloads in 2022 – the most downloaded mobile game.
(Business of Apps)
Subway Surfer recorded the most downloads for two years in a row. In 2022, the game was downloaded over 300 million times, the only game that reached the 300 million mark.
Subway Surfer remains the most downloaded game in the US at 51.4 million downloads. Next to it is Roblox, with 51 million downloads.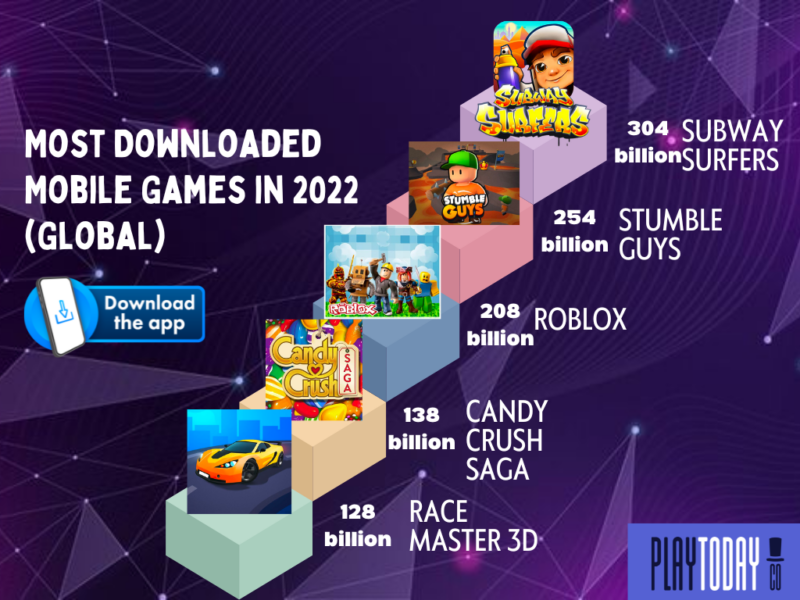 19. Arena of Valor remains the highest-paying mobile eSports in 2022, with total tournament prize pools of $30 million.
(Esport Earnings)
eSports, in general, is one of the fastest-growing sports. The market revenue for eSport was $947.1 million in 2020 and grew to $1.39 billion in 2022.
In 2022, 108 Arena of Valor tournaments took place, with over 700 players competing for the prize. 
This 3D, third-person, multiplayer online battle arena (MOBA) game for mobile raised the highest total prize pool – $30 million.
🎉

Fun Fact

Defense of the Ancient (DotA) is the first wildly successful multiplayer online battle arena (MOBA).
The Wrap-Up
Mobile games are on the rise. Many players now opt to play with their mobile devices, allowing them to play whenever or wherever they want.
With various tournaments offering hundreds of thousands to millions of prize money, mobile games evolved from being just for entertainment to competitive in nature.
Now that you know everything about the industry and mobile game statistics, the only thing left to do is play.
Sources: