Online crypto casinos are the latest trends and have taken off at a breakneck speed— thanks to the increasing demand for engaging gameplay while earning cryptocurrencies at the same time. 
Ever wondered about the number of gamblers at crypto casino sites or the percentage of Bitcoin used for gambling? 
Here are some noteworthy statistics on the current market size, growth rate, usage, demographics, and intriguing trends in the dynamic crypto-gambling industry.
Editor's Choice
The current

global casino market

size value is around

$263.3 billion

.

The number of global

cryptocurrency users

jumped twofold in

2021

, with a

178% increase

.

The combined

weight

of gambling-related

cryptocurrencies

is over

$150 million.

 

The

number of crypto bets

increased by

2.2

in

Q1 and Q2

of 2022. 

North America spends

107 minutes

on average every day at an online casino platform. 

80%

of bettors use mobile devices for online gambling. 

Drake wins

83K worth of Bitcoin

on live roulette.

Twitch streamer,

Trainwreck

holds a world record for non-jackpot wins with

24.7 Bitcoin winnings. 
Twitch

dominates the casino streaming world with

95.9% of total viewership.

 
Crypto Gambling Insights: Market Overview and Growth Factors
Despite the tough pandemic times, online casinos capitalized on their unique edge by offering safer ways people can gamble.
The global online casino sector is unstoppable, with an annual growth rate of 11.49%. As of 2023, the global gaming sector's market value reached over $200 billion.
Let's look at the crypto gambling statistics and factors below that drove these numbers and their significance.
Industry Size Statistics Behind Crypto Bets
The pandemic has caused difficulties for land-based casinos, with many bettors shifting towards online gambling. 
Yet, it has served as the most significant catalyst for the new and expanding online niche — crypto gambling. 
Below are global stats on online gambling to help you identify the industry's size and potential. 
1. $263.3 billion is the estimated global casino market size value by the end of 2023.
(Ibis World)
With the global casinos and online gambling bringing in revenue of around $263.3 billion in the first half of 2023 alone, it further proves that the industry isn't slowing down anytime soon. 
Despite the decisive blow of COVID-19 to the economy, online gambling operators achieved record-high revenues. 
Experts predicted an increase of at least 5.6% or even more by year-end '23.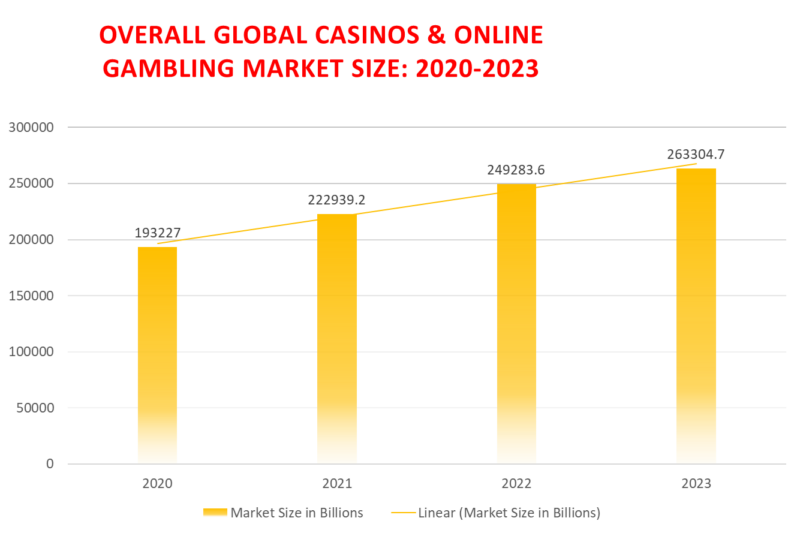 2. The 178% increase propelled the number of global crypto users to more than double in 2021.
(Crypto.com)
In the first half of 2023, data shows that the population of crypto users exploded twofold, from 106 million in January to as many as 295 million in December. 
Insiders believe this was likely because of the recent moves by important commercial entities. Major players like PayPal, Mastercard, and Visa plan to embrace and support it. 
3. In 2021, the value of gambling-specific cryptocurrencies reached over $150 million.
(Casino Guardian)
It's no surprise that gambling and cryptocurrencies go well together, as evidenced by the 6% boost between October 2020 to January 2021, when online casinos overtook conventional betting sites. 
Interestingly, the latest crypto users statistics show that five out of all gambling-specific tokens alone account for approximately $10 million of collective market cap. 
Additionally, the daily trade values for such tokens exceed $3 million — signifying the popularity of blockchain gambling and attracting more than 30k players each week. 
4. Studies show crypto bets doubled to around 6.3 billion in 2022.
(SOFTSWISS)
Between Q1 and Q2 of 2022, the number of crypto bets increased by 2.2. This surge reflects the growing adoption of digital altcoins in gambling.
In 2022, crypto gamblers placed nearly 3 billion in bets during the first half of the year, doubling to 6.3 billion within a year. 
Did You Know?
Around 35.96% of bets in Q1 2022 were made using cryptocurrencies. Compared to the previous year's first quarter, 26.30% of bets were placed using crypto coins. 
Meanwhile, bets with fiat currencies slightly dipped from 73.7% to 64.04% in 2021 and 2022.
5. In Q1 of 2023, reports show that total crypto bets increased 44.6% compared to the previous year.  
(SOFTSWISS)
Current stats demonstrated steady growth in the iGaming market. Data shows that the share of cryptocurrency bets in the first quarter of 2023 accounted for 30%. 
Despite 2022's global economic events that caused most of the fall in the value of digital coins, 2023 shows an optimistic recovery and market growth again. 
Fun fact
: There is a rise in the growth rate of the gaming market and the number of crypto bets. For this reason, experts expect gamblers to use digital coins regularly in 2023. 
Check out some of our helpful articles to learn more about cryptocurrency gambling:
Statistics on Crypto Betting Usage
In the realm of iGaming, crypto-gambling is at the vanguard and has taken command. 
Current statistics on altcoin betting reveal a strong preference among gamblers for virtual assets such as Bitcoin, Ethereum, and Litecoin. 
These cryptocurrencies offer distinct advantages and an edge over traditional fiat currencies, making them desirable options in online gambling.
Here are a few more statistics regarding crypto gambling usage and the digital assets with the biggest distribution in gambling.
6. Q1 of 2023 shows Bitcoin's market share rise by 1.9 percentage points, while Ethereum and Litecoin witness changes. 
(SOFTSWISS)
Though the top 3 most popular digital coins bettors use has remained the same throughout the years, namely Bitcoin, Ethereum, and Litecoin — their shares have changed. 
The market shares covering these coins have changed lately, with BTC experiencing an increase of about 1.9% at the expense of other smaller digital currency investments.
In the first quarter of 2023, BTC had a total share of 76.5%, followed by ETH with 8.4% and LTC with 5.1%. 
The chart below shows the most used coins in gambling: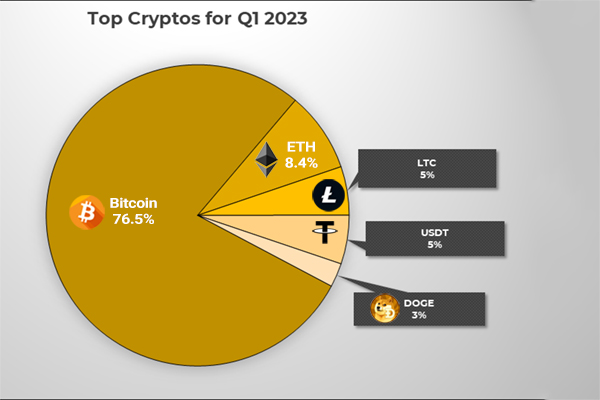 7. North Americans spend approximately 107 minutes on average daily on online gambling.
(Cryptobetting)
North America tends to gamble more frequently when it comes to the continent with the highest users of online gamblers. Alongside them is Europe, with 97 minutes per visitor. 
Due to strict crypto gambling laws and regulations, Latin America, Asia, and Africa seem less invested in online gambling.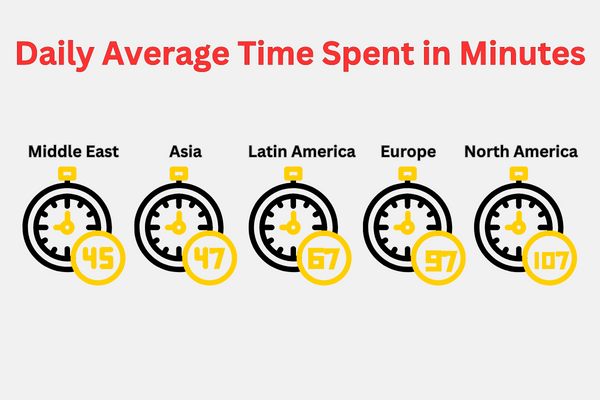 8. 80% of online gamblers use mobile devices for gambling.
(BusinessWire, Cryptobetting)
The adoption of smartphones and improved internet accessibility has revolutionized the online gambling market by creating a suitable playing interface for gamblers who like to play on the go. 
The innovations helped the number of mobile gambling accounts double in 2015. For 2023, smartphones are the go-to device for playing.
While smartphones are becoming increasingly common, usage for devices like laptops, desktops, and tablets fluctuated and decreased. 
The chart below shows the frequency of devices used in online gambling:
Crypto Gambling Player Demographic
As the popularity of cryptocurrencies grows, more players will likely participate in online betting using digital coins. 
This trend is mainly driven by tech-savvy holders from the millennial and Gen Z demographics, that are more comfortable and have a broader knowledge of blockchain technology. 
Experts believe in the advent of more hybrid casinos catering to cryptocurrency, like No Verification Casinos, as it offers innovative features and intuitive design that appeals to this demographic. 
Here are the key statistics breaking down the demographics of cryptocurrency gamblers. 
9. 36% of Gen Zs and 48% of millennials exclusively bet online in North America.
(Cryptogamble)
The market certainly does not lack any digital locals who are willing to gamble their money. Reports in 2021 show that commercial gambling brought in $52.99 billion in profit. 
Not that anybody is likely to be surprised that online gambling (crypto or fiat) is in full bloom in the United States. There are claims that gambling is deeply rooted in the American culture.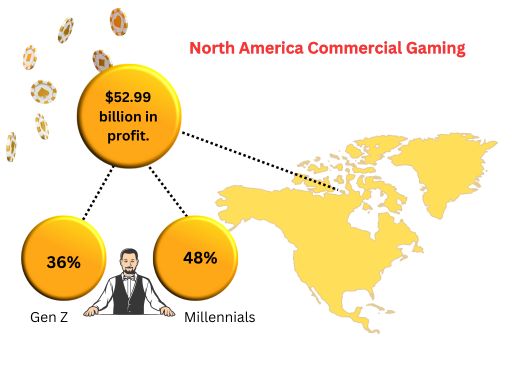 10. 65% of crypto gamblers are male, and 35% are female. 
(EuropeanGaming, SOFTSWISS)
Based on the Q1 2023 data from players' profiles, many gaming accounts for online gambling are owned by males.
Male gamblers have always dominated the gambling scene. For many, gambling presents an opportunity to establish manliness and satisfy their craving for excitement or entertainment.
It also gives you a rush of energy, which is a feeling that is hard to stop doing. It can make them more likely to develop lousy gaming habits and behaviors over time.  
11. Q1 of 2023 shows that over half of crypto gross gaming revenue was from bets made by the 31-50 age group. 
(SOFTSWISS)
Thus, it makes up 70% of the core audiences of digital coins in gambling. 
The percentages of each age group of crypto players who have put their age on their online gaming page are as follows: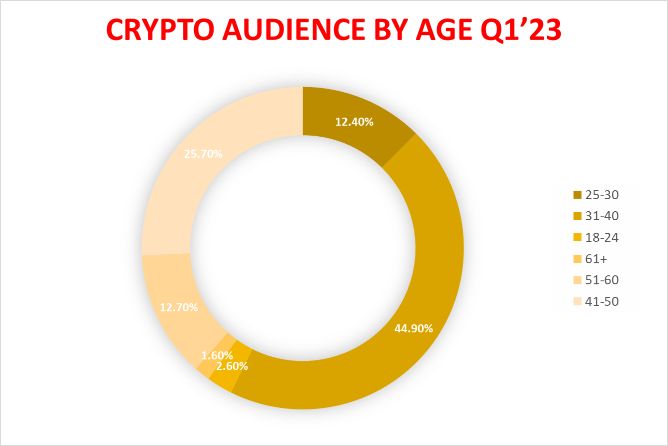 12. 21% of the most active players in the US are men aged 36 to 50.
(GamingAmericas)
The analysis of age demographics for American Bitcoin gamblers shows that 16% are women aged 36-50, followed by 26 to 35 years older men. 
The stats show that crypto gambling and, to a somewhat smaller extent, the general use of cryptocurrency have become more mainstream.  
13. Latin America's gambling industry is projected to rise at a CAGR of 18.4% for 2022-2028. 
(Cryptogamble)
Concerning the development of the gambling market, Latin America is right behind North America. 
Interestingly enough, gambling activities in this region are illegal, yet Brazil is leading regarding revenue shares among all LATAM countries. 
14. 17% of UK punters will consider betting with cryptos in 2021-2022.
(YouGov)
Europeans don't frequently use crypto for gambling. Studies show that only about 1 in 6 people who bet online at least once a month said they would continue to do so in the next 12 months. 
The low uptake might be because 52% of players think using blockchain in gaming has no staying power, and 54% don't trust cryptos.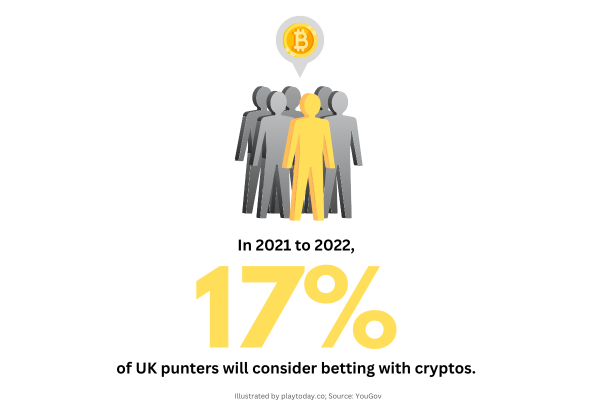 Read more:
A Guide to Blockchain Casinos
Curious about blockchain's potential in the gambling industry? Explore how it offers players and operators transparency, security, and exciting opportunities.
Crypto Gambling Winnings Statistics
Everyone and their grandmother know that gambling is not the best source of income. Even if you're a poker pro, landing a massive win is left to chance. 
According to Investopedia, each player's odds of winning a jackpot slot range from 1 in 5,000 to 1 in 34 million.  
Yet, no matter how slim the chances of taking home the gold are at a crypto casino site, virtually everybody is guilty of daydreaming about the most significant wins.  
Discover valuable insights about the biggest crypto gambling winnings with these intriguing statistics.
15. Drake wins 83,110 Bitcoins playing Live Roulette.
(CasinoOrg)
Drake, a Canadian rapper, needs no introduction. Besides his successful music career, he is an avid and regular gambler at Stake Casino. 
Recently, he began playing with $8.5 million in the bank — an average wager amount.
After a few lucky bets, he tripled his earnings, winning a total of $27.2 million, roughly around 83K BTC in today's market.  
16. A player takes home 11,000 Bitcoins from crypto Dice.
(CCN)
When a player named, Nakowa won around 11K BTC by playing crypto dice; it was one of the biggest casino winnings ever recorded.
The historical event occurred on a gambling site called Just Dice. 
Sadly, Bitcoin's value in 2013 is nowhere near today's value. Nakowa earned a substantial amount, considering the price fluctuated between $20 and around $1200 in 2013.
Helpful Article:

If you're wondering how much gamblers actually make from their risky and thrilling lifestyles,

check out our infographic article

on the Biggest Gambling Wins.
17. Trainwreck's astounding win of 524.7 Bitcoins on "Might of Ra."
(Stake Twitter, BitcoinChaser)
Trainwreck, A famous Twitch streamer, partnered with Stake Casino, just like Drake. He's most-known for streaming his gambling sessions. 
In March 2022, Trainwreck placed a 0.023322 BTC bet on "Might of Ra." He hit a massive 22,500x multiplier, turning his wager into 524.7 BTC (around $13 million).
Even Stake tweeted that Trainwreck's victory was a world-record non-jackpot win!
18. 42.5% of gamblers bet on sports, the most popular online gambling activity among players.
(Cryptobetting)
Nowadays, casino platforms have a massive selection of game types and segments. This gives players multiple options to enjoy and play on their site. 
However, sports betting is the all-time go-to game for gamblers in 2020. Studies also show that 32.4% of players bet on different kinds of games. 
The chart shows what other games are popular among gamers: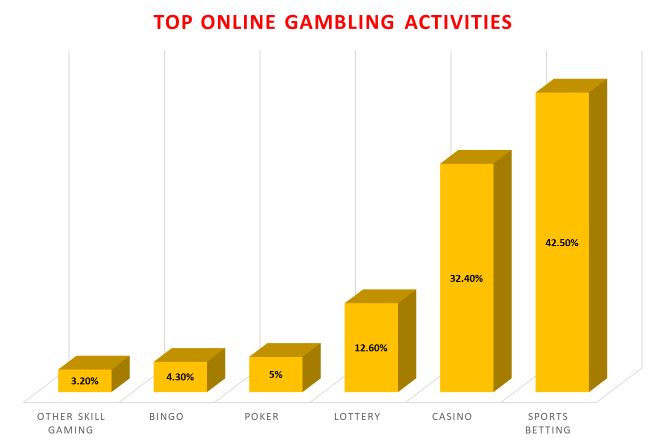 Crypto Gambling Trends
Thousands of gamers participate in weekly gambling, leading developers to create reputable casino sites like BitStarz to accept cryptocurrencies to meet the increasing demand.
Since 2012, gamers have chosen Bitcoin payments to fund and withdraw their winnings from their preferred gaming sites. Ever since then, other cryptocurrencies have followed suit. 
Find out below what more is in store for the crypto gambling market, especially the latest blockchain trends:
19. Crypto payments account for 25% of all online gambling payments.
(IconWorldwide)
While 48.6% of crypto holders use it exclusively for gambling, crypto is a natural partner for many online gamblers.
The partnership makes crypto the fastest-growing sector in the iGaming scene as more and more gambling businesses support using crypto. 
20. Around 50% of all Bitcoin transactions online are gambling-related. 
(BeforeYouBet)
Although Bitcoin is still miles ahead of mass adoption, an increasing number of e-commerce websites are starting to support cryptos as payment methods. 
Bitcoin can be used to buy homes, real estate, jewelry, cars, NFTS, and even insurance. Despite that, the largest portion of Bitcoin transactions comes from crypto casinos. 
21. In 2017, crypto casino bettors wagered around 3.09 Bitcoin per minute.
(Bitcoin News)
Despite Bitcoins' prominence, cryptos with higher volume and quicker transaction speeds, like Litecoin and Ethereum, are also gaining popularity among crypto casino players. 
In the past, Bitcoin was the go-to coin for crypto gamblers, leading to a staggering rate of up to 337 bets per second at crypto casinos.
22. With 95.9% of the total viewership for 2022, Twitch leads casino streaming.
(GamblingNews)
Casino streaming, a trend that emerged in 2015, has evolved into a full-time job for some gamers, particularly with the introduction of platforms like Twitch to the gambling scene.
In 2022, Twitch reached more people compared to other YouTube content related to gambling. 
Twitch represents over 90% of the total viewership, leaving YouTube with just over 4%. 
Note:

The growth of casino streaming on Twitch has come with controversies and challenges, leading to a ban on specific gambling streams. 

For a detailed analysis of the events that led to the Twitch gambling ban, check out this article: "Twitch Gambling Ban Explained: How We Got Here."
Key Takeaways
To round everything up, the online crypto-gambling industry is undoubtedly the hottest trend. 
While it is unlikely that gamblers will entirely abandon land-based casinos where they bet fiat currencies, online and crypto betting sites have been stepping up their game.
Still, just like any gambling, you must know when to cash in your chips, even if it's digital.
FAQs on Crypto Gambling Statistics
How big is the crypto gambling industry?
Blockchain gaming's market size and revenue are reportedly worth around $4.6 billion in 2022 and are forecasted to reach $65.7 billion by 2027. 
Is crypto gambling legal?
Crypto gaming isn't illegal, but it's not regulated either. Many respectable crypto gaming companies include privacy policies and terms of service that will address your worries.
Is cryptocurrency like gambling?
The Treasury Committee views "unbacked" digital assets as resembling gambling rather than financial services, with holders facing potential gains or losses and no significant social purpose.
What is the advantage of crypto gambling?
Cryptocurrency casinos provide various benefits over conventional casinos, such as privacy, security, anonymity, speedy transactions, provably fair games, and low fees. 
List of Sources