Twitch gambling has been subject to a heated debate for a while now due to impressionable young audiences being exposed to sponsored streams from online casinos taken on by many well-known streamers.
That's why the latest move from the Amazon-owned platform has been welcomed by its community and Twitch partners as a step in the right direction.
In September 2022, Twitch announced changes to what kind of gambling content could be broadcast on the platform, effectively prohibiting a portion of games under certain conditions amid pressure from prominent streamers and users.
New and Current Twitch Gambling Rules
Most Twitch streamers and users are familiar with the platform's community guidelines that prohibit sharing links referring users to websites with slots, dice games, and roulette. Most streamers who play slots on their channels use those referral codes to promote online gambling venues and earn a share of the casino's revenue.
Removing affiliate links from Twitch doesn't provide sufficient consumer protection, however. People circumvent such restrictions as most streamers just use their Discord communities as an alternative spot for their links.
New rules for gambling on Twitch will expand on these community guidelines. They will prevent streaming games such as slots, roulette, or dice from gambling sites that are not licensed in the US or by other jurisdictions' gaming authorities and with adequate customer protection. The company announced in a tweet that new measures would include sites like Stake, Rollbit, Roobet, and Duelbits.
The move will impact websites licensed in Curaçao but won't eliminate gambling from Twitch. It won't prohibit streaming content from sports betting, fantasy sports, and poker websites. Gambling streams must abide by the new policy as of October 18, 2022.
Streamers' Profits from Gambling Sites
Gambling streams are nothing new on Twitch. Since 2018, the casino section on the streaming platform has had many channels with arguable reputations and artificially inflated viewerships. The use of bots was rampant to promote slots on certain gambling websites.
Online casinos have changed their strategy and are targeting influencers with large followings, like Trainwreckstv (Tyler Niknam) and xQc (Félix Lengyel). While the exact revenue of Twitch streamers is often speculated on, Trainwrecks has disclosed he is earning more than $1 million from his sponsorship by Stake.
Adin Ross earns even more, around $900,000 per week. Even rapper Drake has been gambling on Twitch, receiving an unknown sum from Stake.
Besides sponsorships, additional revenue was funneled through links or referral codes for third-party sites that include slots, roulette, and dice. Being aware that around 75% of the Twitch community are people between 16 and 34, the staff of the streaming platform led the initiative in 2021 to make changes in community guidelines.
New measurements implemented by Twitch employees didn't significantly change the status of gambling on the platform. Categories such as slots still have more than a million followers, and it's currently in 12th place and attracts around 40,000 viewers average concurrent viewers, getting close to the viewership of other popular Twitch games.

The Twitch Gambling Drama
Even though gambling isn't the newest or worst thing to happen on Twitch, it does raise some concerns. Many big-name streamers have gotten into trouble for various gambling-related events.
The latest streamer whose actions pushed Twitch to ban gambling was ItsSliker, a former member of Team Liquid. He admitted to stealing around $200,000 from fans, friends, and fellow streamers and blamed it on his growing gambling addiction.
There are more reasons Twitch decided to react, and one of the main ones was a push from everyone's favorite streamers with large followings, such as Pokimane (Imane Anys), Mizkif (Matthew Rinaudo), and Devin Nash.
During a joint stream, creators addressed the issue of gambling streams on Twitch and how they could organize a strike that would cost Twitch a lot in lost ad revenue. They also had the backing of other outspoken supporters of removing gambling content, like Asmongold (ZackRawrr).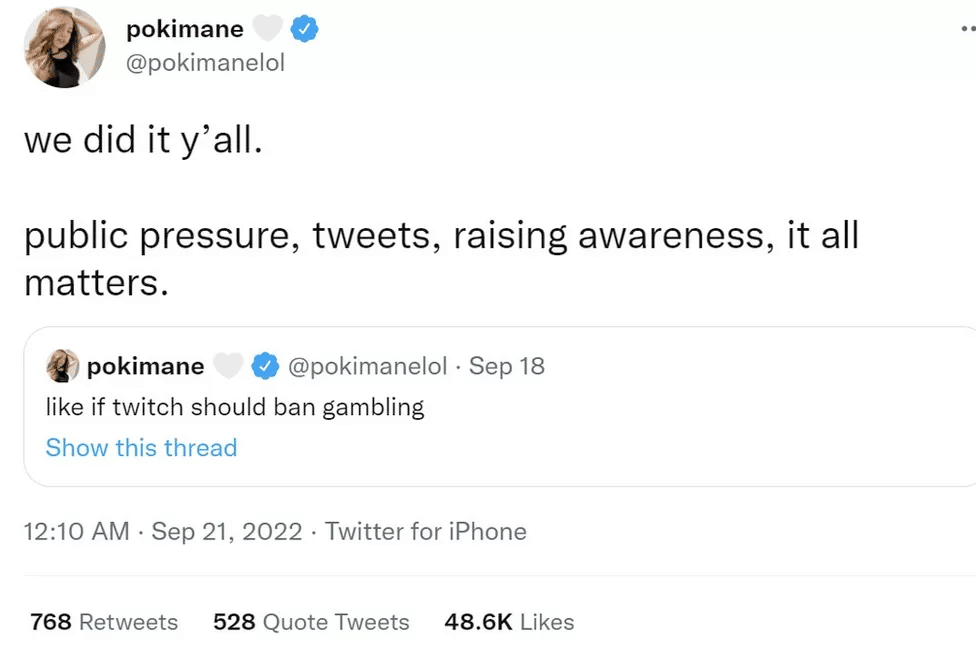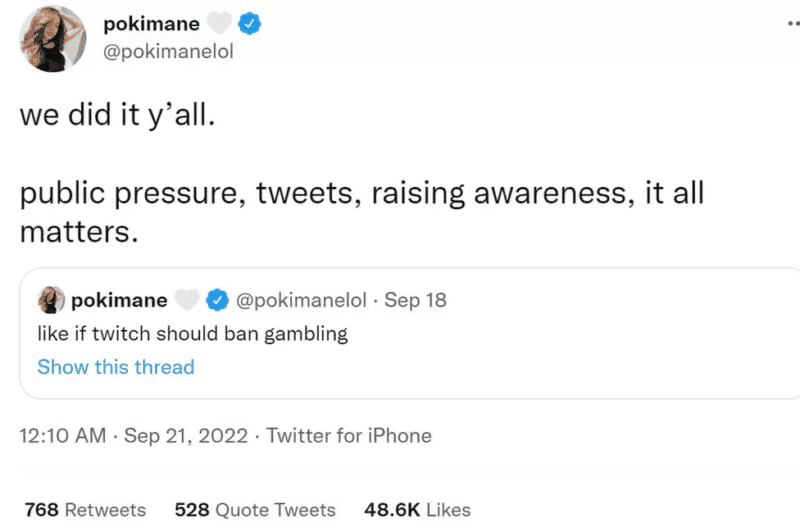 The reality is that many streamers don't feel comfortable with gambling having such an influential spot on the platform. These streams are often seen as a way of pushing susceptible viewers to such sites.
There are also other issues, such as some US content creators breaking the law by gambling on sites that are not licensed in the country. They used VPNs, while they could, to change their virtual address in order to play on these online venues.
Later on, some streamers like Trainwreckstv moved to countries that would allow them to legally continue playing at these casinos, like Canada and other jurisdictions with looser laws on online gambling.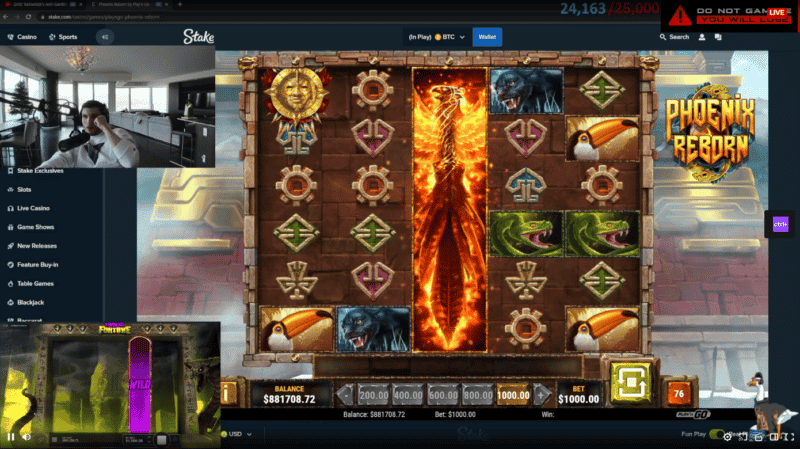 How the Gambling Will Change on Twitch
The streaming giant doesn't want to expose its community to potential harm. That's why Twitch's new gambling rules will make some changes, but it seems they will fall short of the mark.
Any site that isn't compliant with Twitch regulations will be prohibited from being on stream. However, this still leaves room for those that can legally operate in the US. In the UK, many online casinos have the UK Gambling Commission's license and are safe for users.
You will still see streamers play games on Stake, often referred to as the main villain of high-profile gambling drama on Twitch. The website has a US version of the website, which requires no license since you're not playing with real money. However, it is a great advertisement for the .com version of the casino and will continue attracting new players through Twitch.
The growing popularity and acceptance of gambling and betting in the US is another thing that could make it hard to get rid of all gambling content from Twitch. Amazon partnered with DraftKings, a sports betting site, in a $13 billion deal.
Another contributing factor to the success of gambling streams on Twitch is the increase of luck-based/gambling mechanics in video games. Games with loot boxes like Overwatch, CS:GO, FIFA 22, Call of Duty, and many others are just some of the prime examples where players invest in a chance to get valuable in-game items.
Researchers from the International Center for Responsible Gaming also point out that there is no correlation between gambling at illegal venues and gambling disorder. It remains to be seen what kind of consumer protection Twitch will decide is sufficient and how streamers will get around these rules in the future.
Still, if Twitch were to eliminate such content from the platform altogether, its ad revenue would drop significantly. The platform earns around $1.54 billion annually through legitimate advertisers and other revenue sources, so it is not financially incentivized to stop people from gambling on stream.
FAQ
Is there gambling on Twitch?
Twitch isn't banning gambling completely. The platform will only not allow luck-based gambling, such as slots, roulette, or dice games, to be streamed from casino websites that don't demonstrate sufficient consumer protection measures and appropriate licensing.
There are many categories with games of chance available, such as slot machines, poker, sports betting, and fantasy sports betting.
Is gambling banned on Twitch?
No, you will still be able to watch streamers gamble on Twitch. After pushback and a public outcry from some content creators on the platform, there will be additional restrictions on such content.
Streamers will be able to play only at venues that the streaming platform considers reputable enough to avoid acting predatory toward their users. It will not ban sports betting, poker, or fantasy sports betting.
How does gambling work on Twitch?
Most often, a Twitch streamer will participate in a paid promotion of an online casino by spending a session playing games on its website. Furthermore, they are also given referral codes and affiliate links they can use to further monetize their promotions if they get more users on the casino's platform.
What online casinos do Twitch streamers use?
The most popular Twitch gambling websites, which caused public outrage about the platform's practices, were Stake and Roobet. Channels collaborating with these casinos could earn significant amounts of money, and sometimes streaming slots for an hour could earn streamers around $10,000 per hour or more.