Biggest Gambling Revenues: US and Global Data (Infographic)
Nowadays, gambling is so popular that worldwide revenues are greater than any country's GDP. The gambling industry is one of the largest, fastest-growing, and most profitable industries.
The industry is divided into two main sections: land-based and online gambling, with a few more subdivisions. Read more to find out exactly how much cash each sector is bringing in and who has hold of the biggest gambling revenues in the world.
Worldwide Gambling Revenues 2023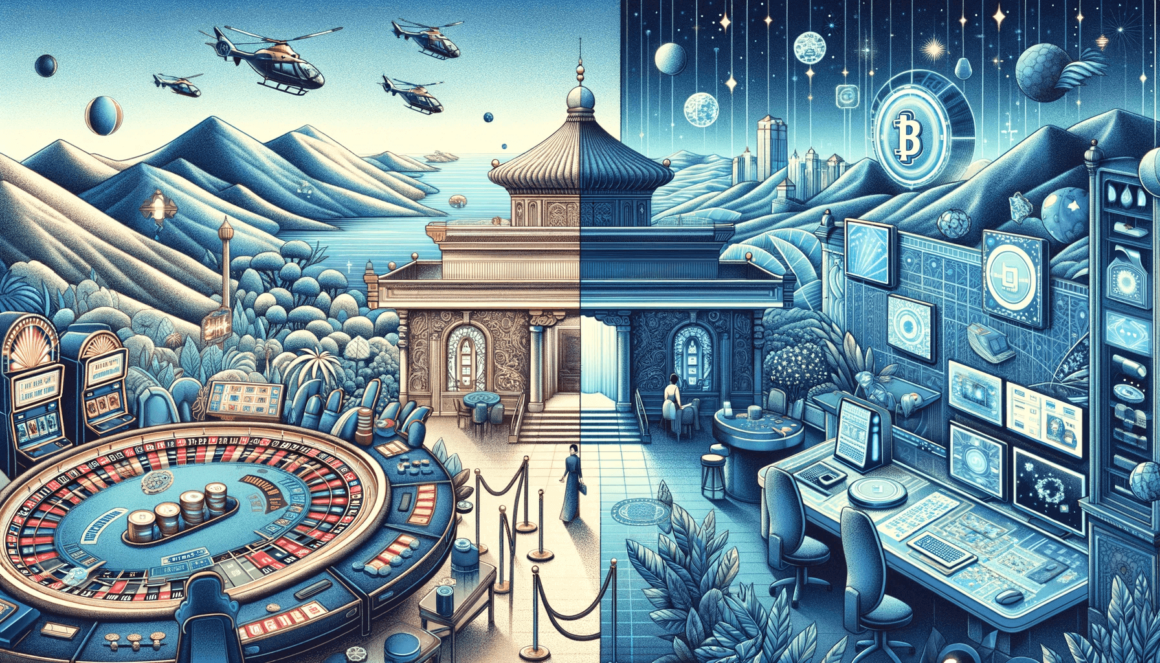 Covid-19 changed the world, and the gambling industry was not spared. The situation in the gambling industry changed in many aspects, and here are some more significant changes you should be aware of.
The Pandemic and the Gambling Industry — What Changed?
In 2020, the global gaming market was expected to lose around 5% of its value.

By 2023, the market is expected to recover and reach $592.5 billion.

The online gambling market was expected to increase by $7.8 billion from 2019 to 2020.

By 2023,

online gambling revenue may increase by $26.2 billion

from 2020, as per online gambling revenue statistics.

Casinos have only 1/4 share of the global gambling market as of 2020.
Land-Based Casinos Gambling Revenues
Land-based casinos, or brick-and-mortar casinos, were the most popular betting place for a long time. Revenues of the casinos were unprecedented, but the times have changed.
Gambling Revenues in America
Gambling is a popular means of entertainment in the US. Around 85% of Americans admitted that they'd gambled at least once in their lives. The US is also home to two large gambling cities — Las Vegas and Atlantic City, which are seen as gambling paradises.
When talking about revenues, it's important to note that there are two different types of land-based casinos and that their revenues are different.
Moreover, 2019 combined annual gambling revenues of all casinos in the US were $78.21 billion.
Indian Reservation Gambling Revenues
Native American casinos currently exist in 29 states, and further expansion is expected.
Reservations own the largest number of land-based casinos. There were 524 tribal casinos in 2019, and in 2020, the 525th tribal casino opened.
Indian reservation gambling revenues' peak was in 2019, just before the pandemic, when they earned $34.6 billion.
Casino revenues in tribal casinos are used within the tribe. Native Americans' benefits from gambling revenues include the tribe's necessities and reducing poverty.
The statistics also show that employment rates go up by 26% after each new casino opens.
Commercial Casinos Gambling Revenues
In 2019, before the COVID-19 pandemic and lockdown, there were 465 casinos. In 2020, the number was 463. Some commercial casinos still remain temporarily closed.
One of the biggest annual gambling revenues for commercial casinos was $41.28 billion in 2019.
As of 2019, commercial land-based casinos are entirely legal only in 18 states. 7 more states allow river-based and similar types of casinos, but not land-based. Each state is different and has different revenues.
Top 15 commercial Gambling Revenue by State in 2020 (in million dollars):
Nevada — 7,873.31

New Jersey — 2,881.38

Pennsylvania — 2,695.91

Mississippi —1,795.2

Indiana — 1,709.48

Louisiana — 1,658.51

Ohio — 1,440.28

Missouri —1,263.75

Maryland — 1,225.92

New York — 1,184.73

Iowa — 1,167.7

Illinois — 743.41

Michigan — 638.66

Colorado — 636.08

Massachusetts — 551.94
Top 6 states with most gambling revenue — 2019 numbers:
Nevada — $12 billion

New Jersey — $3.5 billion

Pennsylvania — $3.4 billion

New York — $2.7 billion

Louisiana — $2.5 billion

Indiana — $2.2 billion
The first two places are no surprise in both lists. Nevada state revenues from gambling are always the largest due to the large number and popularity of Las Vegas casinos.
Gambling in New Jersey is also mainly connected to one place. Atlantic City gambling revenues are the highest in the country, just after Las Vegas. Atlantic City is thus responsible for the largest percentage of gambling revenues to the state of NJ.
Michigan, although it is quite low on the list, is also a city dependent on casino gaming revenues.
The largest percent of Michigan's gambling revenue comes from Detroit revenues, from casino gambling. Detroit is home to three big casinos, making it a popular place for gambling.
Tax Revenues from Gambling in the US
Tribal casinos do not have the obligation to pay revenue taxes to their states. However, they do pay other taxes, depending on the state. From 1988 to 2016, they paid around $15 billion in taxes.
For example, state gambling revenues in Washington and other states, like those with tribal casinos only, do not include casino revenues but only those of other, allowed types of gambling.
Commercial casinos in the US have the obligation of paying taxes. These American gambling casinos' tax revenues equaled $10.2 billion pre-pandemic in 2019.
COVID-19 influence on the American gambling industry was mainly a negative one. For instance, 27% of working time was lost, and revenue went down by 31.3%. Revenue taxes for 2020 were also lower than in the earlier years.
Finally, taxes paid in 2020 equaled $3.5 billion less than the year before.
Gambling Revenues in Other Markets — Land-Based Casinos
The European gambling market is one of the biggest in the world. With approx. $88.2 billion (around €74.1 billion) in land-based gambling only, in 2019, it is a profitable market.
The countries in Europe with the most revenue in 2019 were:
Italy — $21.53 bn or €18.1 bn

Germany — $17.01 bn or €14.3 bn

France — $14.51 bn or €12.2 bn

Spain — $10.59 bn or €8.9 bn

The Netherlands — $3.69 bn or €3.1 bn

Sweden — $2.85 bn or €2.4 bn
So, it shouldn't be a surprise that there are many land-based casinos in Europe. Before the pandemic, 77% of European casinos were brick and mortar.
As of 2017, the European countries with the most land-based casinos are the following:
Czechia — 299

France — 200

UK — 145

Switzerland — 65

Estonia — 63

Poland — 49
The US is one of the greatest markets in the world. It is a country with the largest gambling revenue. But, although Las Vegas is usually considered the gambling capital of the world, and gambling revenues of Las Vegas are enviable, the numbers speak in favor of another city.
Macau, the only city in China where gambling is allowed, reaches a much larger revenue than Las Vegas. For comparison, Las Vegas casino revenue in 2019 was $22 billion while Macau's gambling revenue was $36.5 billion.
The following are the biggest per-visitor gambling revenues by country:
Macau $1,345

Australia $736

Singapore $446

Philippines $404

South Korea $189

Cambodia $73

Malaysia $72
Another country that has gambling potential is Japan. In 2018 they legalized casinos, and it is expected that three resorts will become a part of Japan's gambling market. Japanese expected casino revenue was about $8 billion for that year.
Online or Internet Gambling Revenues
Online gambling is on the rise, especially since the beginning of the pandemic. It is convenient and is almost no different from regular gambling. Revenues from online gambling are also on the rise. Stay tuned to find out more.
Online Gambling Revenues in America
Online gambling is extremely popular, and internet gambling revenues are becoming bigger and bigger.
Online gambling revenue statistics show that the US online revenues were around $306.5 million in 2018, while the US online market value was around 1,978.57 million in 2020.
Although gambling is so popular, not all US states allow it — at least not legally.
US online gambling is completely legal only in:
New Jersey

West Virginia

Michigan

Delaware

Pennsylvania
States like Colorado, Indiana, Illinois, Tennessee, Iowa, Virginia, and Arizona allow only sports betting online. But the situation is changing for the better, and other states are trying to legalize online gambling.
Internet gambling state revenues show that New Jersey is the state with the largest profits.
Unlike gambling revenues in Atlantic City, which were quite low due to lockdown, online casinos brought New Jersey $970.3 million in revenue in 2020.
The online casinos with the biggest revenue in the US are:
DraftKings

FanDuel/Betfair

Roar Digital

Golden Nugget

PokerStars
Online players were mostly interested in poker and online sports betting, which threatens to become the most popular way of betting.
Online Sports Gambling Revenue in the US
Online sports betting has been very popular in the US for some time now. However, with the pandemic shaking up the world, even more people have turned to the internet for betting on different sports. The US alone had sports betting revenue of $1.55 billion.
Most states have either already legalized online sports betting or are preparing to do it.
The numbers are high in almost all states, but like in online gambling, New Jersey is leading in sports gambling too. New Jersey state earned $11,3 million in Super Bowl gambling revenues only.
European Online Gambling Revenues
Although the European market prefers land-based casinos, online gambling is also popular. In fact, 49.2% of the online gambling market was European in 2018.
As in the US, in 2020, land-based casinos in Europe lost their revenue by almost a quarter, while internet gambling revenues increased by 7%.
Regulated online gambling is expected to rise every year by 1–2%. This is a lot less than the American market.
Top 6 most significant online gambling markets in Europe:
The UK

Germany

France

Italy

Sweden

Spain
To open an online casino in a European country, you need a license. Online gambling licenses are available in most EU countries, while other countries do not have these types of permits.
Similar to the US, European players like sports betting the most. The largest number of people gambling online in Europe — 41%, chose to bet on sports in 2019.
FAQ
What casino brings in the most revenue?

Galaxy Macau casino is the most profitable single casino in the world. In 2019, this casino had revenue of $8 billion.

However, the casino company that brings in the most revenue is Las Vegas Sands Corporation. This company earned $13.74 billion in 2019. Two famous casinos, the Venetian and the Palazzo, belong to this group.
How much money does a casino make each day?

Casinos usually make between $1.5 million and $3 million a day. This is, of course, the case with bigger casinos located in the Las Vegas Strip and Macau. Other casinos usually have a smaller profit.

Many casinos do not publish their profits, so it's not always easy to determine the exact number.
Conclusion
Gambling revenues have always been extremely high, and not even the pandemic could make them any smaller. The shift from land-based casinos to online casinos, and the new opening of the casinos showed that there is enough revenue for everybody.
All large markets are becoming even bigger, and are earning from both land-based and online casinos.
So, it's safe to say that the gambling industry is not going to fail any time soon. If anything, it's going to become even more present and create larger revenue, especially online.