Revealing the Numbers: Lottery Industry Statistics for 2023
In many countries, the Lottery is a lifestyle and a massive contribution to their revenues. The Lottery industry continues to grow worldwide, with an expected increase of 4.1% CAGR by 2031.
The popularity of the Lottery rises with the adoption of digitalization, making the market accessible and leading to increased demands for iLottery among gamblers.
This article will focus on the Lottery industry statistics worldwide, including its market size, ticket sales, revenue, prizes, and winner demographics.

Highlights of the Article
In 2021, the

Global Lottery Industry

rose to

$366.55 billion

.

The

online Lottery market size

made

$10.3 billion

in

2022

.

2021

saw the

Asia Pacific Lottery's market

generate around

$51 billion

.

Experts forecast

North America's Lottery Industry

to reach

$50.25 billion

by

2026

.

Europe held the largest online Lottery market

share

worldwide

in

2021

, at

43.2%

. 

The State of New York

generated the

biggest

Lottery sale in the US in

2022

, with

$10 billion in total sales. 
In 2022,

the

US Lottery Industry

produced an estimated

$107.9 billion

in revenue.

 
Around $2 billion of Lottery prizes are unclaimed by Americans annually.
How Big is the Lottery Industry?
Lotteries exist in 46.67% of countries worldwide. Given that a country has no Lottery, they can still play online through online syndicates or unofficial ticket-buying services.
In the US, lotteries such as Powerball and Megamillions are legal in 45 US states. The biggest winning ticket was sold in California in November 2022 from the Powerball, amounting to $2.04 billion.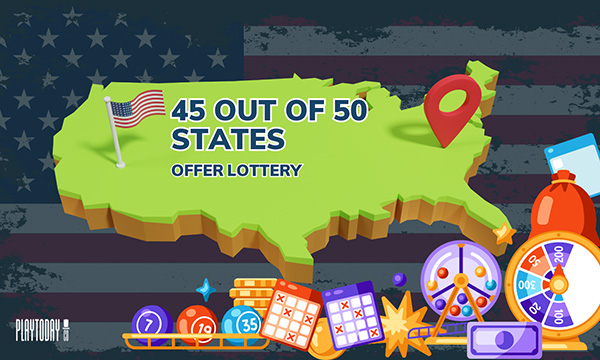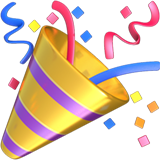 Fun Fact
See the facts and figures below that influence the consistent growth of the lottery market and the sectors that dominate it.
Lottery Industry Market Size
The spread of online lotteries associated with the increase in smartphone and internet usage is one of many factors that can drive growth in the global market.
In 2021, the terminal-based games category, the online segment, and North America dominated the global Lottery market.
The data below will focus on the global Lottery market size, growth and shares, market per country, and online Lottery market size.
1. The value of the Global Lottery market in 2021 amounted to $366.55 billion.
The Lottery market is projected to grow to $405.20 billion by 2028. This increase shows a CAGR of approximately 3.10% during the projected period.
The global Lottery market has four segments:
Although some countries prohibit lotteries, some make national or state lotteries. It created many Lottery's distinct submarkets, driving the growth of Lottery expansion faster.
2. The online Lottery market worldwide reached $10.3 billion in 2022.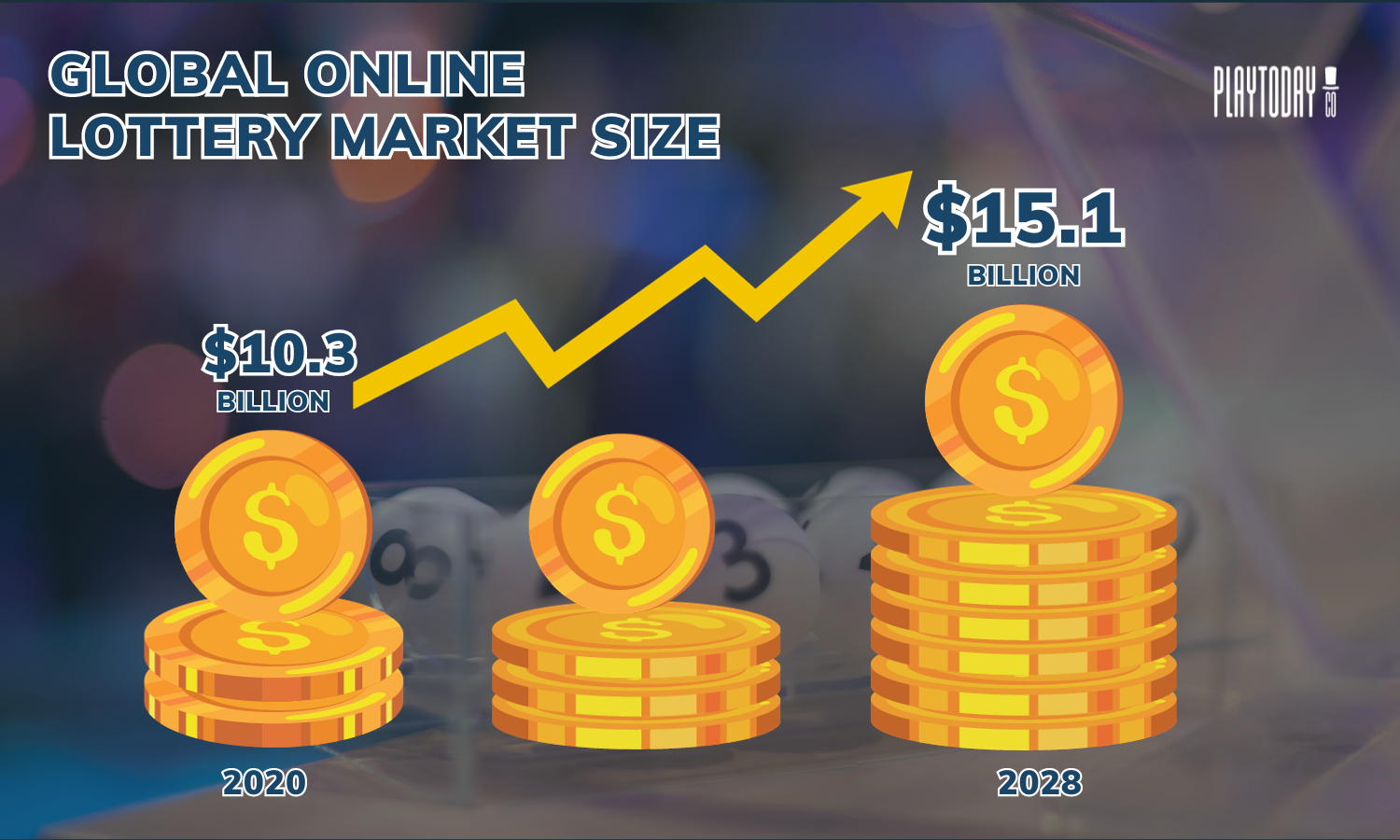 Experts foresee a growth of the online Lottery market at $15.1 billion by 2028, with a CAGR of 6.1% due to the demand brought by COVID-19 when physical Lottery centers were closed.
The pandemic paved the way for the online Lottery market to highlight its practical benefits compared to physical Lottery centers:
Secure payments
Convenience
Real-time experience
Cashless transactions
Easy accessibility
Safe environment.
3. The US online lottery industry was estimated to be worth $2.3 billion in 2021.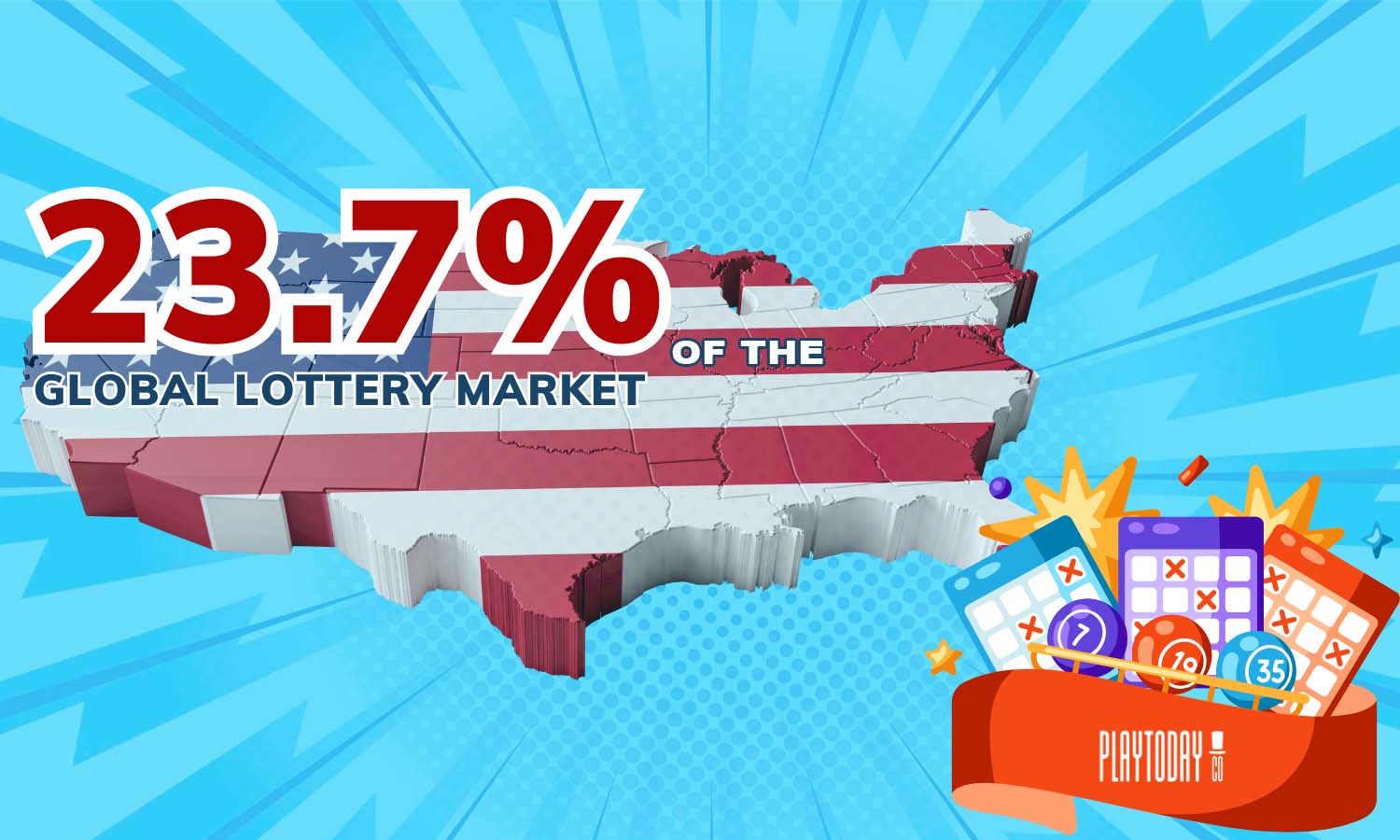 The US accounts for 23.7% of the global Lottery market, while forecasts for other regions are found below. 
The Asia-Pacific (APAC) online Lottery market will reach $4.1 billion by 2026, growing a CAGR of 10.1%.
Europe iLottery market will increase to 8.2%
Canada's virtual online Lottery projected a growth of 7.2%
This forecast is affected by the rising investors in the digitalization of the Lottery, as it is easier and more efficient. Another factor is social media as a platform to advertise the Lottery online. 
4. The market size of Asia Pacific's Lottery betting sector reached $51 billion in 2021.
APAC's online and offline Lottery market witnessed a combined increase of 10% in 2021. The major companies in the region include The Hong Kong Jackpot and Betting.ag. 
Key markets in the APAC region include countries like South Korea and Singapore. 4D is the most popular Lottery in Singapore, with over 34% of players, while India loves Lottery Sambad.
Although the region witnessed a decrease of 26% due to the pandemic, it gradually recovered after ending the restrictions. 

Did You Know?
One of the sought-after Lotto games in the world is called Takarakuji in Japan with four variations: Mini LotoJapan Loto 6Japan Loto 7Scratch cardsThere are over 22.3 million people in Japan who actively participate in the Lottery.
5. North America's Lottery market is expected to reach $50.25 billion by 2026.
The value highlighted a CAGR progress of 5.4% from 2021 to 2026. One of the most significant contributors to this forecast is the regional Lottery markets in North America.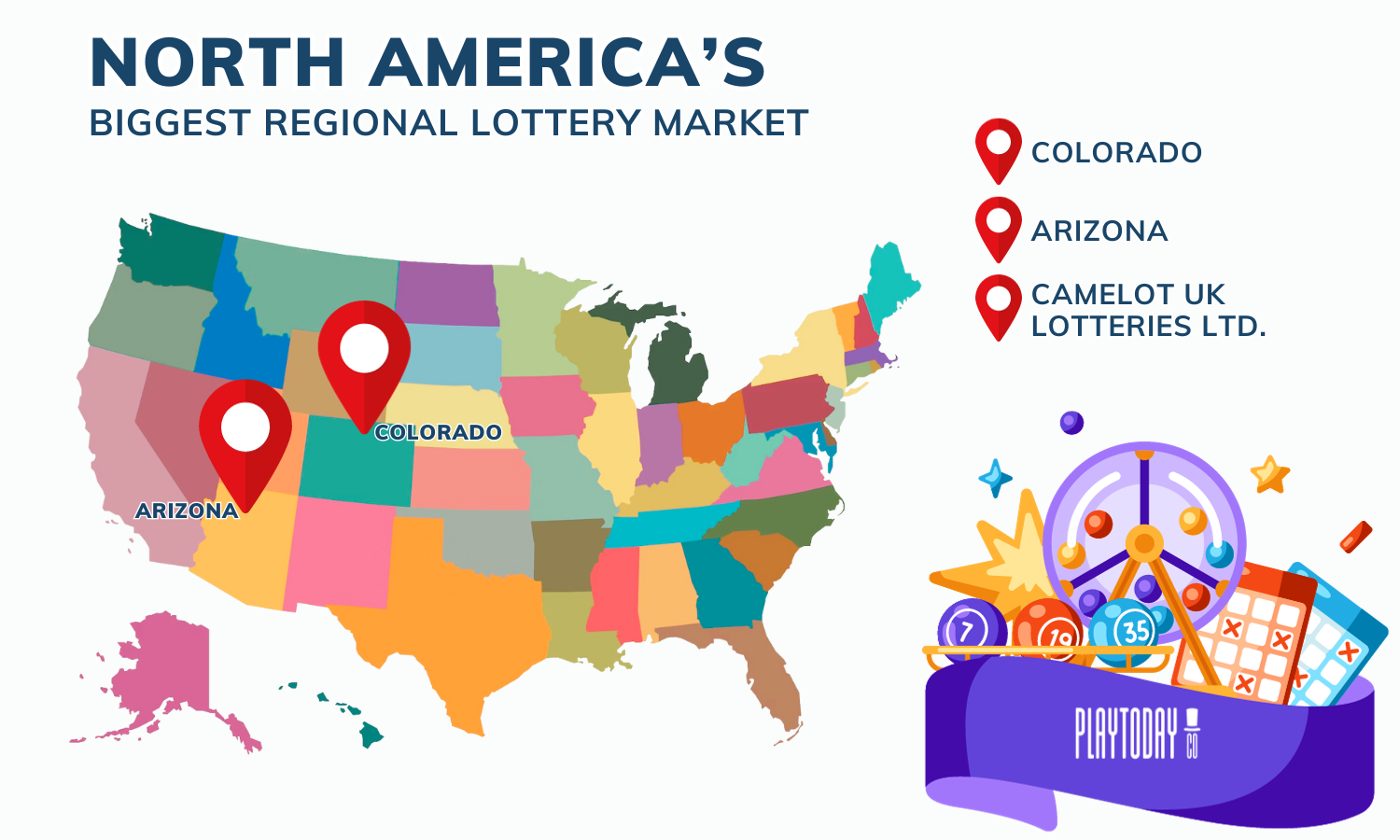 North American Lotteries are adopting organic and inorganic strategies to compete in the market, like Arizona Lottery, which offers primary lotteries such as Mega Millions, Powerball, etc.
6. Europe encompasses the largest share of the global online Lottery market, with 43.2% in 2021.
Europe's Lottery market focuses on online activities, with the region experiencing a 29.4% compound growth rate compared to 2020 and 66.4% in 2019.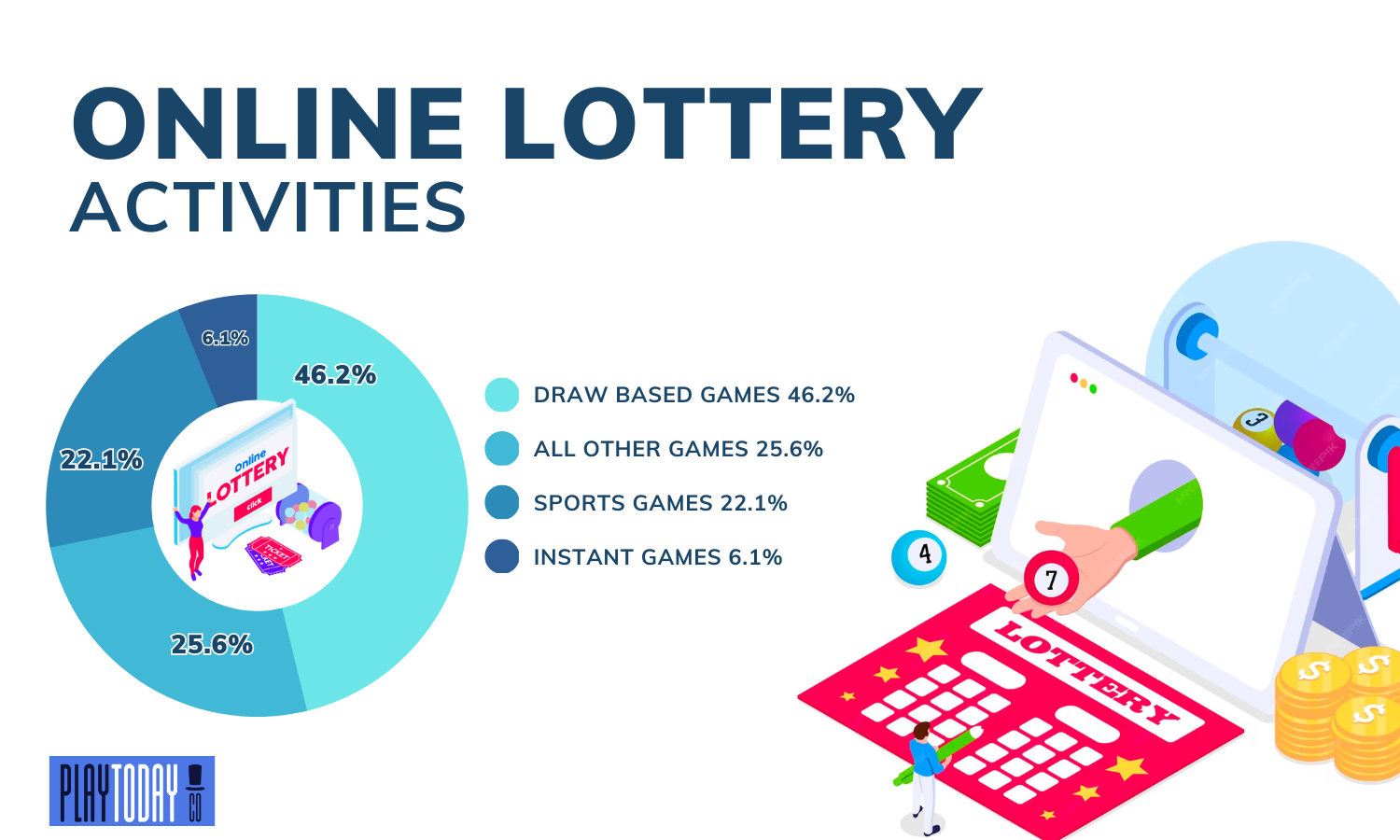 Instant games are the least popular among online lottery activities in Europe, while draw-based games are the most played, with 46.2%.
The migration to technology and the benefits of low investments with high returns that attract numerous consumers contribute to the growth of Europe's online Lottery.
7. Africa's Lottery market size in 2021 was valued at $3.050 million.
The value in 2021 is expected to reach $5.646 million by 2030, translating to an increase of 7.10% in CAGR from 2022 to 2030.
For the online Lottery market, the region is projected to reach $224.20 million in 2023 and a CAGR of 8.04% from 2023 -2027. It means an expected market volume of $305.50 million by 2027.
The reason behind this growth is the major players in the African Lottery market attracting millions in the region.
The popularity of social media marketing, the fast announcement of Lottery results, and the increased use of Lottery funds for charitable purposes drive the African Lottery market.
Lottery Ticket Sales and Revenue Statistics
The state and local governments in the US acquired about $31.22 by Lottery in 2021. This collection was much lower, amounting to about $1.69 billion in 1982. 
Learn how massive the Lottery size is through statistics on how many tickets are sold each year, including the revenue generated by the market.
8. New York has the most significant Lottery sales in 2022, amounting to $10 billion.
New York took the most significant revenue among the US states that offer a Lottery in the US in 2022. New York was only second to Florida the previous year.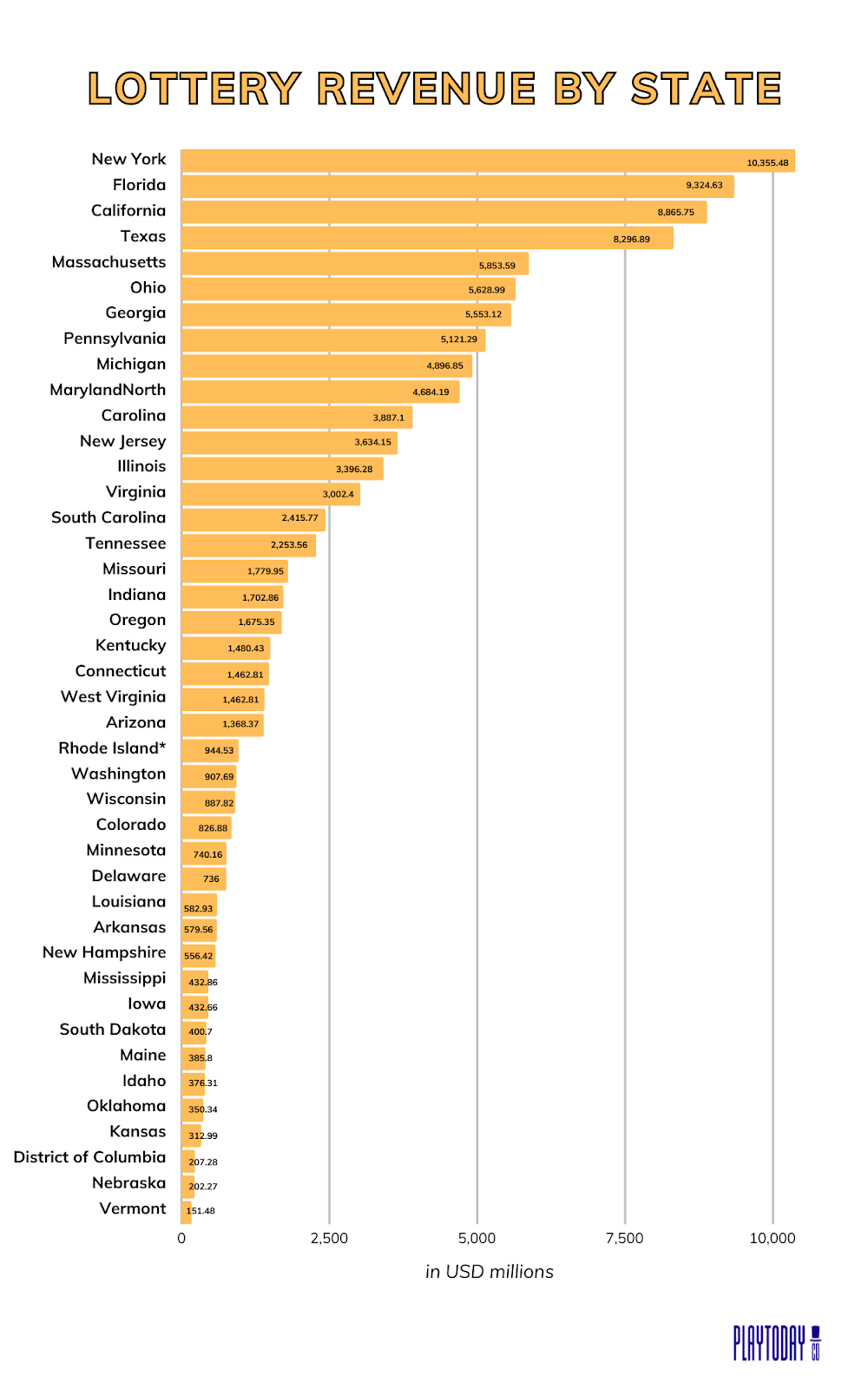 In Florida, the Lottery is both a game and a charity. The industry foresees contributing over $2.3 billion to the state's Educational Enhancement Trust Fund, which goes to its Education sector.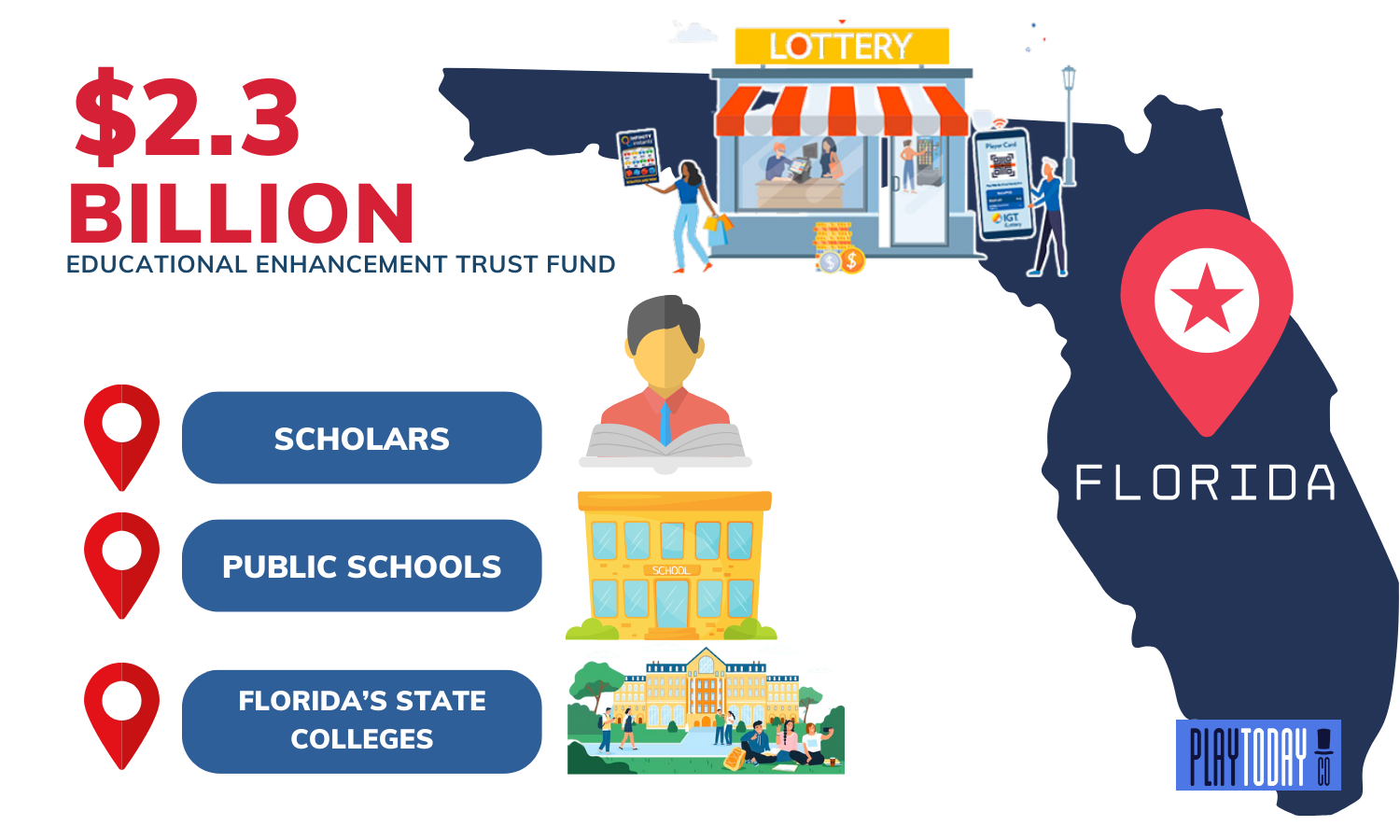 9. The US lotteries had a total revenue of $107.9 billion in 2022. 
Despite an expected "pandemic bounce," the country generated $107.9 billion in revenue for the year 2022, which is a 2.5% increase from the previous year.
Canada lotteries also had a fruitful year in 2022, with 62% of regular Lottery gamblers contributing over CAD$3.5 billion to their government to support their causes.
Higher revenue means more funds for the nation's economic development, education, the environment, cities and towns, veterans, senior citizens, and other essential programs.
10. Great Britain's national Lottery generated almost £8.1 billion between April 2021 and March 2022.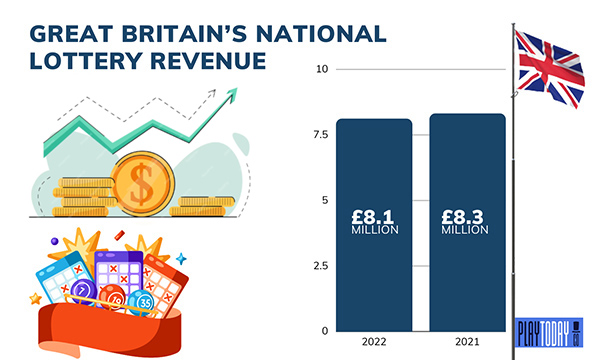 Economists observed a £2 million decrease from the previous period, where the National Lottery in Great Britain generated total sales of around £8.3 billion.
National Lottery is the most wagered gambling activity in the UK, with 27.6% of bettors, followed by Scratch Cards, which has 11%.
Europe's most prominent national lotteries include the Italian SuperEnalotto, EuroMillions, and EuroJackpot. They offer significant jackpots, bonus draws, or raffles during the following holidays:
Christmas
New Year
Easter
Valentine's Day
Local Holidays
11. Chinese Lottery sales reached CNY424.65bn in 2022.
China's Lottery sales were at a 13.8% increase in 2022. The sales of tickets for the country's welfare system grew by 41% to CNY148.13 billion.
One point why the Chinese buy Lottery tickets is that funds collected are utilized for administrative expenses, public welfare projects, and prizes.
12. The National Lottery in Thailand reached ฿169 billion in revenue in 2022.
Thailand's National Lottery revenue grew almost the same amount as the previous year's total of nearly ฿158 billion Thai baht.
Here is the revenue of the government Lottery in Thailand from 2018 to 2022: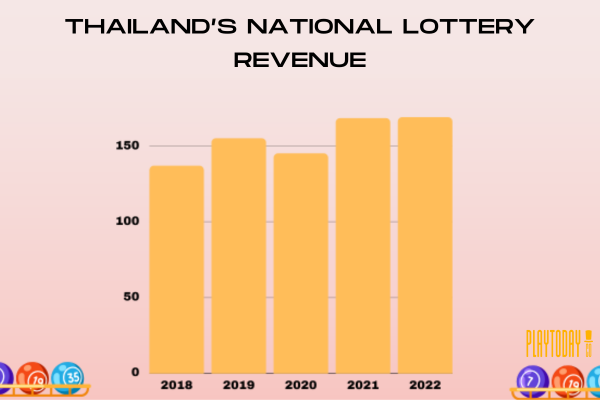 The country established the Thai Charity Lottery, a project where the national Lottery funds a specific charity under special ministerial approval. The Thai Lottery is viral among foreigners.
Lottery Prize Statistics
Powerball has nine different ways to win in every draw, depending on how many numbers you match. You can get the jackpot by matching all five main numbers plus the Powerball.
Delve into the statistics about Lottery prizes, including the number of chances and prizes you can get.
13. Mega Millions' top prize starts at $20 million, increasing when there's no winner.
You can win nine levels of prize in each Mega Million draw. The jackpot is won by matching the Mega Ball and all five numbers. Top prizes start at $20, increasing until someone wins.
The jackpot will be equally divided if there are multiple winners. In contrast, the other eight prizes below the jackpot will be given a fixed amount regardless of how many winners got the numbers.
14. About $2 billion in prizes are unclaimed by Americans every year.
Data shows that around $2 billion from Lottery wins are not claimed annually. Below are the significant unclaimed prizes in 3 states of America.
UNCLAIMED PRIZES
State
Amount
Year
California
$24 million
2016
Michigan
$27.6 million
2017
New York
$63 million
2022
The fate of the unclaimed prize differs from state to state. In Michigan, the state's school aid is being funded, while California's money goes to the state's public school system.
15. The total number of EuroMillions winners as of November 2023 is 3,804,169,372 since February 2004.
As of November 2023, there have been a total of 560 jackpots won in EuroMillions' history. France has the highest number of winners among the countries that participated in EuroMillions.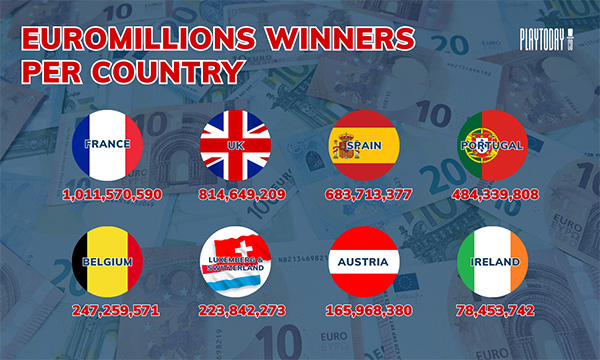 There's no surprise that France has billions of winners since data shows that over 65% of gamblers participate in offline lotteries.
EuroMillions is one of Europe's primary Lottery companies and benefits the region. A significant chunk of its revenue goes to good causes, covering four main categories:
Sports,
Arts and Heritage,
Health Education,
Environment,
Charitable Causes.
16. One lucky individual won a record-breaking $1.58 billion Mega Millions jackpot in August 2023. 
A single ticket holder from Florida won the $1.58 billion Mega Millions Jackpot last August 8, 2023. It is the largest jackpot the Lottery has awarded, exceeding its previous record of $1.537 billion in 2018.
The winner could claim 30 annual installments or a lump sum of $783.3 million. After a mandatory federal tax withholding of 24%, the winner could leave with only $595.3 million.
17. There is only a 1 in 292.2 million chance of winning the Powerball Lottery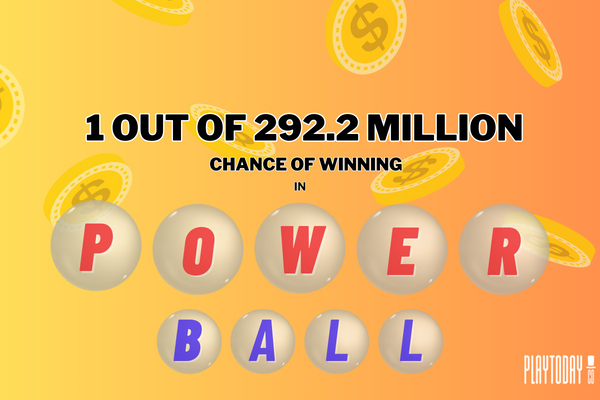 The chances of winning in the Powerball Lottery are estimated to be 1 in 292.2 million. Bagging the jackpot in Mega Millions has lower opportunities at 1 in 302.6 million.
Winning in a Lottery is always slim. It means that most people betting in lotteries will not be fortunate. Experts suggest that people should spend only some money on Lottery tickets.
 18. 90% of Lottery winners prefer lump sum payments to claim their winnings.
Lottery winners have two options for claiming prizes:
A lump sum payment gives the winners a smaller but more immediate payout. At the same time, an annuity allows for bigger payouts spread over a more extended period.
An example of this is the August 2022 Powerball jackpot. The winner could have taken home $206.9 million in annuity payout over 29 years or opted for a lump sum of $122.3 million.
Lottery Winner Demographics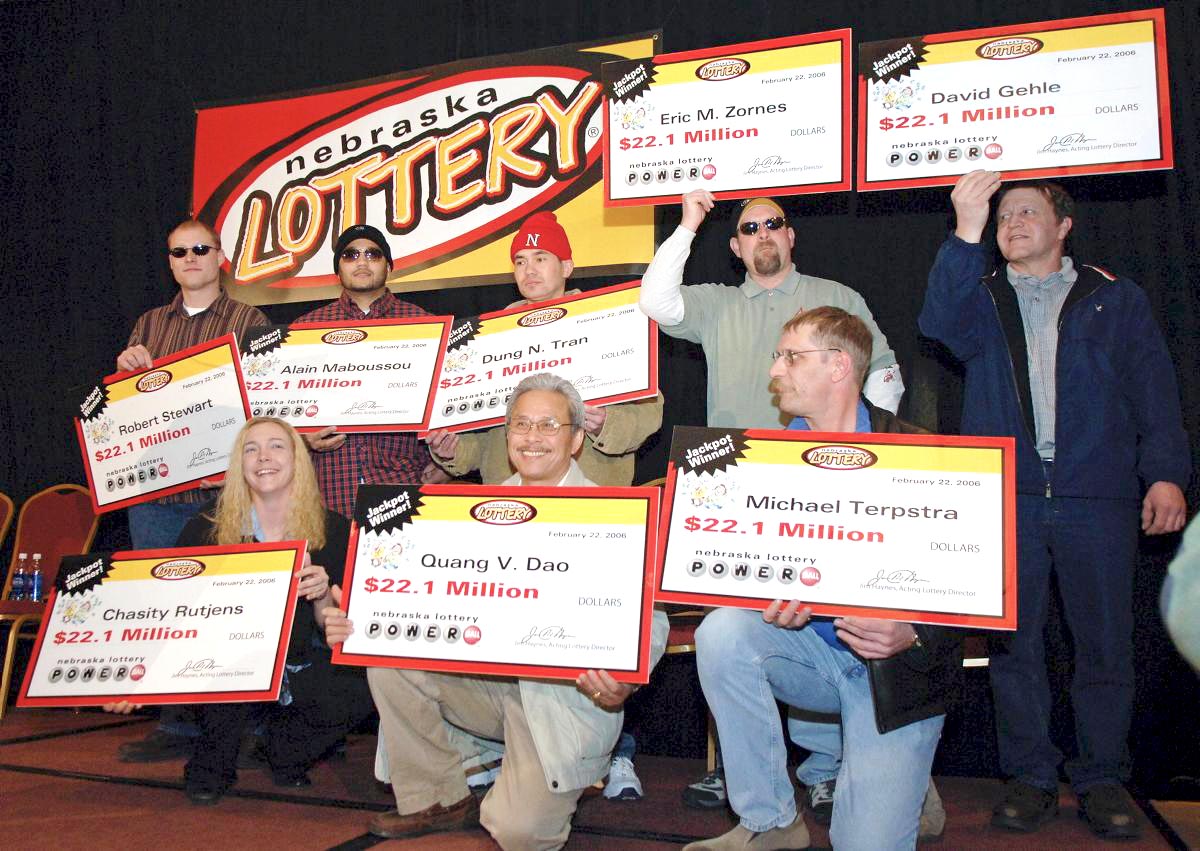 Among the factors that make the Lottery popular are its accessibility and availability. Depending on country and state regulations, anyone of legal age can place their bets, giving the game a wide demographic.
 In October 2019, there were over 760,000 winners of $40 million for Mega Millions. There have been 136 jackpot winners since EuroJackpot began.
Dig deeper into the historical Lottery results and statistics about the Lottery demographics, exploring the profile of the bettors and winners.
19. Around 85% of Lottery winners remain anonymous.
Data shows that most Lottery winners wish to keep their identities private. However, the rules regarding anonymity depend on the regulations within which they live.
Some Lottery officials must disclose the winners' identity to ensure transparency that winners are unrelated to the Lottery facilitators.
There are only six states in the US that allow the winners to remain anonymous:
Delaware
Kansas
Maryland
North Dakota
Ohio
South Carolina
Below is the table showing the list of the most significant wins in the US.
| | | | |
| --- | --- | --- | --- |
| WINNER | TYPE OF LOTTERY | PRIZE | DATE |
| Edwin Castro | Powerball | $2.04 billion Lottery Sambad | November 07, 2022 |
| Unknown | Powerball | $1.586 billion | January 13, 2016 |
| Unknown | Mega Millions | $1.580 billion | No date provided on the website. |
| Unknown | Mega Millions | $1.54 billion | October 23, 2018 |
| Unknown | Mega Millions | $1.35 billion | January 13, 2023 |
| Wolverine FLL Club | Mega Millions | $1.05 billion | January 22, 2021 |
| Manuel Franco | Powerball | $768.4 million | March 27, 2019 |
| Mavis Wanczyk | Mega Millions | $758.7 million | August 23, 2017 |
| Unknown | Powerball | $754.6 million | February 06, 2023 |
| Unknown | Powerball | $731.1 million | January 20, 2021 |
20. 32% of the Lottery winners gain weight and start having diet problems.
A noticeable trend among Lottery winners is unhealthy food choices and becoming less physically active. Only 12% of jackpot winners have gym membership.
The old saying goes money changes a person in a thousand ways, including body shape and weight.
21. 40% of Lottery winners who do not like their occupation will quit after winning. 
Study shows that winners will resign from their job depending on how engaged they feel at work:
40% of people who think "actively disengaged" from their work will leave after winning
33% of workers who feel "disengaged" from their occupation will quit when they receive the cash
Only 25% of those who feel "engaged" with their roles at work will resign after winning.
Experts believe quitting work after winning the Lottery is not the best decision. Making drastic decisions after a financial windfall leads to ugly outcomes.
Bottomline
With billions of wagers at stake and millions of bettors, the Lottery Industry thrives and attracts diverse participants. Some people play for fun, while others believe that Lottery is the key to a better life.
Always remember that the chances of winning the Lottery are very low, which should be considered recreational rather than spending all your resources – spend wisely!
FAQs
What demographic most often plays the Lottery?

State and National lotteries are played by 53% of upper-income Americans, and individuals between the ages of twenty and thirty are 70% of the Lottery population.
What are the biggest Lottery companies?

The biggest Lottery companies in the global market are DraftKings Inc., La Française des Jeux Société Anonyme, Light & Wonder, IncInternational Game Technology PLC, and ZEAL Network SE.
What gender plays the Lottery more? 

In a study conducted by experts, 55% of men bought Lottery tickets regularly, while 42% of women played the Lottery. 
How big is the Lottery Market in Vietnam?

A study in 2017 revealed that Vietnamese spent almost $3.7 billion on Lottery tickets per year.