Gambling Laws in Japan Explained 2023

Legal Disclaimer
This article is for informational purposes only and not to offer legal advice. Contact your attorney to secure advice on any issue or problem. Using this article or any links doesn't create an attorney-client relationship. The writer's views do not reflect the opinions of the firm or any individual attorney. 
Many consider Japan as the perfect tourist destination. Yet, that might not be true for betting enthusiasts. The country is among many places worldwide that impose stringent laws on gambling.
The country's government prohibits betting. In 2021, Japanese authorities arrested 378 individuals after using gambling machines. Only specific games can operate under special laws.
Discover Japan's gambling scene and explore the regulations and laws of the country. Get to know its legislation, its effect on culture, and more.

Highlights of the Article
The Japanese

Government

prohibits Gambling

under the

Penal Code 1907. 

In

2018,

Japan's parliament enacted

a law that allows the creation of Integrated Resorts (IR)

.

IRs

are establishments or complexes enabling

licensed legal casinos to operate

.

There are only

two areas in Japan

that applied for IRs. These are

Nagasaki Prefecture

and

Osaka Prefecture.
Sports Betting, Lottery, and Pachinko

are gambling activities

exempted

from

the penal code.

Among the

sports betting

allowed in Japan,

horse racing

made the

highest revenue with ¥3.25 trillion.

In

2021

, the

Pachinko and Pachi-Slots

reached a market size of

¥14.6 trillion

. 

Japan's

total lottery sales

went up to

¥813 trillion

in

2021.

The

Yakuza

is a

powerful syndicate

in Japan that

operates illegal gambling

and other criminal acts. 
The Legality of Gambling in Japan
Japan had long prohibited gambling owned by the private sector. Whether land-based or digital, the Penal Code of 1907 prohibits such activities.
A silver lining was shown to the hopes of avid gamblers in Japan when lawmakers passed a bill in 2018 that proposed the integration of casinos in resorts. Developers will establish the first casino resort in Osaka.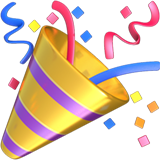 Fun Fact
Singapore has used integrated gambling casinos in resorts to draw more people and revive its tourism sector.
Before the pandemic started, the casino market in Singapore ranked second worldwide.
The bill allows three casino licenses in Japan to be taxed by 30% and go to central and local government funds. Only 3% of the land area of the casinos should be allocated for gambling.
Foreigners can freely visit the integrated casino, but the locals must pay ¥6,000 and are limited to playing three days a week and ten per month.
As the economy of Japan slowly recovers from the pandemic, the development of casinos in the country will significantly help attract investors and visitors.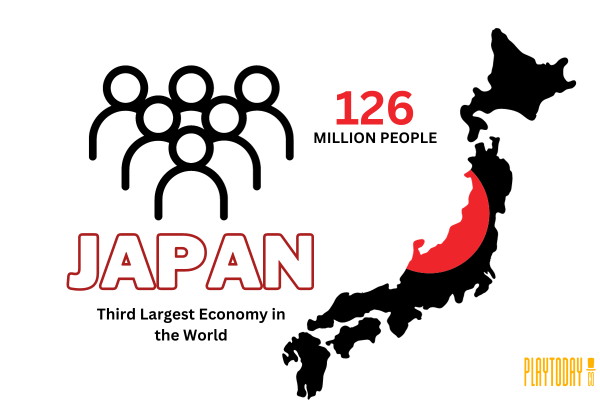 Japan is an ideal market for casinos in Asia. It boasts the third-largest economy worldwide, with a population of over 126 million.
Before going to Japan, one must familiarize oneself with Japan's laws. Let's dig deeper into the country's legislation surrounding gambling.
How Japan's Gambling Laws Work
Japan defines gambling as "an act where more than two persons wager on a result of a contest of chance." With this, they contend for a prize in the form of property or asset.
Definition
A Contest of Chance is an unpredictable outcome where the game's results are beyond the contestants' control. Even if the outcome depends on a player's skill, the act shall fall as a Contest of Chance if the result also depends on chance.
Under Article 185, gambling is punishable by a fine of not more than ¥500,000.
So, is gambling in Japan legal? No, but certain gambling types are exceptions to this law.
These are:
Public Sports

Horse Racing,
Bicycle Racing,
Powerboat Racing,
Motorcycle Racing,

Public Lottery,
Pachinko.
These activities are allowed because they fall under "momentary amusement." They are gaming activities of low value, which would not encourage extreme gambling.
Still, the government requires game organizers to gain operating licenses, which the authority only grants to local government or government-related entities.

Side Note
Considering several factors, a gambling license would cost as much as $20,000 to $120,000.
Then, businesses might have to maintain their rights by paying another round of fees worth $25,000.
Any private individual running a place for gambling is a crime. They may face imprisonment for not less than three months but not more than five years.
Act on the Development of Specified Integrated Resort Districts
Japan passed the Act on Development of Specified Integrated Resort Districts on July 27, 2018, legalizing gambling under licensed private entities in specific locations in Japan.
The key intent of the act is to promote tourism in the country. This law will also provide policies to keep the market healthy and competitive.
The law will allow the creation of Integrated Resorts (IR). Provisions of the act require the resorts to provide the following areas:
Recreational Facilities
Tourist Facilities
Lodging Facilities
Convention Centers
Casinos
These facilities must meet the standards imposed by the Cabinet order, meaning that operators solely offering casino services are not qualified for a license.
The new act aims to legalize gambling in casinos in designated areas in the country, all pointing towards multiplying tourism rates for Japan by tenfold.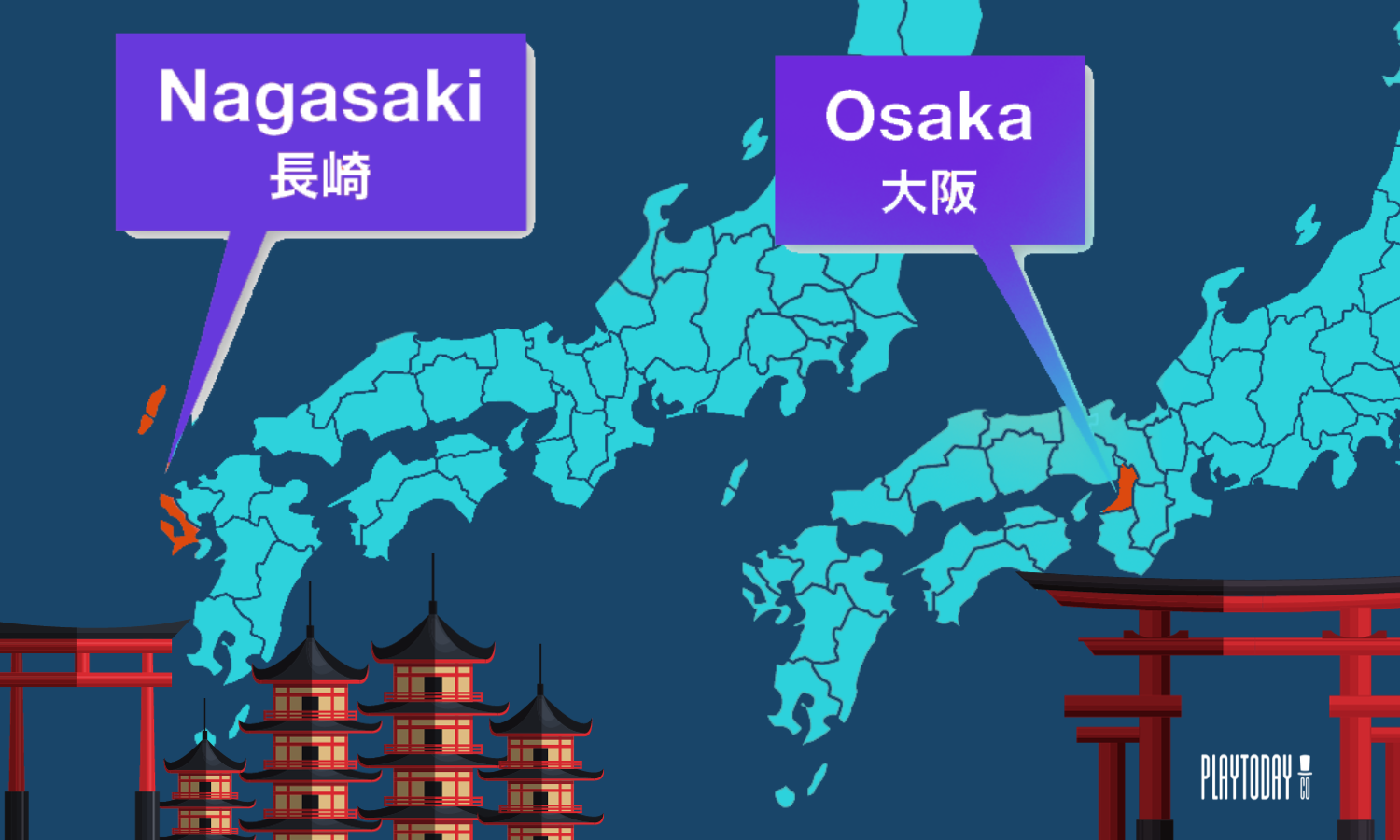 Only three IRs are allowed for now. Out of the three, only two locations had submitted proposals to establish IRs, one in Nagasaki and another in Osaka.
This development is promising for whoever wishes to visit and gamble in Japan. But players might have to wait for another six years as the first IR with a casino will open in Osaka in 2029.
Let's briefly discuss the history of Gambling in Japan and how it has evolved.
Japan's Gambling Scene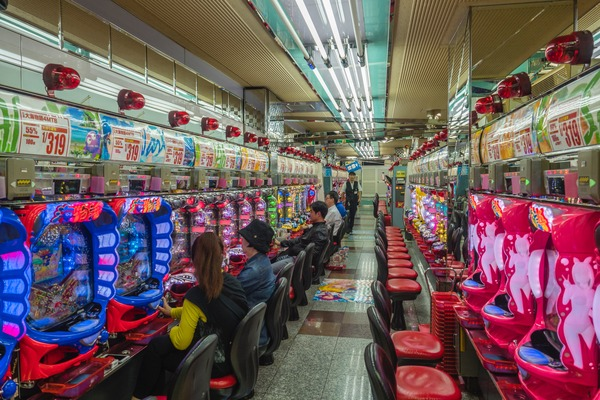 Historical data shows that gambling in Japan has existed since the 7th century. Even in ancient times, betting was deemed illegal in the country.
Western foreigners introduced casino games like Poker to Japan when it opened its borders. However, the Penal Code enacted in 1907 declared all forms of gambling illegal.
Gambling is still a big NO in the Land of the Rising Sun today, as proclaimed by Hachiro Okonogi, Chairperson of the Liberal Democratic Party's (LDP) National Public Safety Commission.
Hachiro Okonogi, Chairperson of the LDP's National Public Safety Commission

"There are provisions regarding casino activities in the IR Development Act, but online casinos are not included in the casino activities, and therefore, they are not legalized under this new law."
Japan's online gambling regulation prohibits any virtual activity that utilizes online casinos.
Regardless, gambling is still pervasive in Japan. The country's gambling market had reached $7.2 billion in 2022 alone, with experts projecting the industry to grow to as big as $10.7 billion in 2028.
While this might seem promising, Japan has been dealing with gambling addiction for a while.
In a survey in 2020 conducted by the Osaka Prefectural Government, an estimated 98,000 people in their area are addicted to gambling. Another government survey revealed that 2.2% of the entire population (2.8 million) are addicted to gambling in 2021.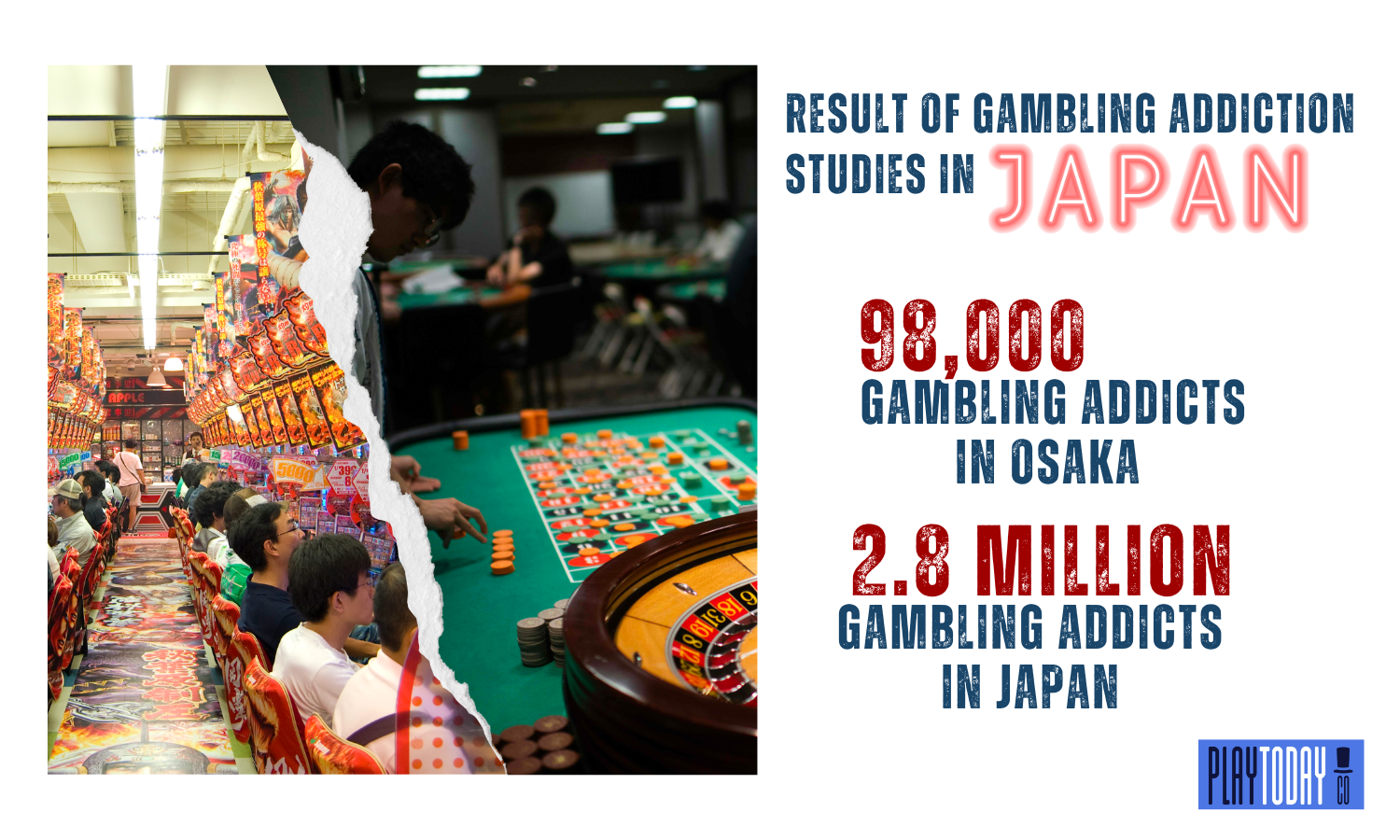 With problem gambling comes illegal betting operations. In January 2023, the Tokyo police arrested eight individuals who had run gambling activities in the Kabukicho Entertainment District since 2005.
How Criminal Code Chapter 23 Dictates the Gambling Industry in Japan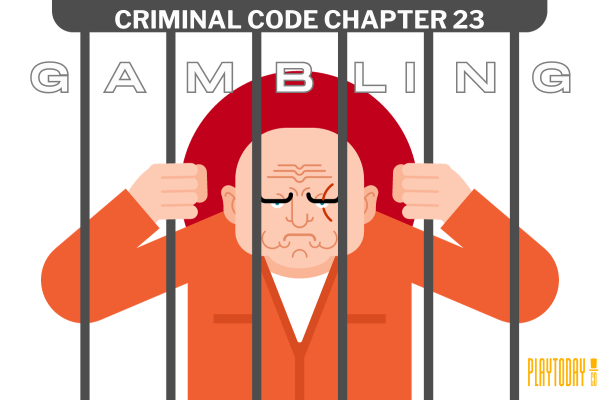 Japan's Ministry of Justice enacted the latest version of the Penal Code in 1907. Creating this Code took a long time, with its first promulgated version dating back to 1880.
Matsuda Masahisa initiated crafting this version of the Code. Masahisa was a Seiyūkai member who served as Justice Minister in 1906.
They drafted Japan's Penal Code with the help of legislators, bureaucrats, scholars, and lawyers. After a long debate, they implemented it on April 24, 1907.

Warning
It is still illegal for an individual in Japan to play in a legal online casino operated overseas.
Online casino users participating in such activity can be fined and arrested.
Generally, the Criminal Code applies to:
Anyone who committed a crime in the territory of Japan and
Anyone onboard a Japanese vessel or aircraft, even outside of Japan.
Chapter 23 of the Penal Code defines what acts constitute gambling. It also includes penalties and fines for the violator.
More about Chapter 23 of the Penal Code will be discussed in the subsequent sections.
Japan's Love for Gambling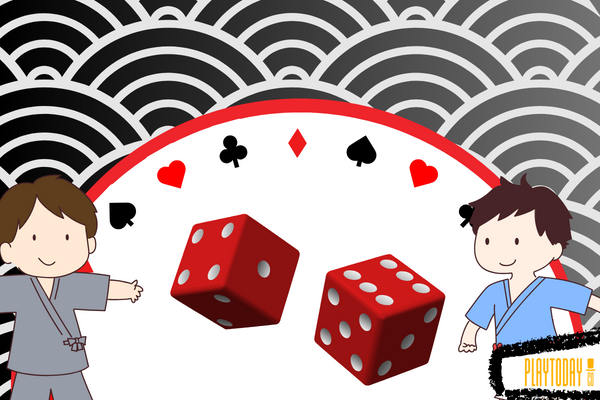 Gambling is one of the world's oldest leisure activities in many countries. While Japan generally prohibits it, it does not stop Japanese people from participating.
There are specific games in Japan that are legal. They fall under the exception of "momentary amusement."
Below is the breakdown of gambling participants per gambling activity:
| Activity | Year | Participants |
| --- | --- | --- |
| Pachinko | 2021 | 7.2 million |
| Horse Racing | 2022 | 196.8 million |
| Lottery | 2021 | 22.3 million |
| Motorcycle Racing | 2022 | 0.84 million |
| Bike Races | 2022 | 1.7 million |
| Boat Race | 2021 | 426.3 million |
The numbers above prove that the Japanese people love gambling. Despite its strict laws, Japan is often called the "Mother of Modern Gaming."
The Casino Regulatory Committee
The Japanese Casino Regulatory Committee (JCRC) supervises the country's casino industry. Japanese lawmakers established it last January 2022.
The creation of this committee follows the passage of Act No. 80 of 2018. It is also known as the "Act on Development of Specified Integrated Resort Districts."
The JCRC is an independent administrative body. It will oversee the licensing and regulation of Japan's casino operators. It will also investigate and enforce rules in the casino industry.
The administration has divided its regulations into four categories:
Category:
1. Market Regulations According to Licensing
2. Casino Facility/Equipment Regulation
3. Casino Operation Activity Regulation
4. Responses to Concern
The Commission's mission is to "ensure credible casino administration by thoroughly enforcing strict casino regulations based on the law."
The Depiction of Betting in Japan's Culture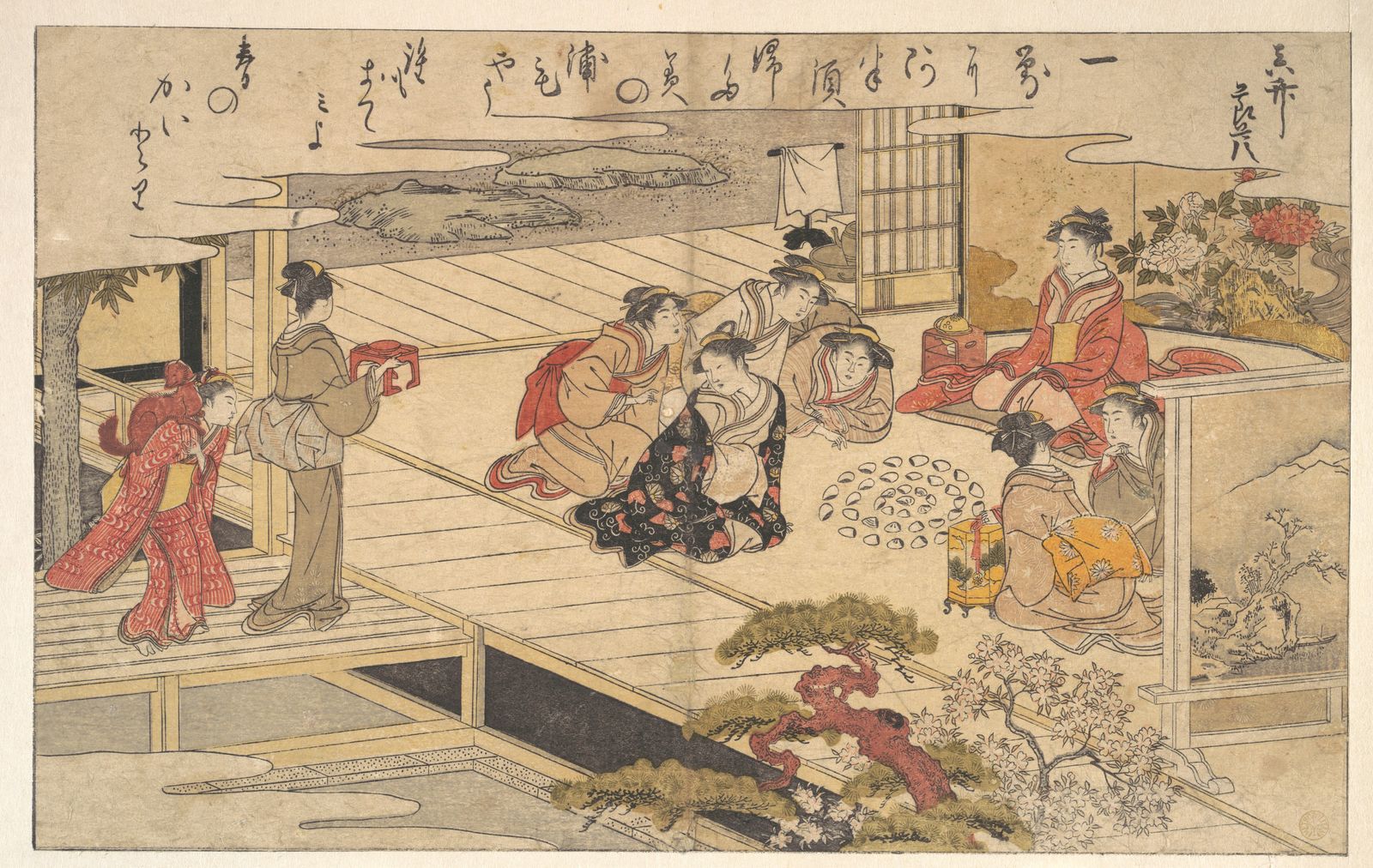 Gambling has permeated Japan's cultural scene. Its popularity has become an inspiration in modern pop culture.
Many creative productions today depict gambling embedded in the culture of Japan. Below is a list of some gambling-related content popular in Japan and the world.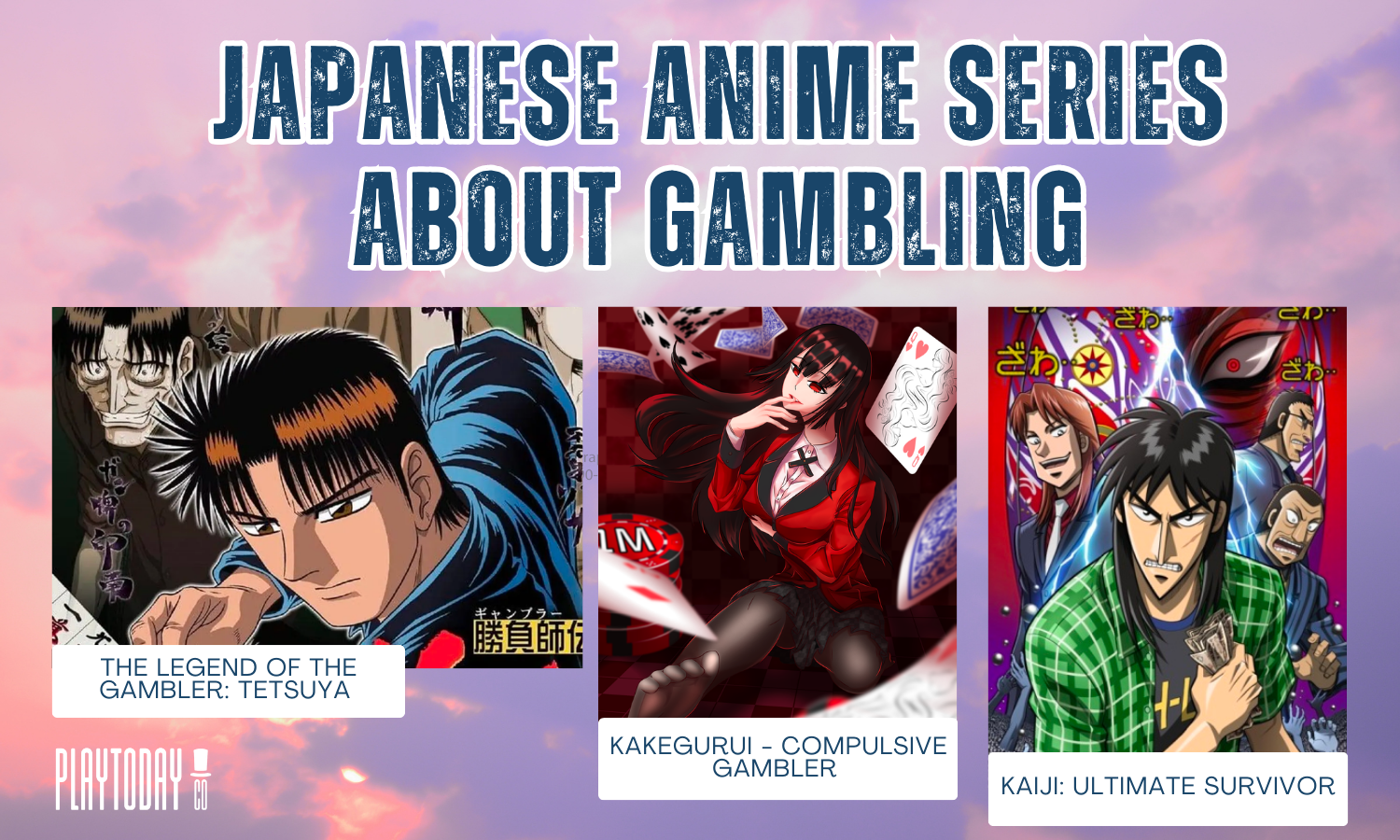 | Fictional Works | Type | Description |
| --- | --- | --- |
| 1. Kakegurui – Compulsive Gambler | Manga/ Anime Series | Yumeko Jabami is a transferee with a gambling addiction. She is also terrifically skilled in it. In the story, she disrupts the hierarchy of her new school through gambling. |
| 2. Kaiji: Ultimate Survivor | Anime Series | Kaiji is an impoverished man with gambling problems who becomes entangled in the deadly world of high-stakes betting. |
| 3. The Legend of the Gambler: Tetsuya | Manga Series | Tetsuya Asada is a boy who learns how to gamble through his uncle. He then sought out bigger stakes against American soldiers in Yokosuka. |
There are many more gambling-related animes made in Japan. The shows are exciting because they combine gambling with a compelling narrative.
Film adaptations are also popular in Japan. Some famous animes or manga series have been adapted to motion pictures and have acquired prominence among their viewers.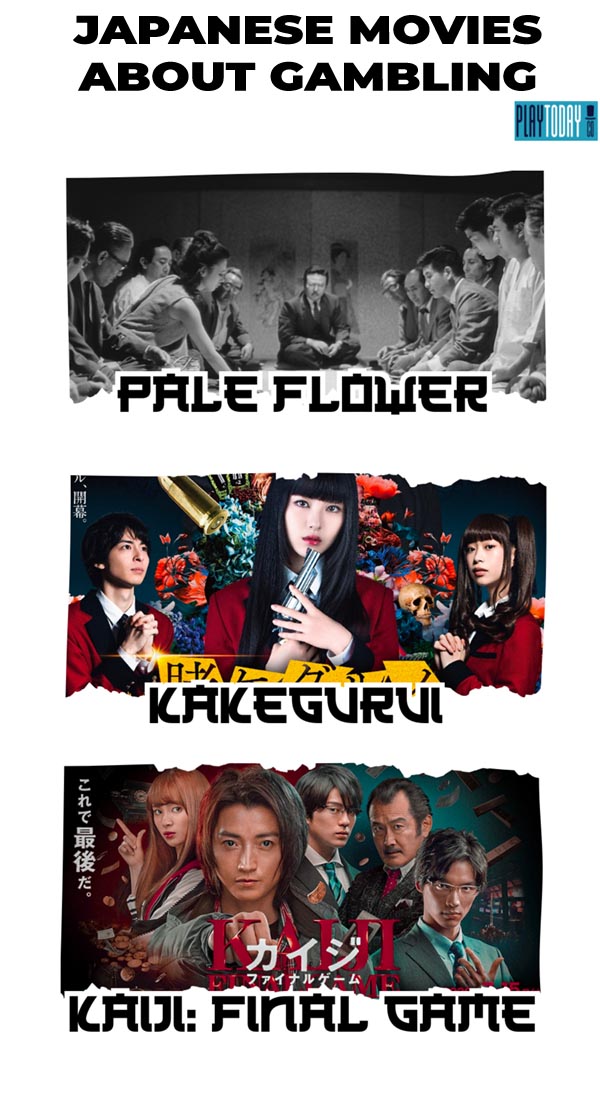 Fictional Works
Type
Description
1. Pale Flower (1964)
Movie
Pale Flower is deemed one of the best Japanese gambling movies ever.
Muraki, a Yakuza gangster, meets Saeko, a woman who desires gambling. Together, they venture into thrill, adventure, and gambling.
2. Kakegurui (2019)
Movie
This film adaptation of the Kakegurui anime series follows Yumeko, who has exceptional gambling skills.
3. Kaiji: Final Game (2020)
Movie
This final installment of the Kaiji saga sees Kaiji face four casino games, which makes it exciting to viewers.
Gambling has also seeped into Japan's literary scene. The country has published several books depicting its people's gambling culture and love for betting. Check out the list below.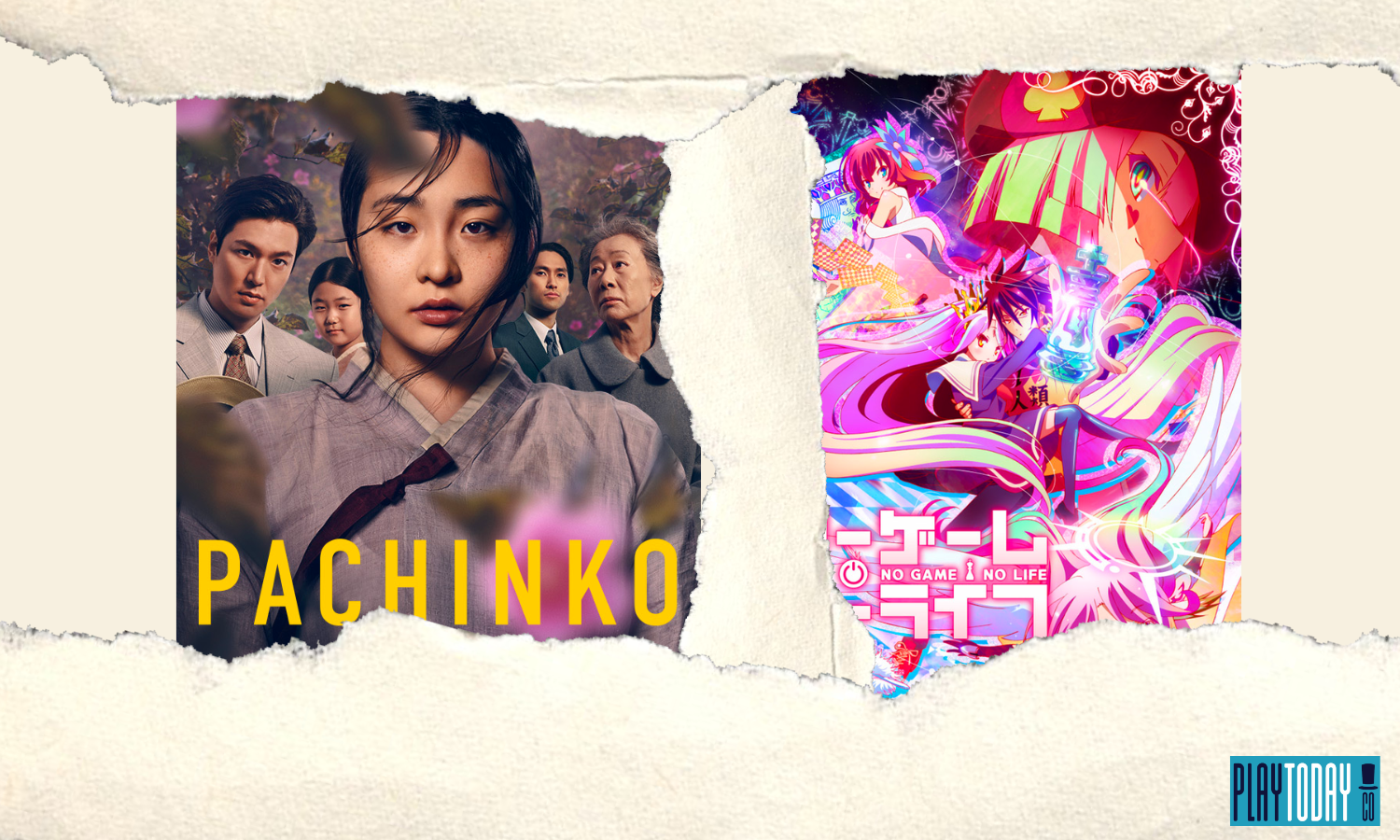 | Fictional Works | Type | Description |
| --- | --- | --- |
| 1. Pachinko | Fiction/Book | Pachinko tells the story of a Korean family who moved to Japan. It explores the country's bustling city, universities, and Pachinko Parlors. |
| 2. No Game, No Life | Fiction/Book Series | The story follows the lives of Sora and Shiro, who get sucked into another world called the Disboard, where they have to gamble and win games. |
An extensive plethora of works deals with the concept of gambling in Japan. The industry has permeated Japan's culture, showing how significant betting is in the country.
Betting Forms Available in Japan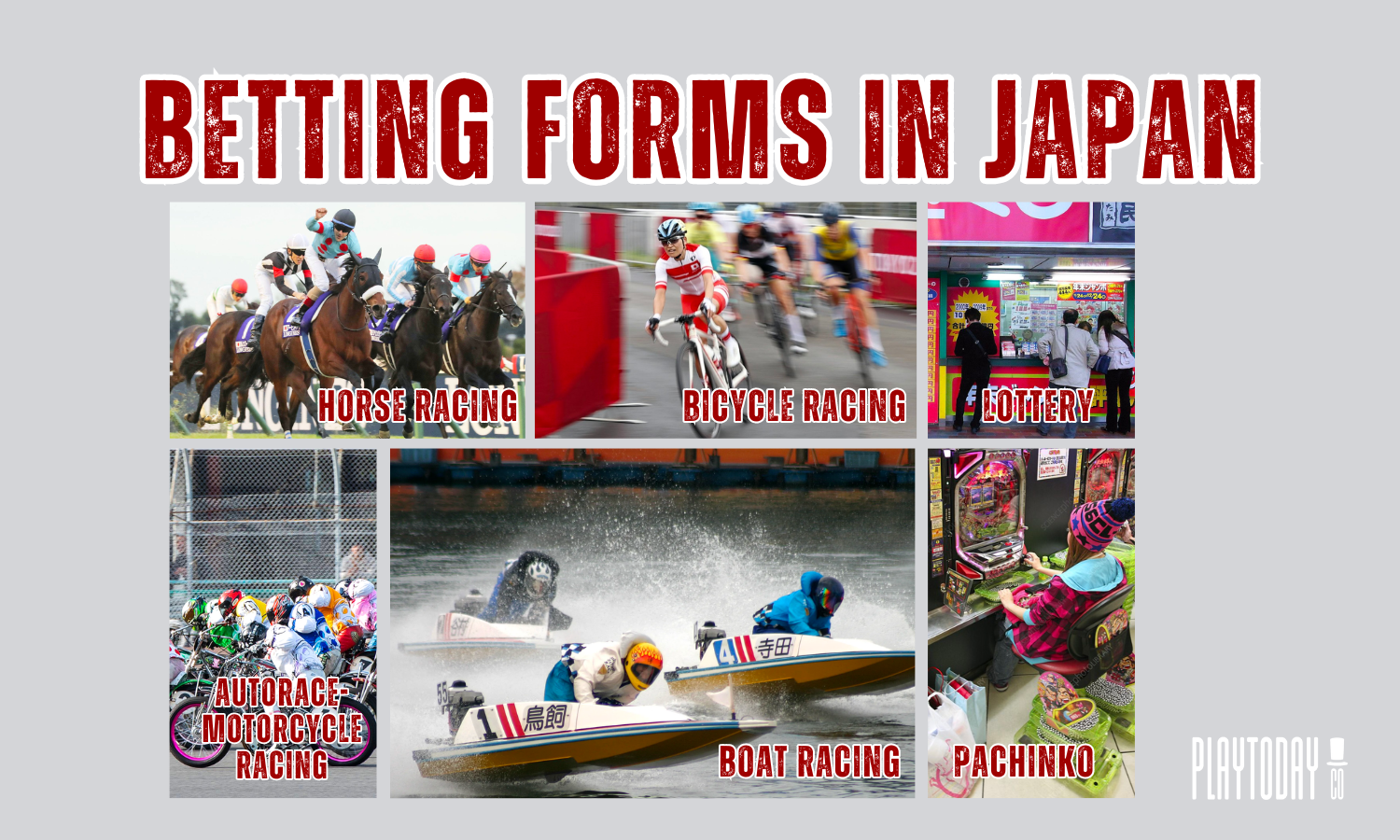 Due to strict regulations, Japan only has limited choices when it comes to gambling. Despite this, the passion for such activity remains strong. Gambling is still one of their favorite pastimes.

Side Note
Studies predict that by 2027, there will be 11.04 million online gamblers in Japan. With this growth in the gambling population, analysts foresee the Japanese betting scene to increase exponentially.
While the choices may not be as varied as in other countries, the games will still entertain whoever plays them.
Kōei Kyōgi
Japan named their four public sports as "Kōei Kyōgi." The four are the only games that a person can gamble on. They operate under special laws which are controlled and regulated by the government.
Get to know the facts and figures behind Kōei Kyōgi from the following sections to discover how big these sports are in Japan for entertainment and gambling.
Kyōtei (Boat Racing)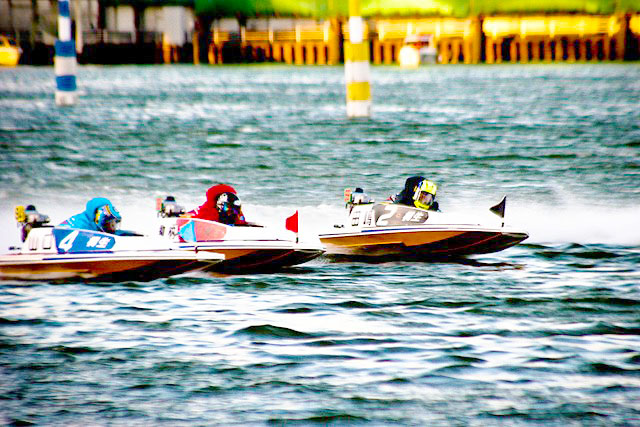 Kyōtei is a hydroplane race in Japan, introduced to the country in 1952. The first race happened at the Ōmura Kyōtei Stadium in Ōmura City, Nagasaki Prefecture.
The boat race can be held in a lake of 400 meters by 150 meters, played by six drivers that bettors can wager on. Drivers must race around two buoys 300 meters apart.
The driver who completes the fastest three rounds around the buoy is declared the winner.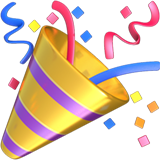 Fun Fact
The whole race is so fast-paced that it can take up less than a minute to complete. All drivers partake in a practice race, which can guide bettors on who to choose before placing their bets.
Kyotei stadiums are available from 10 in the morning and can hold 12 daily races. Bettors can place bets in the stadium or official locations. They can also watch the race on the television.
Bets for Kyōtei are unlimited. However, there is a ¥100 fee, and players must spend a minimum of ¥500 for each wager.
Gamblers can wager on the winner, the first three finishers, and a wide range of custom bets. In 2022, the total turnover for boat racing in Japan amounted to ¥2.44 trillion.
Keiba (Horse Racing)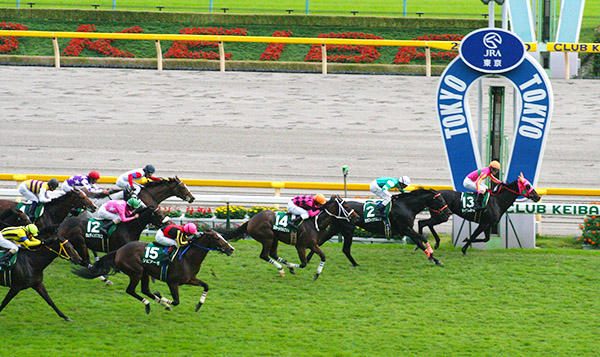 Horse racing in Japan goes back centuries. However, the British citizens in Yokohoma organized the first horse race in a European format. It happened in the Spring of 1862.

Did You Know?
Horse Racing produces the highest revenue among the sports betting competitions in Japan. The history of sports betting can be traced back to the early Western Civilization, which influenced Japan.
Japan's Keiba is an equestrian sport with more than 21,000 horse races annually. The JRA, or Japan Racing Association, organizes the sport. The country has 10 JRA racecourses across the land.
JRA Racecourses in Japan
– Tokyo Racecourse
– Nakayama Racecourse
– Kyoto Racecourse
– Hanshin Racecourse
– Sapporo Racecourse
– Hakodate Racecourse
– Fukushima Racecourse
– Niigata Racecourse
– Chukyo Racecourse
– Kokura Racecourse
Here are the types of horse racing in Japan that players can bet on.
Flat Racing
Jump Racing
Ban'ei Racing
Flat racing is where jockeys race against each other on a flat race course. The first to reach the finish line wins. This type is most suitable for people who do not have a background in horse racing.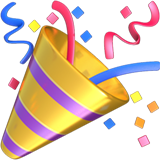 Fun Fact
There are specific types of horses used in Horse Racing called 'Thoroughbreds.' They are trained and conditioned for racing and, therefore, are bigger and more agile on the racetrack.
Jump Racing is a race where jockeys and their horses go through an obstacle course. It is less popular than flat racing. Race tracks can have various ditches and fence obstacles.
Ban'ei Racing is the most complex of the three. The jockey rides a sleigh, which the horse must pull through sand ramps. It is only available in Hokkaido Racecourse.

Did You Know?
If you are new to horse betting, the JRA provides bettors with a "How to Bet" leaflet explaining each section of the betting slip that a player submits to make a bet.
Horse racing is the biggest revenue producer among the four sports betting competitions, with a total of ¥3.25 trillion total turnover in 2022.
Keirin (Bicycle Racing)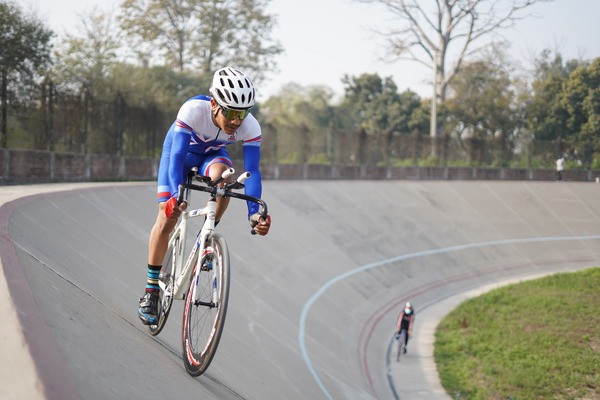 Keirin is a form of bike race competed by track cyclists. The Japanese developed the race around 1948 for gambling purposes. The race takes place in a velodrome, a track specifically intended for track cycling.
The Olympics in 1996 officially admitted it to its list of competitive sports. Keirin debuted at the 2000 Summer Olympics in Sydney.
Nowadays, the Japan Keirin Autorace (JKA) Foundation regulates this form of gambling. In this sport, the cyclists compete against each other to reach the finish line first.
There are seven kinds of wagers in a Keirin competition.
| Wager Types | Description | Winning Odds |
| --- | --- | --- |
| Trifecta | Predict the first three winners in exact order | 1/504 |
| Trio | Predict the first three winners in any order | 1/84 |
| Perfecta | Predict the first two winners in the exact order | 1/72 |
| Quinella | Predict the first two in any order | 1/36 |
| Bracket Perfecta | Predict the first two cyclist brackets in exact order. | 1/33 |
| Bracket Quinella | Predict the first two cyclist brackets in any order. | 1/18 |
| Quinella Place (or Wide) | Predict two cyclists to finish in the top three in any order | 3/36 |
All Keirin competitions are categorized into six grades. Each grade requires competitors to reach a certain rank. The Keirin Grand Prix is the most awaited Keirin event of the year.
The Keirin Grand Prix ensues every December 30. Here, nine cyclists compete in a single race to determine a champion. The championship prize money amounts to ¥100 million.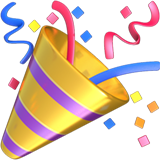 Fun Fact
In Japan, Keirin and other sports events have dedicated schools for aspiring athletes/competitors. To be a professional Keirin rider, one must graduate from The Japan Keirin School in Izu.
Many off-track betting sites and velodromes are available in Japan to bet on Keirin. In 2022, Keirin had a total betting turnover of ¥1.09 trillion, the third most-wagered on sports games in Japan.
Ōtorēsu (Auto Race – Motorcycle Racing)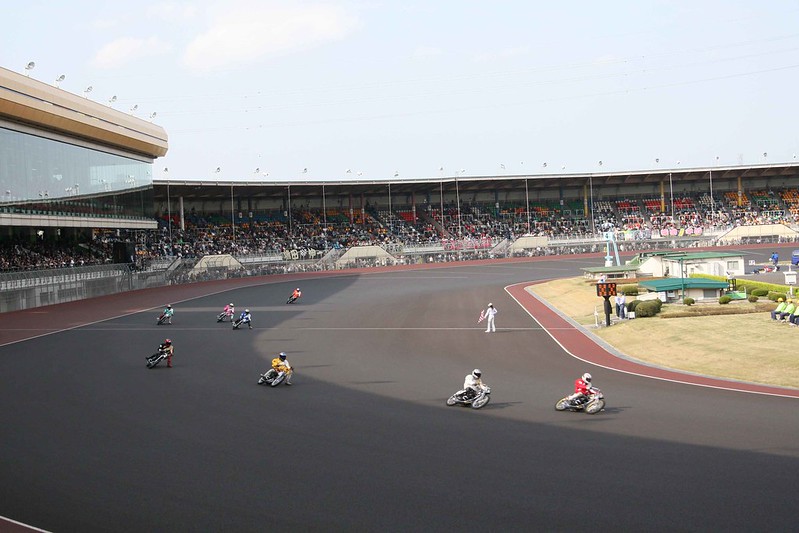 Ōtorēsu is a Japanese version of flat-track motorcycle racing. The Japan Keirin Autorace Foundation regulates this sport.
The first race took place at Funubashi in 1950. The government banned the traditional version of the sport in 1960 because it was deemed too dangerous.
The government controls this sports competition. Eight riders compete against each other on a racing circuit. They race for six laps and drive around the track counter-clockwise.

Did You Know?
There are twelve games per day in Ōtorēsu. However, a rider can only participate in a race once a day. Therefore, 96 riders brave the race track in a single day. 
In an Ōtorēsu Competition, riders can reach speeds of up to 150 km on straight lines, 90 km on corners, and an average of 105 km.
There are two types of races in an auto race competition.
Handicap Race: Allows slow riders to have a starting line at the front while faster riders are at the back. In this system, a slow rider can be 10 meters ahead of the faster riders.
Non-Handicap Race (Open Race): Make all the riders begin at the same starting line with no handicap.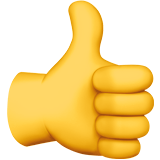 Helpful Articles
Each country follows different laws about sports betting, while many areas in Asia and the Middle East heavily outlaw the activity. Learning about any country's gambling laws before participating will ensure a safe and secure experience.
Patrons can watch Auto Race Competitions in stadiums to experience them. Also, they can watch it through the internet and television.
Auto Race Betting is the least famous in Japan. In 2022, it only had a turnover of ¥107.5 billion. The amount is way less than the other sports betting competitions that amassed trillions.
Check out the rank of each public sports competition in recent years.
💸 Sports Betting Competition Revenues
🐎 Horse Racing
¥3.25 trillion
⛵ Boat Racing
¥2.44 trillion
🚴 Bicycle Racing
¥1.09 trillion
🏎️ Auto Racing
¥107.5 billion
These Kōei Kyōgi have produced trillions of yen in revenue. It proves that responsible and regulated gambling can help boost a country's economy.
Takarakuji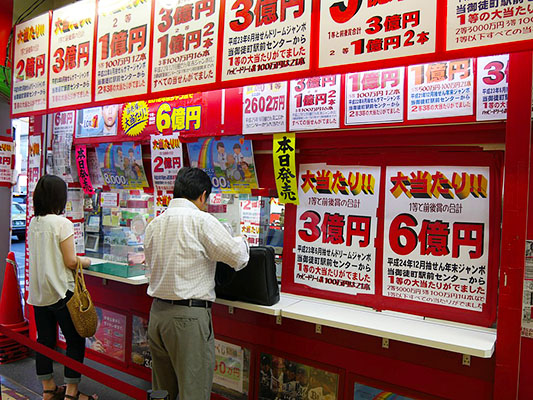 In Japan, the word Lottery translates to "Takarakuji." Under Japanese law, only the government can issue online lottery tickets, while the Japan Sports Council issues the Sports Promotion Lottery.
The public can buy tickets in the prefectural Lottery at the ATM or even scratch cards. Local convenience stores (Konbini) sell these scratch cards.
Lottery regulations fall under the Takarakuji Law, which states that the prize pool should be less than 50% of the total sales. Only 12 designated cities and 47 prefectures can have Takarakuji.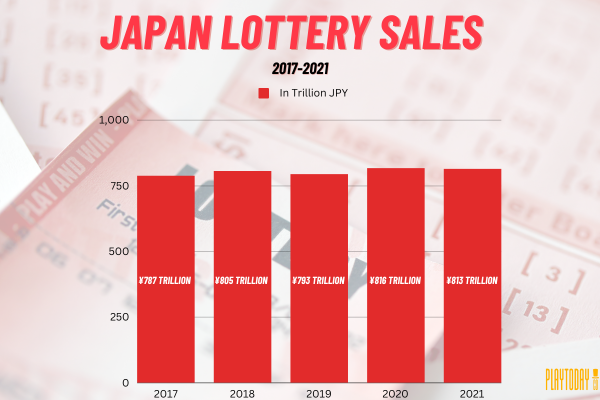 Revenue from Takarakuji sales in Japan has been consistent since 2017, averaging around ¥803 million. The latest data for the sales was in 2021, when sales reached up to ¥813 trillion.
Pachinko
Pachinko parlors flood the streets of Japan. They are found everywhere and are the closest to a casino in the country.
Japanese law does not officially designate Pachinko parlors as legal. But, they fall under "momentary amusement," which allows its operation in the country.
Pachinko parlors had dodged the law this way for a long time. Players can trade their winnings for small trinkets called Keihin. They can also swap these trinkets for other prizes in another building.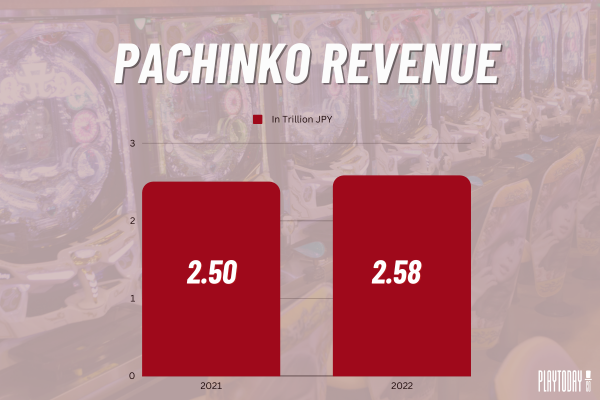 According to a report of Industry Ministry Statistics, Pachinko Parlors was a ¥2.58 trillion business in 2022. This value exceeds the ¥2.5 trillion they made the year before.
In 2021, the Pachinko and Pachi-Slots reached a market size of ¥14.6 trillion. There are about 7,670 Pachinko parlors in the country.
Casinos in Japan
There are still no available legal casinos in Japan today. For a long time, the Japanese had prohibited Casino gambling.
However, there will be casinos in Japan in the future. Japan will open its first Integrated Resort in Osaka in 2029.
The Yakuza's Hold on Japan's Illegal Gambling Scene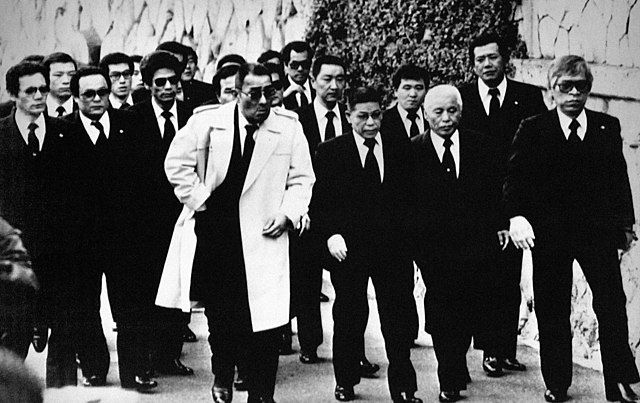 The Yakuzas are Japanese gangsters whose origins date back to the 17th century. This organization is an infamous organized crime syndicate.
In the 1960s, there were an estimated 184,000 members. In the 21st century, it's believed that their numbers declined to 80,000. The Yakuza was also known as "bōryokudan."

Did You Know?
The Yakuza has over 3,000 syndicates scattered all across Japan. The largest syndicates are:
Yamaguchi-gumi
Inagawa-kai
Sumiyoshi-kai
These syndicates comprise almost 70% of the entire Yakuza membership.
The biggest syndicate, Yamaguchi-gumi, is reported to have an income of ¥1.27 billion or $11.5 million. Their casinos earn a monthly estimate of ¥100 million.

Did You Know?
The Yamaguchi-gumi syndicate consists of 23,400 members.
They operate in 44 of Japan's prefectures, amassing wealth through extortion, the sex industry, real estate and construction, arms trafficking, and gambling.
Japan's National Police Agency reported that the entire Yakuza had a total revenue of ¥1.3 trillion, equivalent to $11.8 billion.
The Yakuza had been a significant problem for the government. Due to disputes and conflicts made by divisional Yakuza, over 17,000 arrests were made in 2017 alone.
Nowadays, the Yakuza control areas of illegal gambling. These include casinos, Mahjong parlors, and Pachinko parlors. The Yakuza owns many nightclubs, bars, and other entertainment venues.

Did You Know?
The Yakuza have close ties with influential figures such as politicians and business leaders. They influence real estate, construction projects, and even sports teams. 

Authorities discovered that the Yakuza had been secretly meddling in MMA in Japan, severely affecting the sport's reputation and its fighters. 
In September 2020, the Tokyo police arrested a high-level Yakuza boss operating a casino in the Roppongi area of Japan. He runs a high-stakes Baccarat den that made ¥480 million.
A more recent case happened in April 2022. The Metropolitan Police Department arrested four Yakuza gang members who ran an illegal casino in Tokyo.
Betting and Gambling Age Restriction in Japan
In Japan, different gambling types have different age requirements. Japan's age limit is somehow similar to other countries. Gambling age is limited to those 18 years old and above.
Gambling Age Requirement in Japan
Public Sports:
20 years old+
Pachinko:
18 years old+
For Japan's public sports (boat, horse, auto, and bicycle racing), the gambling age is 20 years old.
Gamblers under the age of 18 are not allowed to play Pachinko. Even if the person is 18, as long as they are high school students, the law prohibits them from playing.
Gambling Penalties in Japan
Chapter 23 of Japan's Penal Code deals with Crimes related to Gambling and Lotteries. Within this chapter are Articles 185, Article 186, and Article 187.
The following provisions prohibit gambling in Japan and the penalties for such acts.
Article 185 deals with Gambling. It states that:
Anyone indulging in gambling can pay not more than ¥500,000 in fines.
This punishment excludes those who placed bets for games with "momentary entertainment."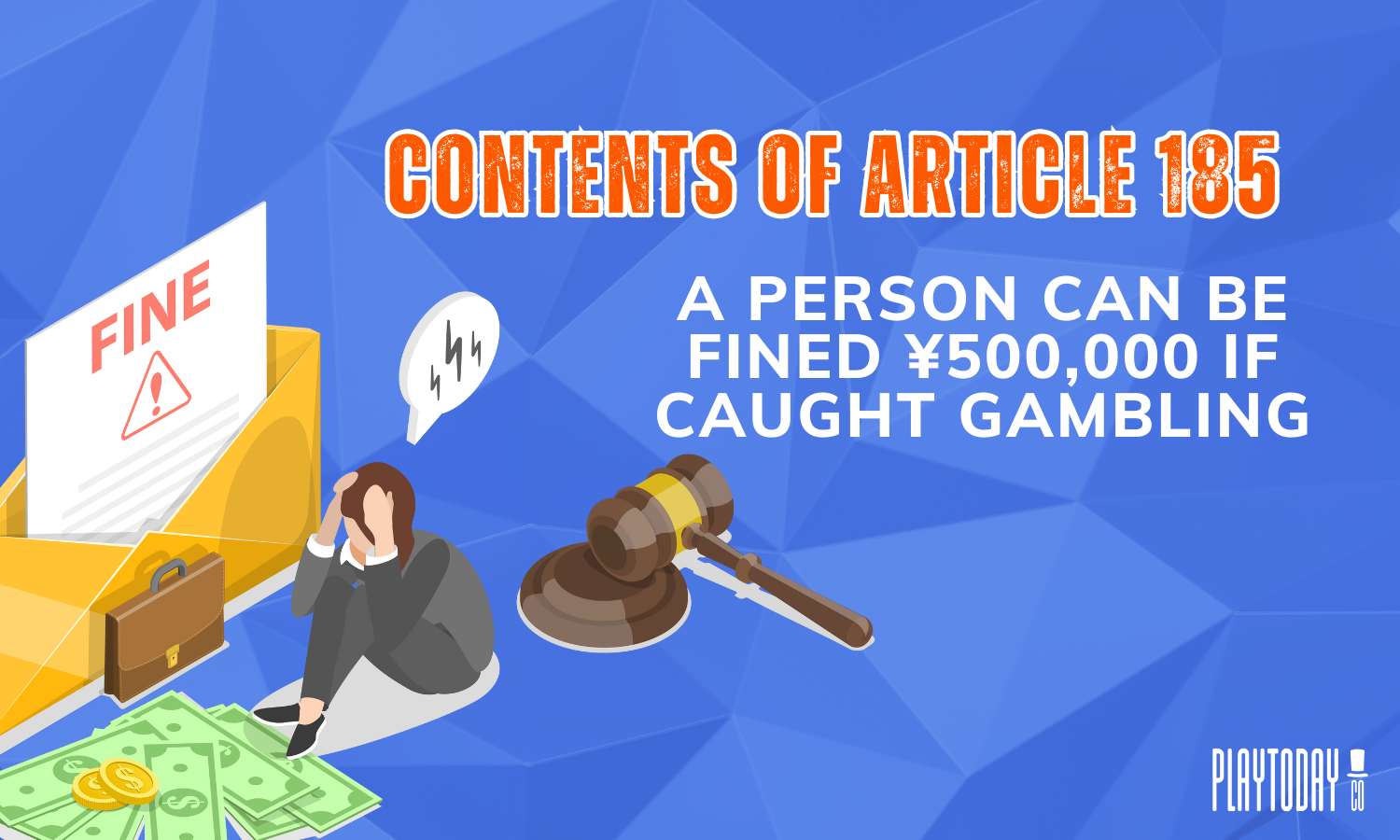 Article 186 deals with habitual gambling and running a gambling place for profit. It states that:
An individual who gambles habitually may be imprisoned with work for no more than three years.
A person who runs a gambling operation may face imprisonment for not less than three years but not more than five years.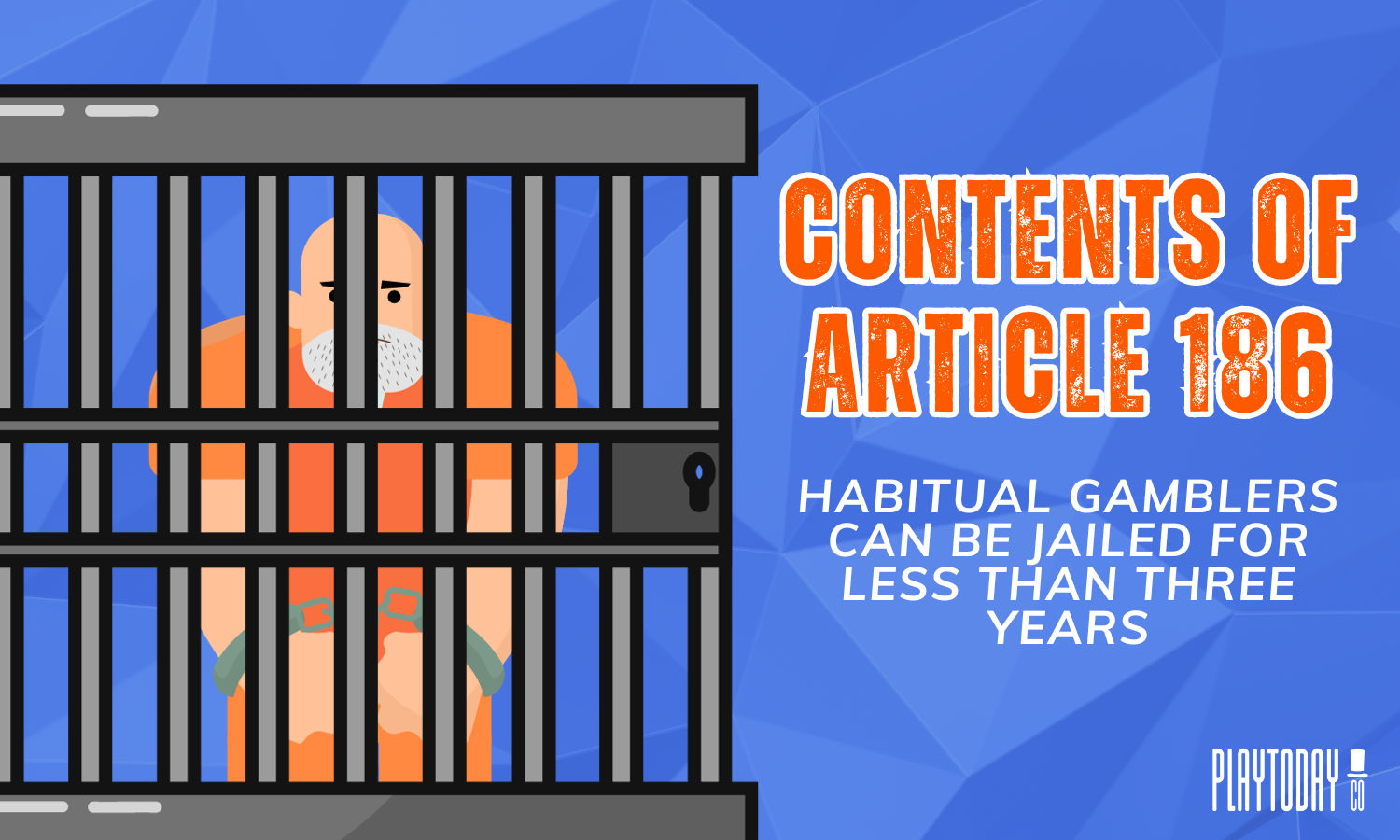 Article 187 deals with the lottery, which imposes two years of imprisonment and a fine of ¥1.5 million for anyone caught.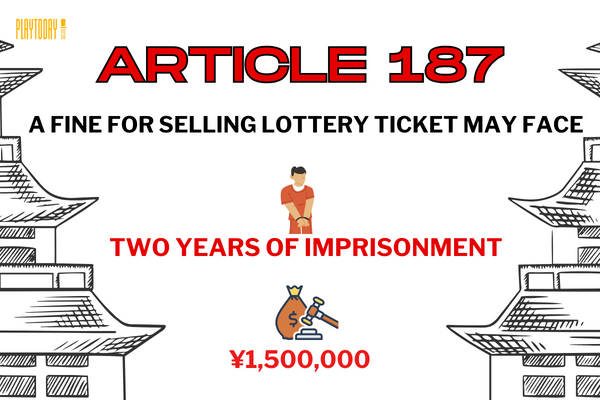 A person who sells lottery tickets shall be punished by imprisonment with work for not more than two years or a fine of ¥1,500,000.
Anyone who acts as an intermediary in lottery ticket sales shall be imprisoned with work for not more than one year or a fine of not more than ¥1,000,000.
Individuals who deliver or receive lottery tickets shall be punished with a fine of not more than ¥200,000.
Japan's law does not explicitly mention "online" casinos as a crime. Regardless, Japanese officials see it as illegal.
The Japanese National Police Agency and Consumer Affairs Agency warned against using offshore online gaming sites as the government still deems it as a crime.
Infamous Japanese Figures that Violated Japan's Penal Code 1907
With billions of cash at stake, gambling can be an avenue for corruption. Japan is not new to such corruption scandals.
Below are high-profile individuals whom Japanese news reports have reported to have violated Japan's gambling laws.
Tsukusa Akimoto
Masatoshi Akimoto, a member of Japan's Liberal Democratic Party (LDP), was detained for taking bribes from 500.com Ltd, a Chinese gambling operator, amounting to ¥7.6 million.
Akimoto pleaded not guilty during his first trial in the Tokyo District Court. Seven months later, the court sentenced him to four years in jail and a fine of $68,300.
Five Lawmakers Under Japan's Liberal Democratic Party's (LDP)
In December 2019, Katsunori Nakazado, the gaming advisor of 500.com Ltd., blew the whistle on five lawmakers who received bribes amounting to ¥1 million.
One of the five involved was former Defense Minister Takeshi Iwaya, a ruling member of the LDP. Four alleged lawmakers belonged to the LDP, while the other was from the opposition.
Other lawmakers' names were not revealed. Reports say that those caught were members of a group designated to boost international tourism in Japan.
The cases above are likely to affect the development of the IR project in Japan due to public opinion. The fact that those arrested have political backgrounds implies corruption within Japan's governing bodies.

Side Note
Bottomline
Japan's current gambling landscape has stringent regulations limiting gambling options. However, much is in store for the Land of the Rising Sun as casinos will soon rise in the country.
These developments will indeed transform the gambling scene in Japan. With their drive and consistency for excellence, we can only look forward to this exciting time for Asia's top economies.
FAQs
Are there legal loopholes in Japan's Gambling Law? 

Pachinko does not have any special law that legalizes it. However, it falls under "momentary amusement." Players who win large amounts can exchange their winnings for Keihin. 
What other sports betting is allowed in Japan? 

Betting on Japanese football and basketball pools is also legal in Japan. They are under special laws which permit people to gamble on them. 
Is there a fee when entering a casino in Japan? 

According to the Integrated Resorts Law, citizens must pay a fee of ¥6,000 upon entering a casino. The fee is good for only 24 hours.