How Do Slot Tournaments Work? An Insider's Look at the Rules and Strategies
Slot tournaments are a great way to win valuable prizes and meet new people. Learn more about how they work and what you can do to maximize your chances of winning.
Slot tournaments are highly competitive, entertaining, and thrilling competitions. They take place all over the world and the winners, as well as other high-ranking players, can win big prizes. Joining a slot tournament is easy and inexpensive, but you need to put effort into some preparation if you want to improve your chances of winning.
So, how do slot tournaments work? In this article, you'll learn everything you need to know if you want to play slot tournaments at either physical or online casinos, as well as some tips on how to prepare properly, so read on.
🏆 Top Slots Gambling Sites
Based on all big and small factors, here are the best online slots sites based on different geo locations:
🇺🇸 US, 🇨🇦 Canada, and 🇬🇧 United Kingdom players:
-> Super Slots (💰 250% Bonus up to $1,000).
-> Wild Casino (💸 300% Crypto Bonus up to $3,000).
🌍 Other countries try:
-> Stake (Best Sweepstake Casino with 🎁 Weekly Raffles).
-> Thunderpick (💶 €2,000,000 Prize Pool)
-> Casino Days (🎰 Get up to $1,000 cash + 100 Free Spins).
-> Trust Dice (🏦 First Deposit Up To $30,000 + 25 Free Spins).
What Is a Slot Tournament?
A slot tournament is a competition organized by both brick-and-mortar and online casinos. Players compete against each other to win money or prizes such as free spins and drinks, among other things. Participants play during a set time, and the player or players with the best results receive prizes.
Why Do Casinos Organize Slot Tournaments?
It's profitable for casinos to organize slot tournaments because slot machine odds bring the house guaranteed income. Moreover, related expenses are low and, in the case of a physical casino, players will likely remain after the tournament and spend money on drinks or other games.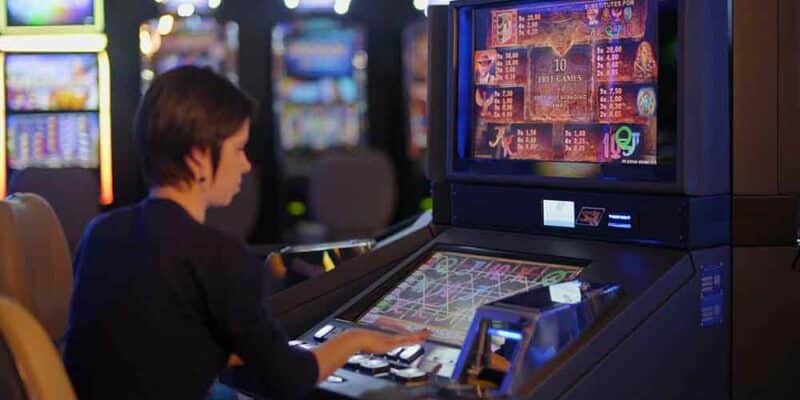 Playing a slot machine game (Credit)
Why Join a Slot Machine Tournament?
Gamblers join slot tournaments for many reasons, and these are some of them:
The entry fee for most slot tournaments is usually low (between $25 and $100), and it may even be free.
Players can earn a lot of money if they win; even if they don't, the credits they get during the slot tournament may exceed the fee.
They can meet other people and have a great time in the process.
How Does a Slot Tournament Work?
Gambling venues collect tournament applications in advance, so make sure to apply on time. Once you sign up for a slot machine tournament, the casino will assign you a slot machine number, a credit amount, and the time when you'll play. Note that you'll compete against other players, and whoever has the most wins by the end of the allotted time will reap the rewards.
While participating in these competitions seems pretty straightforward, there are some rules to keep in mind. Also, you can employ several strategies and practices to increase your chances of winning, so let's see what those are.
Tips on How To Avoid Breaking the Rules
Slot tournament rules mainly revolve around available credits and time limits. If you accidentally break any of them, you'll find yourself disqualified from the tournament. The best you can do to avoid such a scenario is to stick to the following guidelines:
Read the Rules in Advance
Casinos make the rules public, and you'll have a chance to familiarize yourself with them once you sign up for the competition. Take the time to read them because failing to do so may lose you the prize or get you disqualified early.
Don't Top Up Your Credits
Every player receives an equal amount of credits they can use in the slot machine tournament. If you spend the allocated credits, refrain from topping them up because the judges won't tolerate such an attempt to improve your chances of winning.
Don't Exceed Your Time Limit
Keep track of the time you get, whether you compete at physical venues or online slot tournaments. Any time you spend playing beyond the allotted time will be discounted.
Wait for the Judges To Verify Your Result
Stay where you are when the casino slot tournament or your time slot ends so the judges can note down your score. If you leave early, they may skip you by accident.
Tournament Rewards
The reward you may collect if you win depends on a variety of factors, such as the entry fee, the number of participants, and how many people get rewards.
For instance, if 100 players sign up for a slot tournament at $30 each, the prize pool would be $3,000. Note that free slot tournaments may grant lower rewards. Furthermore, the winner may take it all in some competitions, while the runner-up and other high-ranking participants may share a portion of the prize pool in others. It's not unheard of that even lower-ranking participants get some rewards.
Besides cash, the most successful players may get other slot tournament winnings, such as free spins, drinks, meals, and hotel stays. Other prizes that the lucky winners may receive are welcome parties and raffle prizes.
How To Play a Slot Tournament and Win
While playing a slot machine game may seem pretty simple, winning a competition still requires knowledge and practice. First of all, you need to understand how slot machines work. Once you understand the math behind it, use the strategy that the most experienced players recommend and follow the slot tournament tips below to improve your chances of winning the grand prize.
Best Strategy To Win a Slot Tournament
Many players make beginner mistakes that prevent them from winning prizes at slot tournaments. So, pay attention to the following guidelines to avoid being one of them and learn how to win a slot tournament:
Spin Fast
Spin fast and use all your credits if you can. If there's any credit left when the time's up, it won't be added to your result. Spin fast to win as many spins as possible because a few of them may mean the difference between collecting a grand prize and leaving empty-handed.
Go for the Maximum Bet
If you can vary the bet size, bet the maximum limit since you'll get exponentially higher rewards if you follow this slot tournament strategy. The bigger the winnings you have at the end of the competition, the better your chances of collecting the prizes.
Wager on the Maximum Number of Paylines
Since most slots feature multiple paylines, you should bet across as many of them as you can to increase your chances of winning at the slot machine. Even though the combination of symbols is completely random, betting this way will improve your chances.
Don't Get Distracted
Once you start hitting the flashing button, ignore all distractions, as even a moment of absentmindedness can make a big difference in the end. So, give your phone to a friend or, at the very least, turn off the notifications.
Next, the slot pauses to tally credits whenever a big win occurs. You're closer to claiming slot tournament rewards with each one, but don't let that distract you. Continue pressing the flashing button the moment the machine distributes the credits.
Also, refrain from celebrating a jackpot or distracting other players. Remember that the more time you spend doing something else, the lower your chances of getting ahead of your competitors.
Secrets to Winning a Slot Tournament
Now you know the best strategy to play slots and win a tournament. Still, you can further improve your chances by following several best practices, which are:
Avoid having a lot of drinks just before and during a tournament. Going to the restroom too often will impact your final leaderboard position.
Playing a slot game requires concentration, so try to get a good night's sleep before the tournament. If you lose concentration even for a moment, it could make a huge difference.
Many participants are tempted to peek at the scoreboard while playing. Don't be one of them; keep playing until your time is up because only the final score on the leaderboard is what counts.
Popular Slot Tournament Types
Slot tournaments aren't created equal, and some popular types of slot machine tournaments are:
Scheduled tournaments, which take place at a specified time and date.
Survival slot tournaments, which involve playing in rounds, with the lowest-ranking participants being eliminated at the end of the round.
Freeroll slot tournaments aren't easy to find, but these free competitions offer high rewards.
Comped tournaments are open to VIP or loyalty players of a casino, so ensure you earn either status by spending some time or a certain amount of money at the gambling venue in question.
Slot Tournament Practice
Now, all you need to do is practice for a slot tournament by finding online casinos or venues where slot tournaments take place. Regarding online casinos, it would be best if you find those offering free slot games. Once you do, play until you figure out the game's mechanics and how the symbols work.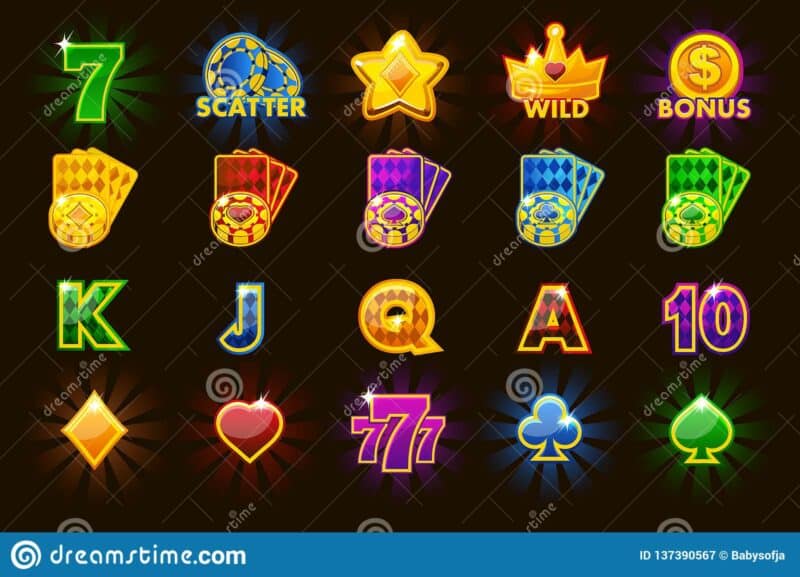 Slot machine symbols (Credit)
Final Words
Now you know the basic format of a slot tournament and tips on how to win scheduled, freeroll, and survival slot tournaments, among others.
So, put your knowledge into practice and remember to only use the credits and the time you have to avoid disqualification. Finally, rest well before the competition day, don't get distracted by the scoreboard while playing, and wait for the judges to verify your result once the time is up.
FAQ
Do slot tournaments cost money?

While participating in some slot tournaments require an entry free, other tournaments don't cost anything. In freeroll slot tournaments, for example, participation is completely free.
How do you get invited to slot tournaments?

You must sign up first to get an invitation to a slot tournament. In some casinos' comped tournaments, you must be a VIP or a loyalty program member to be eligible.
What is the best way to play in a slot tournament?

Spinning fast and placing maximum bets is the best strategy to play and win a slot machine tournament. Wagering the maximum number of paylines and avoiding distractions should also help. For more details and tips, read PlayToday's full article on this subject: "How Do Slot Tournaments Work? Rules and Tips To Help You Win Big."