Women empowerment is in full swing, and that includes women in esports.
Nowadays, video gaming is not just a hobby but a fruitful venue for players and big companies to invest in, making esports a viable option as a career and hobby for everyone.
The scene has invited gamers and fans of all forms worldwide. A study in 2019 mentioned that 32% of viewers of esports events in South Korea were women.
This article explores how many women gamers are involved in esports worldwide.
Let's have a look at the facts!
Fascinating Facts
As of July 2022, women gamers in the US have reached 48%, slightly trailing male gamers at 52%.
Women gamers

comprise

46% of the 3.2 billion

global gaming community.

In 2019,

only 5%

of the esports

scene

were

female gamers

.

As of 2023, the

highest-earning female

esports gamer is

Sasha "Scarlett" Hostyn

, earning

$445,871.56

from Starcraft II tournaments.

In 2022,

female tournaments generated 23.76 million hours

of

viewership

.

13% of female gamers

belonged to the

LGBTQ+

and

20% belonged to the BAME

in 2020.

Data from the

first quarter of 2023

shows that

40% of PC gamers are women

.

Shopify Rebellion

generated around

3.07 million hours watched,

the

highest views for female esports

in 2022.

The

ML: BB Women's Invitational

was one of the

most viewed female esports

tournaments in 2022, with

2.1 million total

viewership hours worldwide.

Rachell 'Valkyrae' Hofstetter

is the

biggest female

personality in esports, with

3.7 million Youtube

subscribers.

In 2023,

FIFA launched

the

FAMEHERGAME

program to

provide opportunities

for

female FIFA

players to compete in a

safe and conducive venue

.
How Many Women Are Esports Gamers There?
Women's representation is crucial for the esports industry. Aside from combatting stigma, it's essential to understand how much of the gaming population is defined by women.
A 2019 study on Gender and Gaming stated that almost half (35%) of the gamer population are female, yet only 5% of that population are considered professional esports athletes.
This highlights the scarcity of women in the pro scene as athletes. Several factors, such as frequent harassment and lack of support from organizations and fans, play a crucial role in this development.
Number Of Women Esports Gamers
The growth of the female gaming population was slow but steady. In 2006, only 38% of the gamers in the US were women, which grew to 48% in 2022. The graph below shows the growth rate of women gamers.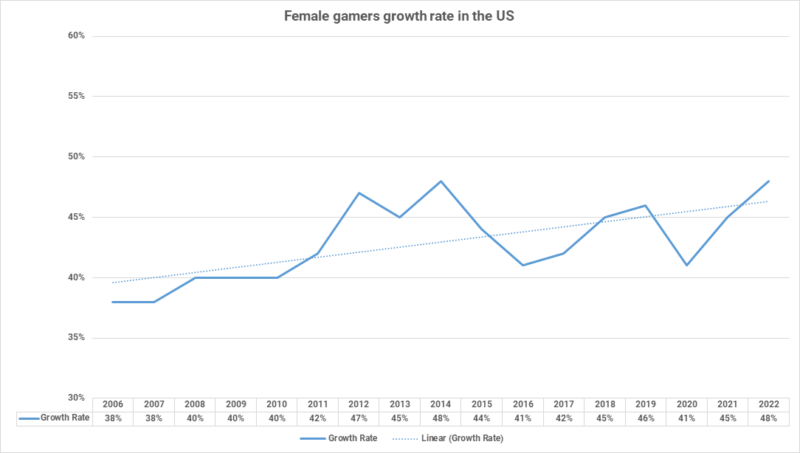 According to Newzoo, almost half of the gaming enthusiasts are women. Females make up 46% of the 3.2 billion gamers worldwide. The female gamers were also categorized according to their levels and gaming personas, as shown below:
| | |
| --- | --- |
| Gaming Persona | Percentage of Women |
| Ultimate Gamers | 4% |
| All-Round Enthusiasts | 5% |
| Community Gamers | 6% |
| Solo | 5% |
| Mainstream Gamers | 23% |
| Popcorn Gamers | 29% |
| Backseat Viewers | 3% |
| Fill Time | 25% |
| Lapsed Gamers (Non-Gamers) | 10% |
"Gaming Personas" indicate women's dedication, skill, and experience toward gaming.
Ultimate Gamers are the most avid and skilled, while Time Fillers have the least experience and time for gaming.
The study shows that most women gamers are casual esports fans or play mainstream games casually.
Women Esports Gamers by Country
An article from TFR stated that women accounted for about 41% of all gamers in the US in 2020. Meanwhile, in Asia, 40%-45% of gamers were females.
Nikopartners mentioned that, in China, almost 95% of women spent more hours gaming during the pandemic. The study also stated that female gamers in Asia tallied in at 500 million, around 38% of Asia's gaming population.
Concerning Asia's total female gamer population, 18% are from India. Meanwhile, in Indonesia, 49% of mobile gamers are women.
Percentage of Women in Teams
State press news stated that only 8.2% of college esports players were females, according to the 2022 data from the National Association of Collegiate Esports, adding that only 4% of esports coaches were women.
While this shows the lack of women in esports, the research also highlights women's desire to join esports as they consider it a viable career.
All-women teams and their big wins
Some of the biggest esports teams in the world consist of women. Below are some teams to follow:
Shopify Rebellion (Valorant)

Tenstar Nova (Valorant)

GPX (Mobile Legends)

FURIA Esports (CS:GO)

FaZe Clan (Valorant)

G2 Hel (LoL)

Team Vitality (LoL)

Nigma Galaxy Female (CS:GO)
Dignitas Fe was an all-women CS: GO team that won consecutive Intel Challenge Katowice tournaments in 2018 and 2019; they placed 2nd in 2017. The team transitioned to Valorant in 2022.
Nigma Galaxy Female is also a notable team in women's esports, winning the ESL Impact Katowice 2023 and taking home $50,000.
In Fortnite, the trio of vanessuh, sparkles_qt, and Sommerset dominated the Women of eRena tournaments two years in a row.
Highest-earning women gamers
Compared to the highest-earning males in esports, females earn substantially less. Factors such as which games and tournaments they compete at are vital in determining prizes and earnings.
Below are some of the high-earning women in esports.
1. Sasha "Scarlett" Hostyn (Starcraft II): $445,871.56
Sasha Hostyn is the highest-paid female esports gamer. Scarlett has earned $445,871.56 from playing Starcraft II since starting her career in 2011.
Her highest prize money won was during the IEM XII (PyeongChang), where she took home $50,000.
2. Li "Liooon" Xiao Meng (Hearthstone): $241,510.00
Liooon has a total earning of $241,510 from playing Hearthstone. Xiao Meng placed 1st at the GrandMasters 2019 – Global Finals, winning $200,000.
She has played 9 tournaments, placing 1st once and runner-up twice.
3. Katherine "Mystik" Gunn (Multiple Games): $122,550.00
Mystik is among the most famous female esports gamers. She started her career in 2006 playing Dead or Alive 4, where she won $15,000 at the CGS 2007.
Gunn's biggest outing was at the WCG Ultimate Gamer, a reality TV show with various games. She won the whole show, taking home $100,000.
Mystik is also a famous voice actress, cosplayer, and esports personality.
Average Hours Spent on Ssports
A 2015 research showed that women spent an average of 1.98 hours playing video games casually. On the other hand, a hardcore female gamer spends 4.39 hours.
The report also highlighted that hardcore female gamers spent an average of 5.44 days per week playing and that the average gaming session for these esports gamers spanned around 170 minutes per game.
Bryter mentioned that women spend an average of 8.3 hours weekly playing video games, 3.8 hours less than men.
Studies show that the time women spend on esports doesn't fall far from the rate of men's duration playing.
How Many Women Follow Esports Regularly
Female esports enthusiasts are growing daily. Women are starting to see esports games as more than just a game but an actual sport they follow.
Techspot mentioned that in 2019, 35% of esports players were women, adding that 30% of esports audiences were females. The report established that 20% of women were "serious audiences" that followed specific esports players and teams.
An average of 22% of female audiences watched esports in 2019. Precisely, 11% of women in the US occasionally followed esports games.
In 2022, female tournaments generated a cumulative of 23.76 million hours watched, 1.5x times more than the previous year. 49.2% was from Twitch viewers, and 44% was from the YouTube audience.
Statista broke the statistics of female esports followers by country, as shown below:
South Korea

– 32%

China

– 30%

United Kingdom

– 25%

United States

– 17%
Female Esports Gamers' Demographic 
Studies have shown the growth of the female gamer profile. More and more women are going into esports. The diversity of the industry is on full display.
In 2022, ESA reported that 48% of gamers are female, and 29% are people of color.
The study broke down the racial and ethnic data of the respondents, showing that: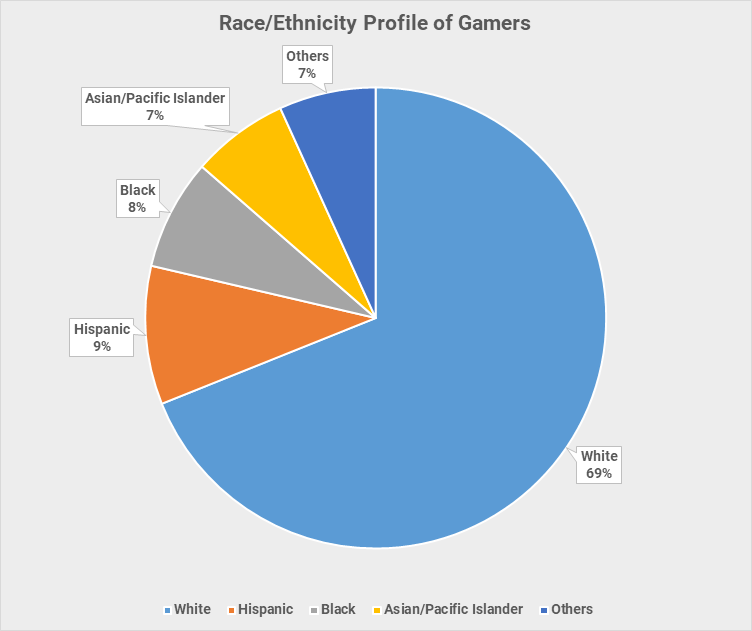 On the other hand, Bryter mentioned that one-third (33%) of female gamers were aged 25-34. They added that 13% of female gamers belonged to the LGBTQ+ and 20% belonged to the BAME.
Consoles vs. PC vs. Mobile vs. Other Devices
The device women gamers use heavily influences their gaming preferences. Some titles are exclusive to certain consoles and platforms.
Bryter reported that 81% of female gamers play alone offline, and 32% prefer to play strictly alone.
Consoles
In 2015, Pew Research stated that 42% of females owned an Xbox or a PlayStation.
Sony's PlayStation console attracts female gamers. In the PS1 era, 18% of the console's owners were women, which grew to 41% for the PS4-PS5 era.
In the US, around 40% of the Xbox Live audience are women. An Xbox One statistic also mentioned that 41% of gamers were women.
For Nintendo Switch, YouGov's study said that 46% of Switch gamers were female.
In 2020, Bryter reported that:
52% of female gamers owned a PS4

46% owned an Xbox

40% were using Nintendo Switch
Newzoo's 2022 report mentioned that 59% of females owned gaming consoles.
PC
In 2020, female PC gamers in the UK and the US accounted for 44% of the PC community. For the first quarter of 2023, reports mentioned that 40% of PC gamers are women.
Mobile Gaming
Studies show that mobile gaming garners many female participants. 70% of women play mobile games, 4% more than men. The report noted that a woman's average session is 25% longer than men's when playing mobile games.
Esports Game Preferred by Women
Aside from gaming device preferences, women in esports also have distinct genres they prefer to invest in. The genres that female players choose indicate their gaming habits since different genres require differing levels of time and skill to play.
Genres
Women prefer Puzzle/Card games the most, at 36%. Simulation games are second at 32%, then Platformers at 30%. This speaks of the game sense and IQ that women have as gamers.
Shown below are the specific game genres that women prefer to play:
Action Adventure

– 50%

Classic/Tactical Shooters

– 35%

Open-World Action

– 32%

Action-RPG

– 28%

Racing/Driving

– 29%

Fighting

– 29%

Battle Royale Shooters

– 25%

Sports

– 16%

Horror

– 25%

Strategy

– 24%
Esports Titles that Women Gamers Play the Most
According to ES Charts, Valorant was the most preferred esports game for female gamers and followers.
In 2022, female esports viewership totaled about 23.76 million hours. 45.8% (10.88 million hours) of those views were for Valorant tournaments.
A Valorant team also garnered the highest views for female esports. Shopify Rebellion generated around 3.07 million hours watched.
The game has established 36 official female pro teams worldwide.
According to Epic Games, roughly 10% of Fortnite's players are females. With around 250 million average players, 25 million of the player base are women.
Mobile Legends: Bang Bang!
In 2022, ML:BB gained 30.6% (7.27 million hours) of the total viewership for female esports. GPX Basreng generated the most views for an MLBB women's team at 2.74 million hours watched.
The ML:BB Women's Invitational was one of the most viewed female esports tournaments in 2022. The contest gained 2.1 million hours watched, with an average of 57,607 viewers and a peak of 392,405 worldwide.
Riot Games reported that around 30% of the League of Legends player base are women, adding that 97% of the women "main" female champions.
While LoL only gained 1% (237,600 hours) of the total viewership of female esports in 2022, LoL's entire player base is around 180 million, meaning that about 54 million registered players are female.
According to Newzoo, 20% of CS:GO players are female. The game had 8.2% (1,948,320 million hours) of female esports viewership in 2022.
Ranked female CS:GO pro organizations were recorded to be around 107 teams in May 2023.
Women Esports Streaming
Female gamers and streaming go hand-in-hand. This is why many of the top gaming streamers are women.
Twitch had around 9.9 million active streamers in 2022; around 19.64% (1.94 million) are women. On the other hand, 50 billion minutes of gaming content were viewed on YouTube, and its "Gaming" platform is one of the most-utilized venues for live-streaming games.
Below are some of the most prominent female game live streamers:
Valkyrae
Rachell 'Valkyrae' Hofstetter is one of the biggest female streamers in the esports industry. She has 3.7 million Youtube subscribers (418 M views). Her watch time count on the platform is around 12.2 M hours.
Valkyrae is also the co-owner of the esports organization 100 Thieves. Her most recent accomplishments include:
Content Creator of the Year at the 2020 Game Awards

Adweek's Gaming Creator of the Year in 2021

Forbes' 30 Under 30 list in 2022.
Fortnite is Valkyrae's main game.
Pokimane
Imane "Pokimane" Anys is one of Twitch's most followed female streamers. She has over 9.32 M followers on the platform. Her most played games include LoL, Fortnite, Among Us, Minecraft, and Valorant.
Pokimane won Shorty Awards' Best Twitch Streamer of 2017 for her LoL streams. She was also one of 15 streamers named Twitch Ambassador in 2018.
itsHAFU
Rumay "HAFU" Wang is a professional esports athlete famous for playing Hearthstone and World of Warcraft competitively. She has earned over $90,000 in her esports career.
itsHafu has 1.27 million followers on Twitch and a record of 71K peak viewership.
Her achievements include:
Dreamhack Summer 2011 champion (Bloodline Champions)

Pogchamps Chess Tournament 2020 winner
Initiatives to Increase the Women's Participation in Esports
Women in Esports
The creation of the Women in Esports was led by British Esports in 2019, aimed towards including women and diversifying the esports industry.
The program raises the banner for proud women in esports, leading the charge for development in the industry. It has four key pillars: Educating, Engaging, Empowering, and Expertise.
Women in Esports has a committee of 16 individuals from across the industry.
The Rocket League: Ally Women's Open Tournament
The Ally Women's Open is a Rocket League (RL) Tournament organized by the women's RL esports. It was launched in March 2023 by Ally Financial.
The women's tournament pushes for Ally Financial's commitment to 50/50 media spending across women's and men's sports and has a $40,000 prize pool.
Led by an all-women's management team, the Ally Woman's Open aims to celebrate and champion opportunities for female esports athletes and provide various resources to enrich the women gamers' culture.
FAMEHERGAME
FIFAe has announced a new program called FAMEHERGAME, aimed at increasing female involvement in esports within the industry. FIFAe is the esports arm of FIFA.
FAMEHERGAME intends to provide opportunities and safe venues for female FIFA players to compete. FIFAe developed the program to "tear down the restrictions women encounter" in the community.
The women's program will host esports boot camps for gamers looking to enter the competitive scene in mid-2023. FAMEHERGAME shall provide women with coaching sessions and a trip to FIFA Women's World Cup 2023 in Australia and New Zealand.
FAMEHERGRAM seeks to revolutionize the current FIFA competitive landscape by focusing on the pillars of healthy players, a healthy community, and a healthy planet.
Final Words
Despite making up almost half of the video gaming population, esports women have yet to truly make a significant mark in the industry.
Most issues stem from discrimination and harassment from their male counterparts, significantly hindering women from fully immersing themselves in the industry.
The stats also show the disparity between prizes between male and female esports tournaments, another notable road bump in women's long journey in esports.
Everyone must do better to encourage and help women gamers, especially men, become major players in the esports industry.
Frequently Asked Questions
Why are there so few professional women gamers?
Although esports tournaments are open to both genders, many female players do not see esports as a viable career option due to the lack of women role models in the industry.
Which country has the most women gamers?
China had the biggest female gaming population, with around 308 million in 2020.
What percentage of females experience sexism in gaming?
Around 58% of women gamers playing online have experienced abuse from male gamers, and 28% have suffered sexual harassment, such as objectifying comments or death and rape threats.
List of sources: