Sony's PlayStation will probably be the first thing you think of in video game discussions. As of June 2023, 579.9 million PlayStation consoles have been sold since 1994.
In the most recent consoles' lifetime sales comparison, PS2 ranks first, with 155 million sales. The most recent addition to Sony's console selection, the PS5, is among its generation's strongest consoles.
Here, you will uncover the latest trends and statistics showing how Sony's PlayStation consoles continue to dominate video gaming.
Editor's Choice:
PS2 is the best-selling

Sony console, with over

158 million units sold

.

7.8 million PS5 units were sold in its launch year

, the highest among PS consoles.

Sony's

best-selling quarters were Q3 of 2011 and 2013

— sold 9.8 million consoles.

2022 PS5 sales exceeded the target

, reaching over 19 million units sold. 

PS Plus subscribers were down to 47.4 million

in March 2023.

Europe

secures the top spot with the

highest console sales of over 203 million

.

108 million monthly active users

were recorded in March 2023.

Women own 41% of PS4/PS5

consoles sold.

An

average of 10.7 titles

are played by US PS4/PS5 owners.

Red Dead Redemption 2

development cost reached $540 million.
Essential PlayStation Statistics for 2023 and Beyond
Sony's PlayStation has dominated the gaming console market. Since its introduction, Sony has sold 500 million+ consoles in total.
The console is the undisputed most-played console, with over 100 million average monthly active users (MAU). Its gamer demographics enjoy the PlayStation series' vast collection of games.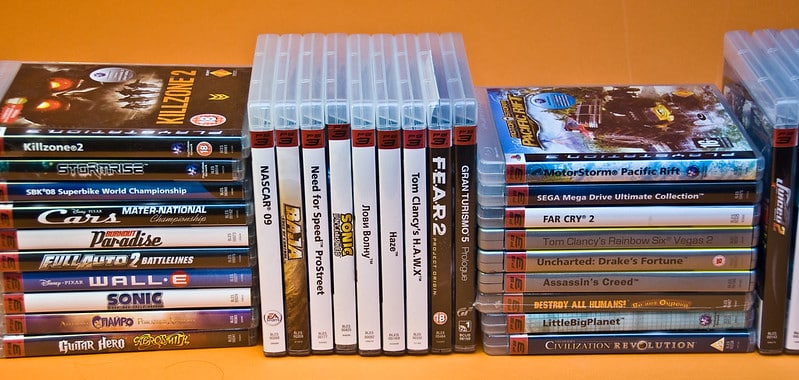 This article will give you insider information about gaming console statistics and dissect the gamer demographic to show why PlayStation is the number 1 gaming console.
Interesting PlayStation Consoles Stats and Facts
Where else to begin but in console stats and facts? Sony always gives its patrons something unique, from the unconventional, original design to the powerful PlayStation 5.
While gamers and even nongamers consider PlayStation the most popular gaming console, Microsoft's Xbox Series and the Nintendo Switch are no longer far behind.
Discover some fascinating PlayStation console statistics that show how it continues to dominate the gaming console market.
1. PS2 holds the best-selling record based on lifetime sales, with 158 million units sold as of May 2023.
(Statista)
Since its release in 2000, Sony has sold over 158 million PS2 units, setting the best-selling gaming console record.
A very close second is the famous Nintendo DS, with 154 million units sold. Meanwhile, Xbox 360 still needs to catch up, with over 85 million units sold.
These numbers tell us that while Nintendo and Xbox sales are growing, PlayStation is still the most famous gaming console, given its lifetime sales worldwide.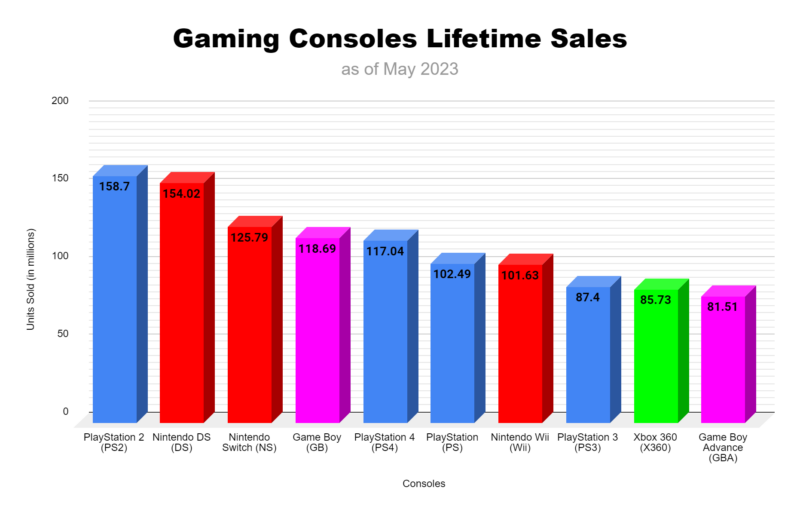 2. Based on launch year sales, Sony sold 7.8 million PS5 units – the highest in the PlayStation series.
(Sony Interactive Entertainment)
Despite the shortages, Sony managed to sell over 7 million PS5 units during its launch year in 2020. Launching at the height of the pandemic, supply-chain was hugely affected, leading to shortages.
Despite these challenges, PS5 still reached the highest launch year sales, topping PS2, the highest in lifetime sales, with only 1.4 million units sold during its release year.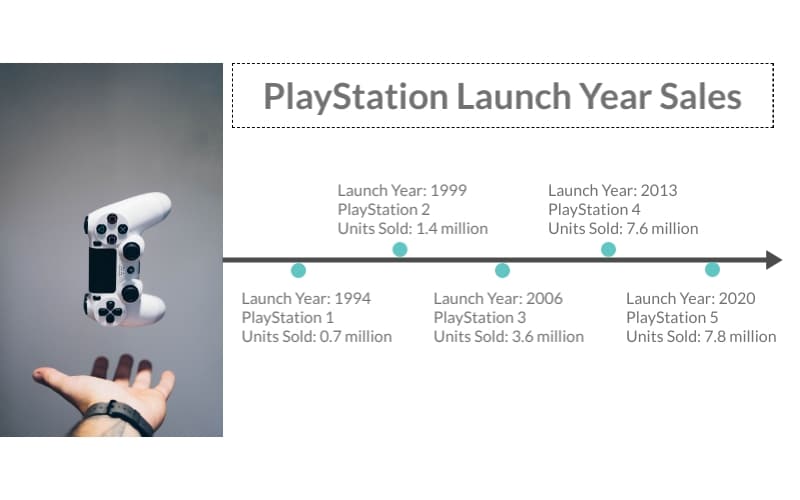 3. Launching in the same month in 2020, PS5 takes the lead over Xbox Series X/S by approximately 15 million units.
(Insider Gaming, Statista)
While experts predicted that Sony's PS5 would be a hit over Microsoft's Xbox X/S, sales have slowed down due to travel restrictions brought on by the pandemic. 
With almost 38 million sales, PS5 holds a 62.7% market share among the latest gaming consoles. 
Meanwhile, Xbox X/S takes the remaining percentage with approximately 22 million units sold.
4. Sony's best-selling quarter was Q3 of 2011 and 2013, when the company sold 9.8 million consoles.
(Statista)
In Q3 2013, the company sold 4.5 million units of PS4, 3.3. million units of previous PS consoles and 2 million units of their PSP lineup. 
Meanwhile, in Q3 2011, Sony sold 7.4 million previous PS consoles and 2.4 million units of the PSP lineup.
It's also interesting to mention that PlayStation end-of-year stats reveal that Sony always sells the most consoles in the third quarter of any given year. It has been a clear trend since 2011. 
Did you know?

Sony's PlayStation made a record-breaking hit in Q3 FY2022, with $8.8 billion in revenue.  

In 2023, Sony forecasts to bring in $32 billion in sales revenue. As of Q1 FY2023, PlayStation already made $5.63 billion. 
5. After missing the 2021 sales target, PS5 exceeded the 2022 forecast after reaching over 19 million consoles sold.
(IGN)
You may have heard about the shortage issue of PS5 since its launch up to its second year. 
The shortage issue severely impacted PS5's sales and led to missing its 14.8 million sales forecast in 2021 after selling only 11.5 million units.
"We launched PlayStation 5 in November 2020, and the world was in a strange and different place than when we announced the console in 2019. Despite the unprecedented challenges of COVID, our teams and our partners worked diligently to deliver PS5 on time."
Jim Ryan, President & CEO
Sony Interactive Entertainment
Source: https://sonyinteractive.com/en/playstation-5-surpasses-40-million-in-sales/
Following 2021's failure, PS5 sales bounced back the year after by exceeding the sales forecast for 2022. Sony expected 18 million sales for FY 2022 but reached over 19 million units sold for the year.
6. PS Plus subscribers were down to 47.4 million as of March 2023 after peaking in December 2021.
(Statista)
PS Plus allows players to enjoy games online. On top of this, subscribers get to access upcoming games earlier. These are to name a few of PS Plus subscribers' perks.
While these perks sound exciting, the numbers are still rising after peaking at 48 million in December 2021, with its lowest point in September 2022.
The latest figures show that the total number of subscribers as of March 2023 is 47.4 million.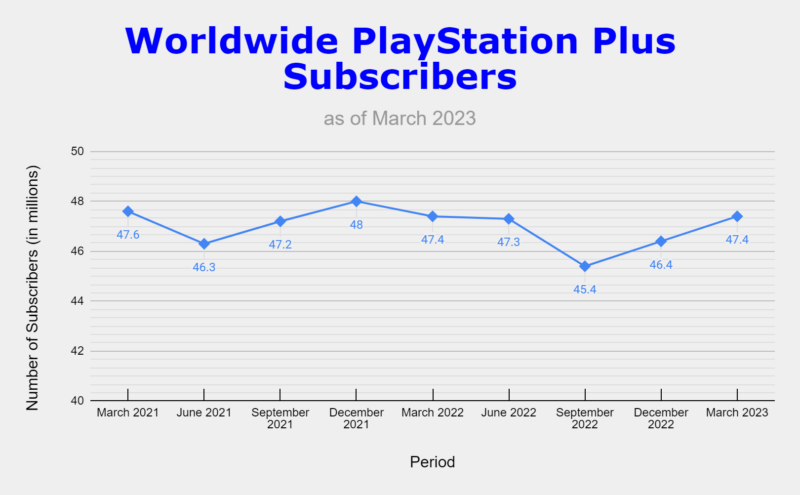 7. PlayStation VR2: on a rocky start after reaching only 270,000 unit sales as of March 2023 
(Tom Guide)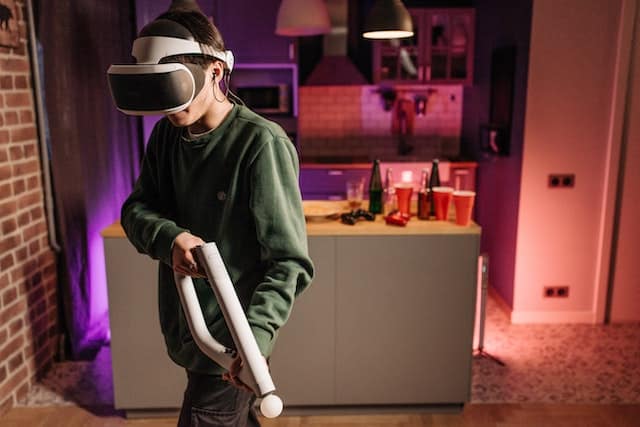 It is still too early to tell whether PSVR 2 is doomed after its launch in February 2023. However, early figures indicate a rough start after reaching only 13.5% of the 2 million targeted sales.
Moreover, Sony's forecast could be overly enthusiastic. Compared to its predecessor, PSVR, PSVR 2's sales during its initial launch window aren't too far – around 45,000, almost the same as PSVR.
Surely, PSVR 2 will gain more popularity and sales. After all, it still offers the best VR experience as of 2023.
8. Europe is Sony's largest market, with over 203 million gaming consoles sold in the region.
(VG Chartz)
As previously stated, PS2 holds the highest sales globally among all PS consoles, with Europe accounting for its biggest consumer, with around 203.49 million consoles, 55 million of which are PS2.
Its successor, PS4, has long overturned PS3. However, PS5 is still gaining momentum after being available for over two years.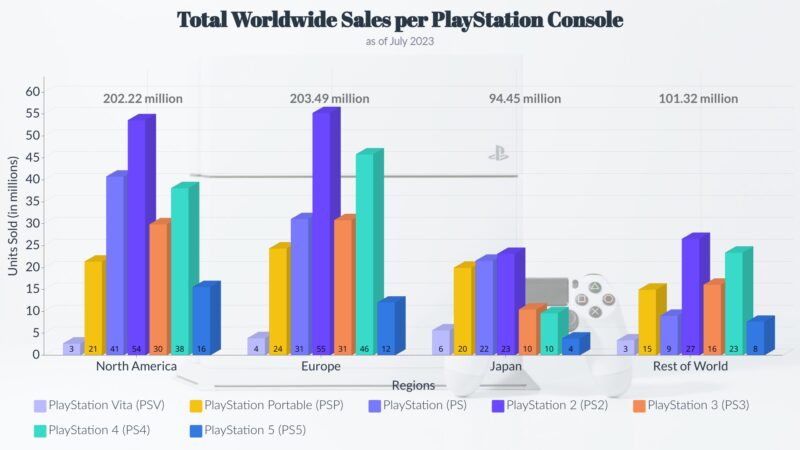 These numbers may not correlate with the number of gamers in each region. Notably, both continents with the highest console sales are known to have more robust economies.
Purchasing power is the key factor to these figures rather than the number of gamers.
Fascinating PlayStation Gamer Numbers and Trends
General gamer statistics have drastically changed, and PlayStation gamer stats are no different. 
The gaming world has truly evolved from the number of people playing video games, women's involvement, and even age groups who enjoy this recreational activity.
Learn some insights about PlayStation user stats and how it has changed over the years.
9. As of March 2023, PlayStation MAU dropped by approximately 4 million compared to December 2022.
(Statista)
PlayStation's monthly active users are constantly changing.
It has significantly increased since March 2014, when MAU was only around 50 million. The highest recorded MAU was in June and December 2020, with 114 million active players.
The fluctuating numbers can be attributed to new games and new console releases. PS5 was released in November 2020, hence the spike the following month.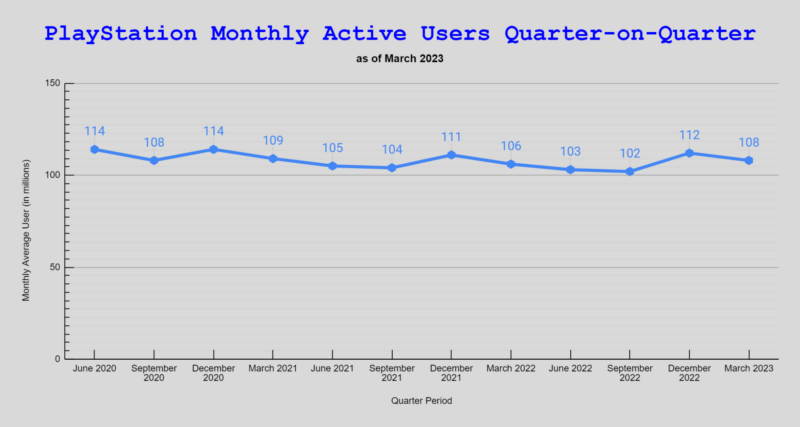 10. 41% of PS4 and PS5 owners identify as women.
(Games Radar)
The gaming world has significantly changed. Women indulging in video games have increased over the years.
PlayStation ownership exhibits the same. Only 18% of the first PlayStation was owned by women, whereas 41% of those who owned PS4/PS5 were women.
This is a positive change towards equal representation in the gaming world compared to the 90s. Sony takes pride in this fact by presenting these numbers to its investors.
11. People aged 31-36 own 18% of PS4/PS5 sold units.
(Sony)
PS4 and PS5 don't come in cheap. Both are considered costly compared to other same-gen consoles. Unsurprisingly, most PS4/PS5 owners come from the workforce generation.
While games are perceived to be for kids, PS4/PS5 ownership tells a slightly different story. In fact, 61% of PS4/PS5 owners are people aged between 25 to 48 years old.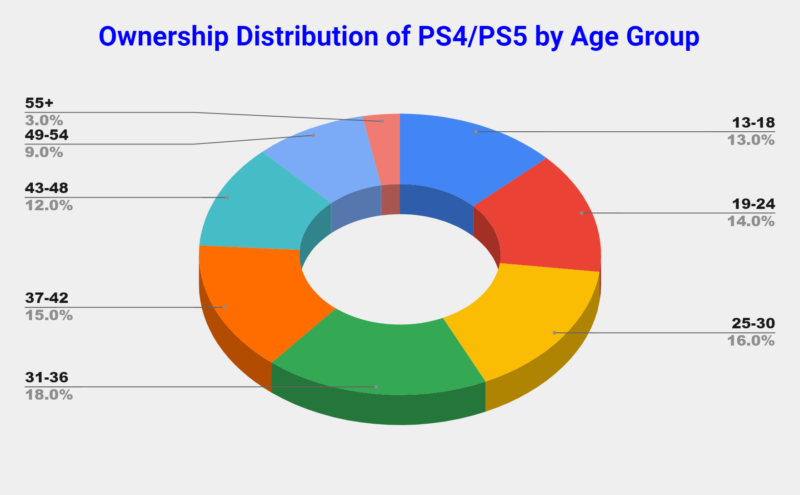 12. US PS4/PS5 gamers play the most yearly titles at 10.7 on average in 2022.
(Game Luster)
US PS4/PS5 owners typically own around 10 titles. It's the highest among regions with the most console owners. 
Europeans, who own the most consoles, only play an average of 9.6 titles. Other Asians and Japanese play 8.2 and 5.9 titles on average.
Fun Statistics and Facts on PlayStation Games and Specs
PlayStations are not only famous for their consoles. Having cool specs that give gamers a better gaming experience is one of the reasons why it has gained popularity.
Because of this, thousands of game developers create games for PlayStation. As of 2022, PlayStation has roughly 4,000 developers across 19 studios from Japan to California. 
This section will explore exciting stats and facts about PS specifications and exclusive game titles.
13. Enjoy 4K resolution with PS5 – an upgrade from PS4.
(Business Reminder)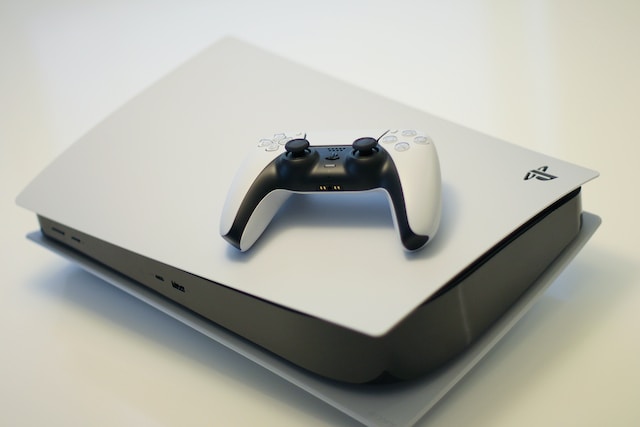 One of the major upgrades for PS5 users is the capacity to play games in 4K resolution. This is a huge upgrade from PS4's 1080P. Also, frames per second have doubled from 60 to 120fps in PS5.
This upgrade will let players enjoy their favorite games in hi-def, giving them a more intense feel. Take note, this is only one of the additional specs you get to enjoy by upgrading to PS5.
| | | | |
| --- | --- | --- | --- |
| Component | PS5 | PS4 Pro | PS4 |
| CPU | 8x Zen 2 Cores at 3.5GHz (Variable Frequency) | 2.1GHz 8-Core AMD Jaguar | 1.6GHz 8-Core AMD Jaguar |
| GPU | 10.28 TFLOPs, 36 CUs at 2.23GHz (Variable Frequency) | 4.2 TFLOPs, 36 CUs at 911MHz | 1.84 TFLOPs, 18 CUs at 800MHz |
| GPU Architecture | Custom RDNA 2 | AMD Radeon | AMD Radeon |
| Memory | 16GB GDDR6/256-bit | 8GB GDDR5 plus 1GB DDR3 | 8GB GDDR5 |
| Memory Bandwidth | 448GB/s | 217GB/s | 176GB/s |
| Internal Storage | Custom 825GB SSD | 1TB HDD | 500GB HDD |
| I/O Throughput | 5.5GB/s (Raw), Typical 8-9GB/s (Compressed) | ~50-100MB/s | ~50-100MB/s |
| Expandable Storage | NVMe SSD Slot | Internal HDD Slot | Internal HDD Slot |
| External Storage | USB HDD Support | USB HDD Support | USB HDD Support |
| Optical Drive | 4K UHD Blu-ray Drive | Blu-ray Drive | Blu-ray Drive |
https://www.pushsquare.com/guides/ps5-vs-ps4-full-tech-specs-comparison
14. Eastasiasoft published 1,498 games, and Thisoft developed 773 games – top game publisher and developer based on the number of games.
(True Trophies, True Trophies)
Being the most popular console, Sony PlayStation is expected to partner with various game publishers and developers.
Here is the top 10 list of publishers and developers based on the number of games they developed and published on the PlayStation platform.
| | | | | |
| --- | --- | --- | --- | --- |
| Rank | Publisher | Games Published | Developer | Games Developed |
| 1 | eastasiasoft | 1,498 | ThiGames | 773 |
| 2 | Ratalaika Games | 935 | eastasiasoft | 722 |
| 3 | ThiGames | 773 | Webnetic | 685 |
| 4 | Webnetic | 685 | Smobile | 382 |
| 5 | Sometimes You | 398 | Zakym | 306 |
| 6 | Bandai Namco Entertainment | 390 | Klovako | 256 |
| 7 | HAMSTER Corporation | 385 | Breakthrough Gaming | 256 |
| 8 | Smobile | 382 | Ratalaika Games | 236 |
| 9 | Sony Computer Entertainment | 320 | Lightwood Games | 186 |
| 10 | Zakym | 306 | Nippon Ichi Software | 172 |
🎮Definition

Game Publisher – provide upfront funding for game developers to create titles. They negotiate deals with a game development studio to produce a game according to an agreed brief.

Source: ScreenSkills
15. Red Dead Redemption 2 costs $540 million to develop – the most expensive game developed as of 2023.
(CCCI)
Video game development takes more than time, skills, and effort. Developing video games can be costly, too. In Red Redemption 2's case, the cost reached a whopping $540 million!
Some other games with crazy development costs are
Cyberpunk 2077

– $316 million

Grand Theft Auto V – $265 million

Call of Duty: Modern Warfare 2 – $250 million

Shadow of The Tomb Raider – $135 million

Battlefield 4 – $100 million

Final Fantasy VII – $45 million
Why such costs? High-budget video games usually have the best graphics, polished controls, and fascinating storylines.
PlayStation Fun Fact:

Grand Theft Auto V is the most-viewed game on Twitch as of December 2021, with 116.8 million hours. It was later surpassed by League of Legends in 2023.
16. Fortnite, with approximately 70 million MAU, is the leading PlayStation game as of June 2023.
(Newzoo, Fortnite News)
Fortnite remains the top game on PlayStation based on monthly active users. The game, published by Epic Games, gained popularity because it is free and easy to use.
Fortnite Jujutsu Kaisen collaboration was announced on August 2, 2023. 
Watch the trailer here:
The Verdict
PlayStation is the decade's biggest gaming console. Sony's continuous innovation to give gamers a crazy gaming experience resulted in the highest sales numbers in gaming console history.
Equipped with top-of-the-line specs, video-game enthusiasts enjoy their favorite games on a different level with PlayStation. Sony undoubtedly knows how to win this game.
After reading many significant facts and figures on how PlayStation is the top tier of gaming consoles, it is time for you to plug in and experience the console for yourself.
FAQs
How many PS Network users are there in 2023?
As of March 2023, PlayStation Network has approximately 108 million MAUs.
Do women own and play PlayStation?
Yes. In fact, women own 41% of PlayStation consoles' sold units.
How much has Sony earned in 2023?
In Q1 FY2023, Sony has already gained $5.63 billion. 
Is PlayStation 5 a success?
Yes. Despite the shortage in the first years after its launch, Sony sold 1.4 million units during its release year. Currently, over 38 million units have been sold.
How many PlayStation 1 consoles were sold?
Sony sold more than 102.4 million PlayStation 1 consoles from December 1994 to March 2012. 
Which region is the largest market for PlayStation?
Europe is the largest PlayStation market, with more than 203 million units sold. 
List of Sources: