19 Impressive Xbox Statistics: Usage, Sales, Trends [2023]
Since Microsoft released its flagship console, the Xbox, in 2001, it has gained popularity among gamers worldwide. As of 2022, Microsoft announced around 120 million monthly active users (MAUs).
Some countries that strongly support Microsoft Xbox services aside from the US are India, the UK, Japan, Korea, Russia, and Spain.
The sections below will delve deeper into some exciting Xbox facts worth noting.

Highlights of the Article
Xbox's content and services revenue increased by 3% in 2023.
Worldwide sales of Xbox 360 reached 85.8 million.
In 2022, Microsoft's gaming revenue reached $16.23 billion.
Only 32% of Xbox users are women.
The 18-34 age bracket makes up 36% of Xbox users.
Microsoft announced the launch of over 100 Xbox games from 2023-2024.
Electronic Arts has five games in the top 20 most-played Xbox games.
Xbox Live runs at 300,000 servers from 15,000 servers.
Developers design or publish games more on Xbox (22%) than PS4 (21%).
10 years is believed to be the life span of the Xbox One controller.
Xbox Statistics Overview
Xbox has attracted millions of users and generated impressive revenues despite the competition against Sony's PlayStation and Nintendo's GameClub.
By 2025, Xbox gaming software sales are expected to reach $8.57 billion, a 10% increase from 2022.
The facts and statistics below discuss Xbox's revenue, player demographics, and an overview of Xbox's history.

Side Note
Important Xbox Revenue Statistics in 2023
Xbox revenue experienced highs and lows. Its overall revenue is affected by hardware, content and services, and Xbox Game Pass subscriptions.
Take a look at some of the Xbox revenue stats that show the game's financial performance.
1. Xbox hardware revenue dropped by 30% year-over-year.
(The Verge, Games Industry)
The increased console supply in FY23 Q3 caused the decline in Xbox hardware revenue in the same quarter last year. It was also when most Xbox users could buy the necessary hardware.
Despite this decline, Microsoft CEO Satya Nadella said the company set a third-quarter record for monthly active users.
"We set third quarter records for monthly active users and monthly active devices." –

Satya Nadella, Microsoft CEO, on Microsoft's Q3 2023 fiscal financial results
2. Microsoft has sold 58 million Xbox One units worldwide as of July 2023.
(Game Rant, VG Chartz)
The increase in numbers for 2023 is consistent with Microsoft's projection, seeing as the company sold around 51 million worldwide in 2022, 32 million of which were sold in North America.
With these stats, Xbox One has attracted a large portion of the market share, accounting for 22.5% of all ninth-generation video game console sales.
While Microsoft conceded in the console wars for the time being, the stats also show that Xbox One sales are still impressive compared to the other video game sales in 2023.
3. Xbox's content and services revenue increased by 3% in 2023.
(Statista, Games Industry)
The growth in Xbox Pass subscriptions drove the increase in content and services revenue.
In Q3 of Microsoft's FY2023, they revealed that the gaming subscription revenue reached almost $1.5 billion. It was when the company extended Game Pass to 40 new countries.
Microsoft's Xbox Game Pass subscription count as of January 2022 was 25 million.

Side Note
Xbox Game Pass was launched in 2017. With an active subscription, players can enjoy unlimited game downloads, 20% off on selected games, and 10% off on add-ons. 
Source: GamesRadar
4. Sales reached 85.8 million Xbox 360 consoles globally.
(Statista, IGN Southeast Asia)
Microsoft has sold 85.8 million units of Xbox 360 since its release in November 2005. 47 million of these sold units are in North America.
Xbox 360 is among the most loved gaming consoles and home to some of the best RPGs, platformers, and adventure games such as GTA V, Red Dead Redemption, and Far Cry 4.
5. In 2022, Microsoft's gaming revenue reached $16.23 billion.
(Statista)
Microsoft's 2022 gaming revenue increased by 5.6% from the previous fiscal period, which fell to $15.37 billion. Stats show that the company's gaming revenue increased by 79% since 2017.
The company's gaming division includes revenues from Xbox hardware, content and services, Game Pass and other subscriptions, cloud services, video games, and third-party video game royalties.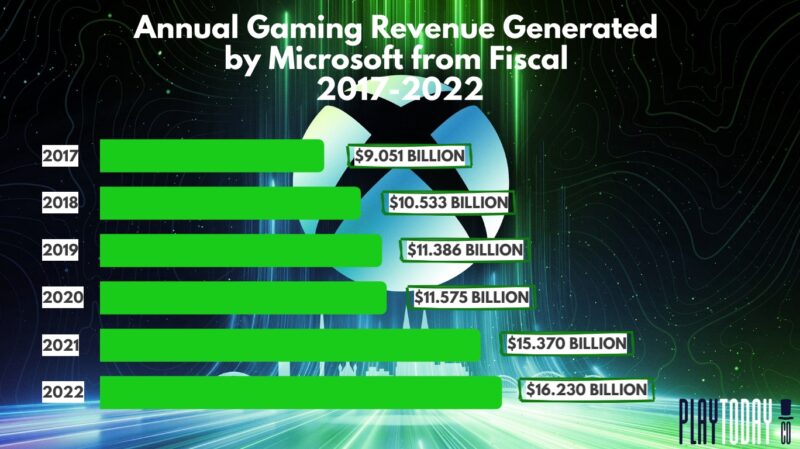 Interesting Xbox Player Statistics
Men still play Xbox more often than women, at roughly 58%, dominated mainly by Caucasian players.
Purchasing power still plays a crucial role in affording Xbox products. In the US alone, 70% of Xbox owners have an annual income of $50,000.
The numbers below will show just how diverse the player base of Xbox has been since its creation.

Side Note
6. The number of Xbox players continues to grow, at 120 million MAU in December 2022.
(Statista)
The number of Xbox monthly active users shows an upward trend, from 100 million in December 2020 to 120 million in the same month of 2022.
During the height of the pandemic, the MAU spiked. In Q4 2019, MAU reached 65 million, which increased to 90 million by April 2020.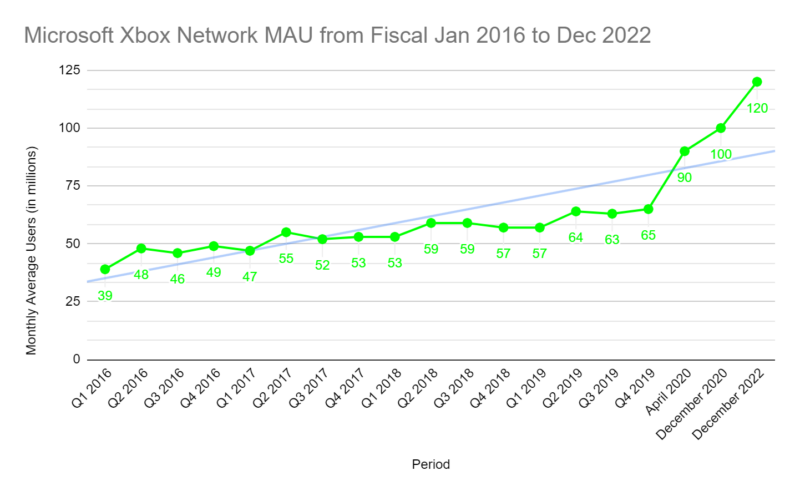 The numbers only show the monthly active users; the total number of players could be much higher.
7. Roughly 7 out of 10 Xbox players in the US identify as males.
(YouGov)
Male players are dominating the Xbox series X/S. Female players only make up 32% of Xbox gamers.
Despite being seemingly low, this breakdown is close compared to other gaming consoles. It shows that males still dominate the gaming world.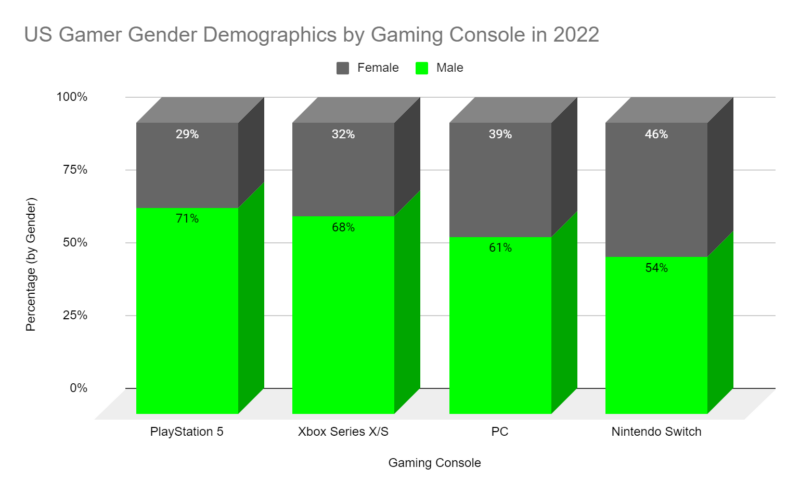 8. 55% of Xbox players are White, followed by African Americans at 20%
(TechPenny)
Considering the purchasing power and opportunities that Caucasians have more than other people of color, it's no surprise that they took the top spot for most Xbox players.
White – 55%

African American – 20%

Hispanic – 18%

Asian – 5%
Most Caucasians belong to the middle class and high class, which are the target demographic of Xbox.
9. 36% of the Xbox players belong to the 18-34 age bracket
(Entertainment Software Association)
People aged 18-34 commonly belong to the working class. With this, it is unsurprising that they can afford Xbox.
Aside from spending power, most from this age bracket come from the US, Europe, and China – territories with high investments in gaming-related products.
Xbox Games Statistics You Don't Want to Miss
GTA V and CoD: Modern Warfare II are just some of the most popular games on Xbox, accounting for more than a hundred million monthly active users.
These and other games are the product's bread and butter as they contribute to the 1% revenue increase of Microsoft products in its latest financial report.
Here are some of the games that make up Xbox for what it is today.
10. As of July 2023, Call of Duty: Modern Warfare II took the top spot for the most popular game on Xbox
(True Achievements, Gaming Bible)
Video game enthusiasts consider the Call of Duty game series a classic. This classic appeal translates into booming sales in Xbox, besting Grand Theft Auto V, Fortnite, Minecraft, and others.
| | |
| --- | --- |
| Rank | Game |
| 1 | Call of Duty: Modern Warfare II |
| 2 | Grand Theft Auto V |
| 3 | Fortnite |
| 4 | Minecraft |
| 5 | FIFA 23 |
| 6 | Diablo IV |
| 7 | Tom Clancy's Rainbow Six Siege |
| 8 | Exoprimal |
| 9 | ROBLOX |
| 10 | Rocket League |
The latest update of the game's instant matchmaking features influenced the sales and player base spike.

Side Note
11. Electronic Arts is the top performing game publisher in Xbox as of June 2023
(Newzoo, Games Industry)
Five of the top 20 Xbox games are all from EA, making them the leading game publisher. Games such as APEX Legends, FIFA 23, and Star Wars are among the games that made it to the list.
Their extensive catalog and active monthly users at 35% for FIFA 23 alone played a significant role in this achievement.
12. Xbox Games Showcase & Starfield Direct 2023 drew nearly 2 million average viewers, their highest since 2021
(Stream Charts)
The annual Xbox Games Showcase and Starfield Direct is one of the most anticipated gaming showcase events.
Their 2023 edition is, by far, their most viewed showcase since 2021, with an average online viewers of 1.9 million.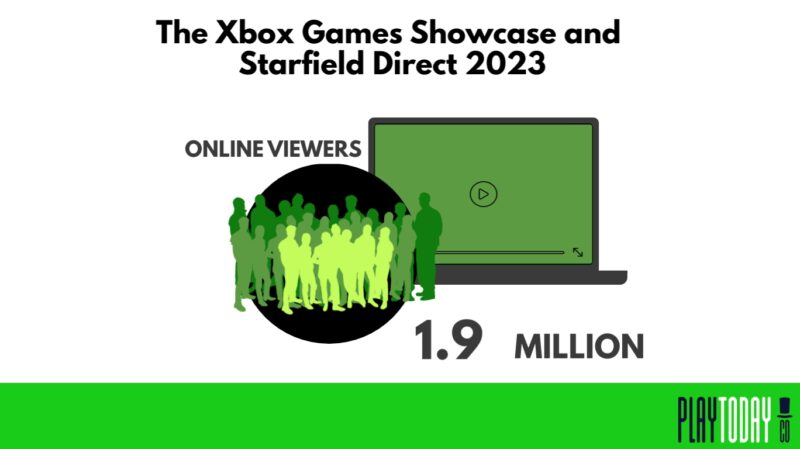 The spike in views is due to the updates that fans look forward to hearing from Starfield, Persona, and Star Wars.
13. Over 100 games are expected to launch on Xbox in 2023 and 2024
(The Verge)
Devoted fans have been in for a treat as Xbox officially announced over 100 games to be available across all their platforms from 2023 to 2024.
Games including Cyberpunk 2077, Avowed, Starfield, and more are coming to Xbox.
Aside from additional games, Xbox announced the Xbox Series S – 1 TB. It will improve the gaming experience after the lack of storage complaints they have received from their previous editions.
Xbox Facts Worth Checking
Since the release of PS4 and Xbox, there have been ongoing debates about which consoles are better.
Regardless of the debate, there's only a 1% difference in how many developers design games on each console.
In this section, take a trip down memory lane and discover fun facts about Xbox.
14. PS4 sold twice the number of units as the Xbox One.
(PlayStation Lifestyle, GameLuster)
In a court document dated August 2022 submitted by Microsoft to Brazil's Administrative Council for Economic Defense (CADE), Microsoft revealed that Xbox One sold less than that of PS4.
This was Microsoft's first Xbox hardware sales stats update since October 2015, which aimed to defend the company's Activision Blizzard acquisition.
Sony released information that they sold 117.2 million units of PS4. Following analysts' predictions, Xbox One must have sold approximately 58.6 million units.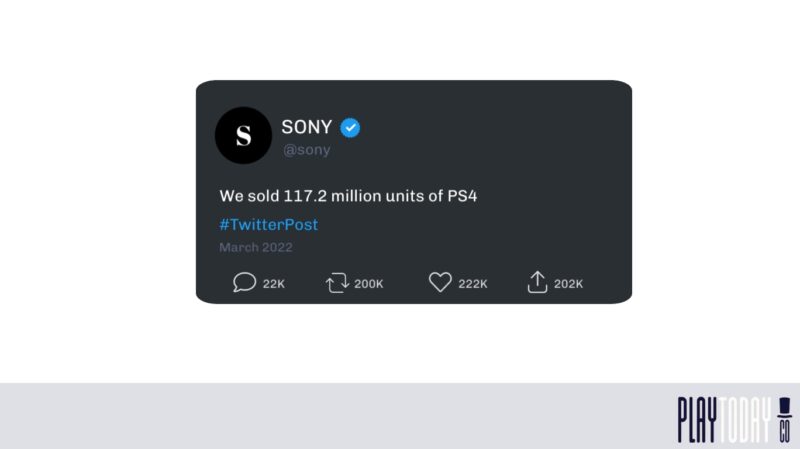 15. The Xbox One controller can last for around ten years.
(Pocket-Lint)
Microsoft stated that the Xbox One controller could last seven to 10 years, if not longer.
Xbox One has undergone multiple tests to ensure its durability. Each button in the 20 consoles that were tested was pressed repeatedly with a 4-5 second interval.
16. The first Xbox console sold over 24 million units in the five years it was in circulation.
(Altar of Gaming)
Released in November 2001, the Xbox console sold 550,000 units in just 5 weeks, despite the competition within the sixth-generation console market against GameCube, PlayStation 2, and ream Cast.
It was discontinued in May 2006, with over 24 million sold worldwide.

Side Note
Despite the strong competition against Nintendo and Sony, the first Xbox console ranked as the second most popular video game system in North America and Europe in 2005, a year before it was discontinued. 
17. Failure rates of Xbox 360 ranged between 30–33%, as claimed by the top 3 resellers.
(Design News)
Following its release, media articles placed the Xbox 360 failure rates between 23.7% and 54.2%, but Microsoft stuck to its supposed 3-5% failure rate.
This error, dubbed the Red Ring of Death, cost the company $1 billion.
As of 2008, it was reported that users encountered the Red Ring of Death less. It was solved entirely by 2009.
18. Xbox Live now runs on 300,000 servers.
(Data Center Knowledge)
This is a massive jump from when they launched the product, which ran at 300 servers, to 15,000 servers in 2013. Microsoft stated that this upgrade will help improve their users' gaming experience.
To understand that number's significance, this computing power is more than the entire world's in 1999.
19. 32.2% of PS4 owners also have an Xbox One.
(Game Developers)
As many as 18.5% of PlayStation 4 owners also keep the Xbox One X in their homes. To add, 21% of the developers design games for PlayStation and 22% for Xbox One.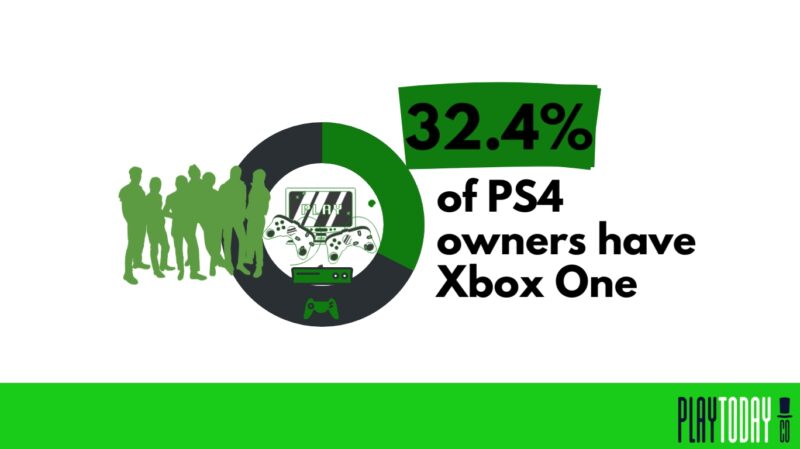 Many value a quality gaming experience more than what the actual console brand is.
The Verdict
Xbox is essential to the video gaming landscape, bringing gamers unforgettable titles such as the Halo Series, Fable, and GTA San Andreas.
Although the revenue has seen a decline of 3% during the Q3 of 2023, Microsoft is optimistic that this will jump back to its usual figures or even higher from 2023 onwards.
With the popular games soon to be launched for the next two years, fans are definitely in for a wonderful treat.
FAQs
How many types of Xbox are there?

Microsoft has released 4 generations of Xbox and 9 main console models, excluding its retail mods.
How much did Xbox make in 2023?

Microsoft revealed that in Q3 of 2023, the company had a revenue of $52.6 billion and a net income of $18.3 billion.
Can an Xbox last 10 years?

An Xbox One can last 4-7 years with proper maintenance.
What are the different levels of Xbox Live?

There are two levels of membership on Xbox Live — Free and Gold.
What is the rarest Xbox?

The rarest Xbox console is likely the Shadow Of the Tomb Raider Xbox One X.