18 Mind-Blowing Roblox Statistics To Make You Say "OOF!" In 2023
Roblox is an internet multi-gaming platform launched in 2006 and has since gained popularity, especially among children.
As of May 2023, Roblox has approximately 66.1 million daily active users, gaining a 22% increase from the last quarter of 2022.
Discover the exciting facts about Roblox and exactly how much it's earning through some statistics.

Highlights of the Article
Roblox earned $665.3 million in the first quarter of 2023.
Around 66.1 million users play Roblox every day.
Creators earned $620 million in 2022.
Statistics show that Roblox's population is growing, with 53.6% of players over 13 years old.
It is valued at $45 billion.
It has had 383 million mobile downloads so far.
From iOS alone, the gaming app earns $3 million per day.
There are 500 million downloads of Roblox in Google Play.
Players access the games mostly on mobile (72%), desktop (25%), and console (2%).
This gaming platform generated $2.9 billion from in-game Robux purchases in 2022.
Statistics Behind Roblox Revenue
In 2023, Roblox has more than 230 million registered players, which has allowed the online gaming platform to become one of the highest-grossing video games in the world.
In this section, we'll look at the statistics about its revenue and how the game and the company behind it grow.
1. Roblox earned $665.3 million in the first quarter of 2023.
(Roblox, DemandSage, Investopedia)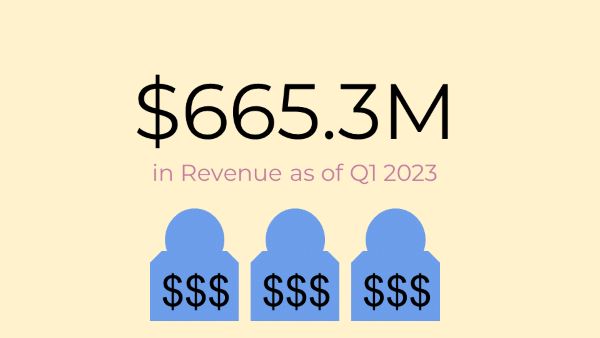 As of the first quarter of 2023, Roblox has already earned 29.97% of last year's total revenue, which is $2.22B.
The company said hiring the right people in operations is highly credited to their massive growth. Roblox will have to spend its budget other than workforce and compensation.
This also contributed to the forecasted 4 billion accounts created in 2023.
2. Roblox had 16% year-on-year growth between 2022 and 2021.
(Macrotrends, DemandSage, CNBC)
Roblox gained a revenue of $2.34B for the last 12 months ending March 2023, a 13.24% year-over-year.
The increase in user engagements across all demographics (under and over 13 years) and bookings are regarded for this growth, according to CEO David Baszucki.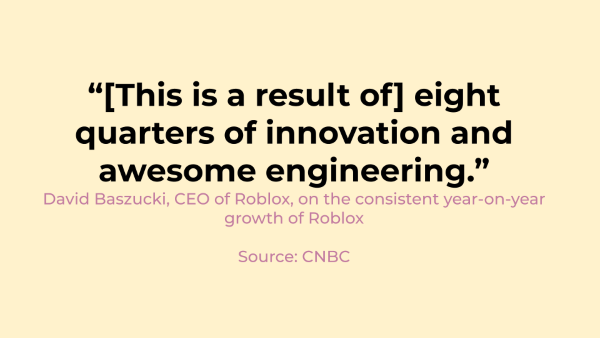 3. Roblox IPO is valued at $45.2 billion.
(Gainy, VentureBeat, Statista)
Roblox launched its IPO in March 2021 on the New York Stock Exchange. The Roblox IPO value started at $64.50 a share, then closed at $69.50 at the end of the day.
Aside from strategic hiring and increased bookings, the hype on the metaverse brought by its intensive marketing activity attributed to the company's $45 billion valuation.
4. In 2022, Roblox generated $2.9 billion in revenue through in-game Robux purchases.
(Roblox, Marketsplash, FourWeekMBA)
Roblox's revenue through in-game Robux sales increased by 5% in 2022, compared to 2021's earnings at $2.7 billion.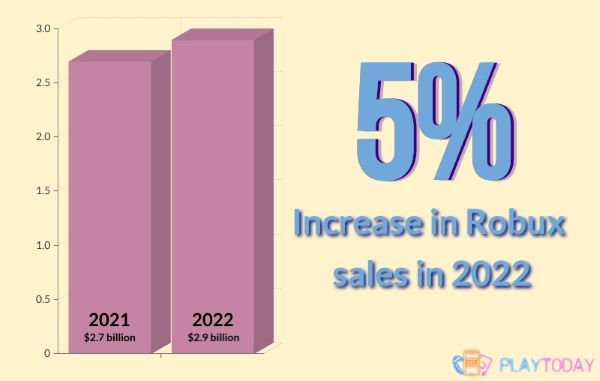 This is because Roblox earns a commission for every transaction made through its internal ad network, which includes Robux.
5. The average Roblox player spends $59.85 yearly on in-game purchases.
(Civic Science, Marketsplash)
Roblox users spend an average of $15 on the platform, with 9% spending $100 a month for upgrades and abilities. This trend began in 2020, as the game served as a communication tool.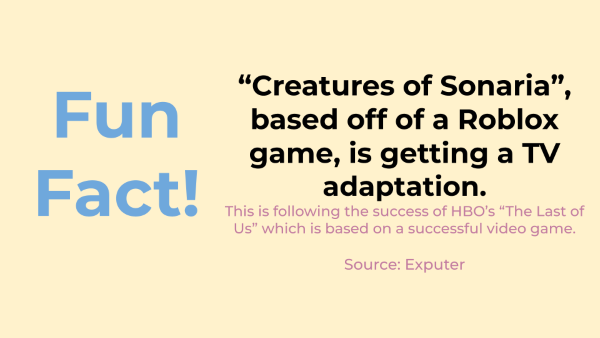 6. Roblox earns $3 million a day on iOS alone.
(AppleInsider)
Roblox is considered as iPhone's highest mobile game earner.
As of June 2021, Roblox covers 27% of the total daily revenue generated by the top 10 grossing iPhone games, which is $11.2 million.
Roblox Player Statistics
During the pandemic, Roblox gained traction among users. From 119 million monthly active users in 2020, this number multiplied to 215 million active users in 2023.
A notable user interface and the ability to create a long-lasting, creative community make Roblox a certified hit among players.
Here are some interesting Roblox players' statistics worth checking:
7. Roblox has over 66 million daily active players in 2023.
(Statista)
Although not much has increased from Roblox's 2022 statistics at 58.8 million users, this does not betray the fact that it is the most popular PC game worldwide based on the number of active users.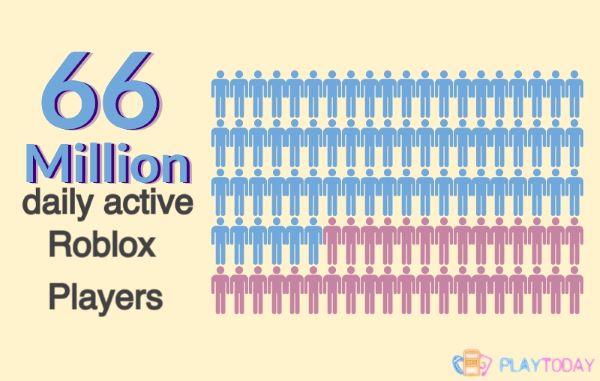 8. During its peak, Roblox sees around 215 million monthly active players.
(DemandSage)
As of May 2023, there are 215 million people who actively play Roblox monthly.
The only other game that could top this record was Among Us, which reportedly had a 500 million active accounts spike in November 2020.
9. Roblox players spent 14.4 billion hours in the game during Q1 2023.
(Statista, Techjury)
This is a 27% increase from their Q2 2022 data at 11.3 billion hours.
In a report by Roblox, this is by far their biggest and most successful quarter yet. An increase in engagement and bookings still are the relevant factors that contribute to this growth.
10. Roblox age statistics highlight a growing player base, with 53.6% of players over 13 years old.
(Statista)
In the first quarter of 2023, Roblox has recorded that almost 40 million daily active users are aged 13 and above.
The total number of 13 and above DAU is 3% higher than the younger users.
Roblox highlighted that the fastest-growing player demographic is users aged 17 to 24. This development shows Roblox's success in attracting a wider audience.
11. 72% of Roblox players access the game via mobile.
(Backlinko)
Desktop users account for 25% of the player base; the remaining 3% access Roblox via consoles.


Side Note
Roblox experienced significant growth during the pandemic, reaching 215 million monthly active users in 2023.
Today, it boasts over 66 million daily active players, maintaining its popularity.
In Q2 2023, players logged 14.4 billion hours, with 72% accessing the game via mobile, 25% using desktop, and 3% on consoles.
Roblox Developer Statistics
Roblox developers create adventure games and virtual experiences that cater to users and players of all ages.
In return, the developers can monetize their creations and get paid in Robux, the virtual currency of Roblox.
This section explores some interesting statistics you need to know about Roblox developers.
12. Roblox developers earned $620 million in 2022.
(Statista)
Roblox developers and creators earned $620 million in 2022. This saw a 15% increase from 2021, wherein the developers earned $530 million.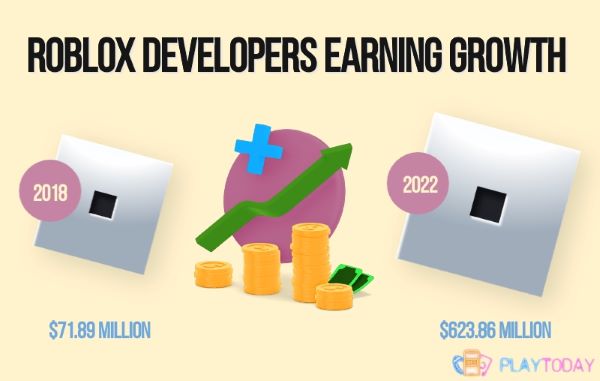 13. The minimum Robux required to cash out is down to 30,000.
(Roblox)
The Roblox Development Exchange Program (DevEx), which allows creators to exchange their Robux for real money, lowered the cash-out requirement from 50,000 to 30,000.
The latest exchange rate is $0.0035 per Robux. But, this rate can change anytime once Roblox updates its DevEx terms.
14. Roblox has 9.5 million active developers.
(Backlinko)
In 2023, there are approximately 9.5 million developers. This is a big spike from 1.7 million in 2017 and 634,000 in 2016.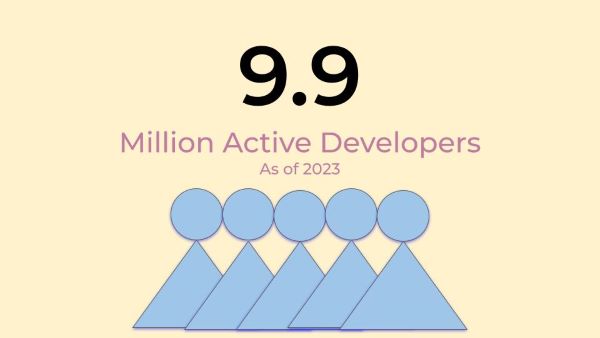 The accessibility of the tools needed to create Roblox games influenced the rapid increase of developers.
15. "Adopt Me" remains the top Roblox place, with over 33 billion visits.
(Fandom)
The "adopt and raise" game remains top-listed for the most visited places in Roblox. With over 33 billion visits as of July 2023, Adopt Me! is considered the most popular Roblox game.
Here are the top 10 games and experiences in Roblox according to the number of visits:
| | | | |
| --- | --- | --- | --- |
| Rank | Place | Creator/Group | Number of Visits (Approximate) |
| 1 | Brookhaven RP | Wolfpaq | 34,442,000,000 |
| 2 | Adopt Me! | Uplift Games | 33,707,000,000 |
| 3 | Tower of Hell | YXCeptional Studios | 21,256,000,000 |
| 4 | Blox Fruits | Gamer Robot Inc | 19,915,000,000 |
| 5 | Meep City | alexnewtron | 15,476,000,000 |
| 6 | Piggy | MiniToon | 11,852,000,000 |
| 7 | Murder Mystery 2 | Nikilis | 11,469,000,000 |
| 8 | Royale High | callmehbob | 8,947,000,000 |
| 9 | Pet Simulator X! | Big Games Pets | 8,244,000,000 |
| 10 | Welcome to Bloxburg | Coeptus | 7,666,000,000 |
Other Interesting Roblox Stats and Facts
Roblox swiftly rose to popularity. It became a cultural phenomenon with millions of daily users over the years.
This section will examine how the game impacted pop culture and some fun Roblox stories.
16. "Oof" sound creator earned 100 Robux every time it was used in the game.
(Kotaku)
"Oof," the sound every time a character dies, was not originally part of the game. The sound became a meme and was taken without attribution from the 2000 game "Messiah."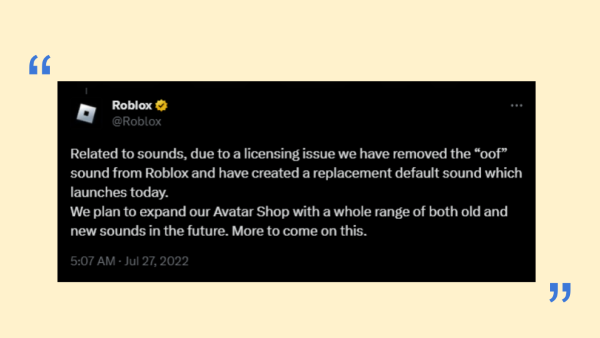 Tommy Tallarico, "Oof," the sound creator, agreed with Roblox Corporation to sell it for $1 or 100 Robux. The composer later took down the sound and ended an era.
17. Roblox has been downloaded over 500 million times on Google Play.
(Google Play)
Roblox Google Play downloads surpassed half a billion. It has been available on Android since July 2014.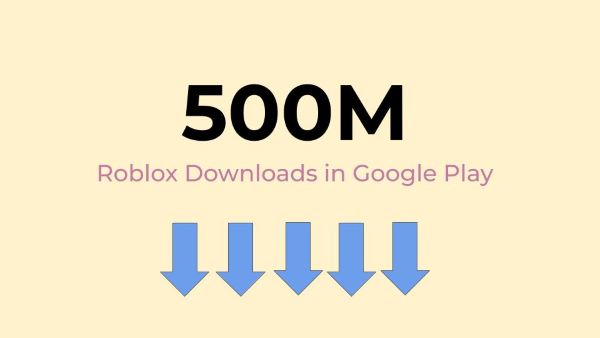 App Store downloads are unavailable publicly. Since it has been available in iOS since December 2012, we can only assume the numbers are similar.
18. Experience Gravity is the oldest still playable Roblox experience.
(Charlie INTEL)
Only a few games have survived the passage of time in Roblox. Many developers have shut their games down.
Experience Gravity, released in November 2006, is the oldest fully playable Roblox game. It's a simple game where you enjoy falling by stepping off a baseplate.
The Wrap-Up
Roblux gives you millions of games to choose from. The sheer number of games continues to attract millions of gamers.
The unending demand for new games and enticing pay scheme through DevEx drives developers to continue. This became an opportunity for millions of developers.
Roblox is no longer just an app. It is now a community of players and developers who want a better gaming experience while earning.
FAQs
How do you check your stats on Roblox?

Log on to the Roblox website. Visit your game page, click the three dots, then select Developer Stats.
How many people play Roblox monthly?

Roblox has 214.10 million monthly active users.
How much money has Roblox made in 2022?

Roblox earned $2.22 billion in 2022, a nearly 16% increase from $1.919B in 2021.