How Many PS5 Have Been Sold? A Quick Guide on the Stats & Facts for 2023
PlayStation 5 (PS5), one of Sony's latest additions to PlayStation, continues to dominate in sales and rave reviews.
In the first five months of its launch, PS5 became Sony's most-played gaming console, with approximately 52 hours of gaming time per month across users.
Keep reading to find out how many PS5s have been sold as of writing and the numbers that define and contribute to the success of this gaming console.

Highlights of the Article
PS5 has sold 10 million units in 249 days, making it Sony's fastest-selling PlayStation unit.
The combined game sale for PS4 and PS5 is 56.5 million, a 19% YoY increase.
In 2023 alone, PS5 sold 6 million units, more than Xbox and Nintendo's combined sales.
Diablo IV sold 10 million digital copies for PS5, becoming the console's most downloaded game as of June 2023.
PS5 is most famous for gamers aged 31-36.
Male gamers play PS5 more than females at 71%.
41% of PS5 gamers in the US are women.
Among American PS5 gamers, 19% are hardcore players. 
About 30% of PS5 users never played and had an account on PS4. 
The top reason PS5 gamers play games is to relax, at 63%.  
The Numbers That Define Sony's PlayStation 5
In the latest financial report by Sony, their Gaming and Network Services division earned the most revenue at over $23 billion, with gaming console sales contributing $6.05 billion.
The sales alone prove PlayStation to be a solid hit, especially PS5. Despite being their most expensive gaming console, it's still one of Sony's fastest-selling consoles.
Get ready to learn some interesting facts that prove PS5's supremacy with the following statistics.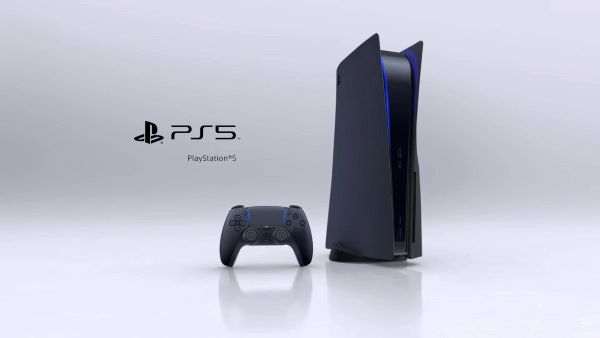 PS5 Interesting Stats To Keep You Playing
2021 saw the best-performing year for PS5 regarding unit sales, with over 11 million units sold. To date, the PS5 sold 40 million units, an impressive record for its three-year run so far.
The statistics below show the dominance of PS5 in the gaming console category.
1. PS5 sold 10 million units in its first 249 days, making it Sony's fastest-selling console since PS4.
(Polygon, IGN Southeast Asia)
Despite the challenges COVID-19 brought, PS5 still managed to sell 10 million units, outperforming its predecessor, PS4.
Sony Interactive Entertainment CEO Jim Ryan confirmed in an interview with Reuters that the PS5 sold more in its first 12 hours than the PS4 sold in its first 12 weeks.
The weeks leading to the launch greatly contributed to the success of PS5 as gamers were looking forward to the major upgrades.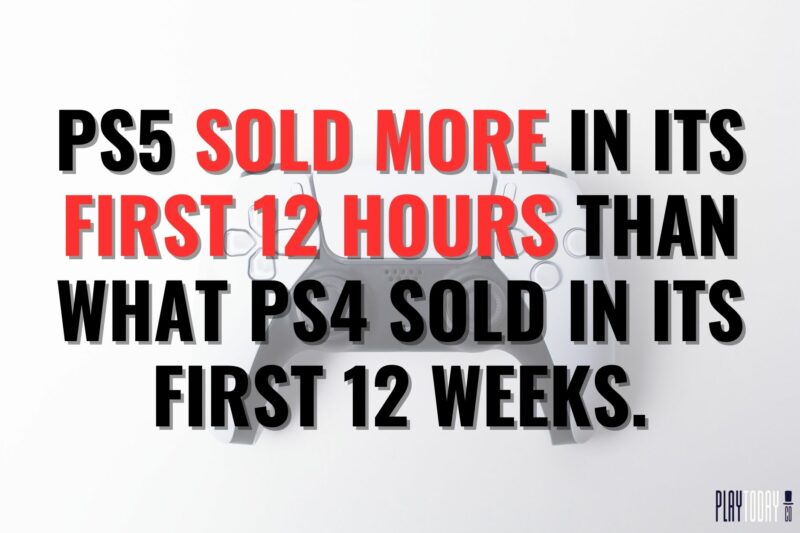 2. Over 50 million PS4 and PS5 games have been sold, the latest Sony financial report confirmed.
(Techspot)
Sony Interactive Entertainment's latest financial report revealed that the number of PS4 and PS5 games sold was 56.5 million, a 19.7% year-over-year (YoY) increase.
Additionally, 72% of the sales come from digital copies compared to physical ones, with third-party vendors contributing more than first-party ones.
The same report showed that games such as Diablo IV and Final Fantasy 16 drive this increase in game sales.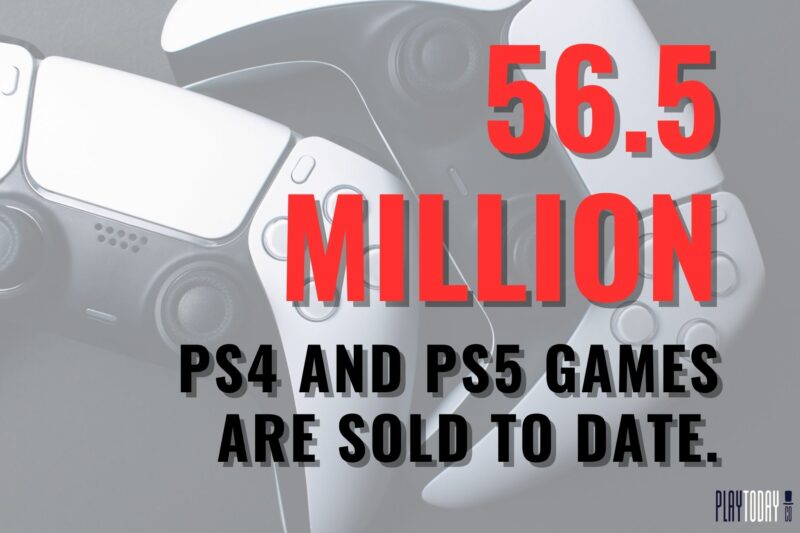 3. With over 6 million units sold in 2023, PS5 outsold both Xbox and Nintendo combined.
(GizChina)
The competition in the gaming console is tight between Sony, Nintendo, and Xbox. However, the latest statistics will show Sony's dominance, particularly PS5.
As of 2023, there are 6,918,323 PS5 units sold compared to Nintendo (4,350,601) and Xbox (1,891,789).
| | | | |
| --- | --- | --- | --- |
| Gaming Console | 2021 | 2022 | 2023 |
| PS5 | 11.5 million | 2.4 million | 6.9 million |
| Xbox | 1.6 million | 2.5 million | 1.8 million |
| Nintendo | 7.2 million | 5.4 million | 4.3 million |
Aside from a large fanbase that Sony has established, exclusive PS5 games like "Spider-Man: Miles Morales" and "Demon's Souls" played a massive part in the sales growth of PS5 for 2023.
4. Diablo IV is PS5's most downloaded game in the US and Canada, with 10 million downloads as of June 2023.
(Business Wire, IGN Southeast Asia)
Diablo IV has shown a strong start during its release, when the game had gathered 10 million downloads in 2023.
Blizzard Entertainment reported that the game made $666 million in global sales five days after release. The game took the top spots in the US and Europe for the most downloaded PS5 game.
| | |
| --- | --- |
| Most Downloaded PS5 Game (US/Canada) | No. of Downloads (in millions) |
| Diablo IV | 10,000,000 |
| Final Fantasy 16 | 3,000,000 |
| Street Fighter 6 | 2,000,000 |

Side Note
Aside from the games mentioned above, Minecraft is also available on PS5. In fact, it's one of the most downloaded games on PS4. 
Since 2011, Minecraft has sold 238 million units. It's also one of the few games incorporated into the academic curriculum.
Fascinating PS5 Player Demographics Stats
The Sony PlayStation targets men aged 17-40, who are believed to have more free time than children and teenagers.
Know more about who the PS5 gamers are and why they play video games through the interesting facts and statistics below.
5. PS5 is most popular with players aged 31-36.
(Sony)
In its Games & Network Services Segment report, Sony revealed that PS4 and PS5 are most famous with players aged 31-36. They account for 15% to 20% of the two consoles' player base.
The same report shows that PlayStation 1 was most popular to players aged 13-18, suggesting that Sony's solid fanbase in its first years stayed loyal to the console since 1994.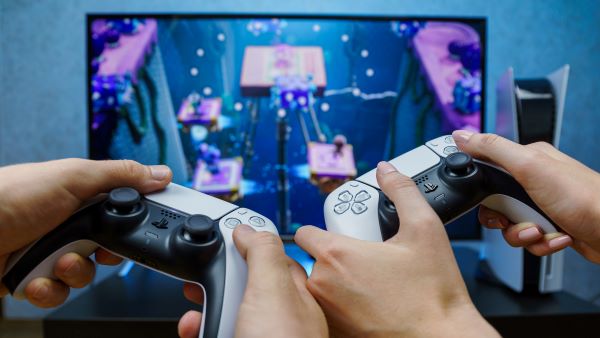 6. The PS5 player base in the US consists of men at 71%.
(YouGov, Kotaku)
PS5's player base consists of more men at 71% compared to female gamers at 29%.
The same demographic trend is seen among Xbox Series players, where 68% are men and 32% are women.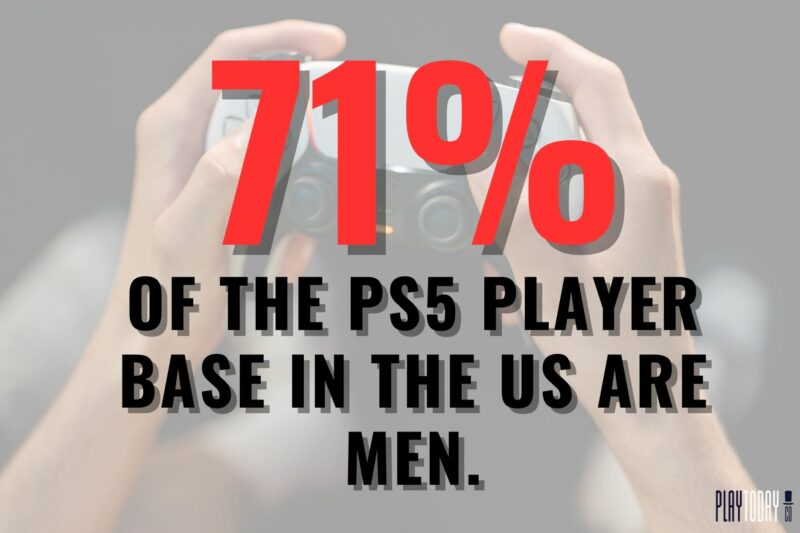 In the US, 41% of PS5 owners are female, while 59% are male.

Side Note
Prominent brands in eSports are making their products as inclusive as possible to cater to all genders but slightly leaning towards women. 
Why? The global gaming community is at 3.2 billion, with 46% being women. Also, women are more likely to purchase eSport products than men.
7. 19% of PS5 gamers in the US are hardcore players.
(YouGov)
A 2022 study that classified types of gamers into three categories revealed that 19% of the US PS5 gamers are hardcore players. Hardcore players are those who take the game very seriously or play competitively.
45% are mid-core gamers, while 32% are casual gamers who claim to like video games but are not in their main interests.
8. Nearly 30% of PS5's MAUs never used PS4.
(Video Games Chronicle)
In its Q3 2022 financial year results discussion, Sony claimed that nearly 30% of the PS5 monthly active users (MAUs) never used and had an account activity in PS4.

Side Note
"Nearly 30% of PS5's MAUs are users who never used PS4, so, with the spread of PS5, the acquisition of new users is progressing."
Sony, in its company presentation of its Q3 2022 financial results.
Additionally, Sony stated that PS5's MAUs increased by 30% in December 2022 alone. The figures are unknown, as Sony released no official record.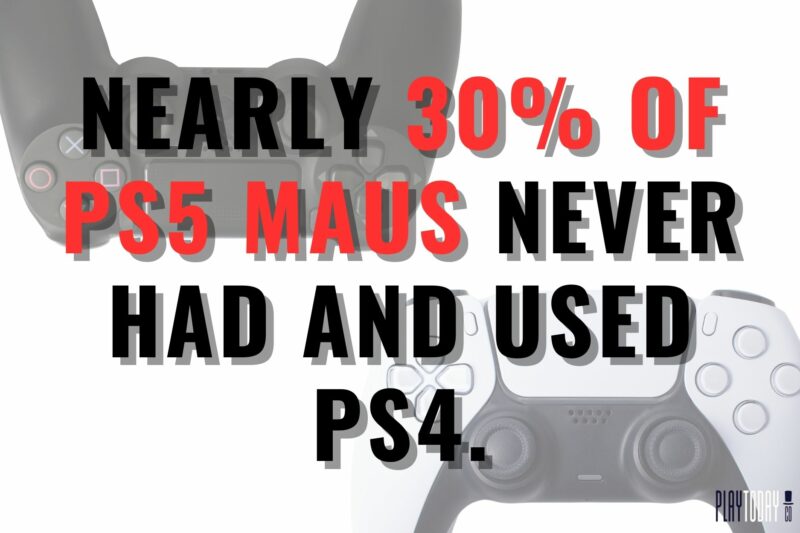 9. 63% of PS5 gamers play video games to relax.
(YouGov)
Of the 11 pre-determined reasons why PS5 gamers play, "to relax and wind down" ranked first. 51% claimed they play video games to pass the time.
Other notable reasons why PS5 gamers play are the following:
To escape reality, 39%

To challenge oneself, 30%

To complete challenges and puzzles, 28%

To interact with gamers from around the world, 24%

To create a world of my own, 21%

Warning
Notable Facts on PS5
Sony released the PlayStation 5 in two versions during the pandemic, and this timing was seen as one of the factors why the console sold out so quickly, among other reasons.
PS5 has a more streamlined user interface and fully supports 4K media. It also offers better graphics, faster refresh rates, and more efficient storage.
Learn more about PS5 and some interesting facts about the console through the discussion below.
10. Sony released the PlayStation 5 on November 12, 2020.
(Polygon, VGChartz)
Sony released the PS5 for $499.99 on November 12, 2020, in the US, Mexico, Australia, Canada, New Zealand, and South Korea. On November 19, 2020, PS5 became available to other countries.
Combining the sales from the two launch dates, PS5 sold around 2.1 million to 2.5 million worldwide.
| | |
| --- | --- |
| Country | No. of Units Sold on Nov. 12, 2020 |
| US | 1.0 million to 1.2 million |
| Canada | 95,000 to 110,000 |
| Mexico | 65,000 to 75,000 |
| Oceania (Australia and New Zealand) | 45,000 to 60,000 |
| Japan | 115,000 to 120,000 |
Most sales on November 19, 2020, are from Europe, with 660,000 to 800,000 units sold.
11. PS5 was sold out online amidst COVID-19.
(Sky, Engadget)
Sony Interactive Entertainment CEO Jim Ryan confirmed that the PS5 was completely sold out despite the company's effort to produce enough units.
As of June 2020, Sony has started mass production of PS5, aiming to have assembled 5 million units by the end of September.
Anticipating higher demand due to the pandemic, Sony doubled the PS5 production and expected to have manufactured another five million by October and December 2020.

Did You Know?
Sony faced some challenges during the pre-production of the PS5. Because of the travel and other logistical restrictions during the pandemic, they had to do all the manufacturing preparation remotely by camera. 
12. The PS5 has an 825GB SSD drive.
(Polygon)
Of the 825 GB SSD onboard solid-state storage, the PS5 offers 667.2 GB, which is accessible for users to download games, apps, and other media.
Sony wanted to ensure that the PS5 has room for the operating system, firmware, and future updates, thus the massive space gap.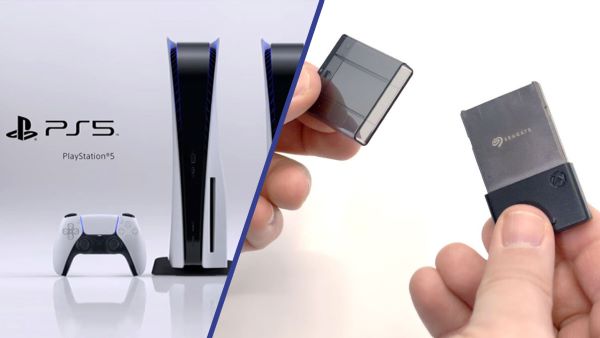 13. The PS5 costs $399.99 for the digital version and $499.99 for the regular version.
(CNN)
The only difference between the PS5 regular and digital versions is that the former has a disc drive while the latter doesn't.
Both PS5 versions have the same hardware. But, since the PS5 Digital Edition doesn't have a disc drive, it is about half an inch thinner at 3.6 inches compared to the regular version at 4.1 inches.
CNN gave a quick rundown of who each of the PS5 versions is for:
PS5 regular version:

If you buy lots of physical media.

You want many options in buying games.

PS5 Digital Edition:

You want the cheapest PS5 version.

You don't mind downloading all your games.

You want the sleekest PS5.
14. Sony PS5 released five new colors for console covers in 2022.
(PlayStation)
In January 2022, Sony released the Midnight Black and Cosmic Red console covers, which were available at retailers worldwide.
Five months following the release of the two colors, Sony added three new colors for the console covers:
Starlight Blue

Galactic Purple

Nova Pink
All five new console cover colors are available for the PS5 and PS5 Digital Edition.
The Endgame
Looking at the number of sales for the PS5, Sony has made it clear that they will not be beaten anytime soon by any of their competitors.
Sure, the competition is tough, but the fanbase of Sony's PlayStation franchise is much tougher. Sony needs to think of ways to establish their momentum.
Hopefully, the upgrades in PS5 models and the addition of new exciting games are enough to keep their fanbase engaged and translate to sales later on.
FAQs
How many PS5 have been sold in 2023?

Sony announced that as of July 2023, PS5 has surpassed 40 million unit sales.
How many people play PlayStation in 2023?

There are 108 million monthly active users for PlayStation as of June 2023.
Who sold more Xbox or PS5?

PS5 has sold over 6 million units in 2023 alone compared to 1 million Xbox units sold.
Will there be a new PS5 model in 2023?

There is no confirmation from Sony yet, but rumors about an upcoming PS5 Pro are flying around online and are allegedly expected to be released in late 2023 or 2024.
Should I buy PS5 or PS4?

Go for the latest version, which is PS5. Aside from a 4K resolution and other fascinating upgrades, there are games on PS4 that can be enjoyed playing using PS5.
List of Sources: