What is Crash Gambling | Learn About the Basics
The rise and success of Cryptocurrency has transformed the Casino Industry, and Crash Gambling has emerged as one of the more recent and popular forms of casino gaming.
The game works by creating ascending lines, usually resembling stock market graphs. As the line rises, your winnings multiply, but it's unpredictable when the line will Crash, resulting in a loss.
This article will explore what Crash Gambling is and shed light on how the game works, highlighting its key features and breaking down the elements of the game's interface.

Highlights of the Article
In Crash Gambling, the main goal is to predict the right time to take your bet and win more money while avoiding a sudden end.
Crash Gambling uses a tested and proven Provable Fair system to determine the results reasonably.
The Crash game looks like a rising stock market graph, making it exciting to play and watch.
Gamblers can wager on Crash using Cryptocurrencies like Bitcoin, Ethereum, or Litecoin.
Crash Gambling sites also let players set mechanisms that automatically cash out their bets at certain times.
The use of Cryptocurrency protects bettors' money and ensures safe transactions.
Hash codes are designed to prevent cheating or manipulation, ensuring everyone has an equal chance to win.
Crash Gambling Explained
Crash Gambling is a thrilling online betting game that requires luck and strategy.
In this game, players place their bets on a multiplier that keeps increasing, as displayed on a graph. The greater the multiplier, the higher the payout.
However, there is a risk involved. The multiplier has the potential to crash without any prior warning. You must cash out your bet before the crash to maintain your wager.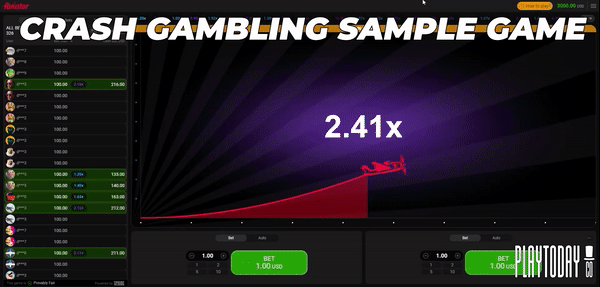 Players must rely on their intuition and timing to make strategic decisions and potentially earn substantial profits.
Based on our review, here are the top crash gambling sites based on different geo locations:
🇺🇸 US players:
-> Wild Casino (💰 $5,000 Welcome Bonus).
-> Stake.us (Best Sweepstake Casino with 🎁 Weekly Raffles).
🇨🇦 Canada players:
-> BC.game (💰 Sign up to get up to

$20,000

Reward).
-> 7Bit Casino (💸 Up to 5 BTC Welcome Package + 250 Free Spins).
🌍 Other countries try:
-> CloudBet (🎉 Up to 5 BTC Bonus)
-> Thunderpick (💶 500 Welcome Bonus)
-> Casino Days (🇮🇳 Welcome Bonus up to ₹1 Lakh).
-> Trust Dice (🏦 First Deposit Up To $30,000 + 25 Free Spins).
-> 1XBet (💰 100% Bonus on The First Deposit).
To learn more about the features and mechanics of Crash Gambling, explore the details in the section below.
Beginner's Guide for Crash Gambling
Before diving into the game, it is essential to familiarize yourself with the basics of Crash Gambling, including its elements, such as the graph, the multiplier, and the payout.
Understanding the rules is crucial for making informed decisions and increasing your chances of winning.

Side Note
The primary objective of Crash Gambling is to predict when to cash out your bet to maximize your winnings while avoiding a Crash.
Game Mechanics
Multiplier Line:

The game starts with a multiplier line typically set at 1x. This line begins to rise gradually.

Placing Bets:

Players often choose their desired bet amount using cryptocurrency and place their bets.
Rising Multiplier:

As the game progresses, the multiplier value increases. The speed at which it

rises is determined by an algorithm

, often called Provably Fair, ensuring random and unbiased outcomes.

Cash Out:

Players can cash out their bets during the game by clicking the "cash out" button. The multiplier at the time of cashing out determines their winnings.

Multiplier Crash:

The game's defining moments are the "Rise" and "Crash." The multiplier will inevitably reach a point where it suddenly crashes, resetting to 1x. When this happens, all bets that have not cashed out are lost.
Understanding the Parts of the Game Interface
To learn how to play Crash Gambling, explore the details below on its functioning and features.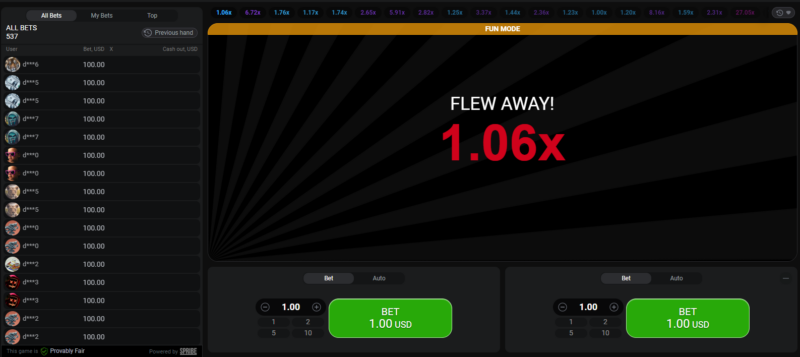 Multiplier Line
It is the continuously rising central line graph. It represents the multiplier's value, indicating how much your winnings could increase.
Bet Amount
You choose how much cryptocurrency you want to bet. Your potential winnings are calculated based on this amount.
Cash-Out Button
This button allows you to manually cash out your bet at any moment before the multiplier Crashes. Timing is crucial to secure your winnings.
Auto Cash-Out
Some platforms offer an automated cash-out feature, where you can set your preferred multiplier at which your bet will automatically cash out.
History and Statistics
Many Crash Gambling interfaces provide a history of past rounds and statistics, helping players make informed decisions based on previous game data.
Live chat
The live chat allows players to chat with other players and the casino staff.
All My Bets
Also found in a separate section, this feature allows you to review your betting history and outcomes.
How Does Crash Gambling Work: A Mathematical Exploration
Crash is a casino game where players place bets on a multiplier value that continuously increases until the game "Crashes." Although the game's rules are straightforward, the math used in determining the multiplier value is complicated.
Algorithm Behind Crash Gambling

Side Note
Crash Gambling games use a Provably Fair algorithm to determine the outcome of each game. 
The algorithm uses a random number generator (RNG) to produce a random number. 
It means that the outcome of each game is genuinely random and fair, and players can verify this by using the Provably Fair seed provided for each game.
This process utilizes a random number to determine the starting multiplier and the rate at which it increases. The multiplier will continue to rise until it crashes, which happens randomly.
The Math Behind Crash Gambling
The Crash game relies on hash codes to ensure fairness and impartiality, as they allow players to confirm the transparent determination of the Crash point.

A hash code is generated based on a seed that is a random or pseudo-random value. This process is irreversible and cannot be easily deduced or predicted from the output.
Before each round of Crash Gambling, the system generates two crucial seeds – the Player Seed and the Server Seed. The system then combines these seeds and applies a cryptographic hash function.
Once the round concludes, the platform reveals both the server seed and the Crash point (multiplier), which the player can validate through Python (Programming Tool).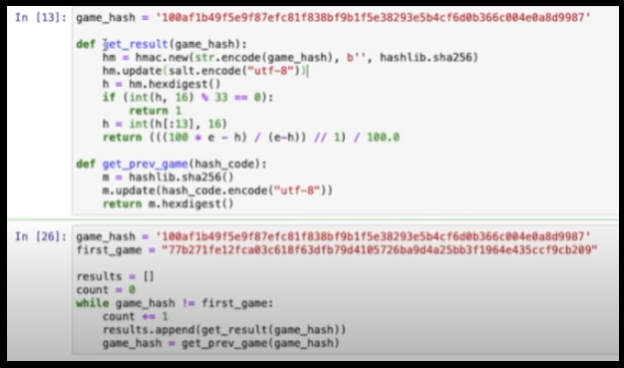 This mathematical approach assures that the outcome is unpredictable and that players can verify the game's fairness by independently reproducing the hash code with the revealed seeds.
Final Thoughts
Crash Gambling is among the new waves of casino games taking the world by storm. The game presents a low-risk, high-reward form of betting with fun and intuitive features that any player can access.
Although there are complex codes and mathematics behind the game, the algorithm used and the gameplay of Crash make the game a simple and exciting casino game to bet on.
Gamblers must familiarize themselves with Crash Gambling by learning the basics and playing its demo version. Remember that, like other casino games, there are odds, RTPs, and house edge involved in the game.
FAQs
Is Crash Gambling fair?

Many Crash Gambling platforms implement Provably Fair algorithms, ensuring the fairness and randomness of the game's outcomes.
What strategies can I use in Crash Gambling?

You can employ different strategies, such as cashing out early, setting automated cash-out points, or using a stop-loss strategy to manage your bets effectively.
Is Crash Gambling legal in the United States?

The legality of Crash Gambling in the United States varies by state, so it's crucial to check your state's specific laws and regulations.
Can I play Crash Gambling anonymously?

Yes, most Crash Gambling games allow players to bet anonymously, enhancing privacy and security.
Is Crash Gambling legal?

The legality of Crash Gambling varies by jurisdiction. You must know your local regulations and age restrictions when participating in online gambling. 
List of sources