23 Interesting Sports Streaming Statistics to Show How Big It Is In 2023
Sports currently take up a big chunk of TV viewership. It accounts for 37% of TV Everywhere's viewing. Different types of sports content are accessible to fans using other streaming platforms and services.
More and more national and college sports are available for streaming. High-resolution viewing options are now on several devices. With that, there's no denying that streaming has shifted how we spectate and follow sports.
Every day, the sports streaming industry gets more prominent. In this article, we'll learn about the latest sports streaming statistics and how they changed the game for fans and the industry.

Highlights of the Article
43% of cable subscribers say they will not cut their cords because of sports.
Sports programming only makes up 2.7% of the content in US broadcast TV, but it continues to generate billions of revenue.
Live-streamed sporting events have doubled in the US in six years.
54% of China watches sports live online, while 83% of Peru streams through live TV.
Fans over 35 are less likely to be subscribed to multiple streaming platforms at 14%, compared to 30% of the younger bracket of 18 to 34 years old.
NFL Sunday Night Football and NFL Thursday Night Football are the most-watched TV shows in the US, with 18.14 million and 15.14 million viewers, respectively.
Women's college basketball tournaments are gaining popularity as streaming viewership has risen 11%.
65% of sports fans would prefer to pay for online streaming services than pay-TV subscriptions for sports happenings.
 40% of sports fans still use illegal websites to stream sports, especially NBA and NFL.
Sports Streaming by Numbers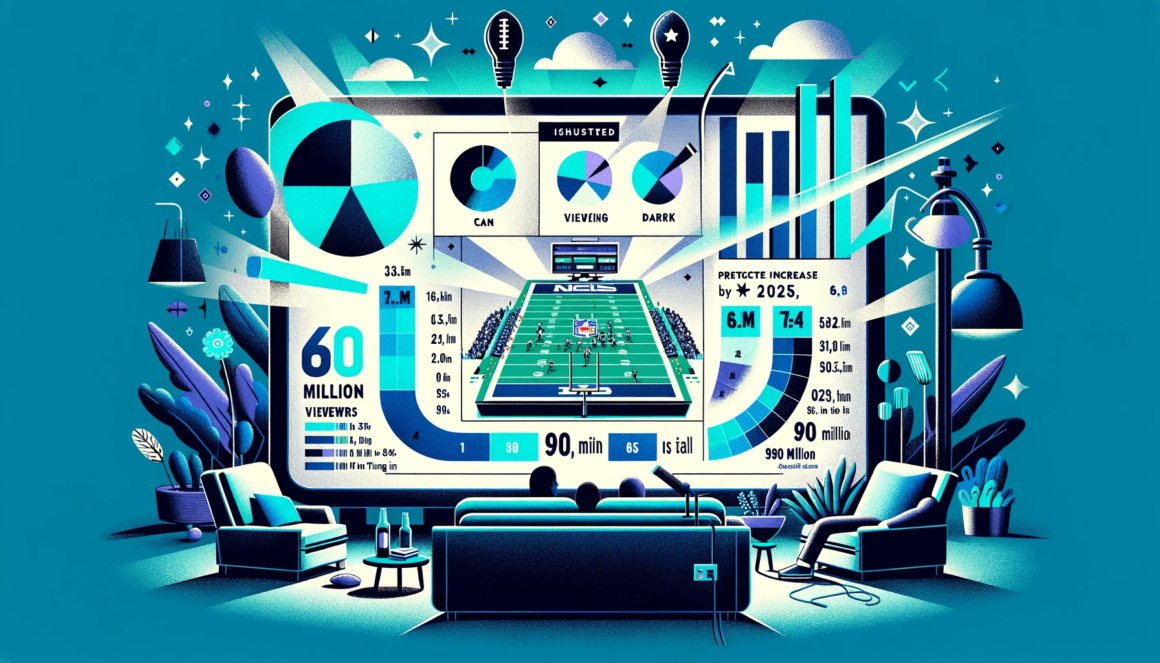 The interest of sports fans is a crucial factor in the continuous growth of sports streaming and the trends that develop in it. According to a study, 28% of Americans enjoy streaming sports, and the average American streams at least 4 hours of live sports.
The data below will reveal how the industry, trends, demographics, and services give rise to sports streaming:
The Sports Streaming Industry Size Statistics
A report shows that 94% of the top programs on broadcast TV were sports. For cable TV, 69% of their top programs have sports content. That means sports take over TV, and high viewership is always guaranteed.
Those are predicted to keep increasing in the years to come. But for now, let's look at what else is happening in the sports streaming industry.
1. The global online live video sports streaming market in 2020 was valued at $18.11 billion.
(Research and Markets)
The market growth is projected at a CAGR of 21.5% from 2020 to reach $87.33 billion in 2028. In other words, the current sports streaming market value is growing exponentially. Sports enthusiasts are what drives the market to increase in size and value.
Other factors pushing sports streaming to the top are multi-platform streaming services like:
Hulu

AppleTV

Vimeo Livestream
2. Sports programming helped skyrocket linear TV viewership by 22%.
(The Drum & Samba TV)
Less than 50% of U.S. households watched linear TV every day in 2020, the lowest it has dropped in the past seven quarters.
One might think that the rise of sports streaming is a factor that is killing linear TV viewership. On the contrary, it is one of the few things that keep traditional TV alive by keeping viewership possible.
3. 43% of sports fans need help to cut their cable TV cords.
(Wired)
When asked why they would not cancel their cable subscription, subscribers said they could not live without sports. That is another way sports streaming keeps traditional TV viewership thriving.
4. 31% of linear TV revenue is generated by live sports programming.
(Nielsen Sports)
In 2021, time spent on sports viewing on linear TV was only 8% in the United States. Regardless, sports streaming made up one-third of the ad revenue from live sports programming. That's despite sports only making up 2.7% of the broadcast content.
That is how influential sports and sports channels are to the TV industry!
5. Live-streaming sports went from 48% to 86% in the US in 6 years.
(Zippia)
Back in 2011, only 48% of US sporting events were live-streamed. That doubled to 86% in 2017 as Americans developed a fondness for live-streaming sports. The rising options and accessibility for sports streaming are a reason for this increase in interest.
6. The NCAA generated $870 million from TV broadcast and licensing rights in 2020.
(Statista)
The NCAA is dependent on its streaming revenue from platforms like:
CBS

ABC

FOX

ESPN

FuboTV

YouTube TV

Hulu Live TV
Its television and licensing rights agreement with CBS and Turner Broadcasting System Inc generates the most revenue.
By the end of the NCAA's contract with all streaming platforms, their revenue will reach a staggering $10.55 billion.
Key Viewers and Their Habits in Sports Streaming
Watching sports events can be enjoyed by everyone, but men are more fond of them. A 2022 survey showed that 76% of the respondents who often watch sports are men. In the U.S., 19% of male respondents in a study admitted to watching sports daily.
Who else are the ones that cause sports streaming viewership to surge? Let's round them up and look at their viewing habits as well.
7. 54% of China watches sports live online.
(Statista, KrAsia)
This makes China the leading spectator of sports when watching it live online. China has the largest population of mobile internet users. Those 940 million users have easy access to platforms for sports streaming.
In Xinhua alone, there were 213 million sports streamers in 2020.
8. Peru had the most sports viewership on live TV at 83%.
(YouGov Sport)
Peru leads the survey when it comes to watching sports on live TV. Peru saw the most increase in TV viewership 2 weeks after the country had its first COVID-19 case. There were 3.44 million Perunians who turned to their TVs for entertainment.
9. 30% of fans aged between 18 to 34 are more likely to be subscribed to multiple sports streaming services.
(Statista)
This can be linked to the younger generations' easier affinity to technology. The number dropped to 14% for older respondents beyond 35, who only have one or two sports streaming platforms.
10. 65% of millennials and younger viewers like to stream sports using their smartphones.
(Vimeo)
Almost all millennials and Gen-Z have phones. Numerous reports show that young people use their smartphones the most for streaming. That is why it is their preferred device when watching sports events.
Developing Trends in Sports Streaming
Trends come and go in sports streaming. But they leave a lasting impact on the fans and the industry.
Some of the trends in sports streaming right now are:
Pay-per-view

Major leagues (ex., NFL)
Let's look at how sports streaming trends affect the industry through numbers:
11. The NFL Sunday Night Football had 18.4 million viewers in the 2021 and 2022 seasons.
(Statista, Statista)
NFL is the most televised sports league, with an average viewership of 16.7 million in 2022.
The most-watched TV show in the United States is the NFL Sunday Night Football. NFL Thursday Night Football is coming in second, with an estimated 15.4 million viewers.
12. 500 million more people tuned in to the World Cup globally than the Super Bowl.
(SportsProMedia, Statista, & NFL)
If the debate between American Football and Soccer depended on streaming viewership, the latter is the clear winner. The World Cup opener, where Ecuador beat Qatar, had 550 million global viewers; however, only 56 million worldwide watched the 2023 Super Bowl opening.
13. The 2021 Major League Soccer (MLS) saw an 11% viewership increase in America.
(Statista)
Soccer is by far the world's most followed sport. Americans used to disagree until they got more fond of streaming it. The 2021 regular season of MLS drew 285,000 viewers per game.
Come the FIFA World Cup, FOX aired all 64 matches in the United States. An average of 3.6 million Americans watched the games.
14. More than 50% of fans stream the NCAA March Madness via cable or satellite TV.
(Statista)
Streaming collegiate basketball via cable or satellite TV is the preferred method of 58% of respondents in the U.S.
In 2022, the championship game between Kansas and UNC saw 18.1 million viewers. That shows how close in popularity collegiate sports events and professional leagues are when it comes to streaming viewership.
15. Viewership for women's college basketball jumped to a 54% increase across all networks.
(Just Women's Sports)
It's time for women in sports as their leagues' viewership is beginning to surge.
Take it from the women's college basketball tournament that just completed its most-viewed regular season on ESPN with an 11% increase in audiences. ESPN also revealed that the SEC Championship match between South Carolina and Tennessee had an average of 866,00 viewers.
16. College football viewership increased by 7% across ESPN platforms.
(ESPN Press Room)
Another collegiate sport that is gaining more traction through streaming is football.
In 2023, these are the viewership data of record-setting match-ups that aired on ESPN:
| | |
| --- | --- |
| Streamed match-up | Average viewership |
| CFP semifinal game between No. 1 Georgia and No. 4 Ohio State | 22.1 million viewers |
| Fiesta Bowl game between No. 2 Michigan and No. 3 TCU | 21.4 million viewers |
17. A 30-second ad costs 7 million dollars during a Super Bowl stream.
(Statista)
As the NFL Super Bowl is one of the most significant events in sports, advertisers need to pay an average of $7 million to air a 30-second-long commercial during the 2023 Super Bowl.
Regardless of that amount, large corporations cannot resist advertising during the big game as they see Super Bowl as the perfect opportunity to expose their brand to the public.
18. Pay-TV subscriptions for sports channels decreased by 9%.
(Reuters)
Pay TV refers to a subscription to a television service. It is much cheaper than Internet-based streaming services like Netflix and DisneyPlus. But Pay-TV is getting lesser subscribers.
Instead, 65% of sports fans pay for Internet-based streaming services to provide their much-needed sports bits.
19. eSports is making its name through streaming, as viewers averaged 532.2 million in 2022.
(Statista)
Worldwide eSports viewers have been spiking. Once done playing video games themselves, viewers switch to their favorite gamers' channels to stream.
By 2025, eSports streaming is expected to increase to 640.8 million viewers.
20. 56% of viewers stream sports on their Smart TVs or smartphones
(Global Market Estimates)
Viewers prefer to stream sports through their smartphones or Smart TVs. On the other hand, 46% of sports streamers use their laptops or desktop computers.
Stats on Sports Streaming Services
Streaming services actively pursue the rights to stream certain sports leagues. In the end, fans only need to choose the best platform to air their daily sports dose.
So, let's examine a few more stats that show the interaction between streaming services and viewers:
21. Amazon Prime Video surpassed the Thursday Night Football viewership promise by making 15.3 million viewers.
(Nielsen & SportsBusiness)
SportBusiness reported that global sports media rights revenue was $52.1 billion in 2021. With the increased revenue from sports streaming, streaming platforms are racing to stream the right sport.
Amazon Prime Video won one of the runs and claimed rights to NFL's Thursday Night Football in 2021. During their first exclusive Thursday night game stream, Amazon guaranteed advertisers a 12.5 million viewership. They surpassed by at least 3 million.
22. Despite the many streaming options, 40% of sports fans still use illegal websites.
(Lines)
NBA and NFL fans are more likely to stream games illegally than other fans of other leagues. Although streaming live sports is great, some think subscriptions to streaming platforms can be pricey.
23. Twitch, the most-used application to stream eSports, made $2.8 billion in 2022.
(Business of Apps)
League of Legends, or LoL, is the most popular video game streamed on Twitch, drawing 51.3 billion viewers. Their vast audience funds millions of dollars in prize money for the eSports tournaments occurring in the application. By the end of 2022, Twitch made $2.8 billion in revenue.
Wrap up
So, what's next for the sports streaming industry? According to most of these latest statistics, viewership, revenue, and marketing opportunities will keep growing.
There will come more cord-cutters making the switch to more convenient streaming options. Plus, sporting events and leagues choose to live-stream or sell their streaming rights.
With that, the industry has to adjust and innovate further to cater to the increasing demand for sports streaming.
FAQ
What is the percentage of sports streaming viewership worldwide?

Four of five sports fans regularly watch sporting events through streaming or online channels.
What is the most streamed sport in the world?

Soccer is the most streamed sport globally, followed by 3.5 billion fans.