The Only Guide to Keno Odds You'll Ever Need
Let's talk about keno! It's a game akin to a lottery, offered in tons of modern casinos. Whether this is your first time hearing about it or you're already a seasoned player, this odds guide might be very welcome in your life.
Unlike more modern casino games like roulette, this game is pretty old. It dates back at least 2,000 years, and its origins can be traced back to China. Its name and ticket layout may have changed, but the game has virtually stayed the same.
Still, will knowing its history affect your odds of winning keno? Probably not. Knowing the rules and how probability works well, though, so let's start with the basics. By the end, you should be pretty savvy about keno odds and be well-equipped to win some money!
🏆 Top Keno Gambling Sites
Based on all big and small factors, here are the best online Keno sites based on different geo locations:
🇺🇸 US, 🇨🇦 Canada, 🇬🇧 UK, and 🇦🇺 Australia:
-> Red Dog Casino (💸 Up to $8,000 Welcome Bonus).
-> Wild Casino (💰 $5000 Bonus).
-> Aussie Play (💰 250% Welcome Bonus).
🌍 Other countries try:
-> Red Dog Casino (💸 Up to $8,000 Welcome Bonus).
-> CloudBet (🎉 Up to 5 BTC Bonus).
-> Las Atlantis (🎉 Up to $9500 Welcome Pack).
-> Casino Days (💰 100% Match Up Bonus).
Keno Explained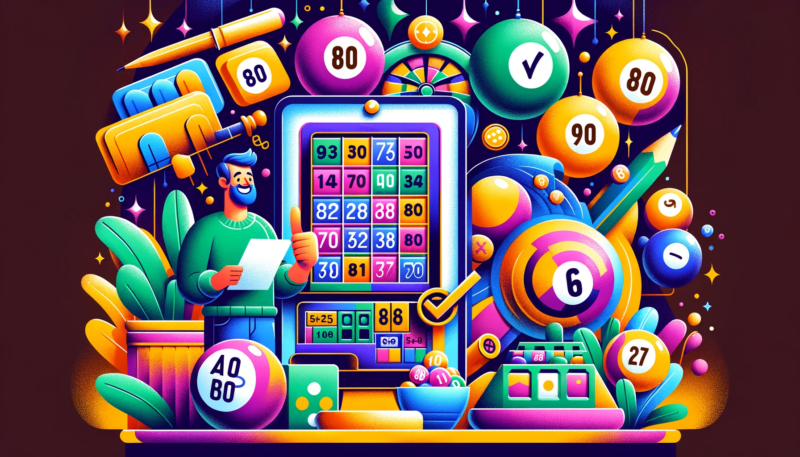 Players need cards or tickets for this game, similar to playing bingo or the lottery. The cards contain numbers, typically ranging between 1 and 80, in squares. As the player, you can select the numbers you want (the limits depend on the game variant).
After choosing your numbers, preferably based on your keno chances, it's time to register your ticket and pay the appropriate amount for your bet. The keno paytable shows you how much money you can make if you correctly guess a specific amount of numbers.
In keno, the winning odds represent your chances of your selections matching the chosen numbers, and these will improve if you refrain from going overboard with your choices. For example, if you guess eight out of eight selected numbers, you'll get a bigger payout than you would if you selected 15 numbers but only got eight of them right.
Keno: Land-Based or Online
Like all gambling games, keno also has an online version. Similar to your chances of winning slot games or blackjack, the odds of winning at keno are slightly different between that and the land-based variant, due to the system for determining outcomes.
The main difference between virtual and physical keno games is the house edge. You probably already know that the house edge (also known as the vigorish, or more commonly, the vig) is the casino's profit expressed as a percentage of the player's bet.
Playing online gives you the best keno odds, as the house edge is usually smaller than in land-based keno. The house edge in physical venues is often around 30-35% of your bet, while with online keno, you can find variations with the house edge as low as 5%.
If you enjoy the experience more than the winnings, don't worry! You can get that with online keno, too. While nothing can truly replace the authentic casino experience, with VR, you can come close – enjoy the superior odds from the comfort of your home! To emulate the social aspects of playing keno at a casino, you can use live chat to connect with other players. It may not feel exactly like the real thing, but it's a nice touch!
How Do You Play Keno – A Step-by-Step Guide
First, we'll break down the rules and then explain how they relate to keno odds. Here's how the process works:
Start by choosing your game and decide on how many numbers (spots) from 1 to 10 you want to play per game.
Pick your favorite numbers between 1-80 (You should pick the same amount of numbers as selected in step 1).
Write or select your wager amount on your bet slip (Sometimes, you can choose several consecutive games you want to play).
Optional: If available, you can select the "Add bonus" option to multiply your winnings for an extra wager.
Submit your slip with a wager and grab your keno ticket from the station.
Wait for the 20 keno numbers to be selected. Who knows? Maybe you've got good keno chances.
After all the numbers are chosen, check how many you've got on your ticket.
Keno Terms
To learn more about keno probability, we should look at some essential terms you should stay on top of.
| Term: | Explanation: |
| --- | --- |
| Catch-All | These are the numbers you choose, sometimes just called "spots." |
| Hot Keno Numbers | The numbers that have been drawn in recent games. Not all game variations show these. |
| Cold Keno Numbers | The numbers that haven't appeared in recent games. Some people think choosing these gives you better keno chances. Again, not all games show these. |
| Match/Catch | When a number you have on your ticket is drawn. |
| Catch-All | When all the numbers on your ticket have been drawn. |
| Catch Zero | When none of the numbers on your ticket have been drawn; some casinos even have payouts for this. |
| Aggregate Limit | The maximum payout for a single round of keno. |
Keno Odds For a Standard Game
If you've been wondering how to determine your keno probability for winning, we're here to explain all the controllable factors. However, like with most casino games, luck plays a massive part in the outcomes.
One Number
Luckily, keno odds are pretty easy to calculate, and that's especially true for small-number selections. Some casinos will even let you choose just one number out of all 80. If you're in one of those casinos, your odds of picking a single number and it being among the winning 20 are 1 in 4.
Two Numbers
With two chosen numbers, your keno number odds are 1 in 17 that you'll match both numbers. Remember that 20 balls are drawn overall in the typical keno variation.
Three Numbers
Let's say you decided to mark three numbers on your ticket. The probability of hitting the numbers and your chances of winning keno look like this:
1 in 73 for hitting all three numbers,
And 1 in 8 for at least two numbers.
Four Numbers
When it comes to choosing four spots on your keno ticket, here's how your luck is looking. There are:
1 in 327 chances that you'll hit all four numbers,
1 in 24 for matching three out of four numbers,
And 1 in 5 for matching two of them.
Five Numbers
Go big or go home! (Unless you're playing online and you're already home. Hah!) Of course, your probability of winning keno by hitting all five numbers is insignificant, but you might be that lucky!
For five numbers, your probability is 1 in 1,551,
For four – 1 in 83,
And for three – 1 in 12.
Six to 10 Numbers
Here are the keno number odds for marking at least six and, at most ten numbers on your card.
Keno spots
(Numbers picked)
Numbers matched
Odds
6
6
1 in 7,753
5
1 in 324
4
1 in 36
3
1 in 8
7
7
1 in 40,980
6
1 in 1,366
5
1 in 116
4
1 in 20
3
1 in 6
8
8
1 in 230,115
7
1 in 6,233
6
1 in 423
5
1 in 55
4
1 in 13
9
9
1 in 1,380,688
8
1 in 30,682
7
1 in 1,691
6
1 in 175
5
1 in 31
4
1 in 9
10
10
1 in 8,911,712
9
1 in 163,382
8
1 in 7,385
7
1 in 621
6
1 in 88
5
1 in 20
0
1 in 22
Keno Variations
Don't be confused if you come across a keno game that doesn't work on the usual 80-to-20 balls system. We're here to take you through the most popular variations of keno, and the best odds for each of them.
Packaged Keno Odds
In this version, you get your tickets for less money if you buy more tickets. However, in this type of keno, the probability is the same as usual.
Caveman Keno Odds
Caveman keno won't require you to learn many new rules if you already know regular keno. However, it will give you some multipliers! You still choose your numbers, but the computer will also select numbers.
Before the game starts, the computer chooses three numbers on top of your numbers. If at least two computer-chosen numbers are among the 20 numbers drawn, you get a multiplier on your winnings.
Club Keno Odds
If you want more of a fast-paced game, club keno is for you! Here, you can select up to 10 numbers, and the wagers per draw start at $1, then $2, $3, $4, $5, $10, up to $20. You can also select an option called "Easy Pick," where the numbers are randomly chosen for you. This is a variant of keno with great odds and payouts!
Cleopatra Keno Odds
If you'd like to try your luck with video keno odds, the Cleopatra version of the game is perfect for you! With this one, you can win 12 free games if the last ball drawn contributes to you winning the round. On top of that, all the wins in free games are doubled!
Conclusion
Hopefully, our thorough guide can help you out the next time you decide to play keno. However, bear in mind that this is a game of luck, and sometimes, you can't do much to influence your keno odds.
On the other hand, maybe today is the day luck smiles at you!
FAQ
What are the best odds in keno?

Since this is a game of luck, winning will never be certain. There are no specific strategies, but you can improve your circumstances to create the best possible odds. You should:

Find games with high payout percentages.
Select between four and eight numbers.
The best odds for keno can be found in online casinos, as the house edge there is smaller than in land-based venues.
If you can, play free or bonus rounds first, before betting any real money.
What are the odds of hitting 7 out of 7 in keno?

The chances of you matching all of your seven numbers with the numbers drawn are 1 in 40,980.
What are the odds of getting ten numbers in keno?

Your chances of hitting each of the ten selections you made are 1 in 8,911,712.
What are the odds of hitting a 5-spot in keno?

If you chose only five numbers on your slip, your chances are pretty decent: 1 in 1,551.
What are the odds of hitting a 3-spot in keno?

If you decided only to mark three numbers on your keno ticket, you've got 1 in 73 chances of hitting all three numbers. Starting nice and easy is always a great idea!
What are the odds of hitting four numbers in keno?

General keno guidelines suggest making selections with between four and eight numbers. That means your keno odds will range between 1 in 327 for getting four out of four, and 1 in 230,115 for getting eight out of eight.