Squash is growing in popularity worldwide, with over 20 million players in 185 countries, and 116 National Associations in the World Squash Federation.
The sport is an entertaining and challenging contest of agility, strategy, skill, and mental and physical fortitude which makes it a highly beneficial activity for physical health and fitness.
This article will delve into Squash statistics and provide analyses of the participation, injury, and game statistics.
Editor's Choice
The US had an

82% increase in Squash participation

from

2007 data

.

In 2020,

269,000 Europeans

played Squash.

The number of Squash devotees in Finland increased by 70% from 500,000.
60% of Squash players experience lower-limb injuries.
33.33%

of individuals from Otago experienced

back pains

due to playing

Squash

.

A singles match lasting

40 hours, 1 minute, and 59 seconds

was the

longest Squash marathon

recorded.

With

8 gold medals

,

Australia

leads the

WSF World Team

Squash Championships 

A

2015 match

lasting

170 minutes

between

Leo Au

and

Shawn Delierre

holds

the

record for the

longest Squash match.
Teran VS Khan's

Squash match lasted

2 hours

, the

longest in the female division

.
How Many People Play Squash In The World?
Over 20 million Squash players routinely compete in over 185 countries worldwide. The sport is especially popular in the region of Pakistan, producing world champions such as Jahangir Khan and Jansher Khan
Between 2012 and 2017, the number of Squash players increased by 80%, and juvenile Squash players increased by 400%. In less than a decade, the player base doubled from 500,000 to 1.49 million.
The next part of this article will focus on game participation and statistics of Squash players.
Squash Game Participation Statistics
The Professional Squash Association (PSA) governs the professional Squash circuit for men and women. Its PSA World Tour is the sport's highest level of professional competition, including over 200 tournaments per year.
PSA is the designation of the WSF region that encompasses the Americas and supports 2 million active Squash players. Multiple initiatives are implemented to ensure that everyone can play Squash. 
Squash is more prevalent in some countries while less in others. The following section of the article will unpack figures by looking at the specific numbers of Squash game participants.
1. The United States has the fastest-growing Squash participation, with an increase of 82% from 2007 data.
(US-Squash)
The United States has approximately 1.2 million players, an increase of 82% between 2007 and 2011, according to the Sports & Fitness Industry Association (SFIA). 
Geographically, Junior Squash players increased substantially. It had a 375% increase in the number of games and a 55% increase in the average number of participants per West Coast tournament between 2010 and 2013.
2. Europe had more Squash players, up to 269,000 last 2020.
(ServeAndSmash)
The most significant portion of European Squash players come from the United Kingdom, which is logical since Squash originated in the UK. 
Over the years, Squash's popularity has remained relatively stable, despite predictions to the contrary. However, 269,000 participants in 2020 seem respectable.
3. Squash enthusiasts from Finland increased by 70% in 2021.
(WorldSquash)
Finland is growing as a Squash-playing country with almost 500,000 enthusiasts. The rise in popularity is mainly attributed to the general population's awareness due to national initiatives.
Compared to the average of the previous three years, the number of Squash enthusiasts has increased by more than 70%. More than half a million Finnish adults are interested in the sport.
Squash Injury Statistics
From 1988 to 1993 in Australia, Squash accounted for only 2% of all sports and recreation-related injuries that were due to an emergency department visit by an adult. 
In 1994, Squash injuries accounted for 1.3% of all sports injuries presented to five sports-medicine clinics in Melbourne. 
According to these studies, Squash is the 13th most common sport or active recreation activity leading to treatment at a sports medicine clinic and the 12th most common for emergency department presentations. 
The Squash-injury data can be grouped into four major categories: lower limbs, eyes, cardiovascular, and back injuries.
4. Data shows that 60% of Squash players suffer from lower-limb injuries.
(SageJournals)
A retrospective 8-year study of Squash players who presented to a hospital sports injury clinic determined that acute trauma accounts for approximately 80% of all injuries sustained by amateur Squash players.
A retrospective analysis using self-reported data from 121 players from arbitrarily selected Yorkshire clubs and British Universities Sports Association teams found: 
60% of lower-limb injuries were acute

24.4% were chronic

15.5% were the result of overuse. 
5. 33.33% of Squash players were recorded to have an eye injury.
(PubMed)
From January to October 1991, all hospital case records and eye residents with an emergency eye ambulance were investigated. 
Doctors retrospectively reviewed all patient records from the eye clinic of the university hospital Rudolf Virchow, department Charlottenburg, for 1989 and 1990.
There were 234 sports-related ocular injuries, 78 (33.3%) of which occurred while playing Squash. The ambulance transported 71 Squash players to the hospital; 15 were admitted. 
The total number of injuries sustained by athletes was 206. Most lesions were superficial, but hyphaema and angle recession were observed in 12 cases and 13 patients.
6. 23 out of 30 Squash players experienced a cardiovascular injury.
(PubMed)
Media reports were reviewed retrospectively by Northcote et al. to identify Squash-related injuries in the United Kingdom between 1983 and 1997. 
Coronary heart disease was the cause of 23 of the 30 sudden fatalities linked to Squash. Cardiovascular events or mortality during Squash are uncommon and depend on several player factors, including;
Age

Sex

Physical condition

Exercise habits

Environmental conditions

Other cardiovascular-disease risk factors.
7. 33.33% of Otago individuals experienced back pains from playing Squash.
(PubMed)
A questionnaire on back injuries to all competitive Squash players registered was disseminated in the Otago provincial area of New Zealand.
Out of the 1047 questionnaires, only 495 were returned (47.3% compliance). Nearly 52% of the cohort reported suffering from back pain.
33.5% of these individuals claimed Squash caused their injury.

20.6% claimed Squash aggravated a previous back injury.

45.9% believed Squash had no adverse effect on their back injury. 
Males exhibited significantly higher rates of back injury than females, at 56.5% over 46.4%.
Squash Game Record Statistics
The World Open professional championship was established in 1976 and is currently the most prestigious competition. Jansher Khan has won the most World titles with eight, followed by 
Jahangir Khan: 6 titles

Geoff Hunt and Amr Shabana: 4 titles

Nick Matthew and Ramy Ashour: 3 titles
The next part of the article will explore the match durations regarding gender, tournament stage, scoreline, and player rank difference. 
8. The longest Squash marathon singles lasted 40 hours, 1 minute, and 59 seconds.
(GuinnessWorldRecord)
Michael Pearce and Alex Preston completed a 40-hour, 1-minute, and 59-second singles Squash marathon in Tring, Hertfordshire, UK, on September 16, 2022.
Both Michael and Alex have played Squash for more than 30 years. The sport has played an essential role in their lives. 
9. Australia leads the WSF World Team Squash Championships (Men) ranking with 8 gold medals.
(WorldAtlas)
Squash Australia's Men's Team has won eight gold, three silver, and seven bronze medals. 
The team comprises the nation's top elite athletes who compete on the professional circuit. The Australian team's color is blue, coached by Byron Davis.
Last 2003, when the World Team Squash Championships were held in Vienna, the team was victorious for the last time. The Australian team finished second at the 2007 championships in Chennai.
The figure below shows the ranking of the top-performing countries in the WSF Team Squash Championships for Men.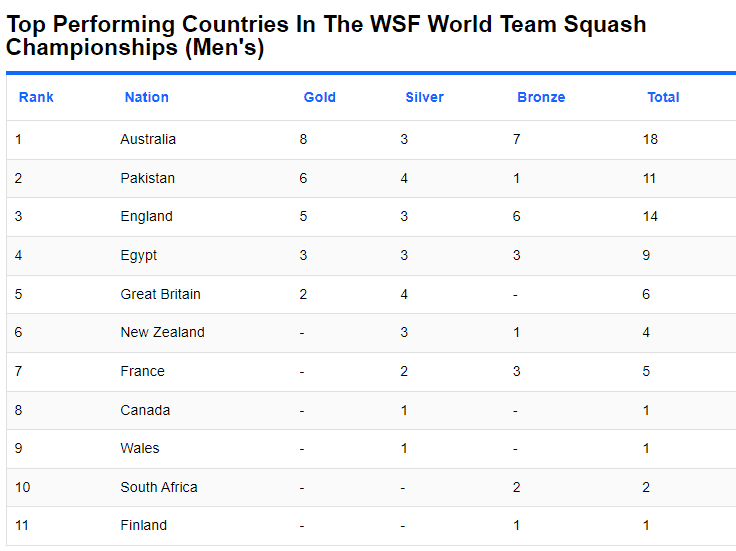 10. Leo Au beats Jahangir Khan's record for the longest Squash match at 170 minutes.
(TheSquashSite)
The match between Leo Au and Shawn Delierre in the 2015 Holtrand Gas City Pro-Am semi-finals in Medicine Hat, Canada, was the longest Squash match at 170 minutes.
It surpassed the record established 32 years ago by legendary six-time world champion Jahangir Khan, who needed 166 minutes to defeat Gamal Awad at the 1983 Chichester Festival during the 'hand-in-hand-out' scoring era.
With the fifth game, which went to 16-14, lasting an incredible 78 minutes, Au, completed over 300 minutes on the court during the four-day tournament.
He averaged over 75 minutes per day as he stormed to the title, securing his place in the annals of sporting history.
The figure below shows the time duration of Squash matches throughout the years.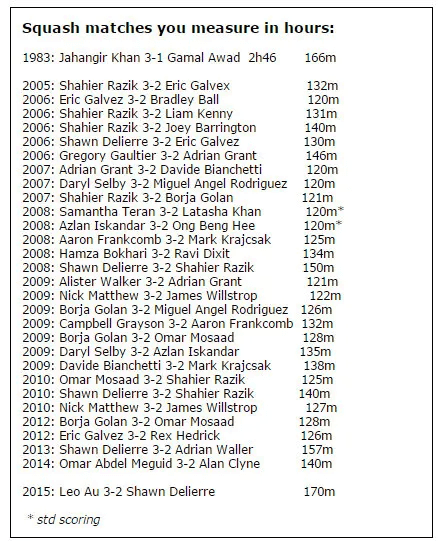 Source: TheSquashSite
11. The longest female Squash match duration lasted 2 hours.
(SquashStats)
The longest female PSA match was between Samantha Teran of Mexico, rated 22 by the PSA as of January 2008, and Lataasha Khan of the United States, ranked 24 by the PSA.
She fought for 2 hours in the finals of the Liberty Bell Open in Philadelphia, United States. On January 2008, Samantha Teran won the match with a score of 3:2. 
The figure below shows the female Squash players from 2000-2020.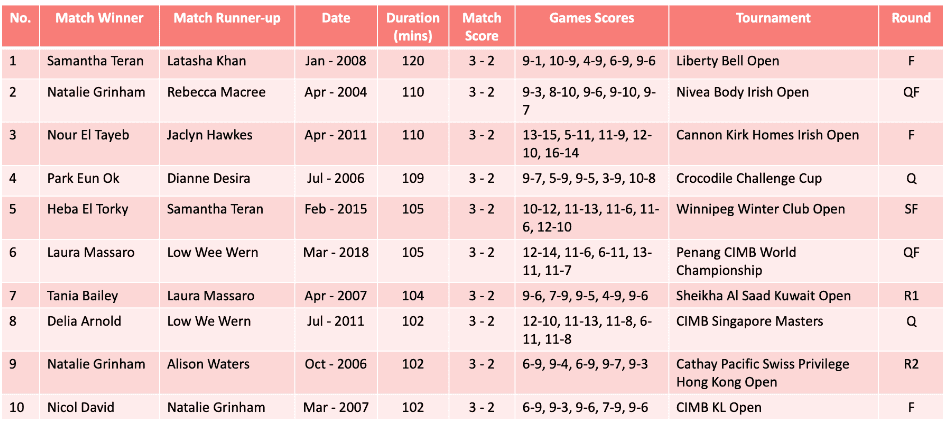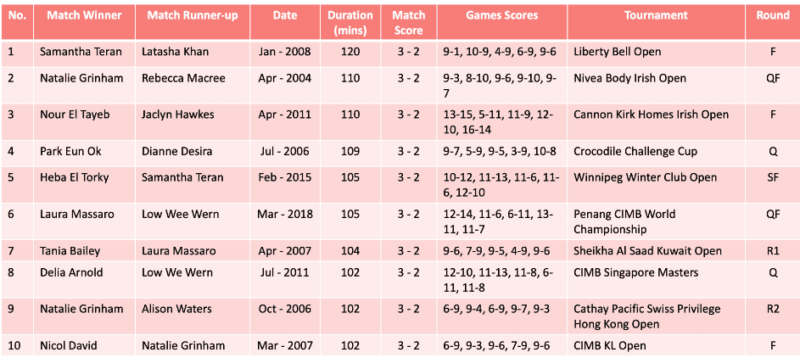 Source: SquashStats
The record stands as a testament to be added to the rich history of the greatest female athletes of all time.
Bottom line
Due to its excellent aerobic and anaerobic boosting high-intensity playstyle, Squash is swiftly becoming one of the most popular forms of exercise today.
Squash will require the development of weapon sports, such as padel and pickleball, that are currently gaining popularity. 
Understanding the drivers and motivations of these sports and then implementing innovative marketing and advertising principles will be crucial for bringing Squash back into the modern era. 
Frequently Ask Questions
Is Squash a fast-growing sport?
Squash is one of the fastest-growing sports, played in over 185 countries. The World Squash Federation reports 50,000 Squash courts and 150 National Squash Federations.
Is Squash increasing in popularity?
The number of players competing on the PSA tour, representing hundreds of countries, is increasing. Squash's future is bright as juniors worldwide play more.
Who is number 1 in the Squash game?
Since August 29, 2022, the rankings have been produced monthly and weekly. The current global number one is Peruvian player Diego Elias.
Why is Squash not an Olympic sport?
Among these were that Squash courts were costly to construct, the rules were difficult to comprehend, and the sport's poor marketability was unappealing to the IOC.
Sources: