During the fiscal year of July 2021-June 2022, the Ohio State Sports division achieved a new high of $251.6 million in total revenue. This figure is double the $106.9 million revenue from the previous COVID-19-impacted fiscal year. 
When it comes to bringing in money from sports, Ohio State is a powerhouse. With its massive following and alumni network, the OSU (Ohio State University) program generates most of its income via ticket sales and licensing deals.
This article will analyze the money earned by Ohio State Athletics', including the highest and lowest incomes, where the money comes from, and the overall revenue trend. 
Editor's Choice
The second-highest revenue posted occurred in

FY 2020, with $234 million

. 

2.4%

of the entire budget for FY 2020 was reduced to make room for the looming pandemic. 

Ohio State experienced a

$63.6 million revenue deficit in FY2021

due to the COVID-19 pandemic. 

In FY 2022, Ohio State's contribution generated

over $63 million

— a

$15 million increase

from the previous year. 

Ohio State tops sports colleges with the

highest total expenses at $225 million. 

Total ticket revenue amounted to

over $59 million in sales in FY22

. 

The Buckeyes lead all sports programs in total revenue with a staggering

$109 million

alone. 

Ohio State student-athletes sign

$2.98 million

through various NIL deals.

Coach Day estimates

Ohio State still needs $13 million in NIL funds

to keep its current roster.
How Much Does Ohio State Athletics Earn Yearly? 
USA Today tallied 232 college sports in the country, and Ohio State is the highest income generator among the many college sports in the nation for the 2022 fiscal year. 
Following a year when sports income was severely affected by the COVID-19 outbreak, OSU's Football comeback greatly assisted in recovering sports earnings, generating over 59 million in ticket sales alone.  
The statistics shown in this post will highlight the substantial profits of the department's financial performance from the pandemic year to the latest 2022 fiscal year.
Ohio State Sports Revenue Statistics Yearly
The influence of Ohio State's sports programs on the overall financial situation is shown by outstanding numbers reported yearly. 
Here are some interesting tidbits about Ohio State Sports' yearly revenue and finances, including various revenue sources and detailed insights into the department's financial standing.  
1. Ohio State Sports rakes up $234 million in revenue in FY 2020, despite the COVID-19 pandemic's early effects.
(Daytondailynews, USA TODAY)
The impacts of the pandemic started in March 2020, which altered both the practice and competition schedules of the winter season and spring sports. 
Despite the declines, these were offset by substantial increases in ticket sales, royalties, and licensing fees. The sports department made a $23.3 million revenue growth and $18.6 million profit. 
The total revenue generated for 2020 is the second-highest revenue by Ohio State Sports raking up $233,871,740 in total profit. 
2. In FY20, 2.4% of overall spending was reduced in light of the impending epidemic.
(Daytondailynews, USA TODAY)
The pandemic was still expected to wipe out most of the spring season's events, cutting down $5.3 million of the department's expenses to $215.2 million. 
The chart below compares the previous fiscal year to show the overall budget cuts 2019-20 took in preparation for the pandemic.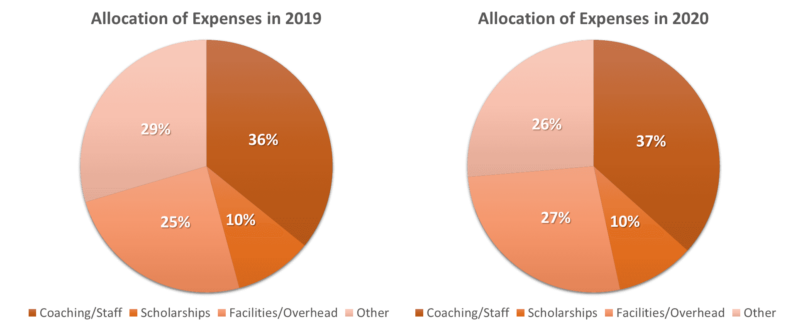 3. With a $63.6 million revenue deficit in the fiscal year 2021, Ohio State Sports Department experiences financial strain. 
(Dispatch, Newarkadvocate)
In 2020, the sports department lost millions due to the coronavirus epidemic. The coverage from July 2020 to June 2021 generated a total operating revenue of $106.9 million and a total operating expense of $170.6 million.  
Ticket sales from football games have historically been the department's largest source of revenue. It capitalizes on a stadium that can seat over 100,000 spectators.
However, they only made $42 million due to COVID restrictions, which was a huge downfall from the previous year's $115.5 million.
4.  No.1 among the list of 232 public schools in the United States for the highest total revenue and total expenses, goes to Ohio State.
(Elevenwarriors)
In USA Today's recent report, Ohio State tops school record revenue ($251 million) and expenses ($225 million) in FY22, earning a net profit of 25 million. 
Texas follows behind with $239 million in revenue, against $195 million in total expenses. 
Below is the overview of the NCAA's Top 10 revenue and expenses per school.
| | | | | |
| --- | --- | --- | --- | --- |
| SCHOOL | REVENUE | RANK | EXPENSES | RANK |
| OHIO | $251,615,345 | 1 | $225,733,418 | 1 |
| TEXAS | $239,290,648 | 2 | $225,153,011 | 2 |
| ALABAMA | $214,365,357 | 3 | $195,881,91 | 3 |
| MICHIGAN | $210,652,287 | 4 | $193,559,375 | 4 |
| GEORGIA | $203,048,566 | 5 | $169,026,503 | 10 |
| LSU | $199,309,382 | 6 | $192,770,399 | 5 |
| TEXAS A&M | $193,139,619 | 7 | $177,671,900 | 6 |
| FLORIDA | $190,417,139 | 8 | $174,365,070 | 8 |
| PENN STATE | $181,227,448 | 9 | $170,542,050 | 9 |
| OKLAHOMA | $177,320,217 | 10 | $175,997,457 | 7 |
5. The $15 million jump from the contributions is one of the biggest contributors to Ohio State Sports' $251.6 record revenue in the fiscal year 2021-22.
(Sports.Yahoo, USA TODAY)
Ohio State's latest operating revenue posted exceeded the previous top record in 2020 ($233.8 million). 
OSU generated $63.6 in total, a 15 million spike from the previous year's revenue from contributions. This increase was primarily due to the new required seat licenses for OSU's football tickets. 
Additionally, they acquired $104.2 million through their rights and licensing programs, marking it their most profitable income stream for FY2022.
6. At $225.7 million in total spending, Ohio State tops USA TODAY's FY2022 list.
(Cleveland, NEWS.OSU)
Ohio State made the most and spent the most in 2022 among all other schools in the NCAA report. 
According to the current database, OSU spent a large portion on staff and coaching at $83.5 million, and $69.1 million was spent on Football, making it the most expensive sports team in the university.
7. Rights and licensing deals accounted for approximately two-fifths of the $251 million revenue in FY 2022.
(USA TODAY, Elevenwarriors)
The sports department acquired over $48.9 million, and $30 million in media rights and licensing, royalties, ads, and sponsorships, respectively. Ohio State earned $104 million in total from this category.
Here's a breakdown of where the money comes from: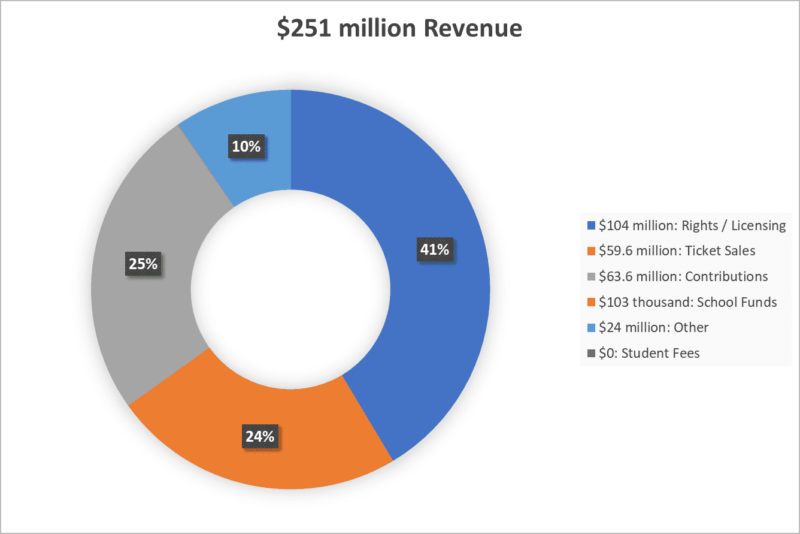 8. $5.8 million inflation spent for coaching salaries and fees in FY2022.
(Bizjournals)
A large portion of the budget in the fiscal year 2022 went to coaching and staff, amounting to $83,494,611 in total, more than $5 million compared to the prior year's budget of $36.4 million.
Take a look at Ohio State's 2022 expenses:
| | | | | | |
| --- | --- | --- | --- | --- | --- |
| Year | Total Expenses | Coaching/Staff | Scholarships | Facilities/Overhead | Other |
| 2022 | $225,733,418 | $83,494,611 | $24,564,657 | $48,028,475 | $69,645,675 |
Income Generation of Ohio State Varsities
The Ohio State Athletics Department generates revenues through various income sources. Take a closer look at these individual sports programs' earnings and financial performance.
The following reports help explain OSU's program scope, including where the money comes from, how it is spent, and the number of individuals involved. 
9. Buckeyes continues to be Ohio State's ticket revenue powerhouse sport, with $47 million.
(NEWS.OSU)
One of the hardest-hit income sources is ticket sales. Across all of the sports at Ohio State, football is the highest income earner. Buckeyes alone made over $47 million, a huge gap from last year's $7,386 sales. 
10. Ticket revenue reached $59,649,921 across all ticket sales by sports in FY 2022.
(NEWS.OSU)
Next to Football tickets were Ohio State's men's Basketball teams at $5,198,379, followed by men's Ice Hockey ($434,254), and Wrestling ($300,184)
OSU's revenue report didn't assign $5.4 million to a specific sports team but rather, reported it to the overall ticket sales.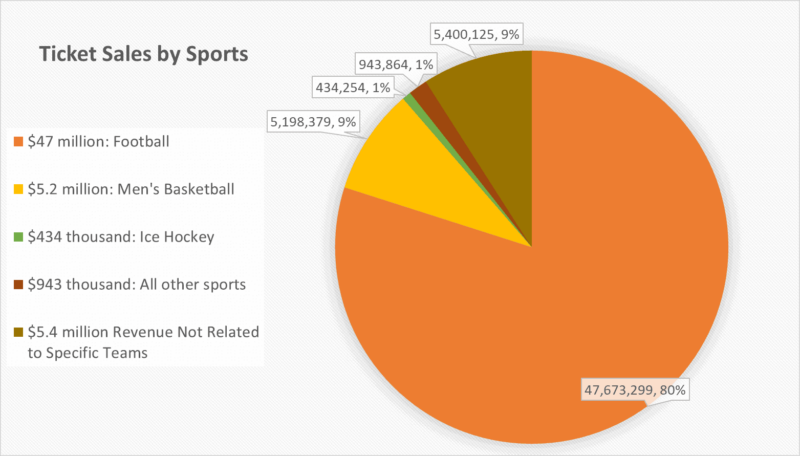 11. With $109,176,080, the scarlet-and-gray football team leads all sports programs in total operating revenue. 
(Elevenwarriors, NEWS.OSU, USA TODAY)
Men's basketball follows second with $23.6 million in total operating revenue, while the wrestling team — the only individual athletics in OSU — generated $1.5 million in total revenue. 
It was also reported that $110 million of the department's income wasn't specifically tied to any team. 
12. Ohio State proudly boasts 16 men's, 17 women's, and 3 mixed sports teams. 
(247Sports)

Ohio State's Buckeyes football team is the most popular, widely known as the revenue booster, and the highest-spending team. 
However, football is only one among the many sports teams at OSU. They are 1,000 student-athletes that are supported by Ohio State. 
13. With over $2 billion in the fiscal year 2022, Big Ten and SEC proved to be powerhouse revenue boosters.
(The Sports Daily, Si)
Ohio State, Penn State, and Michigan represent the Big Ten, among the latest top-10 athletics programs in yearly revenue. Each of the total revenue of these states is over the $181.2 mark. 
Disregarding the competition between SEC and the Big Ten, the combined revenue of the 13 participating public schools reached over $2 billion. 
SEC, which represents the rival football conference, with $2.17 billion knocks out the Big Ten by a small margin with $2.04 billion.
Ohio State Revenue Trends
OSU's financial performance in FY 2022 revealed an interesting mix of what was anticipated and unexpected outcomes in terms of profitability. 
The following section provides the latest developments and an overview of Ohio State's trajectory toward FY23.
14. Ohio State ranks third for the most profitable department in FY2022. 
(The Sports Daily)
Regarding total profit, Ohio State earned a total of $34,022,063 in FY22, landing it in third place out of all the public schools in the country.
The leading school goes to Indiana with $34.4 million, closely followed by Georgia at $34 million.
15. Ohio State student-athletes bagged $2.98 million via name, image, and likeness (NIL) deals. 
(Si)
The department has connected 220 student-athletes to 608 NIL opportunities since July 1st. This is thanks to the Buckeyes team that developed the NIL-Edge-Team. 
This team works directly with brands and companies that can help connect these students to sign NIL endorsements, assist in their endeavors, and maximize their NIL earning potential. 
16. $13 million in NIL funds will be needed to maintain Ohio States' current roster. 
(The Athletic)
According to Coach Day, more or less than 100 competing school attendees with major programs are directly paying out recruits via NILs.
This jeopardizes the Buckeyes of having their major players plucked away from their rosters by other schools. 
Wrapping It Up
The statistics show that despite challenging years, the Ohio State Athletics Department emerged with profits. 
It remains to be seen whether these figures will hold steadily or change dramatically soon, especially in the constantly evolving landscape of college sports.
Despite the pandemic, Ohio State Sports is recovering. However, inflation makes it evident that OSU must continually embrace new spending and revenue-generating strategies to survive and thrive. 
Frequently Ask Questions
What is the annual revenue of OSU?
OSU set a new benchmark as the highest annual revenue generator, with $251.6 million in FY2022. 
How much money did Ohio State football make?
The Buckeyes generated an incredible revenue amounting to $109,176,080. Out of all the sports teams, it is the highest income source sport. 
Is Ohio State profitable?
According to sources, OSU is named the top college sports program in terms of revenue and spending. They acquired $34,022,063 in total profits this FY22.
Which sport generates the most revenue in the US?
As per revenue, the top income source in US Sports is the National Football League with $1.8 billion in revenue. 
Which college sport generates the most revenue?
Revenue-wise, football is considered the most lucrative sport among all other sports by a wide margin.
List of Sources: