What Are Penny Slots? Beginner's Guide to Low-Stake Gambling
You have a single penny in your pocket, but you'd like to spin the reels? Worry not! Both online and brick-and-mortar casinos are packed with penny slots where you can bet with only a cent per payline and potentially earn a fortune.
What are penny slots, then, and how do they work? In this article, we'll cover the answer to these questions and much more. Stay with us to become a penny slot master.
🏆 Top Slots Gambling Sites
Based on all big and small factors, here are the best online slots sites based on different geo locations:
🇺🇸 US, 🇨🇦 Canada, and 🇬🇧 United Kingdom players:
-> Super Slots (💰 250% Bonus up to $1,000).
-> Wild Casino (💸 300% Crypto Bonus up to $3,000).
🌍 Other countries try:
-> Stake (Best Sweepstake Casino with 🎁 Weekly Raffles).
-> Thunderpick (💶 €2,000,000 Prize Pool)
-> Casino Days (🎰 Get up to $1,000 cash + 100 Free Spins).
-> Trust Dice (🏦 First Deposit Up To $30,000 + 25 Free Spins).
The Story Behind Penny Slots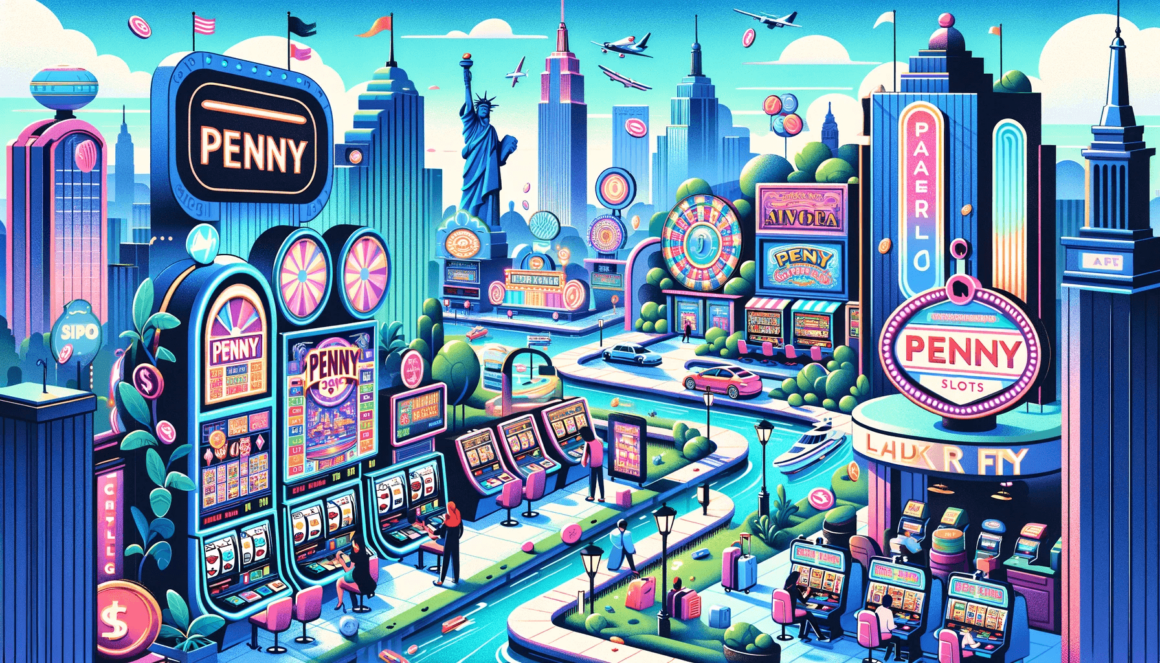 As their name suggests, penny slots are slot machines that can be played for as little as one cent per spin. They're a pretty old model, and, even though lots of modern casinos have kept them, most slots nowadays have more than one payline, sometimes over 50. That's why you'll probably have to pay anywhere between 20 and 50 cents per spin to join the fun.
Aside from casinos, penny slot machines are often found in high-traffic areas like airports, where people can kill some time and win cash on the way without investing too much. They are popular among casual gamblers and those with limited budgets, as they offer a low-stakes way to enjoy the slot experience.
As expected, the payouts on a penny slot machine are usually quite small, but they can still be a lot of fun to play and sometimes lead to big wins. However, penny slots do not bring a lot of earnings to casinos, which is why they usually come with lower return-to-player ratios (RTPs) – some go lower than 86%, even.
How Do Penny Slots Work?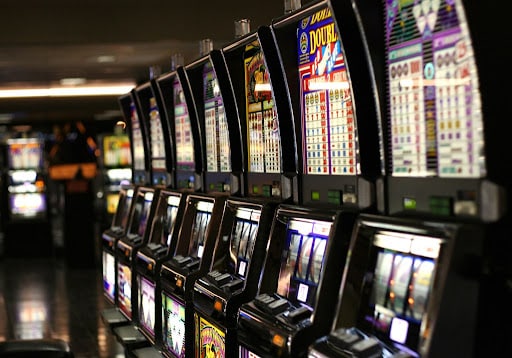 Source: Wikipedia
Even though they come with lower RTP and often lower payouts, penny slot mechanisms do not differ from regular slots. First, you'll have to choose among the myriad of games on offer. The most famous are Book of Dead, Golden Colts, Blaze of Ra, Pirates Charm, and Wild Wheel Big Money.
Check the return-to-player ratio if it's available, and pick games with the RTP closest to 100%. Some online penny slots have instructions on how to play them or demo versions if you're playing online, so you can take a look and think of a strategybeforehand.
Some penny machines in a casino will let gamblers pick the number of paylines they want to bet on. These are so-called "free slots;" however, there are also "fixed slots," which only allow wagering on a set amount of paylines. Note that free slots usually offer cheaper wages and lower winnings than fixed ones.
When you decide on the number of paylines, choose the size of your bet, pull the lever or hit the spin button, and wait for the symbols to line up. You might even hit special symbols and then trigger rewards such as free spins, multipliers, jackpots, or bonus rounds to boost your winnings.
How To Win on Penny Slots
Even though playing penny slots might seem fairly straightforward, there are still some helpful tips to keep in mind when playing:
1. Keep It Simple
Even though many penny slots tend to draw player attention with colorful themes, tons of features, and complex visual designs, we advise you to stay away from these immersive games. These fruit machines often come with low winning odds and are made to keep players glued to the screen for as long as possible, which could cost you your entire bankroll.
Therefore, our advice on how to win big at penny slots is to keep things simple and stick to classic three-reel games with fewer features and smaller winnings, but higher payout odds.
2. Check the Volatility and RTP
When playing penny slots, it's important to know what type of game you're dealing with. Namely, most slot games come with different volatility (variance) levels and RTP. The volatility determines how often the slot pays out winnings, while the RTP tells you how much money goes back to the players from all wagers.
Always go for games with lower volatility and higher RTP. Games with high variance will have larger penny slot payouts, but deliver much less frequently, so your chances of winning are significantly lower. By picking high RTP and low volatility, you'll enjoy frequent modest winnings without spending too long in front of the machine.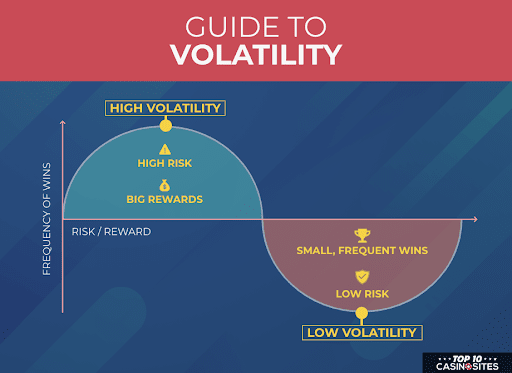 Source: Online Casinos
3. Make the Most of Bonuses
Some online casinos offer exclusive bonuses and promotions for penny slot players. These promotions usually come with a certain number of free spins or bonus rounds, giving you more chances to win without wasting your own money. Therefore, always check what bonuses are available and use them to your advantage.
4. Follow a Bankroll Management Strategy
If you're still wondering how to win at penny slots, the answer might be easier than you think. Basically, if you've decided to only the money you can afford to wager with, and stop at a predetermined time, it will pay off eventually.
Many gambling enthusiasts, especially poker players, carefully build their bankroll strategy, but penny slot mechanics don't offer much room for anything too complex. Considering the high volatility of penny slots, just knowing when to cut your losses and stop yourself from going overboard when you're on a roll will give you peace of mind and provide stability.
The Advantages of Penny Slots
Now that we've explained what penny slots are and how to play them, here are some advantages you might want to consider before spinning the reels.
Affordability
If you're not into risking loads of money, head towards the penny machine in the casino. We've already mentioned that you can rarely play regular slots with pennies, but penny machines are relatively affordable compared to other casino games. Also, having to pay less per payline means you can play on more paylines, boosting your chances of winning even with a tight bankroll.
The good news is – you can bet with a couple of pennies and still win a massive jackpot if you go for one of the progressive jackpot games. Namely, progressive slots add a little portion of each wager you place to the jackpot reward. The sum keeps increasing until a lucky gambler wins the jackpot and grabs the entire prize.
Great for Beginners
Beginner players are usually the ones wondering how to play penny slots, with good reason. Megaways or 3D slots are often overwhelming for newbies, and penny slots offer just the right amount of fun for an affordable price. They are hassle-free, you can wager on a single payline, and you won't risk losing a lot of money.
If you're not sure how to play a specific slot, most online casinos offer detailed instructions for each game you play. Also, they often have demo versions of games, so you can try before you buy.
Play Them Online
The best way to play penny slots is from the comfort of your own sofa or while on the go, as almost every online venue offers penny slots in its virtual lobby. However, remember that you probably won't find games with a "penny slot" label. Instead, go for games that offer minimum bets and have flexible limits.
Final Thoughts
Unlike high-limit machines, penny slots are friendly to your budget, easy to understand, and fun to play in short bursts. Even though these days you'll likely have to pay more than a penny to join the ride, these slots are still the most affordable options on the market. We've presented you with all the perks and rough edges of these popular casino games, and now it's up to you to determine if you like them.
Before you venture into spending money on penny slots, make sure to prepare a bankroll management strategy, check the games' volatility and RTP, and take advantage of bonuses most casinos offer. We wish you the best of luck!
FAQ
Can you win on penny slots?

Yes, you can win on penny slots, but it's not going to be that easy. Penny slots are known for being some of the most volatile games – you can win big or lose your shirt just as easily. Are penny slots worth it, then?

If you're going to try and win big on penny slots, you need to have a solid bankroll and a good strategy. Start by playing with just a few pennies and work your way up. Be sure to set loss limits and a winning goal, so you don't blow your entire bankroll in one session.
What penny slots pay the best?

Before you delve deeper into searching for the best-paid penny slots, check the games' RTP and volatility. Namely, games with a higher RTP (closer to 100%) will give you better long-term odds of winning. At the same time, go for games with lower volatility, as you can expect more frequent payouts.
What are penny slots?

Penny slots are regular slot machines that can be played for as little as one cent per payline. While this might seem like a minimal amount of money, it can add up quickly. On the other hand, if you've accumulated some bonus spins or have some change you'd like to spend, playing penny slots online is a great way to have some gambling fun without breaking the bank.