The company started as Bally Manufacturing Corporation in the 1930s, producing pinball and slot machines. Now it's one of the most well-known companies in the casino industry.
Bally has been a key figure in the gaming industry, developing machines and similar products for over nine decades. Today, the company is known as Bally Technologies, Inc.
Continue reading to learn the history behind the US's largest slot machine manufacturer.
Highlights of the Post
Raymond Maloney

founded Bally Manufacturing Corporation in

1932

.

The company's

name

was from a

colorful humor magazine

, which

inspired

Bally's first machine,

Ballyhoo

.

Pinballs were illegal during

WWII

, forcing Bally to

manufacture airplane parts

and

munitions

to stay afloat.

In

1958

, Raymond Maloney

died

, which brought the company to a

5-year descent

into impending

bankruptcy

.

William T. O'Donnell

took charge in

1963

and

revived

Bally Gaming. He

stepped down

a decade after due to allegations of

links to organized crime

.

Buyouts and acquisitions

by Ballyhoo

hurt

the company's

finances

, forcing them to sell several divisions, including Bally/Midway, in 1988.

Bally changed their platform from

EVO

to

Alpha

,

improving

their

video games' quality

.

Light & Wonder

acquired Bally in

2014

for $3.3 billion and $1.8 million of assumed debts.
Bally Gaming Timeline: From Pinballs to a Casino Legacy
Over 90 years of Bally Gaming's history is filled with shifts in ventures and owners. It also survived several controversies and disputes among investors. 
In the midst of those, Bally produced different kinds of gaming machines that dominated the market.
Learn more about the challenges that Bally Gaming endured behind its rich history. 
The 1930s 
Bally Gaming's first decade was eventful. The company and its products were an immediate hit, providing major growth during its early years. 
Learn about the company's booming start below. 
1932: The Creation of Bally Manufacturing
The story began when Raymond Maloney founded Bally Manufacturing Corporation in 1932. He established it as a subsidiary of Lion Manufacturing in Chicago, Illinois, where its headquarters stands today.
Bally mainly manufactured coin-operated pinball games. It started with producing games like "Ballyhoo," "Rocket," "Goofy," and "Bumper." The company also pursued ventures like vending machines and other gambling equipment.  
1932 to 1933: Origins of "Ballyhoo"
The company took its name from one of the first games it developed: Ballyhoo. In turn, Ballyhoo featured a rainbow-hued playing field as its name was after a brightly-colored humor magazine.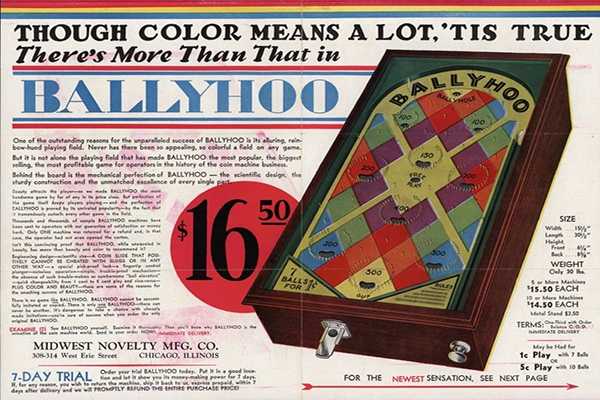 Ballyhoo immediately became a hit—flyers featuring the game claim that it was the most profitable game for operators.
After 7 months, 50,000 Ballyhoo machines were sold for $16.50 each plus shipping. It was also available for wholesale, which reduced the machine's price. Players can play 7 balls in Ballyhoo for a penny. 
With Ballyhoo, Bally Gaming was put on the map of the pinball industry.
The 1940s
Bally Gaming's early years already had major setbacks from the Second World War. Read on below to learn about the company's role during the war. 
1939 to 1945: Bally's Part in World War II
Bally Gaming's parent company, Lion Manufacturing, altered production during the outbreak of World War II. The conflict brought changes in gambling laws, which outlawed pinball machines.
To keep the company afloat, Bally Gaming instead manufactured wartime materials such as:
Detonator fuses

Gun sights for B-52 bombers

Oxygen regulators for fighter pilots
During the war's peak, Bally helped manufacture 6,000 fuses 24/7. Production of munitions and airplane parts for the war stopped when the war ended in 1945. 
Bally gained an Army-Navy "E" Award from this venture. It's an honor given to companies for their excellence ("E") in production and contribution during the effort.
The company eventually returned to manufacturing games and equipment for the gaming industry.
The 1950s
Bally went back to producing their famous pinball machines after the war. It also focused on making the following throughout the 1950s:
Slot machines

Bingo machines

Payout machines
At the same time, the enterprise pursued distinct ventures. Near the end of the 1950s, Bally faced another challenge pushing it to one of its lowest.
Continue reading to discover these events. 
1955 to 1957: Bally Records
Bally Manufacturing saw an opportunity in the coin-operated phonograph or jukebox industry. This led to the establishment of a subsidiary record division called Bally Records. 
The secondary company was launched in 1955. Billboard Magazine even featured Bally Records to help with its publicity. Betty Johnson's "I Dreamed" was the best-known record issued by Bally. 
Unfortunately, the subsidiary was short-lived. It was only active for 2 years and saw its last record produced in 1957. 
1958: Death of Raymond Moloney
Bally's founder, Raymond Moloney, died in 1958. Even though his two sons immediately took over Bally Gaming, his death took a huge toll on the company.
The enterprise saw a worrying descent as it entered the next decade.
The 1960s
During the onset of the 1960s, Bally Gaming was facing financial failure. The company saw a revival not long after, putting Bally at the top of the industry again.   
Keep reading to learn about this circumstance and how Bally Gaming withstood it.
1963: Buy-out By Investors
Bally was nearing bankruptcy since its founder died. That continued for 5 years until William T. O'Donnell, Lion sales and marketing manager, took charge. 
O'Donnell convinced investors to buy out assets of the company in 1963. Bally Gaming successfully avoided bankruptcy thanks to this buy-out.
1963: Money Honey
Bally returned by releasing "Money Honey," the first electromechanical slot machine. It had a mechanical play and electric pay-out techniques. 
A traditional pinball machine has a lever that activates its spring and makes the wheels inside spin. Money Honey had a lever, but it was all for appearance. Instead, the machine activates its wheels using electricity.
This innovation by Bally Gaming started a new generation of gaming machines.
Throughout the 1960s: The Dominance of Bally
Machines made by Bally Gaming dominated the industry throughout the 1960s. In 1968, 9 out of 10 slot machines in Nevada were from Bally Gaming. 
1968: The Acquisition of Midway
Midway Manufacturing Corporation was one of Bally's major competitors in the pinball machine industry. Midway was incorporated by Bally Manufacturing Corporation in 1968.
The competitor was responsible for producing Bally's electromechanical machines. Eventually, they also ran Bally's videogame arcade sector. 
Midway was also responsible for developing the Bally Astrocade console. However, it was only marketed for a limited time. Years later, the console's rights were bought by a third-party company and re-released in the 1980s. 
The 1970s
Bally Manufacturing saw a huge expansion during the 1970s, especially since it opened public trading in the late 1960s. The acquisition by a German company granted Bally an international market.
The business also pursued related projects, allowing Bally Manufacturing to grow further. However, controversy also followed Bally during these years, which caused delays in its plans and changes in ownership.
Continue reading to discover what happened in Bally gaming during the 1970s.
1974: Bally Wulff
Bally Manufacturing was acquired by Günter Wulff-Apparatebau and renamed Bally Wulff in 1974. It was a German company that produced coin-operated machines as well.  
The late 1970s: Venture into the Casino Industry
New Jersey legalized gambling in Atlantic City in 1977. Since the industry offers great opportunities, Bally entered the casino business.
However, Bally was halted while securing a permanent license for its casino due to controversies.
The late 1970s: Connections with the Mafia
Authorities in New Jersey deferred granting Bally a permanent casino license. Investigators accuse Bally's longtime president and chairman, William T. O'Donnell, of links to organized crime.
Speculations also arose that Bally Manufacturing is operating with the National Crime Syndicate.    
Although O'Donnell denied these allegations, this controversy affected the company's growth.
The government ruled that O'Donnell must not hold any stocks in the company in exchange for a permanent casino license.
1979: Park Place Casino & Hotel
O'Donnell was forced to resign in 1979. That gave way to Bally's Park Place Casino & Hotel operation in Atlantic City.
The casino changed its name in 2000 to Bally's Atlantic City.
The late 1970s to Early 1980s: Transition to Bally/Midway
Midway was deeply consolidated with Bally's pinball-making legacy. A decade after the acquisition of Midway, it was renamed Bally/Midway. 
The sector made arcade video games for Bally, a huge source of income for the company. Through Midway, the company obtained licenses to produce 3 of the most popular video games worldwide:
Pac-Man

Ms. Pac-Man

Space Invaders
The 1980s
Bally continued to expand, but this time, it aimed higher. The company initiated more acquisitions and buyouts throughout the 1980s.
Learn about the events that followed these successive buyouts and acquisitions below.
The Mid-1980s: Bally's Rapid Expansion Hurt the Enterprise
Halfway through the 1980s, Bally's finances were strong. Its strong income from the pinball industry was the reason.
With that, the company saw growth opportunities after another. Bally bought several divisions from the following businesses:
| | |
| --- | --- |
| Year | Business(es) |
| 1983 | Six Flags and Health and Tennis Corporation of America |
| 1986 | Scientific Games |
Bally also purchased a few casinos:
MGM Grand in Reno

Golden Nugget Atlantic City

The MGM Grand Hotel and Casino on the Las Vegas Strip
Throughout the 1980s: Pinball Machines
After acquiring Midway in the late 1970s, Bally's main source of income was from pinball machines and other arcade games.  
The company licensed several popular pinball games. Most emerged in the 1970s but saw the most production and sales in the 1980s. Some of them are:
| | |
| --- | --- |
| Year released | Pinball game |
| 1972 | Fireball 1 |
| 1974 | Boomerang and Bow and Arrow |
| 1975 | Hokus Pokus and Wizard! |
| 1976 | Captain Fantastic and The Brown Dirt Cowboy and Playboy |
| 1979 | Centaur 1, Mata Hari, and KISS |
| 1980 | Xenon |
| 1981 | Centaur 2 |
| 1982 | Fireball 2 |
1988s: Bally Facing the Tolls of Their Rapid Expansion
The pinball industry was carrying the company. However, the successive buyouts hurt Bally's balance sheet. 
Near the end of the 1980s, Bally needed to sell their Six Flags and Bally/Midway divisions. In 1988, Williams Electronic Games (WEG) purchased Bally's pinball assets.
The 1990s
The 90s was another crucial decade for Bally Gaming. The company continued to expand but never escaped disputes.
Keep reading to find out what Bally Gaming faced during the 1990s.
1990 to 1993: Arthur Goldberg Becomes Chairman
Bally Gaming's largest shareholder, Arthur Goldberg, became its new CEO in 1990. He changed the company's name to Bally Entertainment. 
1991 to 1993: Bally's New CEO Restructured the Company
With Goldberg in charge, Bally saw a lot of restructuring. He created a subsidiary called Bally Gaming International. This focused on manufacturing slot machines, the enterprise's core business.
Meanwhile, Bally Wulf became an independent company in 1991. Goldberg changed it to pay down the company's debts.
In 1993, Goldberg sold the following:
1993 to 1995: Going Under Lady Luck Gaming
Bally Gaming opened a riverboat casino called the Bally's Saloon & Gambling Hall in December 1993. They built it in Mhoon Landing, Mississippi. 
However, they moved to Robinsonville 2 years after. Doing this allowed patrons to stay at a nearly 238-room hotel. Moreover, it was part of Bally's joint venture with Lady Luck Gaming. 
1995 to 1996: Legal disputes between Alliance, Bally, and WMS
Several shareholder disputes shook the company from 1995 to 1999. These were lawsuits between:
It started in 1995 when WMS offered Bally a buyout. However, Alliance swooped in and offered $210 million worth of cash, stock, and assumed debts to buy out Bally.
Regardless, Bally went for WMS's $120-million offer. Bally saw better long-term value from the WMS stock. If Bally went for Alliance's offer, it could raise concerns among gaming regulators.
Alliance was upset with this and made a hostile takeover of Bally for 4.4 million shares worth $55 million. They also threatened to sue the WMS merger.
Bally and WMS denied Alliance's offer and filed separate lawsuits. Alliance raised its offer to 5.4 million shares of Bally worth $70 million. However, WMS raised its bid to $142 million.
In the end, Bally canceled their deal with WMS. Instead, they accepted Alliance's offer for a merger worth $215 million in 1996.
1998: Bally Gaming, Bally Sytestem, and Bally Wulff
After the merger, Alliance organized Bally into 3 divisions:
Bally Wulff

Ball Systems

Bally Gaming
However, Bally Gaming and Systems were combined into a single division in 1998.
1999: Bally Launches Thrillions
Bally introduced another system to the industry. It's called Thrillions, which is a progressive jackpot system. Instead of selling games outright to casinos, Bally installs this system.
The 2000s
Bally Gaming strongly faced a decade of more digitalization and technological advancements. Read more about it below.
The mid-2000s: From EVO to Alpha
Bally determined that the EVO platform prevents them from creating satisfying video games. Its horsepower needed to be higher to produce the quality they were looking for.
With that, the company re-engineered its gaming machines. This led to Alpha, a Sierra-based operating system platform.
Alpha highly improved Bally's game production, releasing more series of video games and reel machines. An example is Bally's Hot Shot Progressives, which quickly became the company's top product.
2006: Name Change From Bally Gaming to Bally Technologies, Inc.
Bally Gaming altered its name to Bally Technologies in 2006. This shift was initiated by Alliance Gaming, which purchased the company in 1996.
2007: 75th Anniversary
Bally Technologies celebrated its diamond jubilee anniversary in 2007. To mark its prosperous and long-withstanding history of 75 years, here's how the company celebrated:
Organizing special customer events across their Chicago, Atlantic City, and Las Vegas branches.

Asking Christian Marfels to write a second edition of "Bally – The World's Game Maker."

Bally gave a copy of the second edition to all their employees.
The 2010s and Onwards
More growth was in store for Bally Technologies as it entered the 2010s. Here are the developments Bally went through and what else is expected from the company. 
2013: Acquisition of SHFL Entertainment
Bally acquired SFHL Entertainment in 2013. The bought-out global gaming supplier is an asset to Bally. SHFL operates under these primary categories:
iGaming

Utility products

Proprietary table games

Electronic table systems

Electronic gaming machines
2014: The Year of Winnings
Bally won a handful of honors in 2014. It received 4 awards from the 'Slot Floor Technology Awards.' 
The gaming enterprise also earned 2 spots in the yearly 'Top 20 Most Innovative Gaming Technology Products' awards.
2014: Being Acquired by Light & Wonder
Scientific Games acquired Bally for $3.3 billion plus $1.8 billion in assumed debt in 2014. The company is now known as Light & Wonder, which makes lottery and sports betting equipment. 
At Present: The Future of Bally Gaming
Currently, Bally Technologies is focused on manufacturing for the casino industry. The company also continues its habit of acquiring companies to expand its own. Today, Bally also owns:
MindPlay

Casino Marketplace

Advanced Casino Systems Corporation (ACSC)
Several other divisions the company bought out in the past contribute to Bally Technologies' development. 
Final Thoughts
Bally Technologies has survived many controversies, disputes, and setbacks. At the same time, the company rose and became one of the biggest businesses in the industry.
Its history is one great guide, and Bally can learn from their past mistakes. The company still buys out several other businesses but hasn't faced the same consequences as before.
Ultimately, Bally gained the ability to survive and evolve through the company's challenges. 
FAQs
What kind of company is Bally?
Bally Technologies is an interactive entertainment company.
Who is Bally owned by?
Standard General L.P., a hedge fund company in New York City, owns Bally. 
Who is the CEO of Bally's Interactive?
Robeson Reeves is Bally Interactive's CEO as of 2023.
Who is the largest manufacturer of slot machines?
International Game Technology is currently the largest manufacturer of slot machines.
List of Sources