Learn about different types of blackjack and important odds you should keep in mind.
Do you enjoy the excitement of playing blackjack? There are numerous blackjack variations, each with its own set of rules and strategies. In this article, we'll go over several popular types of blackjack and explain how they differ. This guide will help you find the right type of blackjack for you, whether you're a beginner or an experienced player!
What Is Blackjack?
Blackjack, like many other casino games, can be played in plenty of different ways. The goal of the game is to have a higher total than the dealer's hand without going over 21. 
Blackjack can be played with one or more decks of cards, usually between one and eight. This usually varies based on the casino and/or based on the variation of blackjack in question.
Blackjack is both a skill and a game of chance, and there are a few different strategies that can be used to increase your chances of winning. A good place to start is with a basic blackjack strategy, but there are also card counting systems that can be used to give you an advantage over the house.
What Different Types of Blackjack Are There?
Before starting a game of blackjack, it's important to understand the various kinds of blackjack available. While the basic rules of blackjack remain the same, there are differences that can affect gameplay.
Understanding these differences between blackjack variants (and between blackjack and other games you've might have played) can give you an advantage at the table. So, whether you want a traditional game or something with more risk, brush up on your blackjack knowledge before placing your bets!
American Blackjack
American blackjack is also known as Standard or Classic blackjack, and it's typically played with one, two, four, six, or eight decks. The dealer must stand on all 17s, which means they cannot hit if their hand totals 17 or more points.
American blackjack also includes a "late surrender" option. This allows players to surrender half of their bet and fold their hand if they believe they'll lose, even after the dealer has checked for blackjack.
While American blackjack is one of the most popular variations of the game, if you want to change things up or try something new, be sure to look into other variations of blackjack that your casino has to offer.
European Blackjack
Another popular blackjack variation that's played in casinos around the world is European blackjack. The game is played with a standard 52-card deck, and the goal is to out-point the dealer's hand without going over 21.
There are a few key differences between European and American blackjack. For starters, European blackjack is usually played with two, six, or eight decks of cards. Moreover, in European blackjack, the dealer is not required to stand on all 17s, which means they can hit if their hand totals 17 points or more.
Finally, European blackjack rules lack the "late surrender" option found in American blackjack. This means that if a player believes they're going to lose, they can't give up half of their bet and fold their hand.
Spanish 21
A twist on traditional blackjack, this version is played with six or eight decks of cards. The player can also double down on any number of cards, and there are no penalties for taking insurance.
Additionally, this blackjack variant is played with a Spanish deck, which is a 48-card deck of cards devoid of 10s. The goal of the game is to get a higher point total than the dealer without going over 21.
In this version of the game, the dealer is not required to stand on all 17s, which means they can hit if their hand totals 17 or more points. Finally, Spanish 21 has what is known as a "match play" option. This allows players to double their bet if they think they can beat the dealer's hand.
Pontoon
This is a popular Australian blackjack variation that's played with two, six, or eight decks of cards. The player can only double down on 9, 10, or 11, and no pairs can be split. One of the main distinctions between blackjack Pontoon and other forms of blackjack is that Pontoon uses British terminology for some of the game's key concepts.
For example, instead of saying "hit me," a player would say "twist" when they want to receive another card. The dealer is also referred to as the "banker." Otherwise, the basic rules of Pontoon are similar to other blackjack games. The aim of the game is to get as close to 21 as possible without going over.
Players are dealt two cards face up, while the dealer has two cards, one face up and one face down. Players can then choose to "twist" (receive another card) or "stick" (keep their current hand). If the player's hand exceeds 21, they automatically lose (bust). If the dealer busts, all players who are still in the hand win.
Super Fun 21
This is a fast-paced blackjack game that allows the player to split pairs, double down, and even surrender late in the game. The dealer must hit on soft 17, making this a very favorable game for the player.
Although the game's basic rules are similar to those of traditional blackjack, there are a few differences that make Super Fun 21 an exciting and challenging option for players. One of its most notable features is that players can split any pair of cards, including aces, and double down on any hand, regardless of the number of cards they have.
These rules provide players with more options and flexibility when playing the game, and they can help increase the chances of winning. However, this version of the game only pays out even money, and only diamond blackjacks are paid out 2-1.
Vegas Strip
Vegas Strip Blackjack is a variation of traditional blackjack in which four to eight decks of 52 cards are used. The goal of Vegas Strip is the same as it is in traditional blackjack: beat the dealer's hand by scoring higher than them without exceeding 21.
In Vegas Strip, the dealer must stand on soft 17, and there are a few other rule variations that give the player a slightly better chance of winning. These include the ability to double down on any two cards and split pairs up to four times.
Atlantic City Blackjack is similar to Vegas Strip, but the players can only double down on their first two cards and divide up to three times.
Blackjack Switch
In this unique twist on blackjack, players are dealt two hands instead of one and have the option to switch the top cards of each hand. The objective of Blackjack Switch remains the same – to get a higher total than the dealer without going over 21.
The primary benefit of this blackjack game is that it allows a player to improve their hand, making the game more dynamic and exciting while improving the players' odds of winning.
Perfect Pairs
Perfect Pairs blackjack is a fun and easy twist on the classic game of blackjack. The basic rules are the same – each player is dealt two cards, and the goal is to get as close to 21 as possible without going over.
In Perfect Pairs blackjack, however, there is a side bet that grants an extra bonus for hitting a "perfect pair" – two cards of the same rank, suit, or color. If you get a perfect pair, you'll get a bonus payout that can range from even money to 30-1, depending on the game's rules.
Blackjack in Online Casinos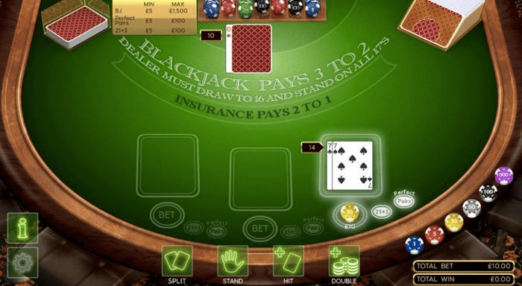 Few games in online gambling are as timeless as online 21 blackjack. The game is easy to learn but difficult to master, and it allows players to beat the house with their skills and strategy.
Online casino environments are very similar to regular casinos. You can change the table view, control the volume, and filter out distracting background noises (even mute the dealer!). Live dealer blackjack is also faster because all players place their initial bets at the same time rather than in turns.
If you're looking for an online blackjack casino, there are a few things you'll want to keep in mind. Make sure that the casino offers a good selection of blackjack games. The best casinos will offer several different variations of the game, including European blackjack, American blackjack, and Spanish 21.
Check out the casino's bonuses and promotions as well. Many casinos provide special bonuses for blackjack players, allowing you to win extra money while playing. Finally, review the casino's banking options to ensure that you can easily deposit and withdraw funds from your account.
When you've found an online casino that meets all of your criteria, you're ready to play!
Learning About the Best Blackjack Odds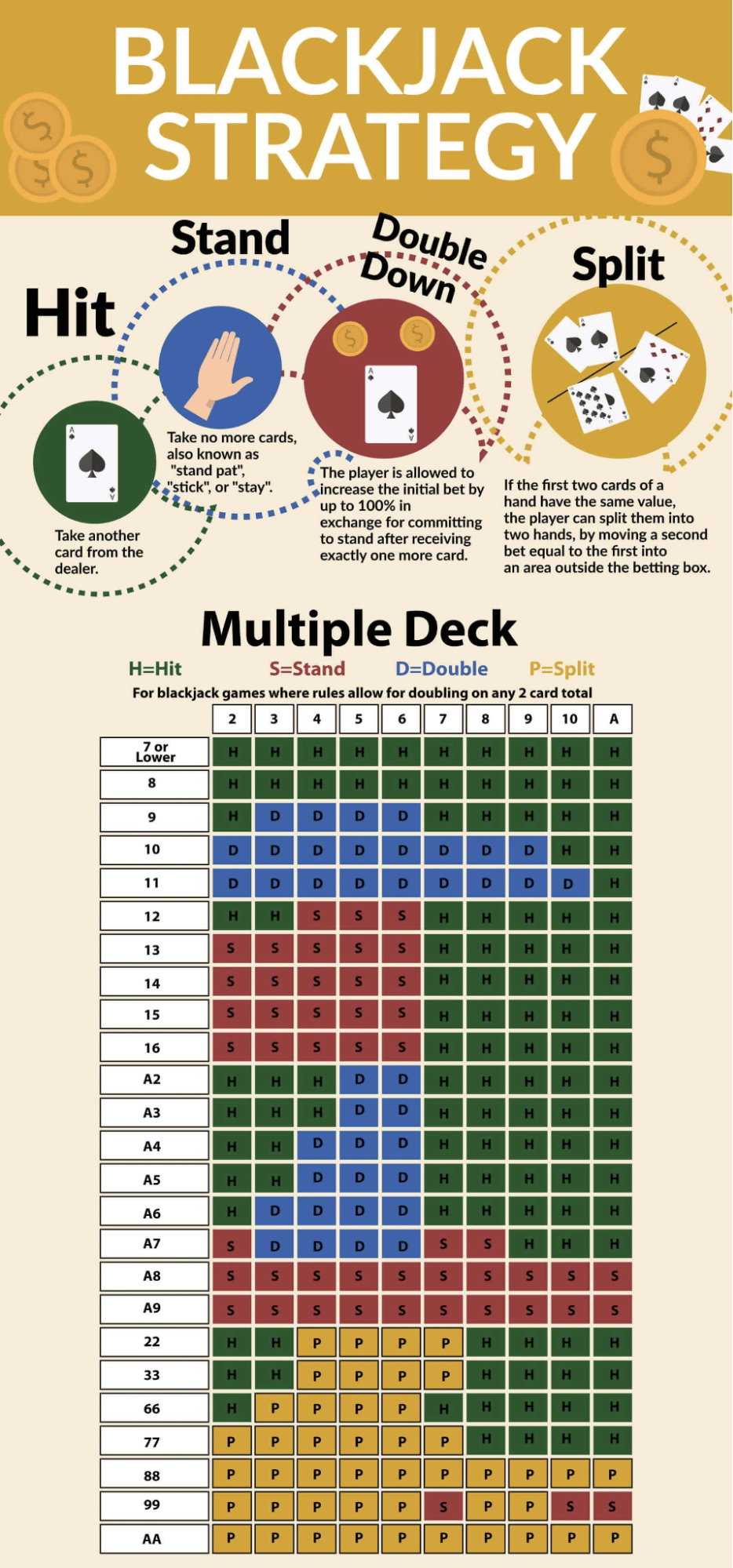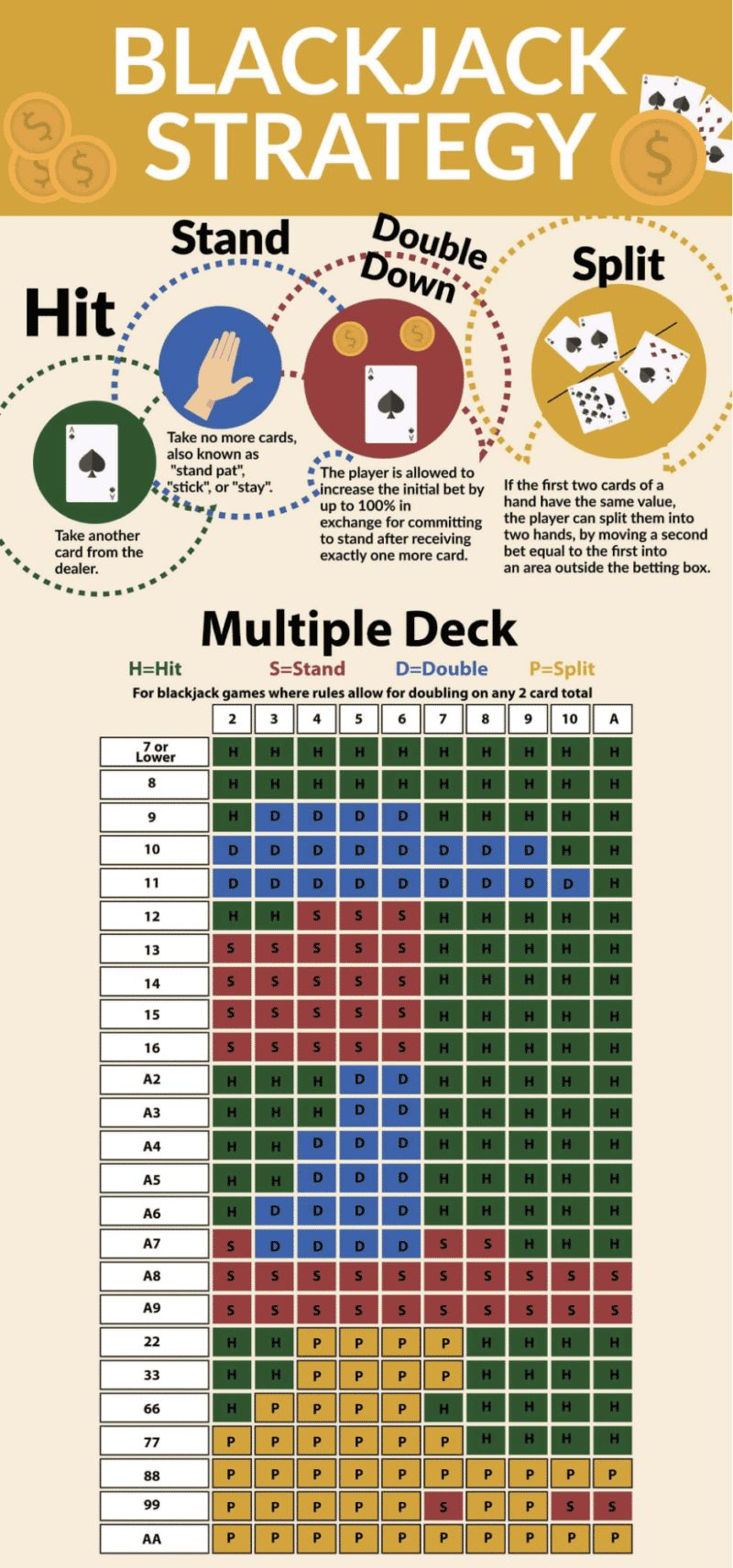 Blackjack is more than just the luck of the draw. A variety of factors, including the type of blackjack game you're playing, can influence your chances of winning. Here are some notable odds in blackjack:
Standard blackjack odds are based on a deck of 52 cards. The odds of hitting a natural blackjack (an ace and a 10-value card) are 4.8%.
In classic blackjack, the odds of winning are roughly 42%.
The odds change again if you play in land-based casinos that use continuous shuffling machines – CSMs. CSMs shuffle the deck after each hand, reducing the chances of hitting a blackjack. Counting cards is next to impossible with a CSM because it's hard to determine which cards remain in the shoe after the shuffle.
Switch has a relatively decent blackjack house edge of just 0.60% at most, making it one of the lowest you can find.
Understanding the various types of blackjack odds can help you make better decisions while playing the game. It's important to remember, however, that the house always has the edge. Fortunately, there are tools available to help you calculate the house edge in blackjack, as well as odds and probabilities, so make sure to look into that as well.
Bottom Line on Blackjack Types
In conclusion, there are many different forms of blackjack that you can play, each with its own set of rules and guidelines. However, the goal of the game remains the same – to beat the dealer and win as much money as possible.
Therefore, if you're bored with the same old game or just want to switch things up, look into the various games of blackjack that are out there. You never know, maybe it will become your new favorite game!
FAQ
How many versions of blackjack are there?
There are over 20 different variations of blackjack, some of which are not used by casinos. Among the popular variants are American blackjack, European blackjack, Pontoon, Vegas Strip blackjack, Blackjack Switch, and Perfect Pairs.
What is the best type of blackjack to play?
There is no one "best" type of blackjack, as it all depends on your personal preferences. If you're looking for a fast-paced game with plenty of action, Super Fun 21 might be the right choice for you.
If you want a more traditional game with straightforward rules, traditional Blackjack is a great option. And if you're looking for something a little different, Pontoon or Blackjack Switch could be just what you're looking for.
Is counting illegal in blackjack?
No, card counting in blackjack is not illegal. Casinos, however, may ask you to leave if they suspect you of card counting. Some blackjack players use card counting to gain an advantage over the casino.
There are many methods for counting cards, but the basic concept is to keep track of which cards have been played and which are still in the deck. This knowledge can be used to make betting and playing decisions that give the player a competitive edge over the casino.
What's the difference between American and European blackjack?
When these two types of blackjack are compared, American blackjack has stricter rules regarding when the dealer must stand or hit, whereas European blackjack allows the dealer to be a little more flexible, though casinos may change the rules to suit their needs.
When playing European blackjack, the dealer usually only receives one card before the action begins. The dealer is dealt two cards at once in the American version of blackjack, one visible to the players and the other hidden "hole card."