8 UFC Viewership Statistics for Avid Sports Fans
The UFC is as exciting as it gets. The fight can end at any second, and you'll never know how. It can be a punch, a kick, or a rear naked choke. It can also be any combination of these or other moves. Fans get to see power, grace, technique, courage, luck, and more rolled into one.
Mixed martial arts have been around since 1985. The Ultimate Fighting Championship followed years later, with UFC1 on November 12, 1993. The sport is relatively young, and it's already going toe-to-toe against boxing. A survey done by Harris Poll and cited by Forbes says as much:
Boxing ranks fourth among the most popular sports in the US, behind American football, basketball, and

baseball

. Around 33% of the respondents say they are big boxing fans.

MMA is right behind, with a positive response from 30% of the survey participants.

If you are a betting man, you shouldn't wager against UFC. These viewership statistics will tell you why.

Highlights of the Article
Here's a rundown of the most notable UFC viewership stats in the past few years: 
10.63% of viewers aged 18 to 29 have watched UFC pay-per-view within the past 12 months. 
900,000 viewers watched UFC 251 via an OTT subscription to ESPN+.
UFC's target demographic is millennials, who comprise 40% of its fan base.
UFC 243 has the highest live attendance as of August 2022, with an audience of 57,127 fans.
After the US, the top countries most interested in the UFC are Canada, the UK, Germany, and Australia.
UFC 229 generated the highest buys in pay-per-view, with total earnings of $90 million.
The average number of UFC PPV buys for 2018 is 447,000.
PPV prices for UFC events have increased four times since 2019.
How Popular Is the UFC Today?
MMA is not yet at the level of basketball or boxing. Think Manny Pacquiao and Muhammad Ali or Michael Jordan and Kobe Bryant. The UFC does not have that one fighter who can't go anywhere without getting mobbed.
That is not to say that UFC fighters are not known. From Brazilian champion Royce Gracie's days to Conor McGregor's reign, MMA never had a shortage of star power.
How popular is UFC, exactly? Consider these series of events:
Zuffa's Lorenzo and Frank Fertitta bought the UFC for

$2 million in 2001

.

The Fertitta brothers sold the UFC to Endeavor (formerly WME-IMG) in 2016 for $4 billion.

In 2018, UFC president Dana White claimed that this figure had

ballooned to $7 billion

.
There's no way to verify the last information, but the UFC did strike a deal with ESPN for $1.5 billion for five years. Also, these viewership statistics seem to support White's bold statement.
We separated these fun facts into three segments to make them easier to digest. We'll start with UFC viewership in the US, then move on to the global stage. Finally, we will cap things off with some info on pay-per-view revenue.
It's hard to rank UFC's popularity, but these statistics might do the job.
Statistics on UFC Audience Size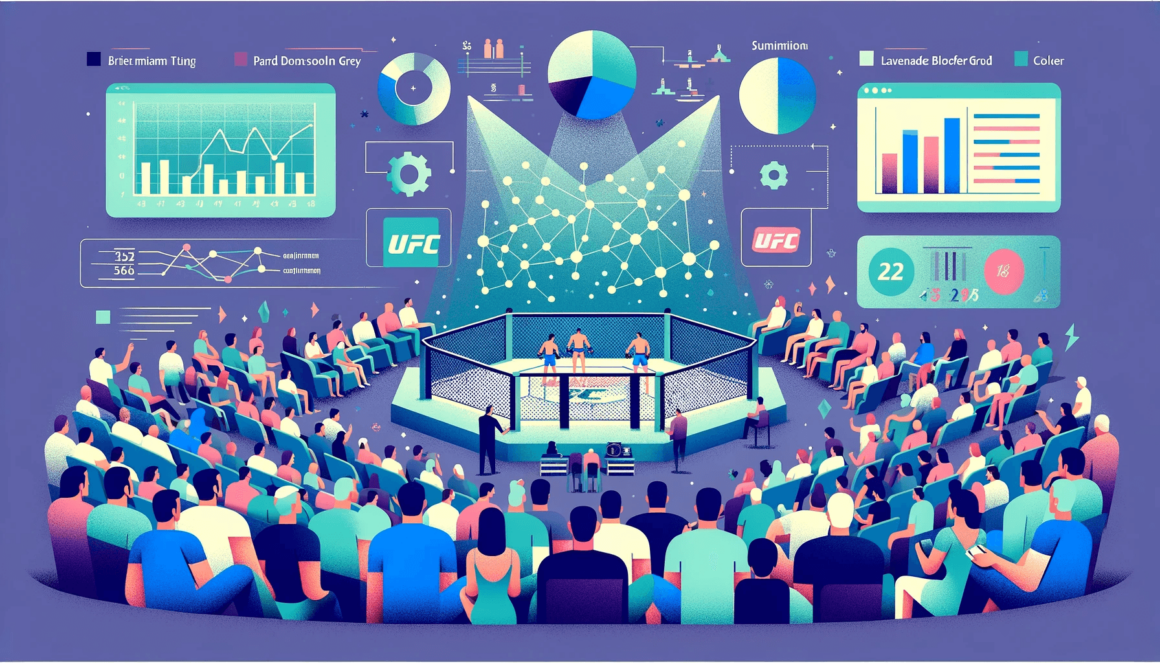 The more popular a sport appears to be, the more people it draws to TV sets. Consequently, the stakeholders can sell more merchandise and make more money. It's more complicated than it sounds, but that's the idea.
That is why TV ratings have become a key driving force behind sports, including MMA. This is especially true in the US, where sporting events dominate traditional television. Try to wrap your head around these UFC viewership stats:
1. 10.63% of viewers aged 18 to 29 have watched UFC pay-per-view within the past 12 months.
(Statista, MarketingCharts, MMAFighting )
Over 52 million of the US population are aged 18 to 29, earning between $30,524 and $50,700 annually. Even if the price of a UFC pay-per-view event was set to increase in 2023 from $74.99 to $75.99, they could still afford it.
Unsurprisingly, 10.63% of this age group got UFC pay-per-view in the past year. Suppose we do the math. That translates to gross sales of more than $420 million. That is not a bad haul for one event, considering that other age groups follow the UFC, too.
2. 900,000 viewers watched UFC 251 via OTT subscription to ESPN+
(SportsPro Media)
Everything stopped at the height of the pandemic, including the UFC. Several fights were canceled due to travel restrictions and lockdowns.
It did not take long for the promotion company to recover, though. It was the first major sport to return when they held UFC 249. ESPN aired the prelim fights while the main cards were on PPV. Come UFC 252, around 1.3 million viewers tuned in, 900,000 coming from the US.
Global UFC Viewership Statistics
The UFC is designed to find the best athletes across all martial arts disciplines. It has held worldwide events since 1993 in its search for "the Ultimate Fighting Champion."
It is headquartered in Las Vegas, but its network of employers spans the globe. This business model allows them to produce live events that consistently sell out the most prestigious venues in different countries. It also helped them turn the organization into a global brand.
Most people automatically think of Nike and Adidas as sports brands. Others would cite ESPN or Gatorade. The UFC is right in the mix. In 2019, it was ranked eighth in a list of global brands that include these names.
You might now have an abstract idea of how big UFC has become. The following UFC viewership statistics will give you more insights:
3. UFC's target demographic is millennials, who comprise 40% of its fan base
(UFC.com, Statista)
The UFC airs its fights in 195 different countries and territories. It has 60 global partners to help them with the broadcast. They reach over a billion TV households speaking in 40 different tongues.
A big chunk of their followers is aged 18 to 34. It is their target demographic, no matter the location. These millennials account for 40% of their fan base, higher than in other major sports organizations:
NFL – 34%

NBA – 28%

MLB – 17%
4. UFC 243 has the highest live attendance as of August 2022, with an audience of 57,127 fans
(Statista, Forbes)
UFC 243 featured Israel Adesanya and Robert Whittaker, two of the most exciting middleweights in 2019. Adesanya knocked Whittaker out in the second round in front of Robert's home crowd in Melbourne's Marvel Stadium.
Over 57,000 people witnessed the Last Stylebender shed the interim title and unify the UFC middleweight championship. He dismantled Whittaker with devastatingly accurate counterhooks. He first entertained his opponent with a choreographed routine before climbing the octagon.
By the end of the night, he had won the belt. The UFC had also made $5.48 million in ticket sales.
5. After the US, the top countries most interested in the UFC are Canada, the UK, Germany, and Australia
(SimilarWeb, ESPN)
Based on traffic to its official website, most of UFC's core audience comes from the US. It accounts for 31.95% of all visits to UFC.com. Next are Canada (7.53%), the UK (6.84%), Germany (5.2%), and Australia (3.84%).
Details like these are a big part of the promotion company's bid for global recognition. It studies the economic viability of each business decision by looking at TV ratings, social media activity, and more. Once all the pieces are in place, they seek local talents to generate more interest, sell more tickets, and elevate the sport.
UFC Pay-per-view Revenue Statistics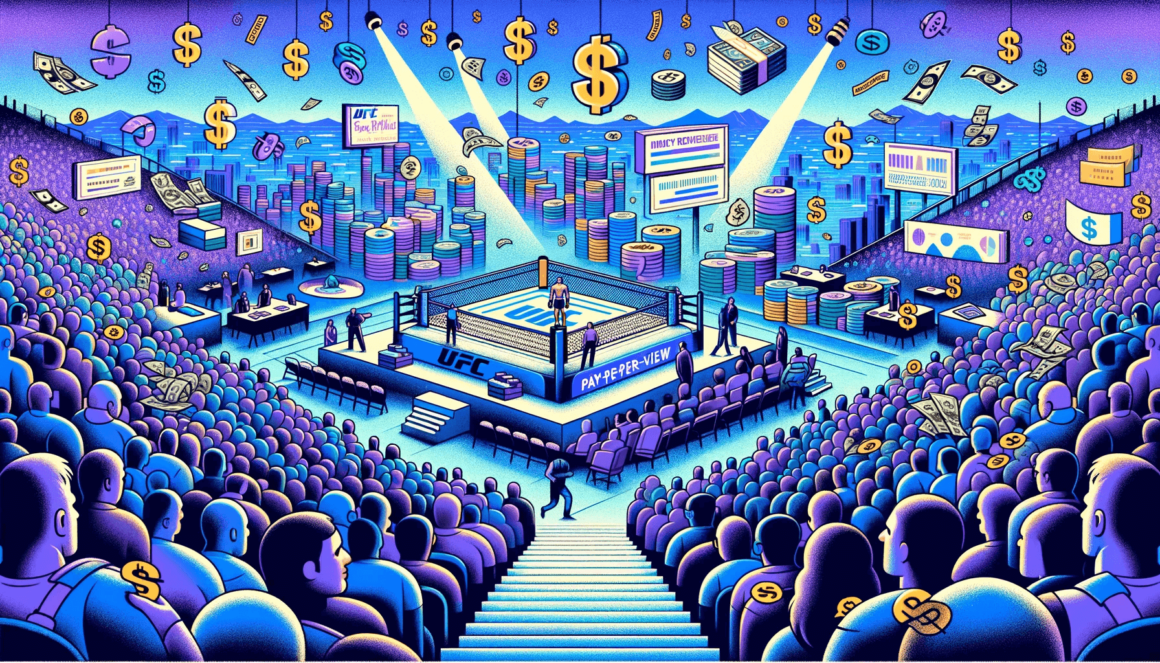 Pay-per-view is one of the key revenue streams for the UFC. Its president, Dana White, and its broadcast partner, ESPN, know this. Still, it was big news when ESPN announced a two-year extension on its broadcast deal with UFC. An even bigger development is that the multimedia sports brand is set to take over UFC's PPV distribution.
Why all the fuss about pay-per-view? These UFC PPV statistics will tell you.
6. UFC 229 generated the highest buys in pay-per-view, with total earnings of $90 million
(Givemesport)
The tension between Khabib Nurmagomedov and Conor McGregor had been building long before the night of UFC 229. Things were getting personal, with family and religion getting thrown into the mix. Things eventually spilled onto the octagon ring (or outside of it). The eventual winner, Khabib, jumped the fence after the fight and initiated a brawl.
Many things about that night caught the attention of the sporting world. Aside from the chaos, it also earned the highest pay-per-view buys. When the dust settled, they had earned 2.4 million in buys. This translated to a whopping $180 million in sales.
7. The average UFC PPV buys for 2018 is 447,000
(Statista)
The average UFC pay-per-view buys rose steadily from 70,000 to 158,000 between 2001 and 2005. It spiked to 557,000 in 2006 and fluctuated heavily until 2018.
The lowest annual average PPV buys within this time was 266,000 in 2014. The highest was 655,000 in 2016. It dropped to 340,000 the following year but recovered nicely in 2018, averaging 447,000 PPV buys.
8. PPV prices for UFC events have increased four times since 2019
(Bloody Elbow)
When the UFC wrangled a multi-year broadcast deal with ESPN, it cemented the promotion's place in the sporting world. The fact that it earned them the big bucks was a welcome bonus.
It had a significant impact on its fan base, though. This year marks the fourth time PPV prices have increased since their partnership began. From $5.99, UFC PPV now costs $7.99.
Being a UFC fan is getting more and more expensive. It's still worth it — so far.
The Takeaway
MMA is fast becoming one of today's major sports because of the UFC. It's amazing how much they accomplished in a relatively short time.
What's more stunning is that it's far from done. These UFC viewership statistics show that interest in the sport is increasing. They still have much room to grow, especially in underdeveloped markets.
With its approach of combining analytics with a keen eye for talent, it's only a matter of time before it expands its global stronghold.
FAQs
How many UFC events are there in a year?

The number varies slightly from year to year. It ranged between 31 and 46 from 2012 to 2021. The average number of events for this period is around 40 per year.
How many MMA fans are there globally?

According to InsideSport, over 300 million people follow MMA closely. Some of its top markets are in the US, Brazil, Russia, and the UK.
Where do the best MMA fighters come from?

The US produces many of the finest fighters in UFC history, including Jon Jones, Frank Edgar, and Dominick Cruz. Russia, Brazil, Canada, and the UK are also popular breeding grounds for talented fighters.
Who has the most wins in the UFC?

Donald Cerrone has the distinction of winning the most in the UFC. He fought 37 times and won 23 times. One fight was a no-contest bout.
Which is bigger, UFC or ONE Championship?

The UFC and ONE Championship are two of the most recognizable names in the MMA world. However, UFC does things on a larger scale. Its capitalization is $10 billion, while ONE Championship's market cap is $1.4 billion.