Tennis Viewership Statistics: How Well It Is Doing in 2023
Tennis predates back to 12th century France when it was merely an indoor racquet game. Now it boasts 1 billion fans worldwide who attend stadiums or tune in to watch tournaments such as the Australian Open, Roland Garros, Wimbledon, and the US Open.
The greatest tennis athletes of all time are the Big 3: Rafael Nadal, Roger Federer, and Novak Djokovic. Whenever one of them plays, viewership and attendance are sure to thrive.
Read this article further to find more interesting tennis facts and viewership statistics.

Highlights of the Article
15.4% of billionaires play tennis and follow its tournaments, showing the sport's popularity among wealthy people.
In 2019, Women's tennis had 41% less media coverage than Men's despite higher interest.
Tennis Channel broadcasts 93% of all professional tennis tournaments daily.
An average weekly audience of 57,000 tunes in to the Tennis Channel, making it the 91st most popular TV channel in 2023.
In 2020, Tennis Channel Plus saw 25% more subscribers and more than 51% of renewals.
ESPN suffered a 36% decrease in average viewership during the 2023 Australian Open Men's Finals.
The opening day of the 2022 Roland-Garros tournament recorded 32,453 spectators.
The most attended Wimbledon in the tournament's century-long history was in 2022, recording over half a million.
More than 888,000 audiences attended the 2022 US Open in 3 weeks, eclipsing 2019 records by a few thousand.
How Big Is the Audience for Tennis Matches?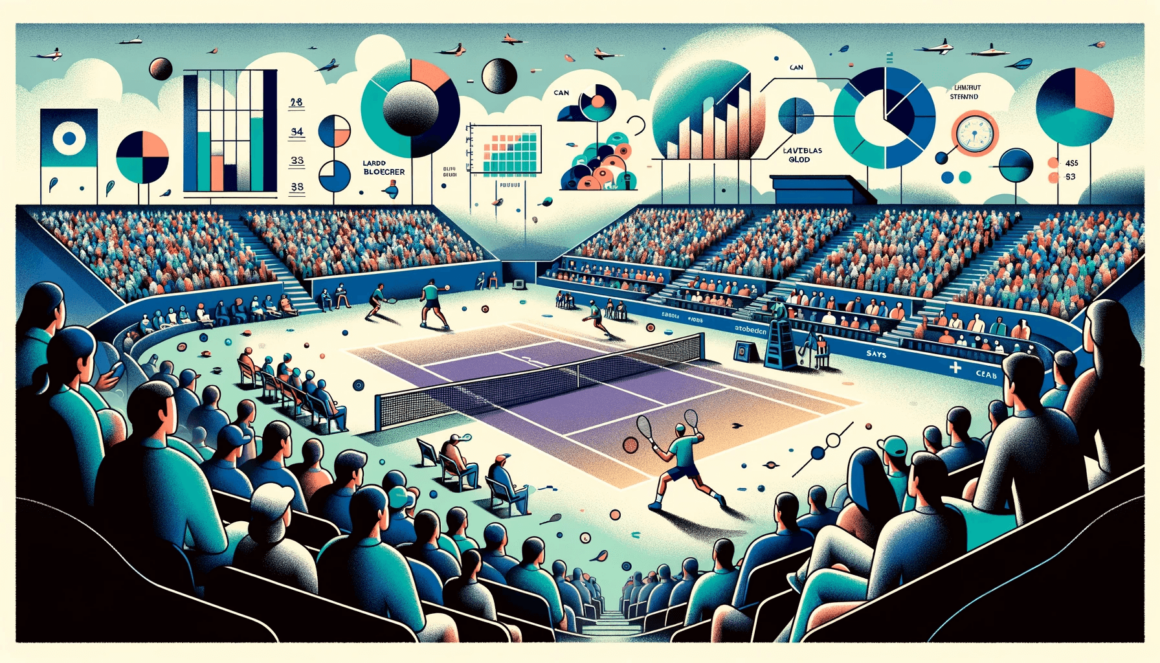 The venues for tennis tournaments can only hold 10,000 to 20,000 audiences. Regardless, tennis is a highly spectated sport. During the 2022 US Open, all matches in the Arthur Ashe Stadium were sold out, covering its capacity of 23,859.
What the stadiums lack, the TV broadcasts make up for. In the UK alone, the 2019 Men's Singles Final of Wimbledon recorded 9.6 million viewers, the highest TV viewership in all Grand Slam Tournaments.
Live games and replays of tennis matches are also available on these streaming platforms:
Continue reading because there is more to learn about tennis viewership and attendance below.
Tennis Viewership Demographics
Public interest in tennis has always been a constant. 14% of people aged 18 to 34 are avid tennis fans. As for people below 45, 64% are casual enjoyers.
Social media is among the many draws for younger audiences to tennis. Notable players, like Serena Williams, are active on social media. They help increase fan engagement by promoting the sport.
Find out who else is driving the tennis viewership industry by reading further.
1. A 2023 US survey showed that 14% of men are avid tennis fans, while 19% of women are only casually interested in the sport.
(Statista, YouGov, NBC)
Men are more drawn to sports because contests are thrilling and end with claiming distinction. That is why men overrepresent most sports viewers, including tennis.
YouGov's 2023 revealed that men are likelier to watch professional sports than women. For tennis viewership, Nielsen data reported males prefer men's tennis more, while women are less interested in it. As for women's tennis, both genders enjoy it.
2. Viewership hours during China's TV coverage of the 2020 Australian Open increased by 68% compared to the previous year.
(Australian Open, USC)
TV coverage for tennis in China was reduced by 2% in 2019. Regardless, the Australian Open produced 193 million hours watched in the country.
Among ranked professional tennis players, only 3% are from China. But the sport is becoming more popular in the country, especially since Shenzhen hosted the 2019 Women's Tennis Association (WTA) Finals.
3. Tennis viewership in the US crossed 87 million in 2020.
(Gitnux, USC)
Tennis is most popular in countries where Grand Slam tournaments are held. Despite that, only 8.8% of ranked professional tennis players are Americans. Regardless, tennis remains a prevalent sport in the US with high viewership.
4. Tennis is a popular sport among billionaires, with 15.4% of those with more than $5 billion net worth.
(CNBC)
Word around is that tennis is a sport for the rich. Like golf, thousands of private tennis clubs have expensive fees. Plus, tennis equipment is pricey. Not to mention how costly it is to pay for coaching atop the court rent.
Tickets for tennis matches are also expensive. Compared to the NBA, whose ticket average cost is around $50 to $80, the US Open starts at $100. As the finals get closer, ticket prices increase to thousands of dollars.
5. Women's tennis receives 41% less media coverage than men's tennis, says 2019 insights.
(Signal AI)
Looking at the 2021 US Open, ESPN revealed women's games gathered 17% more viewers than men's games. This is due to Americans' fondness for female players like the Williams sisters.
The 2018 US Open was the only time a women's tennis event got greater attention from the media. It was the controversial finals game between Serena Williams and Naomi Osaka. ESPN reported 3.10 million viewers during that match, seeing a 58% increase in viewership.
Tennis tournaments have equal prize money for male and female athletes. The sport still sees gender-driven inequality caused by biased media coverage.
Women's tennis gets more viewers, but Men's gets more media attention. Tennis's Big 3 are all males who get more press coverage.
Tennis Channel Viewership Statistics
Tennis Channel is a US TV network that broadcasts tennis events 24/7. It is the only network focused on streaming tennis. The channel turned 20 on May 15, 2023, and has become one of the fastest-growing TV networks.
Learn more about Tennis Channel through the stats and information below.
6. 93% of all professional tennis tournaments are broadcasted live daily because of Tennis Channel.
(Sports Business Journal)
Before Tennis Channel, 98% of all professional tennis tournaments were unavailable in the US. CEO Ken Solomon proudly stated that the 20-year-old channel turned things around by making most tournaments available nationwide. Moreover, games are re-aired later in the day.
7. Tennis Channel is 2023's 91st most popular TV channel.
(US TVDB)
As of May 21, 2023, the average weekly audience of Tennis Channel is 57,000 people daily. That is 33% higher than the data from the week before. This proves Tennis Channel is one of America's most successful independent networks.
8. Tennis Channel Plus saw a 25% rise in subscribers and over 51% renewals in 2020.
(Front Office Sports)
Tennis Channel Plus is the network's digital streaming service, launched in 2014. It is available on Tennis Channel's official online platforms. Although access to it is free, you must be a subscriber to start watching.
If you are subscribed, you can access two channels:
| | |
| --- | --- |
| Channel | Content |
| PLUS 1 | Live tennis tournament |
| PLUS 2 | Encores and extended live coverage |
9. In 2019, the Tennis Channel Everywhere app gathered 37% more downloads.
(Front Office Sports)
One way to access Tennis Channel Plus is through the Tennis Channel Everywhere app. It is available for free on:
iOS

Roku

Android

Amazon Fire TV

Apple TV, or Fire Stick
This app appeals to tennis enthusiasts. That is why the app's total downloads were around 275,000 by 2019, a new record for the Tennis Channel company.
10. The 2019 Laver Cup marked a 121% viewership increase through the Tennis Channel.
(Front Office Sports)
The Tennis Channel expanded its programming in 2019 by airing amateur tournaments like:
NCAA Championships

Next Generation ATP
The expansion attracted younger viewers to the Tennis Channel, which caused a ripple effect as Grand Slams gained more viewership than other lesser-known tournaments. One of that is the Laver Cup which gained immense popularity in the same year.
Tennis Viewership Per Tournament
The 2023 Grand Slam Tournaments suffered the absence of Serena Williams and Roger Federer, who retired in 2022. The remaining key players, like Djokovic and Nadal, are also in their late careers.
With that, tennis enters a new generation. See how that affects tennis viewership by reading on.
11. Average viewership of the 2023 Australian Open Men's Finals was down 36% compared to last year on ESPN.
(Front Office Sports, Sports Pro Media)
The finals were between Djokovic and Stefanos Tsitsipas, where the former claimed his 22nd Grand Slam Singles title. The win equalizes Djokovic with Nadal's record.
Despite the exciting match, it only drew an average of 439,000 viewers on ESPN. On Australia's Nine Network, 1.3 million viewers watched the game. That is 300,000 less than last year's final with winner Rafael Nadal versus Daniil Medvedev.
12. The women's Singles match of the 2023 Australian Open had an average viewership down 21% on ESPN.
(Front Office Sports, Sports Pro Media)
Aryna Sabelanka won against Elena Rybakina in the 2023 Australian Open Women's Singles. That is Sabelanka's first Grand Slam title.
However, their match only averaged 379,000 viewers on ESPN. In Australia's broadcast through Nine, the viewership was much higher. The average number of viewers during the match was 1.43 million, a 66% drop from last year's 4.26 million viewers.
13. ESPN's combined live telecasts, re-airs, and encores averaged 274,000 viewers during the 2023 Australian Open.
(Front Office Sports, Sports Pro Media)
That number was down 7% compared to last year's total, a disappointing viewership draw for ESPN. One of the reasons was Rafael Nadal's early exit from the tournament, which hurt the US viewership.

This is the first Australian Open season since 1999 without Roger Federer and Serena Williams. With that, US viewership was not the only one affected. In Australia, Nine suffered a 40% decrease in average domestic viewership.
14. Over 900,000 fans attended the 2023 Australian Open in Melbourne, with record-breaking 94,854 single attendance.
(Australian Open, Front Office Sports)
The 2023 Australian Open might have seen a decline in TV viewership, but attendance at the games was better than ever. It has even become the best-attended edition of the Australian Open to date.
The tournament's main section saw a total of 839,192 fans. More than 63,120 spectators attended during qualifying tournaments. That puts the total to 902,312 audiences for the 3-week event.
This is good news for Australia, whose economy is driven by the tournament through ways like:
Creating 1,775 jobs in the state

Generating $574,970 in earnings for hotel accommodations
In Victoria alone, the tournaments contributed $2.71 billion to the economy.
15. The 2022 Roland-Garros Tournament reached 40.3 million on France TV.
(Roland-Garros)
Several TV audience records were shattered during the 2022 Roland-Garros Tournament, such as:
The 2nd best viewership peak (6.4

million viewers)

since 2012.

A 5.2

million viewership

average for the Men's Finals, a 9.7% increase from 2021.
This can be attributed to the viewership during the tournament's singles finals, which involves:
Nadal versus Casper Ruud (Men's)

Iga Swiatek versus Coco Gauff (Women's)
16. 102 million viewers in China tuned in to the 2022 Roland-Garros Tournament through CCTV5.
(Roland-Garros)
International TV viewership of the 2022 Roland-Garros Tournaments reached more viewers. In China, the audience reach was 21% higher than in 2021. Meanwhile, Eurosport Germany averaged 709,000 viewers, a 20% increase from last year.
17. Digital viewership of the 2022 Roland-Garros tournament boomed with 308 million video views.
(Roland-Garros)
Roland-Garros expanded its reach in 2022 by going digital. They made more live games, replays, and highlights available on their official website. That resulted in a 58% increase in total video views.
They also brought highlights in TikTok, which amassed 33 million video views.
18. The opening day attendance for the 2022 Roland-Garros tournament alone gathered 32,453 audiences.
(Outlook India)
In 2021, the maximum number of attendees was only 5,388, as the country recovered from the impacts of COVID-19. The government then eased the restrictions, which adjusted the capacity to 8,500.
Now that mandates are loose, tennis matches are back in full swing. They welcomed a more significant capacity in 2022.
19. The 2022 Wimbledon Tournaments gathered 25.5 million viewers on BBC TV.
(Sports Pro Media)
This is a slight drop from the 2021 Wimbledon Tournaments, which had 25.8 million viewers on BBC TV. This slight decrease does not mean that people are getting less interested in the tournament. Instead, it shows viewership is stable in the UK.
As for US viewership, ESPN broadcasts of 2022 Wimbledon climbed to 26% more viewers. The tournaments averaged 647,000 viewers.
20. 500,000 visitors attended the 2022 Wimbledon Tournaments.
(Statista, Tennis Head)
Wimbledon is held for 14 days but saw half a million in attendance during the 2022 tournament. This makes the 2022 Wimbledon the most attended tournament in its 145 years of history.
It is 3,000 higher than the previous record-holder, 2009 Wimbledon, where 511,043 fans attended.
21. ESPN gained 50% more viewers during the 2022 US Open than last year.
(ESPN Press Room)
The average number of viewers for the 2022 US Open was 1.21 million on ESPN, equal to 168 hours of coverage watched. It is also the 3rd best viewership record for ESPN since it started to air tennis's 4 major tournaments annually in 2015.
22. The 2022 US Open recorded over 888,000 spectators during the 3-week event.
(Sports Pro Media)
776,120 fans attended the official 2-week event of the US Open, dethroning the 2019 record by 39,000 more spectators.
Counting the attendees of the qualifying round brings the total attendance to 888,044. This is 45,000 more than 2019's 3-week attendance of the US Open.This was also the year when the Arthur Ashe Stadium sold out all 23,859 seats. Fans flocked into the stadium since this was the first time since the pandemic that protocols were loosened.
Wrap-up
Attendance during tennis tournaments is going back to their pre-pandemic numbers. Tennis fans finally get to watch the matches with fewer restrictions and with more fellow fans around.
There has been a swing in the number of people watching tennis on television. Streaming choices, player popularity, and controversy all play a role in boosting viewing. The lack of major players and limited streaming options is what's really hurting business.
TV viewership and live attendance for tennis are thriving and can grow more if the mentioned factors rise. Tennis is a timeless and popular sport sustaining fans' interest for centuries.
FAQ
How many viewers watch tennis?

The 4 Grand Slam tournaments alone record an average of 400 million viewers annually. Other contests attract thousands to millions of viewers. Annual tennis viewers can amount to approximately 1 billion.
What is the rating of the Tennis Channel?

Ratings in the Tennis Channel average below 1%. However, the ratings depend on who is playing and what tournament is currently going on.
What is the most-watched game in tennis history?

Serena Williams's last game of her career received the highest viewership in ESPN's 45-year history, with 4.6 million viewers.
How many people watch the Australian Open final?

Australian Open Finals bring in around 1 to 2 million viewers on average. The 2023 Men's and Women's finals gathered 1.3 million and 1.43 million viewers, respectively.