Streaming Vs Cable TV Statistics: The Slow Demise of Cable TV
Cable TV has given the world iconic moments, from family TV dinners to watching the NBA finals on ESPN with your pops.
Sadly, cable and satellite TV views have been declining. Meanwhile, streaming services like YouTube TV, HBO Max, and Amazon Prime Video have been booming.
In July 2022, streaming platforms surpassed cable for the first time.
Nielsen's monthly report stated that:
OTT services cornered 34.8% of the screen time

Cable had a 34.4% viewership

Broadcast TV had 21.6% views
This article explores the most compelling cable and streaming viewership statistics.

Highlights of the Article
The video streaming revenue will have an annual growth rate of 8.63% until 2027.
Broadcast and cable TV combined growth rate is 3.9% from 2023 to 2030.
81% of 65 and above US adults and 34% of 18 to 29-year-olds watch cable TV.
Regular cable news consumption among US adults over 65 is 32%, but only 12% for 18 to 34-year-olds.
77% of US adults aged 18 to 34 prefer streaming platforms over cable TV.
86.72% of US households with a $150,000 income are cable TV subscribers.
100% of channels will be unbundled by 2022.
Free Ad-Supported TV services are up 55% in 2022.
Streaming vs Cable TV Statistics Overview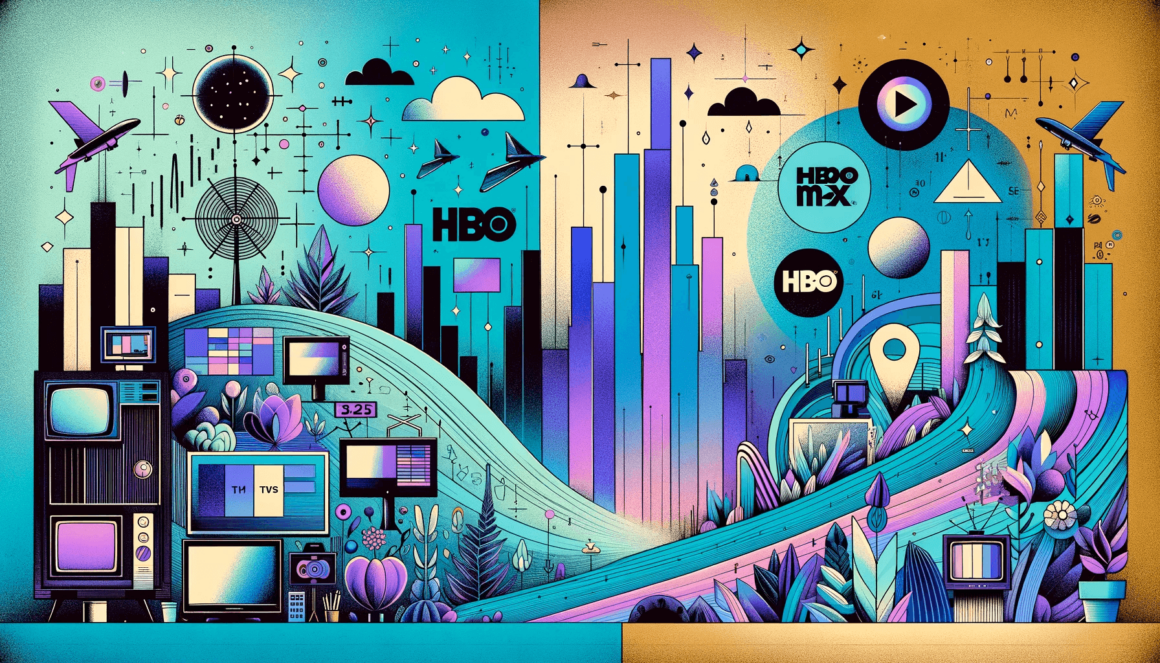 In 2010, Cable TV had over 90% of US households and over 105 million subscribers. By 2013, most homes had 189 channels. They watch 17 on average.
There lies the problem with Cable TV—people were paying for a bundle they couldn't optimize.
Everything changed when the OTT platforms arrived. Cable TV subscribers have been cutting the cord since.
These viewership statistics will show cable TV's slow but steady fall.
Streaming Platform and Cable TV Market Size
The Traditional TV vs. Streaming situation was a passing of the torch, only accelerated by the pandemic.
The trends in the market have changed. TV Networks have now joined the OTT platforms. For example, subscribers can now watch sports games live via streams alongside broadcast TV.
As these statistics will show, the takeover was slow but inevitable.
1. Streaming comprised 26% of all time spent on TV by US households in May 2021.
(Nielsen, The Hollywood Reporter)
In May 2021, streaming platforms accounted for 26% of all TV viewing time.
Netflix and

Youtube TV

shared leadership at 6% each

Hulu came in second with 3%,

Amazon Prime Video

took third with 2%.
These platforms allowed viewers to choose what movies and series they wanted to watch, whenever, wherever. Something cable tv lacked.
The shift in viewing habits is gradual. The only exception was during the pandemic. Streaming jumped from 10% (2018) to 19% (2019).
2. The video streaming revenue will have an annual growth rate of 8.63% until 2027.
(Statista)
Video streaming platforms have been gaining popularity in recent years.
Studies project that the video streaming industry will amount to $39.25 billion by 2023. Experts believe the market will reach $54.66 billion (+8.63%) by 2027.
Amazon and Netflix are in a different league. They will remain so in the next few years.
Hulu, HBO Max, Paramount+, and Disney+ occupy the next tier.
3. Broadcast and cable TV combined growth rate is 3.9% from 2023 to 2030.
(Statista, Grand View Research)
The cable tv market is still profitable. However, studies forecast the combined growth rate of cable and broadcast from 2023-2030 will be 3.9%, less than half of streaming's increase.
The US cable providers' revenue has been decreasing since 2017. Most of the industry's earnings come from ads and program revenues.
2021 saw the cable industry make $58.56 billion from ads and specialty programs broadcast rights.
Streaming Platform and Cable TV Viewership Demographic
Knowing the demography of both technologies allows us to anticipate the viewing habit shifts that could impact subscriptions.
These demographic statistics will give you valuable insights into streaming and cable TV viewership.
4. 81% of U.S. adults aged 65 and above watch cable TV.
(Statista, Cord Cutters News)
In 2021, Statista studied TV viewership among US adults aged 18 to 65+.
The results showed the following:
56% of the population watches paid TV

Around 66% of ages 50-64 are

cable TV subscribers

For US adults 65 and above, the penetration rate is 81%.

34% of ages 18 to 29 subscribe to cable TV

About 46% of ages 30 to 49 tune in to

traditional TV
The cable industry has one big problem: its viewers are getting older. The same is true even for its kids' networks.
Cartoon Network's target audience is kids from 6-12. However, 75% of its viewers are over 18, and 43% are over 30.
5. Regular cable news consumption among US adults over 65 is 32%, but only 12% for 18 to 34-year-olds.
(Statista)
In 2022, 32% of US adults (aged 65-above) watched cable news daily. Around 15% follow cable news once a week, while 34% have never watched it.
Statista also reported that:
For the 45 to 64-year-old group, 24% receive updates from cable news daily.
35 to 44 years old – 18% consume cable news daily, 17% watch a few times a week

18 to 34 years old – 12% watch cable news every day, 18% watch a few times a week
6. 77% of US adults aged 18 to 34 prefer streaming platforms over cable TV.
(eMarketer)
In 2021, Gen Zs mostly preferred to watch via OTT services, by 77%. On the other hand, baby boomers trailed last in the stats for OTT service by 40%.
Baby boomers led the age group watching Cable TV by 38%.
The chart below shows the viewing preference of Baby Boomers.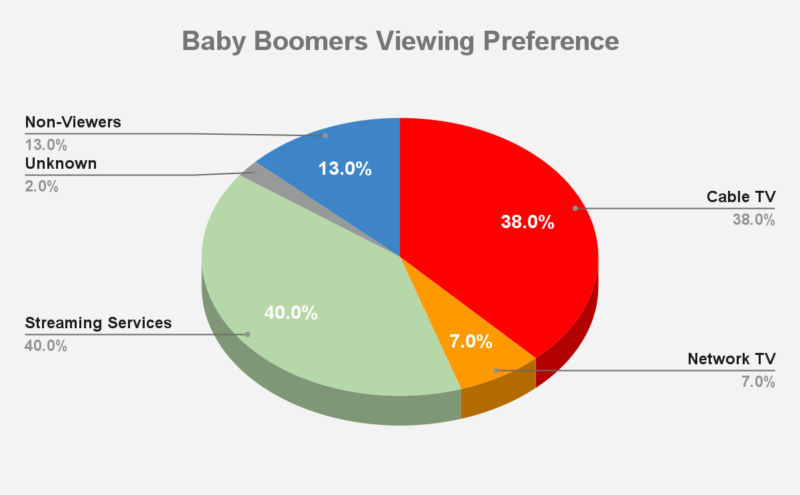 7. 86.72% of US households with a $150,000 income were cable TV subscribers in 2018.
(Xfinity, Oberlo, Statista, Business Insider)
In the US, an Xfinity internet and TV bundle costs $115-$130 monthly. The average US worker's weekly income in 2022 is $1,084.
Most US homes can afford to pay for cable TV but hesitate.
In 2018, around 87% of US households earning $150,000 (yearly) had cable. Meanwhile, for homes earning $50,000, cable TV penetration was 69.59%.
The basic monthly Netflix subscription costs around $6.99 to $19.99. Even if people can afford cable, they'd get a more value-packed OTT service.
Streaming Platform and Cable TV Trends
The effects of streaming services were unexpected. It impacted global consumer behavior and majorly affected an entire industry.
Based on the statistics, expect more changes to come.
Here are the streaming and cable TV trends to expect soon.
8. A 2018 report projected that 100% of major channels would be unbundled by 2022.
(Fierce Video, Investopedia)
Diffusion Group's research stated that by 2022, all major networks will have single-brand subscription offerings.
The 2018 article also mentioned that 63% of over 2,000 respondents wanted a customized programming selection. Only 19% prefer a preset package, while 18% prefer either.
Buindles cost less than getting them separately. Why pay for over a hundred channels if you only watch a handful?
Subscribers want what streaming platforms can provide: freedom to choose.
9. OTT services' trajectory is going where cable TV was 10 years ago.
(Bloomberg)
The fees for streaming services keep increasing as competitors appear. Bloomberg stated that "ad-less" primary streaming services might soon cost up to $100.
The total cost now rivals the cost of cable, which may adversely affect subscriber growth for many of these companies.
10. "FAST" services continue to thrive, up to 10% from 2021 to 2022.
(Forbes, Newscast Studio)
In 2021, 45% of consumers used FAST. By the following year, 55% were watching it.
The recent experiment on Free Ad-Supported TV (FAST) by Samsung and Roku was successful. The new platforms offer extensive content libraries and are accessible on multiple devices.
People subscribe to FAST services more as they get frustrated with streaming prices. FAST offers free personalized programming, which suits today's consumers.
Final Thoughts
Cable TV bundles are expensive. They lack the freedom and convenience that streaming offers.
When streaming platforms emerged, people found it better than cable. The statistics show that Traditional TV is still profitable but slowly losing ground.
Cable's decline did not happen all at once. The industry was a big part of history and culture. Still, it is not enough to turn the tide.
FAQ
What are the advantages of cable TV over streaming platforms?

Three significant advantages are live sports, PPV, and offline content delivery. So far, only a few streaming platforms offer sports or PPV services.
What makes streaming platforms successful?

Streaming services cost less and offer extensive libraries of content. More importantly, they are scalable. You can get the features and functions that you want and add more as you go.
Are OTT platforms losing popularity?

2022 and 2023 were challenging for streaming platforms. Ratings and viewerships are down. Still, it's too early to tell, especially since streaming's share of TV viewing is up.