Highest-Paid Baseball Player List for 2023
The 2022 Major League Baseball season is finally here! It's been a long wait, especially with the 99-day players' lockout that began on December 2, 2021 and ended on March 10, 2022. It was the ninth in MLB history – the first since 1990 – and boy are we glad it's over!
One of the major bones of contention that was addressed by the MLB Players Association during the lockout was the issue of younger players receiving more money. Labor negotiations now have minimum annual salaries starting at $700,000 for 2022, a 23% increase, which is a pretty neat deal for the players. So, with the "little guys" getting more than ever, where does that put the big earners at the top?
Let's take a look at the highest-paid baseball player list in the MLB for 2022.
Who Are the Highest-Paid MLB Players in 2022?
The labor negotiations weren't the only notable event concerning pay to occur during the off-season. Several top-level players ended up switching teams in some of the most lucrative deals the game has ever seen. Among those on this list who have recently found a new home are Freddie Freeman, Max Scherzer, and Carlos Correa.
In case you're like millions of people that don't understand how baseball works, you can check out our full baseball glossary before delving into our list of highest-paid players.
Here's the full list of the highest-paid MLB players for the 2022 season, with their average annual salaries (including endorsements).
1. Max Scherzer, New York Mets
Salary: $43,333,333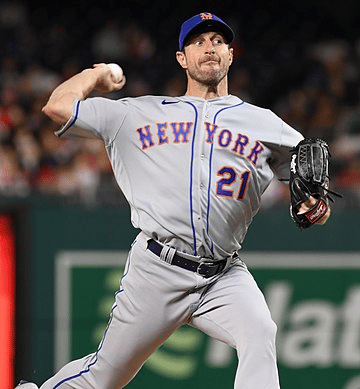 The former Arizona Diamondbacks, Detroit Tigers, Washington Nationals, and Los Angeles Dodgers pitcher made an unprecedented move from the Nationals to the New York Mets in the off-season. Traded to the Los Angeles Dodgers in the last year of his contract, his previous deal with the Washington Nationals involves about $105 million in deferred earnings to be paid over the next six years (2022-28). But that's not all.
The New York Mets pitcher holds the record for highest average annual value (AAV) ($43.3 million) ever in the Major League thanks to his three-year deal worth a whopping $130 million. Gerrit Cole, another member on our highest-paid list, previously held the record for the highest AAV with $36 million.
Mad Max is one of the most prolific pitchers in MLB history, totally justifying why his overall earnings come in at $59.3 million. The highest-paid player in MLB this year, his current endorsements are worth $1 million. He has partnerships with Rawlings, ARIA Exchange, Nike, Indeed, Topps, and MLBPAA Alumni.
2. Gerrit Cole, New York Yankees
Salary: $36 million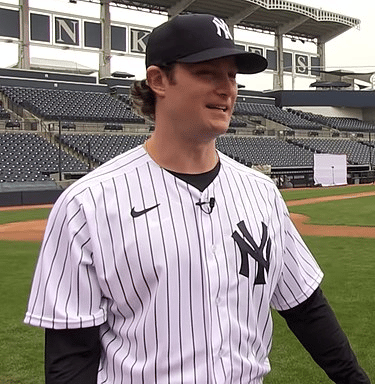 What do the Pittsburgh Pirates, Houston Astros, and New York Yankees all have in common besides being in the MLB? Gerrit Alan Cole, that's what.
The New York Yankees' pitcher is a four-time All-Star (2015, 2018, 2019, 2021), has made the All-MLB first team twice (2019, 2021) and the All-MLB second team once (2020). He was the American League's ERA leader for 2019, the MLB strikeout leader for 2019, and the AL wins leader for the 2021 season.
Cole was previously the player with the highest average annual value ($36 million), usurped only by our list's numero uno, Mad Max Scherzer ($43.33 million). Nevertheless, Cole is still one of the highest-paid players ever, having signed a historical nine-year $324 million deal as a free agent back in 2019 with the Yankees. It is the largest overall contract for a pitcher in Major League Baseball history.
Cole's earnings total $37 million, with $1 million worth of endorsements coming off partnerships with Rawlings, Fanatics and Nike. His contract with the Yankees has an opt-out clause after 2024, but the Bronx Bombers can choose to void that with an additional year worth $36 million. This goes to show how valuable Cole is.
3. Mike Trout, Los Angeles Angels
Salary: $35,541,667
Over to Hollywood and the City of Angels, or more specifically the Los Angeles Angels. This is where center fielder Mike Trout plies his trade well enough to earn an AAV of $35,541,667. This makes him the third highest-paid MLB player for 2022. And his performances are worth every single penny.
Trout is a nine-time All-Star (from 2012–2019 and then 2021), a three time AL MVP (2014, 2016, 2019), has made the All-MLB first team twice (2019, 2020), was the American League Rookie of the Year in 2012, is an eight-time winner of the Silver Slugger Award (2012–2016, 2018–2020), two-time winner of the AL Hank Aaron Award (2014, 2019), and the Wilson Defensive Player of the Year for 2012.
He has also been the MVP of the MLB All-Star game (2014, 2015), the American League RBI leader (2014), and was the American League stolen base leader in 2012. In the same year, Trout joined the 30-30 club (a group of batters who have reached 30 stolen bases and 30 home runs in a single season), while also receiving the Fielding Bible, which recognizes the best defensive player for each fielding position in the Major League on the basis of statistical analysis.
On May 21, 2013, Trout hit a cycle, making a single, a double, a triple, and a home run in the same game. He was the youngest player to do so in American League history and the sixth-youngest in the history of the MLB. It's obvious Mike Trout is a hotshot, and that's why his total earnings amount to $39 million this year.
His endorsements are worth $3.5 million and he's partnered with J&J Snack Foods, Lizard Skins, Nike, Topps, BODYARMOR, Rawlings, Old Hickory, Anderson Authentics, the MLBPAA, and MLB 9 Innings. He's the favorite for the AL MVP award this season.
4. Carlos Correa, Minnesota Twins
Salary: $35.1 million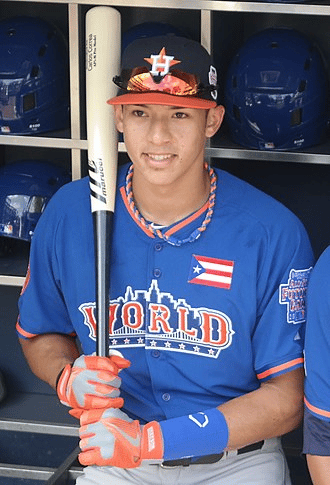 The land of 10,000 lakes is home to the Minnesota Twins and Carlos Correa, the fourth entry on our list. He's the second shortstop we've mentioned so far, and there's a very good reason for his massive earnings.
The former Houston Astros (2015–2021) shortstop moved to the Minnesota Twins in the offseason, and if you take a look at the numbers, you'll understand why. The Twins deal was worth $105 million over three years, the biggest deal of his career since he was the first overall selection of the 2012 MLB draft; that amounts to $35.1 million in salary alone in 2022.
Correa's career highlights include:
American League Rookie of the Year in 2015
All-World Baseball Classic Team in 2017
World Series champion in 2017
Two time All-Star in 2017 and 2021
Fielding Bible in 2021
Gold Glove and Platinum Glove in 2021
As the fourth on the highest-paid baseball players list, he'll take home $36.6 million this year, including $1.5 million in endorsements with Adidas, New Balance, Rawlings, and Topps.
5. Stephen Strasburg, Washington Nationals
Salary: $35 million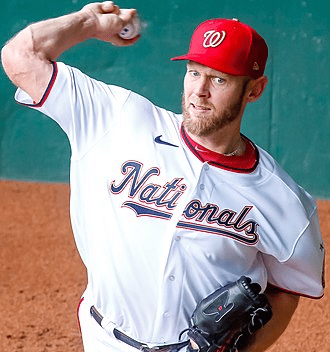 Coming in at fifth place on our list is Stephen Strasburg, with an AAV of $35 million. The 33-year-old Washington Nationals No. 37 pitcher is the third highest-paid baseball pitcher in the MLB, and with his accolades speaking to his reputation, that's no surprise.
From his debut with the Nationals in June 2010, where his 14 strikeouts broke a franchise record, it's been clear that Starsburg is immensely talented. With 1,718 career strikeouts, and a current earned run average of 3.21, the Beijing Olympic 2008 bronze medalist is a three-time All-Star (2012, 2016, 2017), World Series champion (2019), World Series MVP (2019), and made the All-MLB first team in 2019. He was also a recipient of the Silver Slugger Award in 2012, the National League wins leader in 2019, and the National League strikeout leader in 2014.
Strasburg has partnerships with Topps, Fanatics, Zett, and New Balance. And that's not all; he'll also be earning $10 million in salary deferments in 2022 from his old Nationals contract. His current deal spans seven years and is worth $245 million, including an $80 million deferred salary that will begin to be paid out in 2027.
6. Anthony Rendon, Los Angeles Angels
Salary: $35 million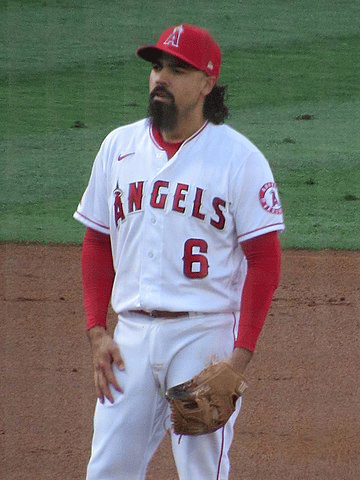 Anthony Rendon is actually tied with Strasburg as the fifth highest-paid MLB player this year, but he's the first third baseman to appear on the list.
Rendon's sponsorships include Topps and Marucci. The former Washington Nationals (2013–2019) and now current Los Angeles Angels player made All-Star in 2019, is a
World Series champion (2019) and made the All-MLB first team for that year. He has won the Silver Slugger Award twice (2014, 2019), was the NL Comeback Player of the Year in 2016, and was 2019's MLB RBI leader. He won the Dick Howser Trophy in 2010.
Despite earning $35 million annually on a seven-year $245 million contract, Rendon remains one of the most underrated players in Major League Baseball.
7. Francisco Lindor, New York Mets
Salary: $34.1 million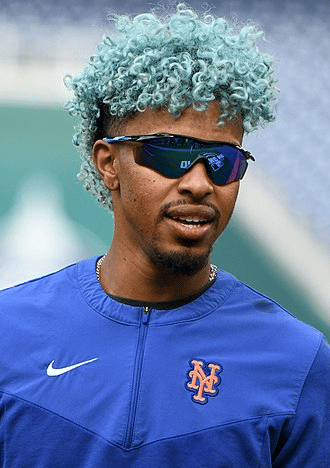 Back in the Big Apple we have Fransisco Lindor for the New York Mets at number seven on this list. The Puerto Rican shortstop earns $34.1 million annually from a 10-year, $341 million contract extension signed with the Mets in 2021.
The former Cleveland Indians (2015–2020) player is a four time All-Star (2016–2019), two-time winner of the Gold Glove Award (2016, 2019), Platinum Glove Award winner (2016), has won the Silver Slugger Award twice (2017, 2018), and made the All-World Baseball Classic Team in 2017.
8. Trevor Bauer, Los Angeles Dodgers
Salary: $34 million
The Trevor Bauer story is a controversial one; the Los Angeles Dodgers pitcher is currently facing a lengthy 324-game suspension from the league over domestic violence and sexual assault allegations. That's about two years away from any baseball-related activity on or off the field.
Prior to his suspension, which is the longest non-lifetime suspension issued in MLB history, Bauer had just signed a three-year $102 million contract after turning down an offer from the Mets. The contract saw him earning $34 million a year, making him the eighth highest-paid MLB player and the fourth highest-paid pitcher in the league.
His extensive career has also seen him pitch for the Arizona Diamondbacks (2012), Cleveland Indians (2013–2019), and Cincinnati Reds (2019–2020). During this time he was an All-Star in 2018, made the All-MLB first team (2020), won the NL Cy Young Award (2020), was the NL ERA leader (2020), won the Golden Spikes Award (2011), and received the National Pitcher of the Year Award (2011).
9. Corey Seager, Texas Rangers
Salary: $32.5 million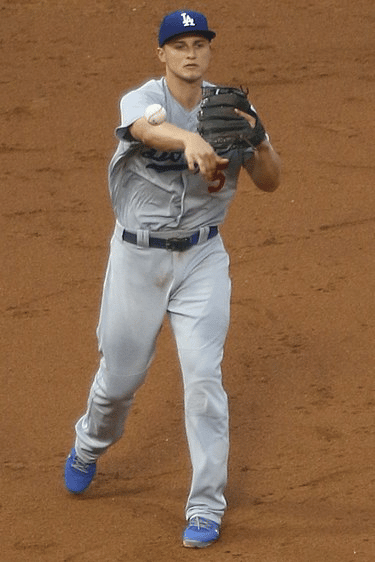 Corey Seager comes in ninth on the list of highest-paid MLB players. The Texas Rangers shortstop has total annual earnings of $34.5 million.
Everyone knows "Seags" as a defensive powerhouse, which is why he's a two-time All-Star (2016, 2017), a World Series champion (2020), a World Series MVP (2020), the National League Rookie of the Year (2016), an NLCS MVP (2020), and a two-time winner of the Silver Slugger Award.
Winning off the baseball field, the former Los Angeles Dodgers player signed a massive 10-year, $325 million deal as a free agent with the Rangers in November 2021. This is the sixth-longest of all MLB contracts in the history of baseball.
Seager has endorsements worth $2 million from Topps, Modelo, Fanatics, Travis Matthew, Rawlings, and Adidas
10. Nolan Arenado, St. Louis Cardinals
Salary: $32.5 million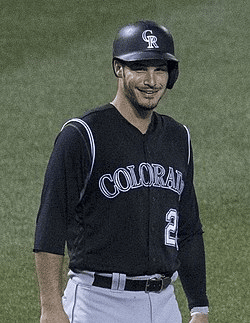 For an MLB player who earned about $5 million in 2016 from a one-year contract with the Colorado Rockies, Nolan Arenado becoming one of the top MLB players is a testament to his talent.
The now-St. Louis Cardinals third baseman's contract is worth $260 million spanning eight years, and he takes home an AAV of $32.5 million. The Cards bought Arenado from the Rockies for $50 million, and with the infielder's record for his former team, it's clear why.
Arenado is a six-time All-Star (2015–2019, 2021) and a nine-time Gold Glove Award winner (2013–2021), a feat that made him the only infielder to win the award in their first nine MLB seasons. He has also received the Platinum Glove Award five times (2017-2021), the Silver Slugger Award four times (2015–2018), the Wilson Defensive Player of the Year Award three times (2015-2017), and has been the National League home run leader three times (2015, 2016, 2018). He has also been the NL runs-batted-in leader twice (2015, 2016) and won the Fielding Bible on four occasions (2015–2017, 2020).
Arenado is the first third baseman to ever drive in 130+ runs for three successive seasons. He also holds several franchise and league records from his time with the Rockies, yet another reason why he is on the MLB highest salary list.
Other top earners in the MLB
Miguel Cabrera, Detroit Tigers: $31 million
David Price, Los Angeles Dodgers: $31 million
Mookie Betts, Los Angeles Dodgers: $30,416,667
Manny Machado, San Diego Padres: $30 million
Chris Sale, Boston Red Sox: $29 million
Jacob deGrom, New York Mets: $27.5 million
Freddie Freeman, Los Angeles Dodgers: $27 million
Christian Yelich, Milwaukee Brewers: $26,928,571
Paul Goldschmidt, St. Louis Cardinals: $26 million
Kris Bryant, Colorado Rockies: $26 million
FAQ
How much do baseball players make?
What would Babe Ruth's salary be today?

At the height of his career in 1931, Babe Ruth was being paid $80,000 a year. In today's money, that comes to around $1,385,000.
Who has the highest-paid contract in MLB?

Right now in 2022, the player with the highest-paid contract is the New York Mets' Max Scherzer. His total earnings in 2022 are valued at $59.3 million: $43.3 million from his contract, $1 million in sponsorships, and $15 million in deferred earnings from his former club.