It's been done before, but we're doing it again because our list of the greatest athletes of all time has a few big surprises. We've examined a versatile selection of sports and identified the names that stand out from the pack.
These top ten athletes of all time aren't known simply for their superb performances. At their peak, they possessed mental and muscular superiority and an unmatched ability to succeed against equally determined opponents.
10. Michael Phelps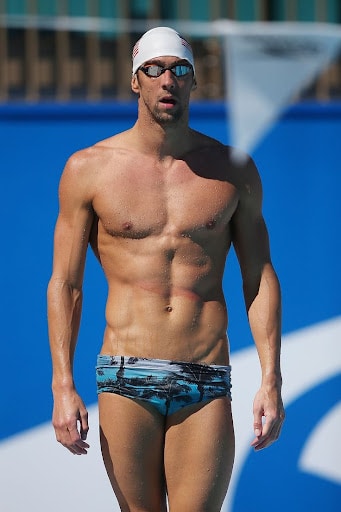 (Source)
Let's talk accomplishments. Michael Phelps holds a total of 28 medals (23 gold, 3 silver, and 2 bronze). Thirteen of those were earned in individual events. The swimmer is widely regarded as a top athlete and arguably the greatest Olympian of all time. He made his Olympic debut at the age of 15 to become the youngest swimmer on the US team in nearly seven decades. He is only the third athlete in history that was able to win at four straight Olympics (2004, 2008, 2012, and 2016) and still holds nine world records.
9. Babe Ruth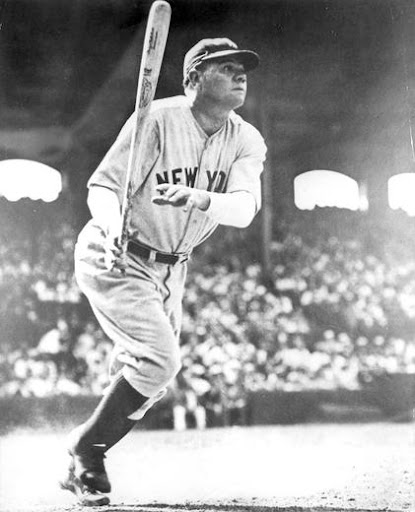 (Source)
His full name is George Herman Ruth. It was perhaps his former teammate, Joe Dugan, who offered one of the more interesting descriptions of Ruth.
"To understand him, you had to understand this: He wasn't human," Dugan said. Ruth was as extraordinary as the game itself.
As one of the most popular athletes of all time, Ruth's primary position was right fielder, but the man played everywhere, at least in his early career. By the end of it, he had 714 home runs, solidifying his status as the Sultan of Swat, a title he earned after his first game with the New York Yankees. When adjusted for inflation, Babe Ruth's salary would be $1,385,000 today ($80,000 at the time).
8. Lewis Hamilton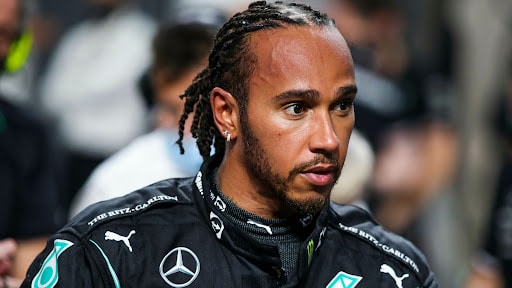 (Source)
Formula 1 has undergone one of the more impressive evolutions in sports over the years. Naturally, the contenders have changed, but the technical innovations transformed everything from the cars to the pit stops. The cars are more aerodynamic, longer, and have hybrid engines. The rules no longer allow for refueling, safety measures have improved, and the drivers are as hungry as ever to write their names in history as some of the greatest athletes of all time.
Hamilton is the successor to legendary F1 driver Michael Schumacher who was once regarded as the greatest of all time. Schumacher won seven Formula 1 championships, which Hamilton equaled in 2020. During his career, Hamilton cemented his place among great athletes by scoring more pole positions and more grand prix wins than Schumacher.
7. Tom Brady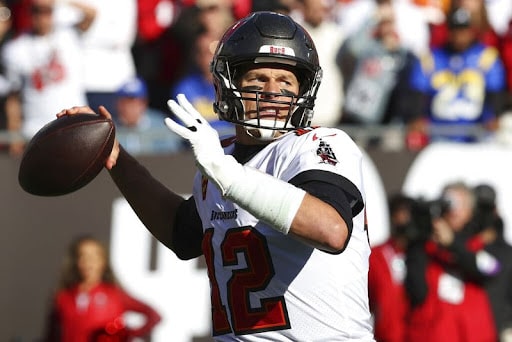 (Source)
At the beginning of 2022, Tom Brady shocked NFL fans when he announced his retirement from the sport. However, less than two months later, he reversed his retirement decision following talks with his Tampa Bay Buccaneers. After 22 years, he was already considered the best athlete in the NFL, and he didn't exactly have to prove anything to anyone. But Brady has his eye on a record eighth Super Bowl title this season.
He has already been crowned the Super Bowl MVP five times and the NFL MVP three times. Brady is the oldest NFL MVP, having won the honors in 2017 at the age of 40.
6. Usain Bolt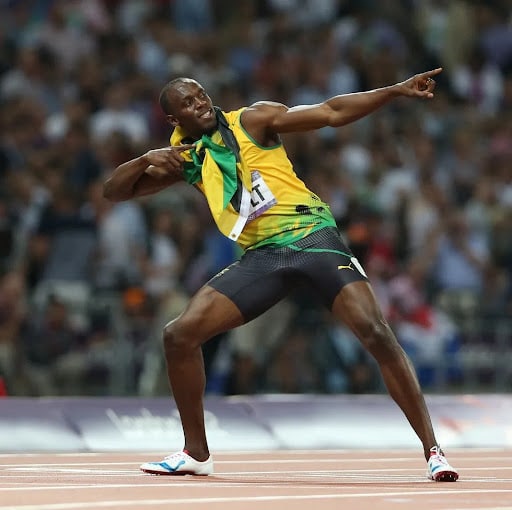 (Source)
You can't have a list of the greatest athletes ever without athletics. And the greatest athlete in this sport also happens to be the fastest man alive.
Usain Bolt's big breakthrough came at the Olympics in Beijing in 2008, where he won two gold medals in both the 100-meter and 200-meter sprint. But even before that competition, he was already known as a prodigy after becoming the youngest gold medalist at the 2002 World Junior Championships. He was only 15 years old when he won the 200-meter race in 20.61 seconds.
He went on to break the world record in the 100-meter sprint three times between 2008 and 2009, during the world championships in New York and Berlin and the Summer Games in Beijing.
Bolt solidified his position among the best athletes of all time during the 2015 world championships and the Rio Olympics in 2016. At those competitions, he clinched gold in the 100-meter, 200-meter, and 4 × 100-meter relay events.
5. Ronaldinho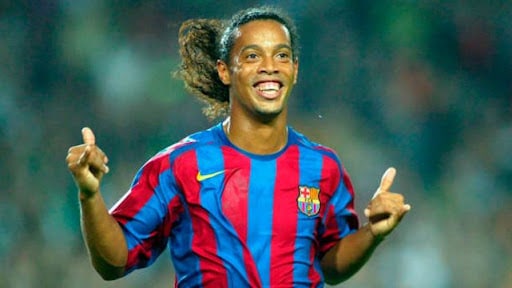 (Source)
Our list of the best athletes in history is based on much more than just performance stats. And that's how Ronaldo de Assis Moreira ended up here. Known simply as Ronaldinho, this incredibly charming Brazilian footballer stood out in more ways than one.
That said, Ronaldinho won his share of trophies, including two FIFA World Player awards, one Ballon d'Or, one World Cup, and one Champions League. Although these don't exactly make him the athlete of the century, Ronaldinho is remembered for producing pure magic on the field. He became synonymous with astonishing free kicks, no-look assists, triple sombreros, bicycle-kick goals, and half-field dribbles.
But above all, Ronaldinho's toothy grin made everyone smile. He may not go down in history as one of the most influential athletes of all time, but he was one of the few players who was applauded by Real Madrid fans while playing for the club's fierce rival, Barcelona. His passion and character made him impossible to hate. He didn't care about being the best. He just played for the love of the game. Ronaldinho will go down in history as an artist who inspired a generation of the world's greatest footballers, including Lionel Messi and Neymar.
4. Novak Djokovic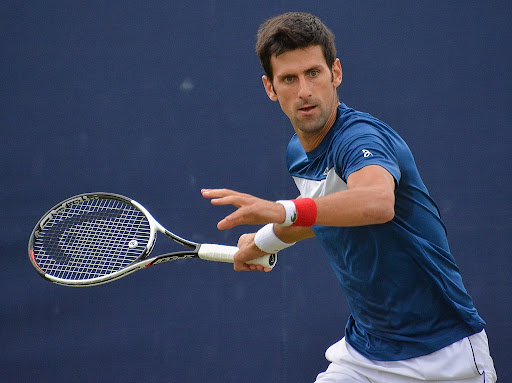 (Source)
Tennis has become increasingly popular in recent years, thanks in no small part to Roger Federer, Rafael Nadal, and Novak Djokovic. Since the trio are playing in the same era, they are technically still competing for the title of the greatest athlete in the history of the sport.
But Novak Djokovic is leading that race. He is the longest-reigning world number one with a record total of 368 weeks as well as an impressive 37 ATP Masters titles. Nadal, Federer, and Djokovic all had 20 Grand Slam titles until the Australian Open in 2022 when Nadal won his 21st. The victory followed a controversial decision by the Australian authorities to deport Djokovic over COVID-19 vaccine mandates.
Djokovic's insistence that his refusal to get vaccinated was a personal choice and his willingness to risk the title in the process fuelled the debate on vaccine mandates.
The Serb still has the upper hand in head-to-head encounters against both Federer (27-23) and Nadal (30-28). He is also the first player to win all major titles multiple times. However, the battle for the greatest athlete in the world of tennis is far from over.
3. Sonja Henie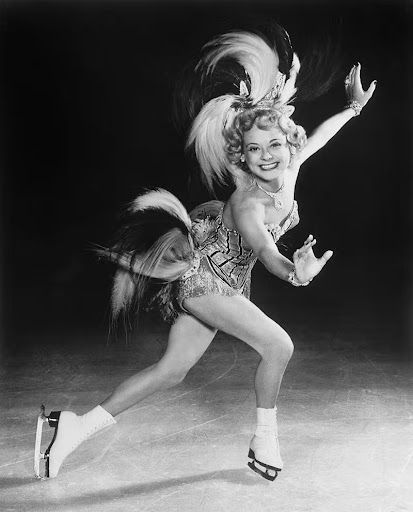 (Source)
Yes, it's been nearly a century since Sonja Henie glided on ice. Yes, figure skating was different. And yes, today's top athletes are making triple axels look easy. But this woman is one of the greatest athletes of the century. Sonja Henie was a woman who paved the way for other female figure skaters and all women in sports in general.
She made her Olympic debut at the age of 11 and won her first world title three years later. She would go on to win nine more world championship titles, six European championships, and three Olympic golds.
Almost a century later, she still holds the record for the highest number of World and Olympic medals won in figure skating. In addition to being the greatest athlete ever in her sport, Henie was also one of the most popular and highest-paid actresses in Hollywood.
2. Muhammad Ali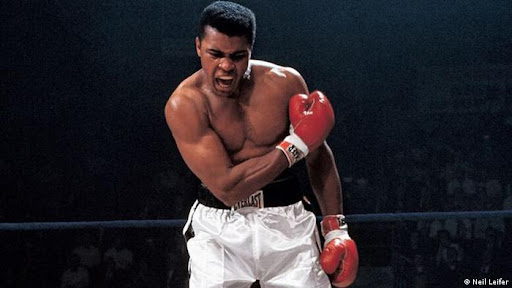 (Source)
Muhammad Ali didn't just change boxing. He changed the world. His style, strength, character, and political views made him an icon both inside and outside the ring.
Born Cassius Marcellus Clay, this truly unique athlete was determined to be "The Greatest". He is even credited with coining the term GOAT or the greatest of all time. In fact, this relentlessly self-promoting approach and Ali's ability to be both mesmerizing and defiant made him one of the most loved athletes of all time. He was a man of faith and conviction, and people fell in love with that.
In 1967, Ali refused his induction into the army and was suspended from boxing, stripped of his heavyweight title, fined $10,000, and left facing a five-year prison sentence.
He fought the case, returned three years later, and delivered one of the most memorable spectacles in boxing history – the Thrilla in Manila. Already considered the greatest athlete in the world of boxing, Ali emerged from the brutal Manila fight against Joe Frazer as the undisputed heavyweight champ.
During his career, he won the heavyweight championship three times. He also won Olympic gold, six Kentucky Golden Gloves championships, two National Golden Gloves championships, and two national AAU titles.
1. Michael Jordan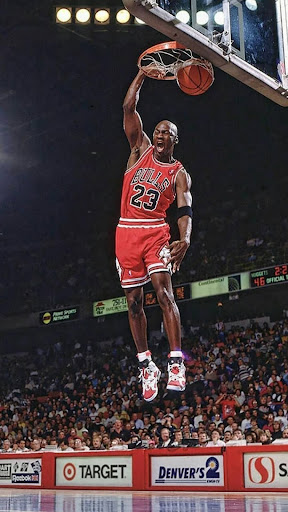 (Source)
He is revered as the greatest athlete of all time. His name has been turned into a brand of basketball shoes and athletic clothing, which are produced by Nike. He is also famous for some of the greatest dunks in basketball history.
Also known as the Black Cat and His Airness, Michael Jordan has an impressive list of stats.
11 x All-Star player from the beginning of his professional career to his final season with the then-unbeatable basketball team Chicago Bulls
6 NBA rings
6 x Finals MVP
5 x NBA MVP
3 x NBA All-Star Game MVP
2 x Slam Dunk contest champion
2 Olympic gold medals
And that's not even half of it. Jordan was obsessed with winning at a time when the NBA lineup included some of the greatest players of all time. Dominant on both ends of the court, Jordan still has the most accolades in NBA history. He was an exceptional athlete, and at the top of his game, he attracted global attention and fascination from fans from all over the world.
Unstoppable offensively, Jordan had a uniquely scoring record in the NBA of 165 40-point games, 32 50-point games, and five separate 60-point games, making him the best athlete of all time and all of his games an important part of basketball history. While the question of whether Jordan and Lebron should wear the crown as the best NBA player is still up for debate, the consensus seems to point to Jordan – both as the top NBA player and the most successful athlete of all time.
Final Word
Throughout the history of sports, athletes have set records and broken them. Different generations and the changing times have given different kinds of champions. As such, it is not always easy to identify the GOATs. But the greatest athletes of all times have left their mark on their sports by exhibiting talent, intelligence, charisma, and unmatched determination.
FAQ
Who is the greatest athlete of all time?
For many, the NBA's Michael Jordan is considered the greatest athlete of all time in terms of results. Others dispute that conclusion, giving the crown to boxing legend Muhammad Ali whose personality transcended sports.
Who is the best basketballer of all time?
Michael Jordan is considered to be the greatest athlete in this sport. During his long career, Jordan had the best scoring record in the NBA and secured a long list of titles.
Is Tiger Woods the greatest athlete of all time?
Tiger Woods is considered the GOAT of golf (and the richest golfer in the world), delivering a new dose of excitement to the game with his skills. He propelled the game of golf to new heights and quickly became the face of golf.
Who was the first GOAT?
Muhammad Ali was the first person to be branded as the greatest athlete of all time. In 1992, his wife, Lonnie Ali, incorporated G.O.A.T. Inc., shielding all his intellectual properties that are being used for commercial purposes.