Baseball Viewership Statistics: How It's Doing in the Age of Cord-Cutting (2023)
Home runs are some of the most iconic moments in sports and are one of many reasons baseball has 500 million fans worldwide. Baseball is crucial for American culture as players like Babe Ruth and Jackie Robinson helped shape American sports.
Baseball viewership is constant, especially since it has a minimum 162-game schedule. The Major League Baseball (MLB) stretches these games for over 26 weeks. Still, fans can't get enough of baseball.
With that, the sport sees millions of viewers per year. Find out more about the stats by reading this article.

Highlights of the Article
For 13 years, games of the St. Louis Cardinals have been the number 1 primetime programming in the state, earning 139% more views in 2022.
The 2022 MLB Opening Day recorded 172 million watched minutes on the MLB.tv streaming platform.
The MLB viewership fluctuated over the years, seeing +4.81% in 2018, -1.1% in 2019, and a further decline of 32% in 2020.
In 2019, only 20% of MLB fans from 18 to 29 years old followed the league somewhat closely or very closely.
Men overrepresent baseball fans by 70% in the US and 52.1% in Japan.
Young fans of MLB use modern ways to stream matches; 46% of MLB's YouTube viewers are below 35.
Baseball viewership was shattered by 62 million viewers from Japan who tuned in for a pool game against their South Korean rivals in the 2023 World Baseball Classic.
The 2022 Women's College World Series Finals had 100,000 more viewers than the 2022 Men's College World Series Finals.
How Many Viewers Watch Baseball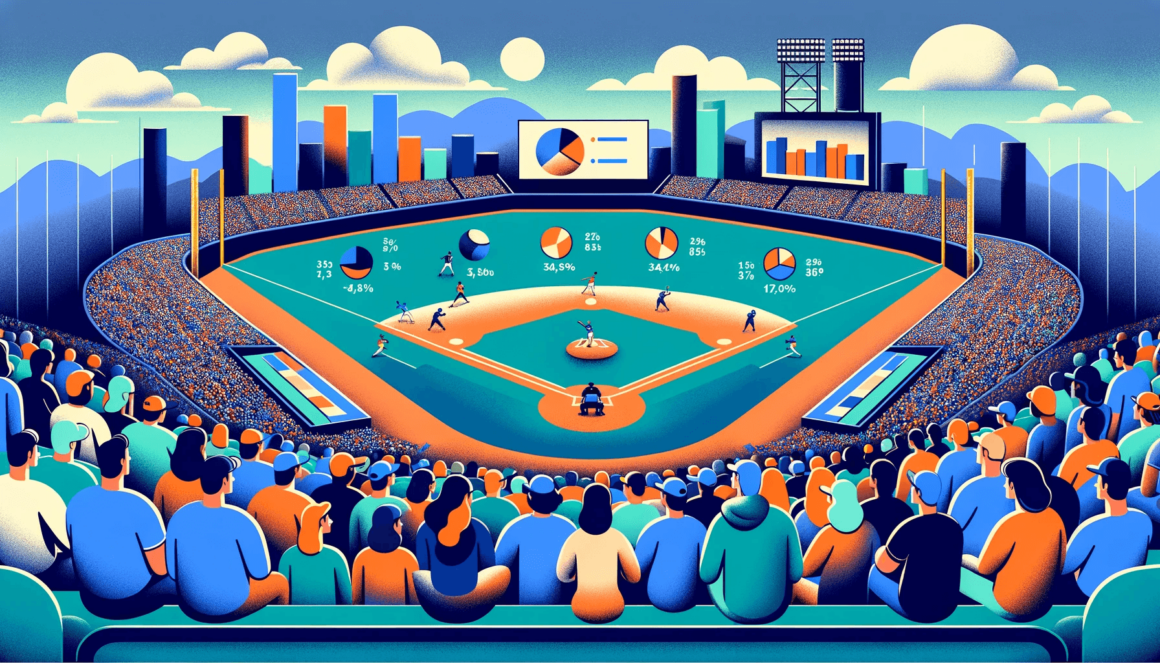 One of the most popular leagues in baseball is the MLB, which regularly gathers 100,000 viewers across regional sports networks (RSNs) in the United States.
MLB is not just popular in the US. People across the world stay tuned to it. In fact, in 2020, MLB viewership was higher in Taiwan (27.9%) and South Korea (25.7%) than in the US (24.1%).
Moreover, there are other prominent baseball leagues in Asia. Countries like Japan, Taiwan, and South Korea have their leagues nationwide. Learn all about them in the statistics and information below.
Statistics on Baseball Viewership By Year
Baseball viewership has been going up and down for years. The MLB recognized this problem and made significant changes in 2023, which are:
Bigger bases to avoid collisions

Decrease the pitch timer for quicker

baseball games

Limits on defensive shifts to increase batting average per play
These changes aimed to produce more attendees and viewership, which proved successful, as shown below:
5% more attendees, averaging 26,753 audiences per game

Doubled telecast viewers, from 187,000 in the past year to 304,000 viewers
The MLB is not the only league affected by fluctuating viewership. Learn more about how the whole baseball industry has been doing throughout the years.
1. The 2023 World Baseball Classic's 4 first rounds set average viewership demonstrated a 151% increase.
(Sports Video Group)
The first phase of the 2023 World Baseball Classic set several viewership records across Asia, some of which are:
Japan

's four First Round Games surpassed the Tokyo Olympics with an average 42.3 rating.

Games featuring Chinese Taipei

in Taiwan

generated 1.301 million viewers on EBC News during the four First Round matches.

South Korea

gained +35% more viewers in their four First Round games, amounting to 1.781 million viewers. This is the most-watched WBC game in Korea since 2009.
2. The number 1 primetime programming in St. Louis is Cardinals games, averaging 139% more views in 2022.
(MLB)
Games by the St. Louis Cardinals have led the region's primetime programming for 13 years. In 2022, their games had an average of 7.87 household TV ratings. The ratings are one of the many reasons the Cardinals are considered among the best MLB franchises ever.
3. There were 172 million watched minutes during the 2022 MLB Opening Day on the MLB.tv streaming platform.
(Sports Pro Media, Sporting News)
MLB.tv is the official streaming subscription to live-stream or watch baseball games on-demand. It has over 3.5 million active subscribers.
The streaming service held a single-day record of 121 million watched minutes. However, the 2022 MLB Opening Day shattered that record by 42%, producing 172 million watched minutes.
This increase in watched minutes shows that fans are adapting to new modes of streaming their favorite sport.
4. The 2022 World Series had an average of 11.8 million viewers.
(Statista, Statista)
Major League Baseball's annual championship is called the World Series. It is considered the final showpiece of the MLB season.
During the 2022 World Series, the Houston Astros clinched their second title in 6 games against the Philadelphia Phillies. The average TV rating for all six games was 6.1, whereas game 5 saw the highest rating at 6.9.
Fans stay tuned in these games to see the Astros win their second World Series title in 6 years. This victory also brought Dusty Baker his first World Series title as a manager.
5. A 2022 Japanese survey revealed that 41% of respondents watch professional baseball leagues on TV or the Internet.
(Statista)
Baseball was Japan's national sport post-World War II. Today, Sumo is technically the country's national sport. However, it continues to be outshined by baseball in terms of popularity.
The MLB consists of millions of Japanese viewers, but Japan also has its own, the Nippon Professional Baseball League.
Their high school baseball following is also huge, with 36.1% of the same survey admitting to watching games on TV or the Internet.
With the availability of online streaming platforms, more viewers are also using this mode to watch baseball leagues. It is perfect for Japanese citizens who are into baseball.
6. The 2021 World Series had an average of 11.75 million viewers.
(CNBC)
The Atlanta Braves faced the Houston Astros 6 times before claiming the championship title in the 2021 World Series. All six games had an average of 11.75 million viewers. The 6th game drew the most viewership at 14.3 million viewers on Fox Sports.
Fans of the Atlanta Braves tuned in closely that season because the team had not won any title since 1995.
7. Viewership of the World Series plunged by 32% in 2020, averaging only 9.78 million viewers in all six games.
(ESPN)
The 2020 World Series was between the Los Angeles Dodgers and Tampa Bay Rays. The former emerged from their franchise's title drought with a 3-1 victory.
Regardless of how sweet the Dodgers' win is, their games barely reached 10 million viewers. It was a significant decline from the previous year's low viewership.
This drop can be attributed to the impacts of the pandemic and the viewership competition between election-related programming.
8. The MLB viewership fluctuated between 2018 and 2019, seeing +4.81% and -1.1% viewership, respectively.
(Gitnux)
This fluctuation was a sign of a potential decline in viewership. The predictions were not wrong since, in 2020, the World Series's viewership plummeted.
Baseball Viewership Demographics
The sport is so prevalent in the US that it earned its nickname "America's national pastime." Since baseball is an iconic sport globally, the world shares watching and playing baseball as an activity for amusement.
Unfortunately, baseball fans are getting older. Over a decade ago, 7% of baseball TV audiences were children aged 6 to 17. In 2019, the percentage stood at only 4%.
Find out how baseball survives the massive shift in age-group-based interest and other must-know statistics and facts below.
9. Only 20% of MLB fans aged 18 to 29 followed the sport somewhat closely or very closely in 2019.
(Ohio University)
This statistic shows how baseball struggles to connect with its young fans. Regardless, the MLB is trying to attract their interest back through technology.
An example is MLB.tv, where younger fans can access and stream baseball games. During the 2022 season, MLB.tv surpassed 10 billion minutes watched, an 11% increase from the previous year.
10. Only 14% of Americans admit baseball was their favorite sport in 2019.
(Ohio University)
This statistic directly affects baseball viewership in the US. Fewer people will attend and tune in to the games if there is less interest in the sport. In the same year, MLB viewership decreased by 1.1%.
11. 70% of Americans who make up the country's 2019 baseball fan base were men.
(Ohio University, Canadian Olympic Committee)
In America, baseball is a game for kids. From the start, most kids that play it are boys. Girls playing baseball have always been a rare phenomenon. Men overrepresent the US baseball fan base and viewers, while only 30% are female fans.
Regardless, baseball has a "female counterpart" called softball. It follows the same foundation of rules but is different from baseball in terms of the following:
Pitch

Ball size

Size of the field
What baseball lacks, softball makes up for in women. That is why it thrives in female representation, fanbase, and viewership.
12. In Japan, 52.1% of professional baseball league viewers are men, showing gender preferences in sports.
(Statista, The John Hopkins Newsletter)
Only 29.9% of the female respondents are viewers of professional baseball leagues in Japan.
When it comes to watching high school baseball in Japan, men still overrepresent the viewers at 42%. On the other hand, only 30.2% of female respondents watch high school baseball in Japan.
This further shows the gender preferences in sports. Men are more inclined to games like baseball because they show and prove their masculinity.
Then, women are into "more feminine" sports like figure skating. It is preferred by 29.5% of female respondents in the 2022 survey, while only 16.3% of men like it.
13. 46% of MLB's YouTube viewers are under 35.
(Statista, HitchOn, YouGov)
Franchise teams of the MLB have their YouTube channels for commentary and game highlights. Young fans of baseball are the top viewers of their content.
The New York Yankees have the highest number of social media followers, being the most popular franchise in the MLB, with a 47% popularity rate. Their fame is reflected on all their social media accounts:
| | |
| --- | --- |
| Social media platform | Followers |
| YouTube | 134,000 |
| Twitter | 3.8 million |
| Facebook | 8.2 million |
| Instagram | 3.2 million |
Baseball Tournaments Viewership Statistics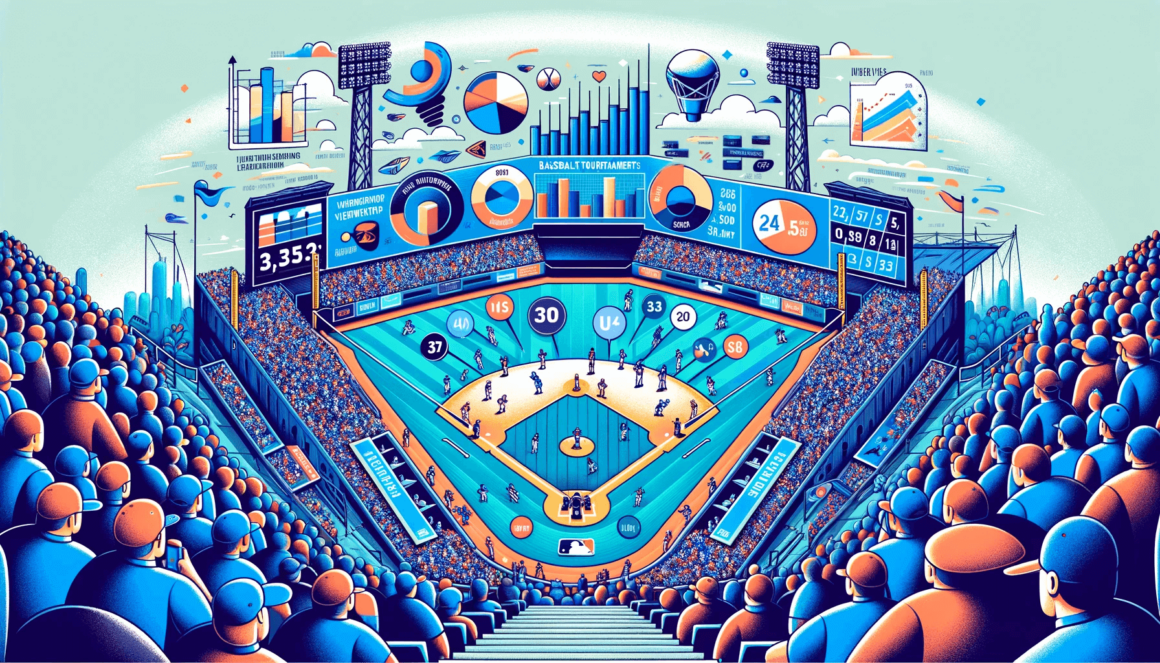 A baseball tournament can bring together a family, a state, or a nation. The enthusiasm over pitches is a shared experience worldwide and a feeling not slipping away soon.
Find out why through the stats below.
14. Japan's victory over the USA in the 2023 World Baseball Classic Final gathered 5.2 million viewers across streaming services in the US.
(Sports Video Org, CBS Sports)
This marks the 2023 WBC Final as the most-watched finals game ever in the US. The 5.2 million viewers were seen across the following platforms:
FS1

Fox Sports

Fox Deportes
On the FS1 network alone, the average number of viewers was 4.5 million, making it a WBC game with the highest number of viewers on a single network. The finals saw many viewers since the USA team looked to defend their 2017 WBC championship title. On the other hand, Japan fought hard to clinch their 3rd WBC title since 2006.
15. 62 million viewers in Japan watched a pool play game against their rival South Korea in the 2023 World Baseball Classic.
(NBC Boston)
The 1980 World Series's Game 6 is the most-watched MLB game, with 54.86 million viewers. The match saw the Philadelphia Phillies claim their first World Series title against the Kansas City Royal.
Viewers in Japan alone shattered that record in the world of baseball. In the 2023 World Baseball Classic, 62 million Japanese citizens tuned in to see their team beat their rival South Korea in one pool play game.
Now, one of the most-watched games in baseball history is a match before the elimination round even began.
16. The 2022 Women's College World Series had a 19% rating increase, a rating significantly better than its College World Series counterpart.
(Sooners Wire)
During WCWS's 2021-2022 finals between title-clinching Oklahoma and Texas, viewers peaked at 2.1 million and averaged 1.74 million.
On the other hand, CWS's Game 1 of the Championship Series between Oklahoma and Ole Miss had a 1.9 million peak viewership and an average of 1.63 million viewers.
Higher viewership for WCWS projects a brighter future for women's athletic scene. This is thanks to younger viewers interested in more diverse tournaments and teams.
The Women's College World Series is a nationwide collegiate softball tournament for women, directly equivalent to the men's College World Series.
17. Around 29.5 million households in the US watched 15 games of the College World Series.
(MVPIndex)
These households supported teams that were uniquely familiar with one another. Every year, ESPN and ABC broadcast each Men's and Women's College World Series contest annually. It is where people tune into matches using their TV when they cannot attend games in person.
Final Thoughts
In the age of cord-cutting, baseball viewership peaks and valleys. However, that only means viewers are exploring other streaming options. This is mainly observed in baseball's younger fans, who are more technology-inclined.
With that, baseball remains the sport that evokes nostalgia and excitement in millions of fans worldwide.
FAQs
Is baseball viewership up?

Baseball viewership is slowly rising. Beyond ESPN's viewership, TBS's broadcast gathered a 69% increase through the first 2 games of the 2023 season.
What was the peak viewership for MLB?

The peak viewership for MLB was from the 1980 World Series's Game 6 where 54.86 million viewers tuned in.
What has more viewers NBA or MLB?

The NBA has more viewers than MLB in general, but MLB sees more viewership in most regional channels than the NBA.