History of Gambling in the US: A Timeline [Infographic]
Gambling has been part of US history for a long time. It has gone from legal to illegal and back to legal again many times. It found itself in the midst of legal and political storms.
We've researched and selected some of the most critical dates in the history of gambling in the US. Keep reading if you want to gain indispensable knowledge about gambling in the States.
History of Gambling in the US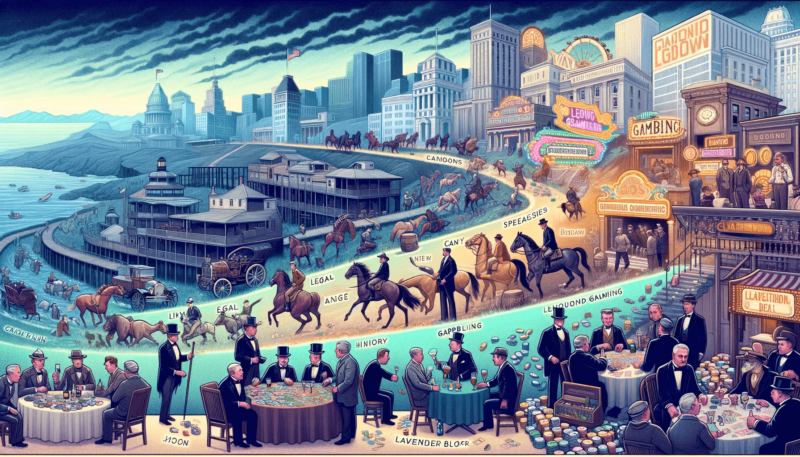 The 1800s and early 1900s were essential eras and the origin of gambling as we know it today. Many events and dates occurred that would shape the industry today.
Gambling in the 1800s and the Early 1900s
Gambling has been around before the 1800s, but we've selected important dates then and after. Read below for some critical early dates in the gambling history.
1800
Two important events occurred that year:
First, the game of Craps was played for the first time on boats, saloons, and cotton fields.
Second, Denmark Vesey became the most famous lotto winner. He was a black slave and was able to buy his freedom with the winnings.
1827
The Crescent City House opened in New Orleans. It was the first 24-hour, full-service casino — and the first casino offering complimentary meals and a buffet. Also, the first casino in America had all European furnishings.
1830
The US banned all lotteries (the ban was lifted in 1960).
1832
The Palace of Fortune opened up in DC. It was the first casino in the nation's capital and was frequented by the political elite of the US.
1835–1851
Multiple states, such as Louisiana, Pennsylvania, and New York, passed various laws banning gambling.
1858
Riverboat gambling became popular across the United States. Although still not legal, Mississippi riverboat gambling started getting popular.
1861–62
In 1861, Nevada set a gambling prohibition and made it a felony to gamble. This was later reversed in 1869.
By 1962, all states except Kentucky and Missouri had set state lottery laws, banning them.
1876
Wild Bill Hickok was shot while playing poker. Reportedly, he held in his hand all aces and eights. That became known as the dead man's hand.
1904
The City of Traverse, the first vessel in the US entirely dedicated to gambling, was launched. It sailed on Lake Michigan and was built by the famous Chicago gambler Big Jim O'Leary.
1905
Charles Fay introduced the first true slot machine. It had three reels and paid winners automatically. In 1895, Fay had invented the coin-operated gambling machine, which was the predecessor of the slot machine.
1910
Nevada's 1909 law to ban all gambling took effect.
Also, twenty-one, or BlackJack, the most significant game by revenue in 2020, was first played in Evansville, Indiana. It was introduced as a banking game. The name Blackjack comes from a bonus payoff that no longer exists.
1913
Nevada lifts its gambling ban and legalizes open gambling, but not commercial. Meanwhile, New York legalizes parimutuel gambling.
1915
Camouflaged slot machines started to appear. They were equipped with "skill-stops" that still exist today, and they dispensed cigarettes, gum, and candy with the pull of the handle.
The Chicle Company added low-selling gum flavors such as plum, orange, and cherry to the machines. Today's fruit symbols on the machines come from that time.
A lemon on the machine meant that it was rigged, which is how the belief that lemons were bad came to be.
Modern History of Gambling in the United States
1931 marked the beginning of modern gambling as we know it. Keep reading further to find out what happened that year and what brought us where we are today.
1931
The year 1931 marks an important event in US gambling history. Nevada was suffering from a deep recession and was looking for ways to boost its economy. So, it decided to legalize commercial gambling fully.
Nearby, the Hoover Dam was being built, and there were a lot of construction workers that were considered potential gamblers.
Moreover, Nevada also passed relaxed divorce laws that required six weeks of residency, which attracted many people — also possible gamblers.
1941
Two events happened that year that would shape gambling in the 1940s:
1949
The year was essential for the history of gambling in the US, as Nevada legalized sports betting on professional sports and horse racing.
The newly created sportsbooks were called Turf Clubs and were independent of the casinos.
1951
In 1951, Congress passed two crucial US gambling laws.
Congress imposed a 10% federal excise tax on sportsbooks. That tax was on the entire revenue and not just on profits. That drove many sportsbooks underground to compete.

The

Johnson Act

was passed.

What is the Johnson Act

? It prohibited transportation, possession, repair, and anything else regarding gambling machines and equipment unless it's legal in that state.
1955
The Nevada State Gaming Control Board was created to regulate gambling operations. It also establishes and monitors the casino rules and regulations for tax filing.
1961
Congress passes the Wire Act in an effort to target racketeering. According to it, it was illegal to use wire communications to share any information that would help with betting.
It was aimed at mobsters who lived in other states and shared info about betting operations through phones, telegrams, and other means.
1964
New Hampshire is the first state to lift its lottery ban and legalize it. It was tied to horse racing to avoid laws that prohibited lotteries.
1975
Frank "Lefty" Rosenthal convinced lawmakers to allow sportsbooks inside casinos, ending their separation. Consequently, he opened the first brick-and-mortar sportsbooks in the Stardust Casino.
1978
Congress passes the Interstate Horse Racing Act. It allowed people to bet on horse racing in different states, as long as it was legal in both states.
1979
The Seminole tribe in Florida opens the first reservation-based commercial gambling casino. Because their reservation was not under federal jurisdiction, they didn't have to follow the same federal gaming laws.
1984
Congress reduced the sportsbook gaming taxes from 2% to 0.5%, which resulted in a rapid increase in the number of sportsbooks.
1988
Congress passes the Indian gaming regulatory act. It allowed Native American tribes to open gambling establishments as long as gambling was already legal in their state.
The 1988 Indian Gaming Regulatory Act also established the National Indian Gaming Commission, which regulated Native American gambling.
1992
Congress passes the Professional and Amateur Sports Protection Act (PASPA). The law banned states from regulating and taxing sports betting.
Exceptions were Nevada, as it already had sports betting. Other exceptions were Oregon, Montana, and Delaware since they had limited betting.
2006
Congress passes the Unlawful Internet Gambling Enforcement Act. It prohibited accepting money from any person involved in illegal online gambling. After the first online casino launched in 1994, many Americans jumped on board. However, the UIGEA essentially put an end to that.
2011
The three largest online Poker companies, Full Tilt Poker, Absolute Poker, and PokerStars, were indicted for fraud and money laundering, and some other illegal gambling activities.
The online gambling regulation essentially wiped out the online poker industry.
2012
New Jersey Governor Chris Christie signs a bill that allows sports betting in the state, excluding New Years' college teams.
2013
New Jersey continues to be one of the most active states in passing gambling laws in the US that allow online gambling. Seven casinos were allowed to start offering a full range of casino games.
2018
This year was important for the history of gambling in the US, as the Supreme Court overturned the PASPA and allowed states to regulate sports betting.
New Jersey and Delaware legalized sports betting shortly after and opened the first retail sportsbooks outside Nevada.
A few months later, Draft Kings became the first online mobile sports betting app to launch in New Jersey.
2019
Sports betting legalization is picking up speed among states. Iowa becomes the 11th state and the first in the Midwest to join the club.
The state would allow the practice to occur inside casinos, and it would also let people from other states place wagers.
2021 and beyond
There are about 31 states that already have approved gambling or introduced some sort of gambling laws in the USA. Many others have had some movement, and bills have been introduced.
Only a handful of states, including Utah, Wisconsin, and Idaho, have not made any indications of legalizing gambling.
FAQ
Why was gambling outlawed in 1910?

In 1909, Nevada was the only state where gambling was legal. That did not sit well with some of the state's politicians —  they thought Nevada was the nation's laughing stock for allowing gambling.

So, in February 1909, the state's assembly voted to ban gambling, with the law going into effect in 1910.
Was gambling illegal in the 1920s?

Yes, gambling was illegal in the 1920s. The only exceptions were horse racing in Kentucky and Maryland and a few isolated card clubs.
Was gambling illegal in the 50s?

Gambling was legal in Nevada in the 50s. In fact, the industry was thriving and attracting a significant number of workers and celebrities.
When did gambling become legal in the US?

Gambling in Nevada has been legal since 1931. Since gambling in the 1930s, many states have allowed Native American tribes in their states to run casinos.

In 2018, the Supreme Court made sports betting legal at the federal level and has let the individual states set gambling regulations within their borders.
What was the first casino in the US?
When were slot machines invented?

In 1895, Charles Fey invented the coin-operated gambling machine. Later in 1905, Fey improved his design and introduced the first true slot machine equipped with three reels and automatically paid the winners.
Conclusion
The history of gambling in the US is long and complicated. Many events shaped the industry into what it is today, including the re-legalization in Nevada in 1931 and the Supreme Court's ruling in 2018.
As many states are legalizing gambling, the industry is expected to see a significant increase in revenue. One thing is for sure — gambling is increasing in acceptance and popularity.