Baseball is a challenging sport to bet on because the outcome can be affected by more than just how the teams play. Various types of betting require in-depth knowledge of teams, players, umpires, divisional performances, etc.
To figure out how to bet on a baseball game, read Play Today's detailed guide, and you'll become an expert in betting in Major League Baseball (MLB) and other leagues in no time.
How Does Betting on Baseball Work?
The basic betting rules are usually the same, regardless of the sport you want to bet on. That said, baseball betting has some unique aspects compared to other sports, such as football or basketball. This gives baseball bettors more freedom to be creative.
Furthermore, some betting types aren't equally popular in all sports. For example, most football gamblers bet on the point spread, while fewer wager on moneyline or prop bets. Baseball betting fans, on the other hand, place these bets regularly.
Now, let's get into the specifics.
Most Common Betting Types in Baseball
Some typical baseball bets for Major League Baseball games are moneyline, run lines, totals, futures, parlays, live, and prop bets.
Moneyline Bets
Most baseball gamblers try to predict which teams will win the MLB games and, accordingly, bet on the moneyline. While most bet on favorites, which brings lower earnings if they win, others take their chances by placing bets on the underdogs.
Let's say the New York Yankees have a high chance of beating the Cincinnati Reds. Then, the betting odds may favor the Yankees with a -180, while the Reds may have a +140 moneyline. In that case, betting $100 on the Cincinnati Reds would win you $140 if they beat the New York Yankees.
On the other hand, betting $180 on the Yankees will only get you an additional $100 if they win.
Run Line Bets
The run line, also known as a handicap bet or point spread, is another common bet in baseball. However, the run-line odds are usually different from the moneyline odds. Winning this bet involves betting on the winner and meeting a 1.5-point threshold. That's why the run line is a less popular baseball bet than the moneyline.
Let's say that the underdog Houston Astros are at +1.5 runs (-150) odds, while the favored Chicago Cubs have run line odds of -1.5 (+110). Given that the Cubs win by two runs or more or lose by one run, bettors who bet on them would get $110 for every $100 they risked. But if the Astros win by two or more runs, those who bet on them would earn $100 for every $150 they bet.
Totals (Over/Under)
You can also try to predict the number of runs scored when betting on a baseball game. Also known as over-under bets, totals usually range between seven and ten runs.
If the over/under score is 8.5, for example, you win if you bet on over and the number of runs exceeds nine. You also win if you bet on under and the game has less than eight runs in  total.
Parlays
If you are a fan of risky sports betting, then baseball wagering is just the thing because you can place a parlay bet. Baseball parlays involve predicting the outcomes of various baseball games. And you need to guess them all correctly to win.
Let's say you bet $100 on two baseball games. If your favorites win, your payout may be $360. But if you bet the same amount on ten games, your potential winnings could be as high as $72,000, for example.
Prop Bets
When you bet on baseball games, you can opt to guess any particular outcome of the game if the sports betting site allows it. 
For example, you can place a player props bet on how many strikeouts your chosen pitcher will achieve, whether a particular team will break a certain winning percentage during the season, if one team will hit a home run, etc. With prop bets, you can bet on virtually anything in baseball and other sports. 
In-Game Betting
Many punters learning how to bet on baseball find themselves surprised when they find out that placing bets on the real action during the game is possible. Some betting options are moneylines and point spreads, and sportsbooks change odds during breaks and time-outs.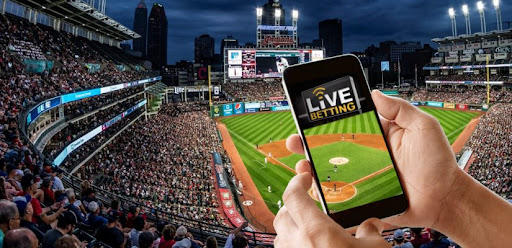 Live betting during a baseball game (Credit)
Futures
Place a futures bet if you're confident about a particular outcome, such as that your favorite team will win the World Series. You can bet on the future outcome of any event, award, or series, and sportsbooks will change the odds as time goes on, depending on the team's wins, losses, trades, etc. 
Although baseball odds tend to change as the season unfolds, betting sites still offer baseball futures well ahead of the start of major leagues and competitions.
Baseball Gambling Tips
Finally, here are several baseball betting tips to help you bet more successfully.
Bet Against the Public
Betting against the public is another trick that works in sports betting. So, take baseball tips from seasoned gamblers since the public loses more money than it wins. The reason is simple – most people bet on favorites, teams with the league's best players, home teams, etc. 
Yes, the public wins more often, but bettors who take a different approach can usually win more money due to the higher payouts. 
Pay Close Attention to Divisional Underdogs
Although MLB bettors tend to shy away from betting on divisional underdogs, you should focus on betting on them when they play against divisional opponents. 
Since they play against one another more frequently, they know each other well, so anything can happen. In summary, betting on an MLB underdog can be a wise move. 
Since 2005, underdogs have lost 72.1 units while playing divisional games, compared to 645.7 units when playing against competitors outside their division. So, consider that before placing a moneyline wager on the betting slip.
Check the Weather Forecast
Here's another tip on how to bet on baseball and win – check the weather conditions. For example, winds blowing over five miles per hour favor underdogs because they can make the whole game much more unpredictable. Moreover, rain tends to delay pitchers, and balls typically fly farther on a humid, sunny day than on a dry, cold day.
Research the Umpires
You can also improve your betting score by knowing what to expect from the umpires. For example, some may fall under the pressure of the crowd cheering for the team playing at home, while others don't have that problem.
Don't Bet Too Much Money
Careful money management is a must for anyone who wants to bet on baseball and win more than they lose. In this regard, most experienced bettors allocate between 1% and 5% of their bankroll per baseball play. Those ready to take a bigger risk to win big dedicate 4% or 5% of their bankroll, while conservative bettors stick to 1% or 2%.
Common Baseball Betting Mistakes
Here are some of the most common errors made by baseball punters who lose more money than they win:
Not Knowing Who the Starting Pitcher Is
You must know the starting lineup of the entire team, especially the starting pitchers. For example, the Cubs may have a big winning streak with a pitcher who doesn't start the next game. If the replacement's poor performance results in frequent losses, you might reconsider betting on the Cubs, even if they play against an underdog.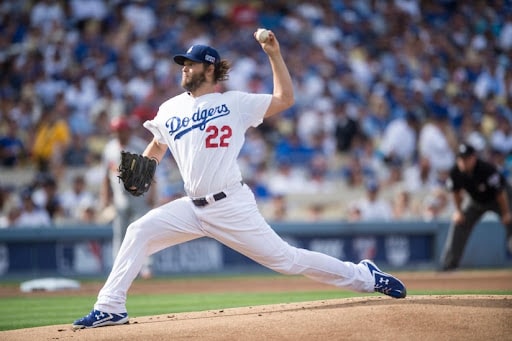 The Dodgers pitcher Clayton Kershaw (Credit)
Betting on the Favorites More Often Than Not
Underdogs tend to surprise favorites, especially in sports with long seasons. We're not saying to risk underdog betting on the regular, but sometimes a bit of faith can pay off in a big way.
Gambling on Baseball: Final Words
Now you know what to pay attention to when betting on MLB games or those in other leagues. While some types of betting involve guessing who will win and what the final result will be, others allow you to bet on a single player's performance, the number of runs per game, and more.
Play Today's baseball betting guide also has helpful tips that many seasoned bettors use to win more money. Remember not to bet only on teams that stand out by name since various factors, such as the starting pitcher, division play, and even the wind, may balance the scales. Above all, bet responsibly and refrain from overspending.
FAQ
How do you bet on the MLB?
There are various bet types you can place on the MLB games. Betting on a winner (moneylines), the number of runs scored (totals), and predicting the World Series winner (futures) are a few ways you can try out.
What is the best way to bet on baseball?
There's no universal answer to this question. Knowing how to bet on baseball involves gauging your risk tolerance, becoming familiar with teams and players, and even considering the weather conditions, among other factors. Seasoned punters also avoid overspending and occasionally bet on the underdogs.
Is baseball hard to bet on?
A baseball game's outcome can depend on many things besides how well the teams and players do. A long season makes things even more complicated, so you need a lot of knowledge, luck, or both to bet well.