10 Biggest Esports Sponsors of 2022 and 2023
The esports industry is taking the world by storm. As the scene reaches millions of people, more companies are starting to discover the popularity of esports.
In 2022, 5.14 million viewers worldwide watched the LoL World Championship.
Researchers expect the esports market to grow to $1.61 billion in 2024. Sponsorships help esports grow revenue and advance the game in the eyes of non-esports followers.
This article will examine some of the biggest esports sponsors who help make the industry lucrative.
10 Biggest Esports Sponsors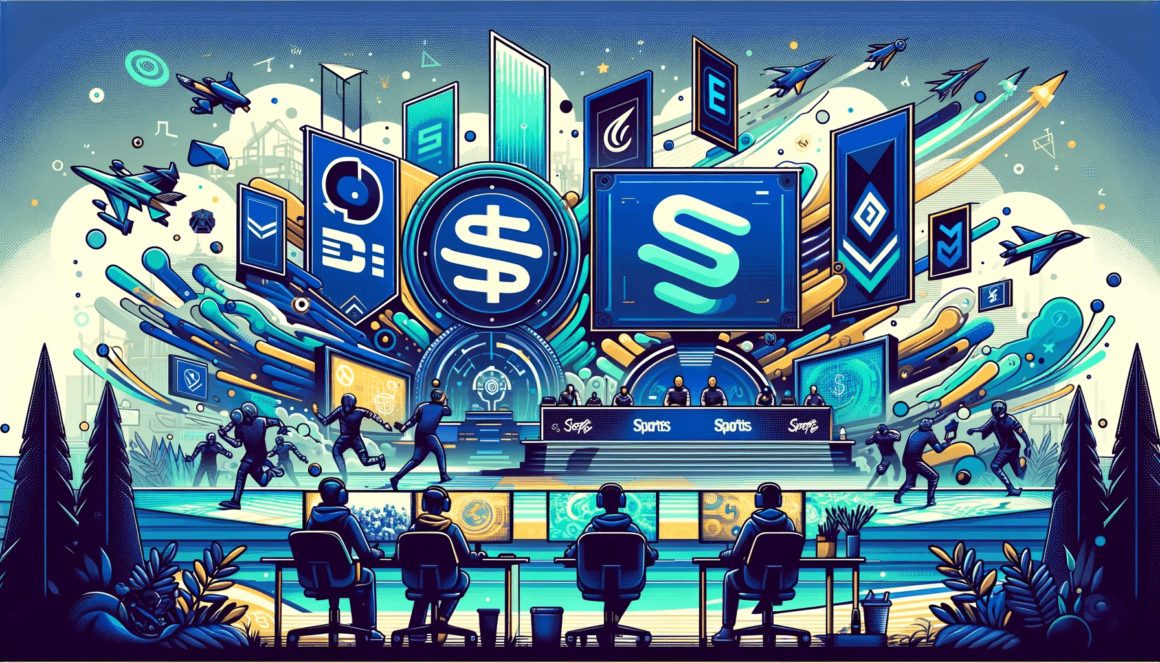 1. Mercedez Benz
(One Esports, Mercedes- Benz)
Mercedes Benz has ventured into the esports industry to explore innovative mobility solutions and diversify their marketing and sponsoring strategies.
In May 2023, Mercedes Benz partnered with T1. The deal saw the team's star, Faker, receive a new premium Mercedes-AMG EQE 53MATIC+ worth around $120,000.
Mercedes has also signed with Riot Games. The partnership made the car company Riot's global mobility partner. The deal resulted in EDG, Worlds 2021 Champions, receiving 18-karat, white-gold championship rings.
The car manufacturing brand's sponsorship of T1 will last until the end of 2025.
2. Samsung
(Samsung, Sam Mobile, Naver, Esports Insider, Companies Market Cap)
Samsung's first significant involvement in esports was in 2013 when the company founded Samsung Galaxy Esports. The organization competed in Starcraft (I and II) and League of Legends.
Samsung has sponsored many esports teams and events, including:
Esports events:
Intel Extreme Masters

Major League Gaming

DreamHack

World Cyber Games
Esports teams:
SK Telecom T1

Fnatic

Evil Geniuses

Guild Esports
The electronics company ventured further into mobile esports in 2022. Samsung partnered with ONE Esports to develop a mobile app for the esports organization. The app is exclusive to Samsung devices across SEA.
Part of Samsung's strategy is to bring its devices to the forefront, such as its Galaxy series phones and the Samsung Odyssey monitors, both of which are promoted by the partnership.
Samsung's market cap is worth $326.05 billion as of May 2023.
3. Red Bull
(YouGov, Laola1, Net Influencer, Statista)
Red Bull started its esports venture by signing David Walsh (Halo) in 2006.
The company has ongoing partnerships with OG (DOTA 2), G2 (CS:GO), and T1 (League of Legends). In 2017, the company also created its League of Legends team, "Red Bull."
The beverage brand considers esports fans to be a resounding market. Red Bull also aims to help its esports athletes with nutrition, mental and physical wellness.
Red Bull has also sponsored esports events such as:
Red Bull Battle Grounds (Dota 2 and StarCraft 2)

Red Bull Campus Clutch (Valorant)

2019 LEC Spring and Summer Split (League of Legends)
The energy drink company reportedly pays their athletes an average of $30K-$55K. The amounts vary from one athlete to another.
Red Bull's estimated net worth in 2022 was €16.96 billion.
4. Intel
(Medium, ESL FACEIT Group, Liquipedia, Sports Pro Media, The Journal)
Intel is one of esports' most prominent sponsors. The company's partnership with ESL has resulted in over 20 years of collaboration. As of 2022, the partnership has resulted in 15 seasons with 82 IEM events.
The tech company's sponsorship of ESL events created the Intel Extreme Masters, esports' longest-running global gaming tour. Intel also sponsors DreamHack.
In April 2021, Intel and ESL renewed their partnership. The deal saw both companies invest over $100m in esports from 2022 to 2025, including producing IEM Katowice 2025.
Intel has also supported esports for high school students. In 2021, the company sponsored GenE. Intel provided prizes, loot crates, and event promotions. The event culminated in the Intel Winners Circle Tournament with a $50,000 prize pool.
The tech brand's partnership with ESL sees to bring the fans and esports players more innovations and improvements for their products.
5. Coca Cola
(Digiday, Liquipedia, EGW, Macrotrends, Youtube)
In 2022, Coca-Cola signed with Riot Games to sponsor Wild Rift, Riot's flagship mobile esports title. The multi-year agreement sees Coca-Cola promote the mobile game on a global scale.
Coca-Cola's sponsorship aims to engage Wild Rift fans by creating content and fan experiences for the players. As of 2023, neither company has disclosed the sponsorship amount.
The company has sponsored many LoL events, including the LoL World Championships from 2013-2016. Coca-Cola sponsored viewing parties worldwide for LoL Worlds 2016.
The beverage brand sponsored the Esports Awards 2022 as its official beverage partner.
As of May 02, 2023, Coca-Cola's net worth is $276.82 billion.
6. Microsoft
(Tournafest, Sports Pro Media, Fragster, Sports Tiger, Macrotrends)
Microsoft had ventured into esports to solidify its push towards gaming and the metaverse.
The tech company started its push in the early 2000s when it partnered with Bungie to create Halo: Combat Evolved in 1999.
In 2019, Microsoft partnered with Cloud9 to become its official tech and performance analytics partner. The sponsorship included Cloud9's LoL Championship Series and CS:GO squad.
Microsoft bought Activision Blizzard for $68.7 billion in 2022. The deal would see several esports games titles under the tech company's control.
Below are some of the biggest games that would be under Microsoft's control:
World of Warcraft

Diablo

Call of Duty

Overwatch

Starcraft.
In May 2023, Skyesports signed Microsoft and AMD as "Powered By" sponsors for their Valorant Tournament. The Skyesports Masters has an estimated $245,000 prize pool.
As of May 1, 2023, Microsoft's net worth is $305.56 billion.
7. Mobil 1
(Traxion GG, Esports Insider)
Mobil 1 partnered with Gen.G in September 2022 for the Gen.G Mobil 1 Racing program. The partnership created 2 Rocket League teams (one men's and one women's).
Gen.G Mobil 1 Racing will compete in the men's 2022-2023 series. Meanwhile, Gen.G Mobil 1 Racing Black will compete in the Women's Carball Championship (Season 5).
The motor oil company has sponsored the North American RLCS since 2018.
Mobil 1's sponsorship seeks to elevate its relationship with the Rocket League and promote gender equity.
8. Mountain Dew
(Sports Khabri, PRS News Wire, Adweek, Statista)
In 2022, Envy Gaming signed Mountain Dew as the tournament's "presenting sponsor" for their CoD League OpTic Major I. The company also sponsored a reserved tournament fan section ("MTN Dew Spark Zone").
Mountain Dew also invested in HBCU esports in 2022. The initiative was part of the brand's commitment to supporting black gamers at HBCUs nationwide.
The "MTN DEW Real Change Challenge" supported HBCU gamers by sponsoring the countrywide HBCU esports tournament for Call of Duty.
Details for the event are as follows:
The overall prize pool was $500,000

Grand prize winners took home $80,000

Winners also received a gaming contract with MTN DEW for up to one year
Mountain Dew also ventured into the gaming metaverse in 2022. The company hosted a watch party for the CoD League Major IV tournament.
In 2022, PepsiCo's global net worth amounted to about $86.39 billion.
9. Ally Financial
(PR News, Macrotrends, Ally Media)
In March 2023, Ally Financial announced the Ally Women's Open, a women's Rocket League tournament.
The Ally Women's Open is part of a partnership between the two parties. The tournament has a $40,000 prize pool spread equally across Europe and North America.
This sponsorship is significant for women's esports. It pushes for Ally's commitment to 50/50 media spending across women's and men's sports.
The bank holding company became NA RLCS' official sponsor in February 2023. The sponsorship includes promotions within RLCS broadcasts for the Winter and Spring events.
Ally Financial's assets are worth $7.49 billion as of May 2023.
10. GG.BET
(PGL Esports, Vitality)
GG.BET has supported the esports industry in gaining relevance since 2020. The company continues to sponsor esports events to strengthen its relationship with the gaming community.
The sports betting company became DOTA 2's first official betting sponsor for TI 2022 for its Preliminary and Group stages. The sponsorship included team-ups with esports brand ambassadors and influencers to create exclusive content for TI 2022.
GG.BET also signed CS:GO's Team Vitality as its betting partner in 2022.
The online betting platform has sponsored major esports events such as:
ESL One

ESL Pro League Season 11

ESL Pro League Season 12

CS:GO IEM Tournaments (2020)

PGL Stockholm 2021

PGL Antwerp 2022

PGL Arlington 2022
GG.BET has collaborated with famous tournament personalities and organizers by providing streams and creating unique content.
The Wrap-Up
Sponsorships and promotions helped the esports industry reach legitimacy worldwide.
Support from big companies, brands, and organizations added significant revenue for esports. The association with these companies also cemented esports as a profitable avenue for players and viewers.
The sponsors' trust and good faith made the esports industry's growth possible.
Here's to hoping more and more companies support the esports world.
FAQ
How do sponsorships work in esports?

Sponsors may require teams and individuals to sport their branding during matches and live streams. Teams and players also promote brands on their social platforms.
Who is esports' biggest organization?

TSM Esports is the wealthiest team in esports, worth $540 million. TSM's LoL and Valorant teams are considered top-tier in their games.
Who is the most influential gamer?

PewDiePie is YouTube's most-followed gamer. He has 111 million subscribers and a total view count of 29 billion on Youtube as of 2023.
Who is the largest esports company?

Tencent. They have a market cap of about $500 billion. Tencent is the parent company of Riot Games, which publishes and develops League of Legends.
Who was esports' youngest millionaire?

Jaden "Wolfiez" Ashman was at 15 (15 years, 229 days) when he won around $1.18 million from a Fortnite tournament in 2019.