Bingo Odds: What Are The Odds of Winning?
Odds are, only a few people are unfamiliar with bingo. Everyone of all ages enjoys this game. Unsurprisingly, many countries, such as the UK, are addicted to the game.
Only a little brain power is needed when you play, which makes it easy to play.
There are 2 versions of Bingo: the 75-ball and the 90-ball. In general, bingo games are completed within 75 calls. Examining the chances you have with these versions is an interesting case. It's also worth learning how casinos have an advantage in profits over their players.
🏆 Top Bingo Gambling Sites
Based on all big and small factors, here are the best online Bingo sites:
Red Dog Casino (💸 Up to $8,000 Welcome Bonus).
Ducky Luck (💰 500% Welcome Bonus

up to $2,500

).
Casino Days (🎉 100% Match Up Bonus).

Highlights of the Article
A bingo caller calls winning numbers randomly, one at a time.
The chances of winning are better the more cards you have.
The odds of winning depend on the bingo version you play.
You can make numerous patterns, but the simplest is a single line (diagonal, top to bottom, or across).
A full house or blackout happens when all numbers on a card are called.
It takes 50 to 60 calls to achieve a blackout on a 75-ball bingo.
The odds of drawing a number in a 90-ball bingo increase one step for every number called.
Britain has a standard of three winning patterns, while the US has several.
A casino typically has a 2.5% house edge over its players.
To improve your odds of winning, pick a game with an average number of players and average jackpots.
Probabilities in Bingo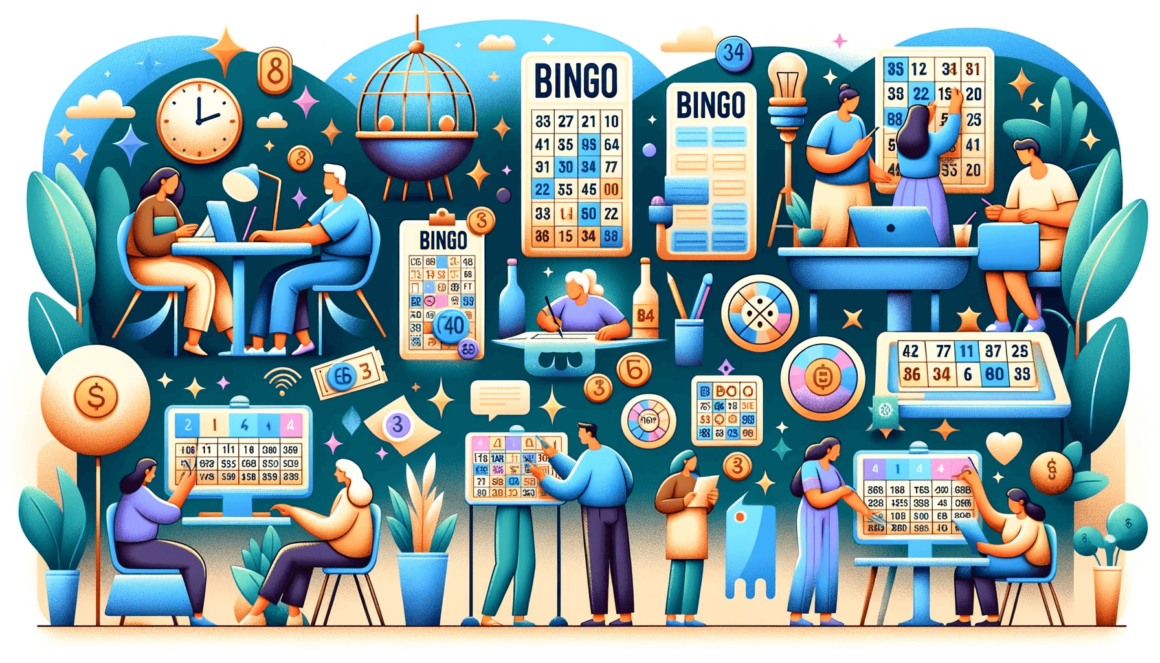 Basic Rules of 75-Ball Bingo
We use the numbers 1 to 75 in a classic 75-ball bingo game. When you play on-site, such as in a live hall, a bingo caller will call numbers randomly, one at a time. When played online, the computer software will randomly select the numbers, one at a time.
Buy Bingo cards before the game starts. When a bingo caller calls a number using the B, I, N, G, or O before it, locate that number on your card. Use your dapper to mark it. You can play Bingo 75 even with just a single 5×5 card.
Your Odds of Winning In Bingo
An obvious fact in playing bingo is the more cards you play, the better chances you will win. The game bases your odds of winning on two factors:
How many cards are in play

Number of balls draw
The more cards are in play, the lower your odds of winning. You calculate them by taking the number of cards you're playing by the total number of cards in play. If 100 cards are playing and you have 1 card, your odds of winning are 1 in 100.
But your odds increase if you buy more than one card. So again, if there are 100 cards in play, and you purchased ten cards, your chances of winning are 10 in 100.
The probabilities also change depending on the version of Bingo you play.
Common Bingo Patterns
To win, you must complete a pre-determined pattern by marking all the called numbers on your card. There are an unlimited amount of winning patterns in 75-ball, but some common patterns are:
Single line: a single line down, across, or diagonal

Double line: two complete lines down, across, or diagonal

X: complete two diagonal lines that make an "X"

Blackout: Cover all spots on your card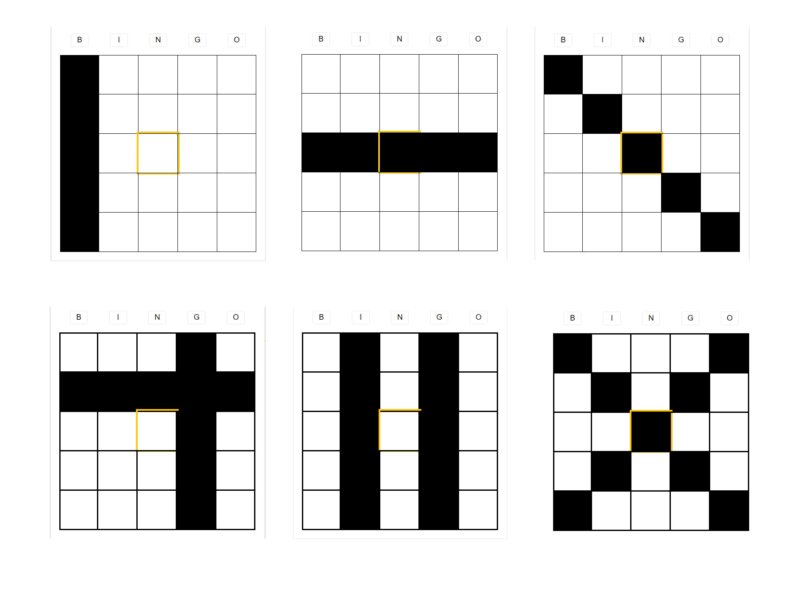 Full House Odds
A full house is when all numbers covering your card are called. The chances that you get a full house are meager, though. According to calculations, getting a full house combination is impossible after 15 calls.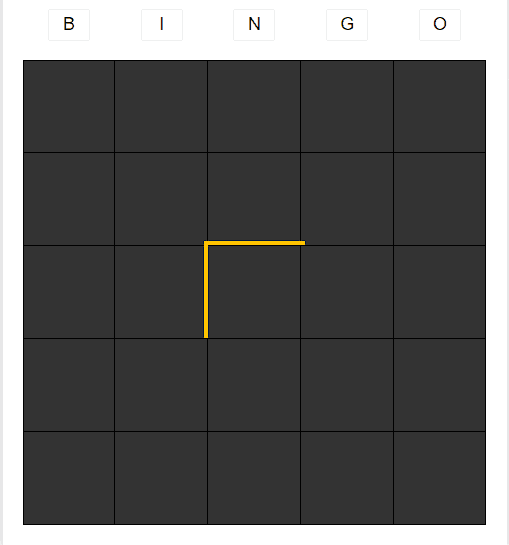 Line Odds
On average, it will take 41.37 balls to get a single-line bingo.
Two-Line Odds
On average, it will take almost 50 balls for someone to win a double-line bingo.
Four Corner Odds
The odds that a single card can win with all four corners covered is on the 74th or 75th number called.
75-Ball Bingo Odds
Blackouts, aka full house, is a sweet jackpot. There is so much satisfaction in getting all numbers called on your card.
There is a 0% chance someone can win with a blackout on the 15th number because even at the 50th number, there is a 0.00000471508113370243 chance of someone winning a blackout.
When the caller draws the 60th ball, there is a 0.00140 chance that a blackout card will win, which means there may still be no chance someone will win.
But take your time. Achieving a blackout usually takes 50 to 60 calls out of 75.
90-Ball Bingo Odds
In a classic 90-ball Bingo game, the odds of any number coming out is 1 in 90. It changes to 1 in 89 with the second ball called, 1 in 88 with the third ball called, and so on.
Winning a full house in a 90-ball game means 15 numbers in a 3 x 9 card is called. The tickets in 90-ball Bingo are sold in strips of six, so the numbers 1 to 90 appear once on these tickets. You can mark the numbers on the six-strip tickets whenever a caller draws a number.
When you complete a full house, the organizer/casino awards you a share of a fixed or progressive jackpot. The bingo operator further divides equally the share between all winners who get a full house.
Bingo Winning Patterns
Each game has various winning patterns. In Britain, they have just three winning patterns:
Single horizontal and vertical lines

Double horizontal and vertical lines

Full house
On the other hand, American Bingo has numerous winning patterns. Typically, a more straightforward pattern has a higher chance of winning sooner.
Complex patterns have lower odds, but the longer a game goes, the more anticipation rises for someone to win with an intricate pattern. The more exciting the game becomes!
For example, the probabilities of winning a simple line on the 18th call are the same as winning a ladder pattern on the 43rd call.
House Edge and Theoretical Advantage in Bingo
The house edge is the insurance that a casino will not go out of business when a player is on a lucky streak. It is the casino's mathematical advantage over its players. Every game, including Bingo, has a built-in profit for the house.
A house or casino offers odds that are not "true odds." It might be unclear, so let's break it down.
Say you placed a $1 bet, and the casino paid you a $1 win; that would be true odds. However, it's more likely a casino will pay out, say, 95 cents for every $1 bet, which gives the casino an inherent advantage of 2.5% over its players.
This payout isn't cheating, but it's commonly known in the gambling world. It would be helpful if every player knew about this, as well as the variation in payouts of casinos.
Tips To Improve Your Odds of Winning at Bingo
There are several key pointers to look for in improving your odds, as stated below:
Observing the number of players in the game

Playing during off-peak hours

Checking how the jackpot is determined

Playing more games
Let's elaborate on these tips.
Observe The Number of Players
If more players are in a room, the more cards are in play, and the lesser your odds of winning. However, the jackpot when you win is high. You would have to purchase more cards to increase your chances of winning.
Logically, when there are fewer players, this increases your chances of winning because there are lesser cards at play. However, the jackpot is low.
Play During Off-Peak Hours
Playing during off-peak hours means there are fewer bingo cards in play. These games usually happen on weekdays.
Check How the Organizers Determine The Jackpot
If the jackpot is a percentage of all the cards in play, you can play one game with all cards your budget can allow you or spread your cards out over several rounds. However, if the jackpot is a fixed prize, playing one game at a time is best so you won't compete against yourself.
Playing More Games
Yes, playing more games means you're spending more money. But it's one way to deal with the issue of more players and lesser odds. Choose games with an average number of players and average jackpots. By doing this, you can spread your bets and increase your odds of winning.
Final Words
Though people may view bingo as merely a game of chance, you can strategize how to win. You can calculate your odds, and prepare well so that you can win. But don't be too serious when you don't. After all, bingo is about having fun!
FAQ
What is the minimum number of calls to win at Bingo?

The minimum number of calls to win on a single bingo depends on the number of players. It takes 15 calls for a game with 100 players and 18 calls for 50 players.
How many turns should it take, on average, to hit BINGO?

On average, it takes over 41 turns for someone to hit BINGO per card.
What are the odds of Blackout Bingo?

On average, it will take around 73 balls to get a blackout or coverall per card.