Sports events have gradually gained momentum post-COVID-19, and golf is no exception. As of 2022, the golf industry's revenue has ballooned to $84 billion, a 22% increase since 2011.
Thanks to the steady increase in golf equipment sales and the number of players on and off the golf course, this multibillion-dollar sports industry is predicted to grow by 2.5% to 3.1% by 2027.
How much of the golf industry has changed fast forward to today regarding the player base and more are some interesting statistics worth noting in the following sections of this article.
Editor's Choice:
2023 saw an

8% increase in rounds

played due to good spring, summer, and fall weather conditions.

Registered golfers

in England have increased to

900,000 in 2021

from 800,000 in 2020.

More

Americans

have played

off-course

golf in

2023

at

27 million

.

By

2024

, experts predict the

golf apparel

market to

grow

by

4%

.

25% or

6 million American women

engaged in

golf activities

in

2023

.

81% of Gen Z players

say that the

social aspect

of golf makes them want to play more.

The

golf equipment market worldwide

shall

reach

$8.74 billion

by the end of

2023

.

Only

33% of mini golf are publicly owned or accessible,

deeming mini-golf a declining industry.
A Quick Rundown of Golf Industry Statistics
The sports world had been temporarily halted in 2020, but that might not be the case for this stroke of a play sport.
In the US alone, golf courses are generally accessible at 75%. This development contributed to the massive growth in market size at $27.2 billion in 2022, just over $2 billion since 2020.
The facts and statistics below discuss how steady and massive the golf industry is, regardless of what era this sport is in.
Golf Industry Market Size Statistics
The golf industry has grown significantly since 2018. From the number of rounds played to the equipment sales, this sport could only grow massively if marketing and promotions were done right.
In a recent report by Technavio, the industry market size for golf is expected to increase by $715.32 million come 2027. 
The statistics below show how booming this sports industry is.
1. Rounds played have increased by 8% as of April 2023.
(NGFQ)
This increase in golf rounds was due to favorable spring, summer, and fall weather, especially in the Northeast and Midwest US. From 5% of April 2022, 2023's figures saw an increase of 3%. 
If the good weather continues in April, a predicted 40% increase in monthly gains is expected, particularly in the East North Central.
2. The US golf course and club market is $27 billion as of 2023.
(Statista)
The market size for the golf industry has seen a slight increase from the previous years. Despite the average 0.9% decline annually since 2018, by 2024, the market size is predicted to increase.
The increase in rounds played by golfers and emerging golf equipment stores in Europe and the US played a key role in this steady growth of the golf industry.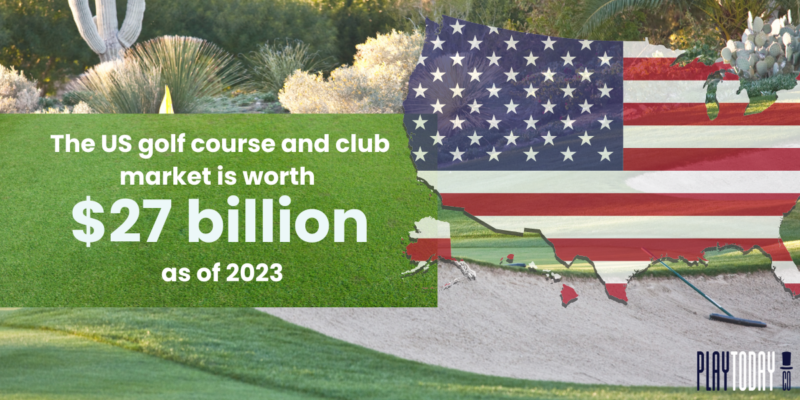 3. North America is the largest region on golf equipment as of 2022.
(The Business Research Company)
Top-grossing equipment golf stores, TaylorMade Golf and Callaway Golf Company, have made North America a major contributor to the golf equipment growth in 2022.
On the other hand, experts forecast Asia to be the fastest-growing equipment market by 2022–2024.
A South Korean private equity firm, Centroid Investment Partners, acquired TaylorMade Golf for $1.7 billion and is expected to have more regional stores.
4. Among golf course management companies worldwide in 2021, three out of the top five spots were occupied by American companies.
(Statista)
Troon Golf has the most number of golf courses, at 630. ClubCorp (now Invited) came second with 208.5 golf courses. KemperSports ranked fifth with 113.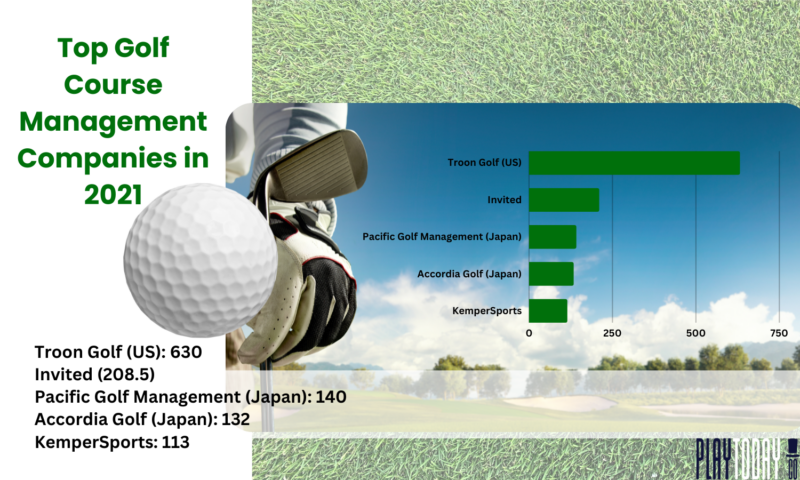 In 2020, Troon and ClubCorp's places were the same, while Billy Casper Golf (now Indigo Golf Partners), which Troon Golf now acquires, ranked third. 
Statistics Behind the Golf Industry Demographic
Studies have highlighted development in the demographic for golf over the years. What used to be a sports activity dominated by adult men has become inclusive to other genders and ages.
Players who engage in off-course golf are at an all-time high. More golfers are trying their hand at the sport, wanting to be the next Tiger Woods, one of the world's greatest athletes.
The interesting data below reveals the factors driving the golf industry's demographic statistics.
5. Over 40 million Americans played on-and off-course golf in 2022.
(NGFQ)
Over 25 million Americans played on-course golf.
On the other hand, nearly 16 million people participated in off-course golf activities such as driving ranges, indoor golf simulators, and golf entertainment venues like Topgolf and Drive Shack.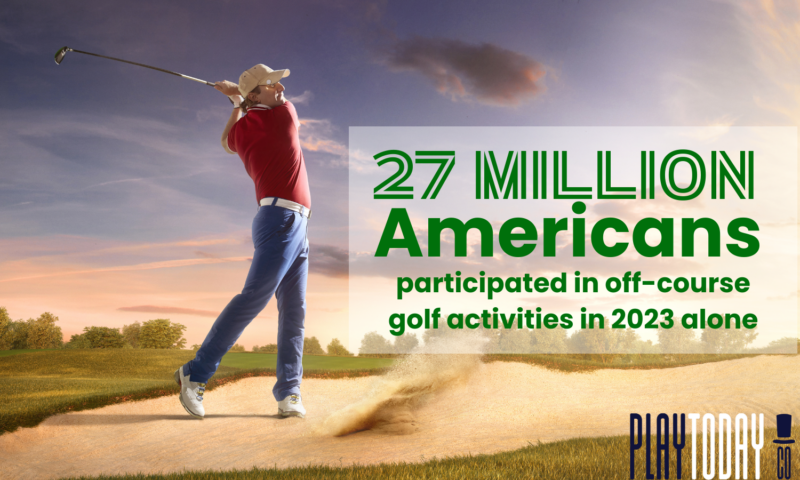 These record-setting statistics show only a 2% increase from 2020-2021 for on-course golfers and an impressive 13% increase for off-course golfers.
One key factor for this increase is the accommodating and friendly atmosphere that golf cultivates within the proximity.
6. England tops the country with the most registered golfers at over 900,000 as of 2021.
(World Population Review)
It's no surprise that England came out on top with the most registered golfers, as the United Kingdom is arguably where golf originated. 
| | |
| --- | --- |
| Country | No. of Registered Golfers (2021) |
| England | 933,076 |
| Germany | 651,417 |
| France | 402,991 |
| Spain | 270,040 |
| Ireland | 202,750 |
| Italy | 87,380 |
| Poland | 6,562 |
| Turkey | 4,536 |
| Russia | 2,641 |
| Ukraine | 1,837 |
The United Kingdom is the home to the most iconic golf courses, like Royal St. George's Golf Club in Sandwich, Kent. 
Further, the British government encourages people to seek an active, healthy lifestyle, as the country believes that playing golf has many physical and mental health benefits.
7. Over 16 million viewers tuned in to golf in 2023.
(NBC Sports, Diario AS)
Despite its calming environment due to the absence of screaming fans, golf TV coverage can rack up millions of viewers.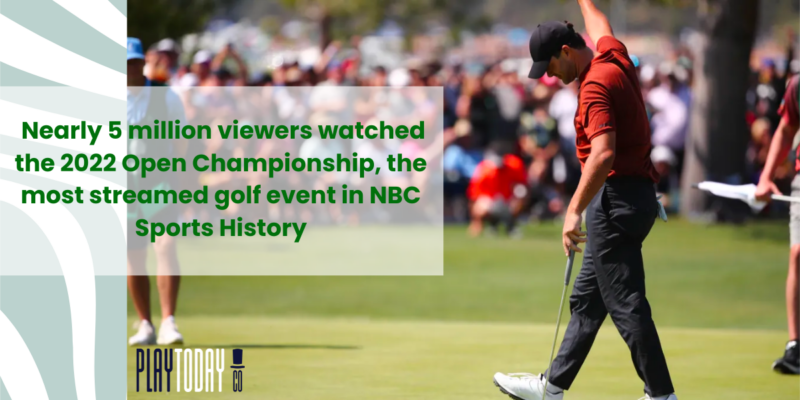 For instance, the 2022 Open Championship is the most streamed golf event in NBC Sports history, averaging nearly 5 million viewers.
On the other hand, the 2023 Masters gathered an average of 16 million combined viewers across all partner streaming platforms, making it one of the most-watched golf events in the last five years.
8. In 2022, over 6 million women participated in on-course golf courses in the US.
(NGF, American Golf)
Women, both adults and juniors, make up 25% of the total population who play on-course golf. This growth has been steady since 2007 when the world was under a financial crisis.
The cost of entry to golf courses, golf clothing lines, and equipment stores catering to male customers are contributing factors preventing women from pursuing golf.
Now that some golf clubs are lowering or waiving joining fees and memberships for women, golf clubs foresee more women taking up golf in the coming years. 
General Golf Industry Trends in 2023
The COVID-19 pandemic greatly impacted the sports industry and events in every sport.
In the golf industry, changes needed to be applied, like accommodating nighttime play and implementing the one-rider-per-cart rule. 
As the world has returned to its normal operations, trends in the golf industry have also changed. These new trends allowed more growth and new opportunities in the industry.
Below are interesting facts and stats about how interesting the golf industry will be in 2023. 
9. Men aged 19 to 39 are expected to have a higher demand for golf services in 2023. 
(Linchpin SEO)
More than one in five golfing facilities anticipated more men over 40 would be interested in golf in 2023. 43% of the golf course managers who responded to the survey revealed this forecast. 
To accommodate the expected increase in demand from the mentioned age groups, golf facilities are looking into the following:
Adding more training and education classes,

9-hole courses, and

Practice areas to help new players.
10. 2023 sees golfers wanting more tech-forward enhancements in every part of the game.
(KemperSports, Linchpin SEO)
Golfers in 2023 are looking for more tech equipment to improve their game and overall experience on the greens. 
75% were interested in a golf cart GPS, while 50% were interested in driving range ball tracking and simulator tech.
Thus, more sophisticated rangefinders, launch monitors, driverless push carts that carry bags and clubs, and more advanced golf equipment will be common on the greens in 2023. 
"Everybody wants to hit the ball farther, right?… Technology has really helped make it easier for the golfer to play."
Tom Watson, former PGA Tour golfer, on advancements in golf technology
Source: CBS Sports
11. 81% of Gen Z (age 16-25) players say that the social aspect of golf makes them want to play more.
(KemperSports)
Surprisingly, Gen Zs have become more engaged with golf in 2023. The 2023 KemperSports survey revealed that the "fun part" makes them stay in the game and play more. 
Aside from the game's social aspect, 70% of Gen Z golfers play more golf to destress, while 54% said to disconnect.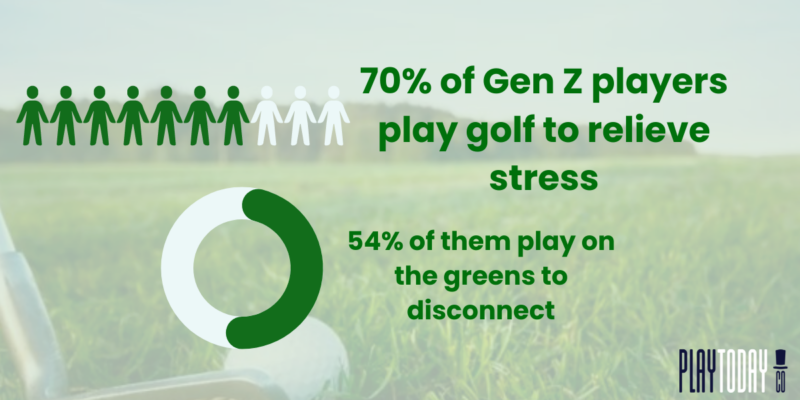 Not only are Gen Zs playing more golf, but they are also learning more. 55% of Gen Zs improve their game performance after having lower scores. 
12. By the end of 2023, the global golf equipment market is expected to reach $8.74 billion.
(The Business Research Company)
Global golf equipment sales are expected to increase by 4.4% in 2023 from $8.37 billion in 2022. 
Experts predict the golf equipment market worldwide will reach $9.91 billion by 2027, with a 3.2% compound annual growth rate (CAGR).
🏌️

The Russia-Ukraine dispute plays a major role in the forecasted sales increase in the global golf equipment market.

The war led to a rise in commodity prices, which caused inflation in goods and services in various markets, including the sports industry. 
13. Shorter rounds and courses are becoming more common in 2023.
(KemperSports, ChasingPar)
Non-traditional golf formats like shorter rounds and courses are becoming more popular, especially among new players who have started playing since the pandemic.
While 85% of the new players still want to play the traditional 18 holes for at least half their rounds or more, they also favor shorter golf formats for the other half.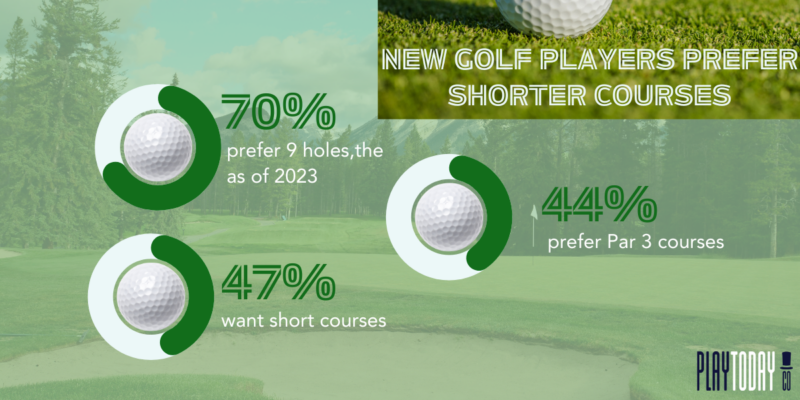 Other Helpful Golf Industry Statistics
Numbers paint a patchy picture of the golf industry's miscellaneous segments. Although the golf course stats show promise, mini-golf is not faring well.
The North American market is booming with electric carts. However, the golf apparel industry is seeing Asian-Pacific companies become significant players in the market.
Here are some helpful statistics that will determine the popularity of the golf sport from here on.
14. The golf cart industry worldwide reached a $2 billion valuation in 2022.
(IMARC Group)
The golf cart industry has seen an overall upward trend since 2020. This increase is after the sudden drop in 2020 during the height of the pandemic.
Studies show that the market will continue to grow at 6.1% CAGR from 2023 to 2028. By 2028, the golf cart industry will have an estimated worth of $2.8 billion.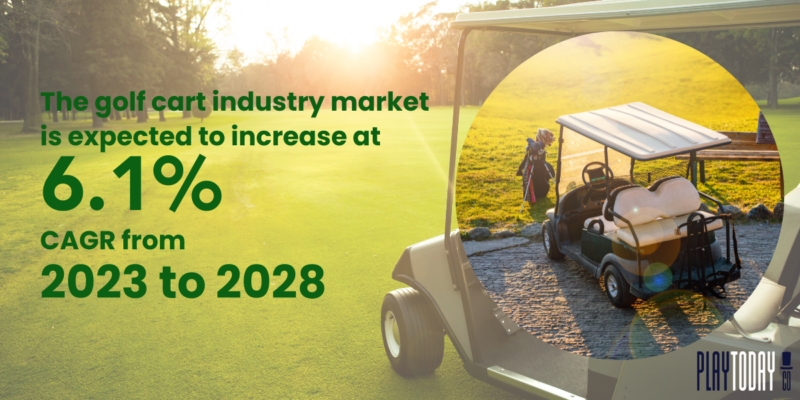 15. Recent mini-golf industry statistics reveal declining interest by -3.1%.
(IBIS World)
The interest in mini-golf over the last five years has stopped growing. 
In a recent 2017–2022 report, the average industry growth rate has been -3.1%. 
With 67% of the mini golf privately owned, this drop in interest is attributed to competition from in-home and digital entertainment options.
16. The golf apparel market is set to grow by 4% from 2020 to 2024.
(Business Wire)
The global market for golf apparel, footwear, and accessories is expected to experience a CAGR of 4% during 2020–2024, according to a market analysis by Technavio. 
The golf apparel industry statistics featured in the report predict an incremental growth of $2.82 billion.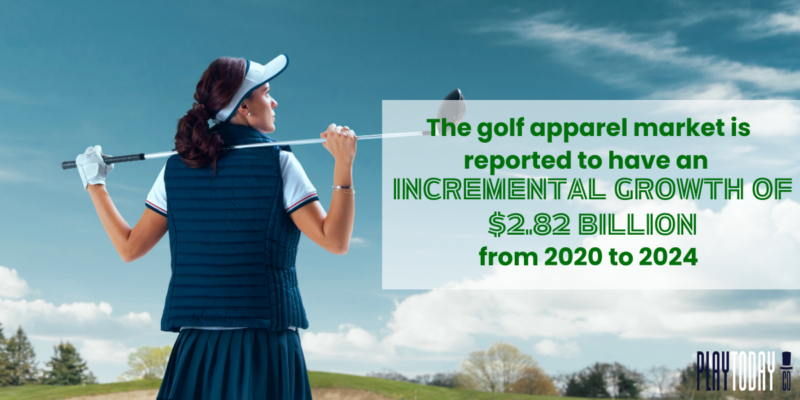 The North American market segment will make up 37% of this growth, with the Asia Pacific a growing power in the market. 
Some of the most prominent players are Japanese companies, such as MIZUNO Corp., ASICS Corp., and Sumitomo Rubber Industries Ltd.
The Ace
With tourism initiatives in place, especially in the US, the golf industry can grow into a more diverse and profitable sport.
A lot of enthusiasts are considering playing golf nowadays. For this sport to reach them, club owners should push for more marketing promotions, particularly on social media.
Who knows, this industry might surpass the unknowns and become as big as the other sports.
FAQs
How much does the average golfer spend per year?
Annually, a golfer can spend $832–$3,454 for junior players and $1,849–$3,349 for adult golfers. For the average golf enthusiast, it comes up to $4,260–$5,555. 
Is the number of golfers increasing?
Yes. According to the National Golf Foundation, there was a net increase of 800,000 participants in green grass golf since 2020.
How much is the golf industry worth?
By 2027, the golf industry will be worth over $700 million.
List of Sources: