The eSports scene is legit. Since the first eSports event in 1972, playing and watching online games has attracted more people yearly, with around 532.1 million fans worldwide as of 2023. 
Let's explore how big the eSports industry has grown with this blog post discussing the sport's revenue, its popularity, eSports betting, and much more.
Editor's Choice
The

eSports industry

has experienced substantial

growth

, with its market revenue predicted to reach over

$1.6 billion by 2024

.

The

highest revenue source

for the eSports industry is

sponsorships

.

The

US and China

are

leading

in the eSports

market

revenue, collectively accounting for

more than half

of the global revenue.

eSports viewership

is growing worldwide, with estimates suggesting there will be

over 577 million

viewers by

2024

.

Beloved games such as

DOTA 2 and CS: GO

have attracted a significant amount of

players and prize money

.

eSports betting

is also gaining

popularity

, with CS: GO accounting for

over half

of all

global

bets.

The

future trends

for eSports include the

rising popularity of mobile

eSports, the

diversification

of eSports teams, and a shift towards

content creator

strategies.

eSports

growth

has been significantly

high

, with a forecasted

69% increase

in market revenue from

2019 to 2024

.
eSports Market Statistics: The State of the Market
The market revenue of eSports has grown in the last few years. While there was a drop in 2020 due to the pandemic, eSports market revenue has increased substantially in 2021. 
The future forecast looks promising, expecting the industry to reach over $1.6 billion. Video games keep rising in popularity, with games like Minecraft selling nearly 240 million copies.
| | |
| --- | --- |
| Year | Revenue (in Millions) |
| 2019 | $957.5 |
| 2020 | $947.1 |
| 2021 | $1,084.1 |
| 2024 (forecast) | $1,617.7 |
Looking at the market segments, Sponsorships bring the highest revenue to the eSports industry, amounting to more than the other segments combined, at $641 Million.
Below is the global market revenue for the eSports segment:
| | |
| --- | --- |
| Segment | Revenue (in Millions) |
| Sponsorships | $641 |
| Media Rights | $192.6 |
| Publisher Fees | $126.6 |
| Merchandise & tickets | $66.6 |
| Digital | $32.3 |
| Streaming | $25.1 |
There's more to explore about the eSports industry, such as its global impact in popularity, athlete earnings, and game statistics.
Read more below!
eSports Facts About Revenue by Region and Country
Players from almost 150 countries have taken part in eSports and earned money. While some countries and regions barely make anything, others bring millions of dollars.
1. US and China combine for more than 50% of the global revenue share for eSports in 2023.
(Newzoo)
The United States and China lead the regions regarding income, at over $600 million combined. The two countries account for over half of the global revenue. Read further below for a detailed breakdown.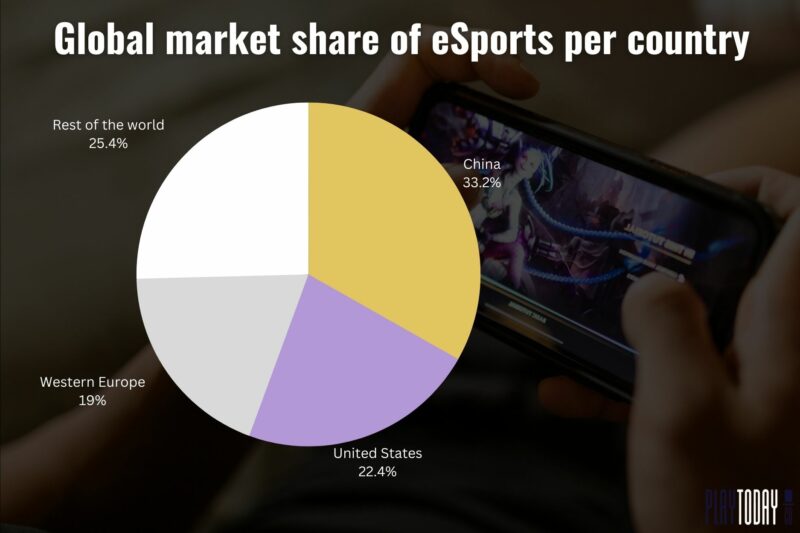 Region
Market Revenue

(in millions)

Percentage of world revenue

China

$360.1

33.2%

United States

$243

22.4%

Western Europe

$205.8

19%

Rest of the world

$275.2

25.4%
2. In 2022, China and the US accounted for around $90 billion of the global gaming revenue.
(Newzoo)
The US and China lead the global market. Both countries were closely fighting for the top spot in 2022. The top three countries, Japan included, are way ahead of the rest of the world.
United States:

$46.4 Billion

China:

$44.0 Billion

Japan:

$19.1 Billion

South Korea:

$7.4 Billion

Germany:

$6.5 Billion

United Kingdom:

$5.5 Billion
3. As of July 2023, China holds the top spot for the highest-earning country in the eSports competitive scene, at around $250 million.
(Esports Earnings)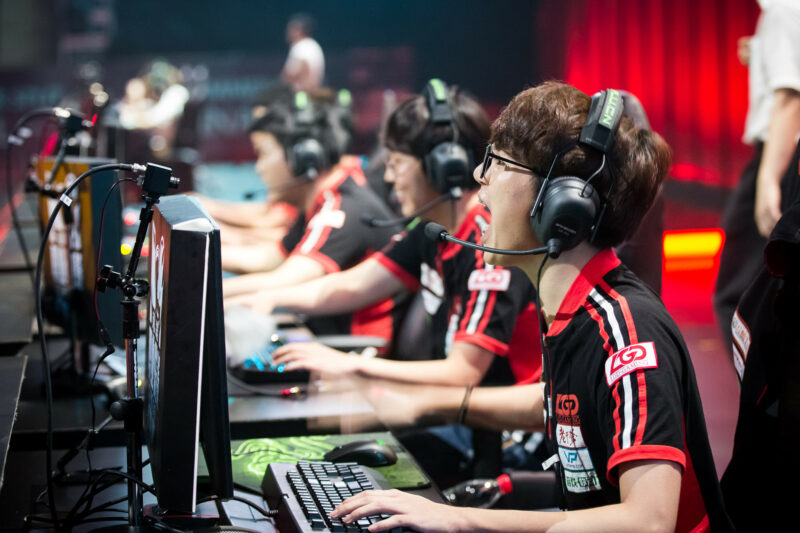 Among the list of countries venturing into the eSports competitive scene, China ranks highest by a margin in its players' earnings, at an estimated $250 million.
On the other hand, the US has the largest number of eSports representatives, more than triple that of China, with almost 25,000 players.
The table below shows the earnings and representatives for the top 10 countries in the eSports market.
| | | |
| --- | --- | --- |
| Country | Earnings | Number of players |
| China | $250,108,019.47 | 7,624 |
| USA | $238,798,242.22 | 24,597 |
| Korea | $130,424,446.96 | 5,293 |
| Russian Federation | $67,204,783.59 | 4,857 |
| Denmark | $54,308,282.65 | 1,943 |
| Brazil | $49,906,940.28 | 4,546 |
| Sweden | $48,930,668.12 | 3,050 |
| France | $47,132,558.02 | 5,521 |
| Germany | $43,485,063.32 | 5,895 |
| Canada | $41,519,404.98 | 3,772 |
The astounding amount of revenue and competitive players is a testament to how invested the world is in the professional video gaming scene.
The eSports game Dota 2 Is responsible for 8 of the Top 10 largest prizes in eSports tournament history.
Learn about the biggest eSports tournament prize pools and more in our article on How Much eSports Gamers Make.
eSports Popularity Statistics: Profiling Its Fan Base
The industry's prominence is undeniable. More fans are tuning in to their favorite games, teams, and players. Between the casuals and diehards, eSports has attracted around 532 million.
4. 2022 recorded nearly half of the eSports global population as women.
(Newzoo)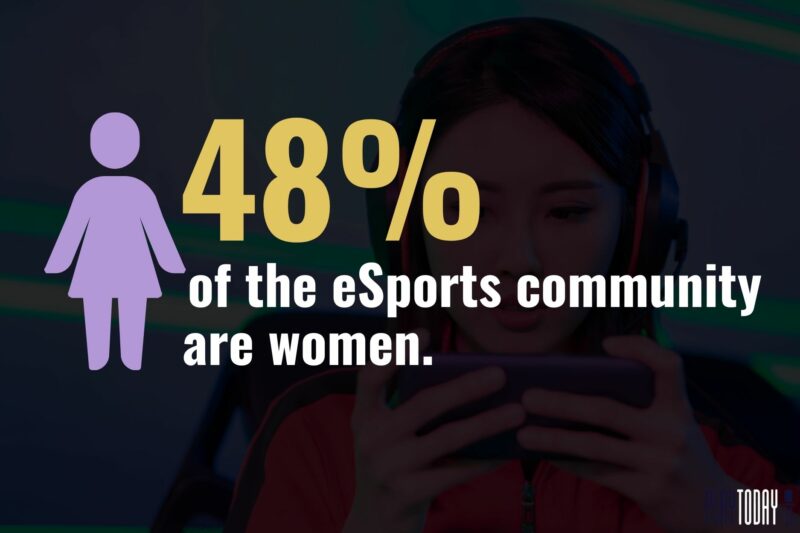 The industry has millions of followers. Some regions, like Europe, enjoy steady growth, while some countries, such as South Korea, see over 30% of the fans being women.
eSports' gender stats reveal that female fans comprised about 48% of global viewers. In some countries, women had a much larger share.
Below is the percentage of female esports fans in some notable countries.
South Korea: 32%

China: 30%

United Kingdom: 25%

United States: 17%
The stat highlights how eSports transcends stereotypes and can potentially engage any demographic.
5. Viewership for casual and hardcore eSports fans is estimated to rise by 61.1% from 2019 to 2025.
(Statista)
The number of regular and occasional viewers has increased over the last few years. In 2019, there was an estimated total of 397.8 million viewers.
Stats predict over 640 million by 2025. See the chart below for a detailed breakdown of the regular, enthusiastic, occasional, and total viewers by year.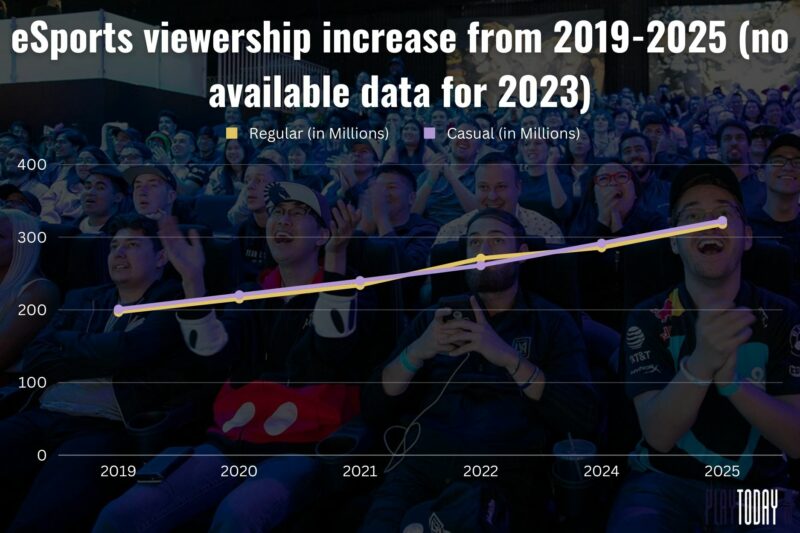 6. Around 29% of the female gaming population identified as POC in 2022.
(ESA, Bryter)
Early data from 2020 reported that around 13% of female gamers belonged to the LGBTQ+ and 20% belonged to the Black, Asian, and Minority Ethnic group (BAME).
Meanwhile, of the 48% of women in the eSports community in 2022, 33% were aged 25-34. ESA added that 29% were from the POC.
The statistics, showing a 9% increase in non-white gamers in 2 years, highlight the growing diversity and inclusivity of the eSports community.
Statistics On The Most Popular eSports Games for 2023
Data show that there are about 3.1 billion gamers in the world.
Everyone has their favorite game, but not all games are equally popular. A select few, like LoL, come with very high financial gains and are usually the ones that are streamed the most.
Below are statistics about some of the most beloved eSports games in the industry.
Presented below are statistics about some of the most beloved eSports games in the industry.
7. CS: GO takes the lead as the eSports game with the largest player base worldwide in 2023, with nearly 16,000 players.
(Esports Earnings)
Being one of the oldest household names in gaming, CS: GO ranks first with the most players, but what about prize money?
DOTA 2 takes the cake for the prize pool department with a $320 million total amount in prizes awarded.
Look at more stats to see how popular and profitable the top eSports games are in the competitive scene.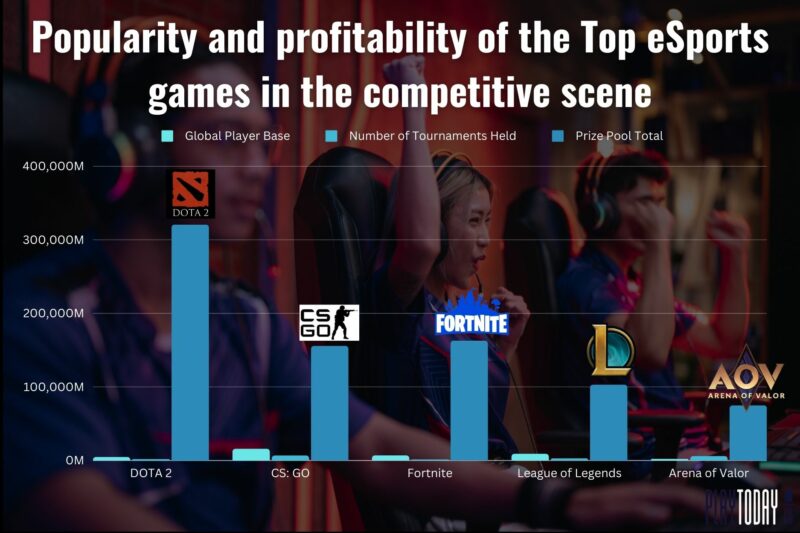 | | | | |
| --- | --- | --- | --- |
| Game | Global Player Base | Number of Tournaments Held | Prize Pool Total |
| DOTA 2 | 4,715 | 1,811 | $319,694,596.42 |
| CS: GO | 15,928 | 6,720 | $155,145,811.73 |
| Fortnite | 6,878 | 1,367 | $162,159,902.43 |
| League of Legends | 9,047 | 2,848 | $102,371,223.47 |
| Arena of Valor | 2,087 | 6,067 | $74,201,849.93 |
8. LoL is the most streamed eSports game in the competitive scene, with almost 20 million hours as of Q2 2023.
(Newzoo)
Some of the most popular games are also the most watched and streamed. While DOTA 2 has the highest prize money, it does not hold the top spot for most streamed.
The 2023 release of Diablo IV is the most streamed game on Twitch, with around 156.6 million hours. LoL comes second with about 95 million hours.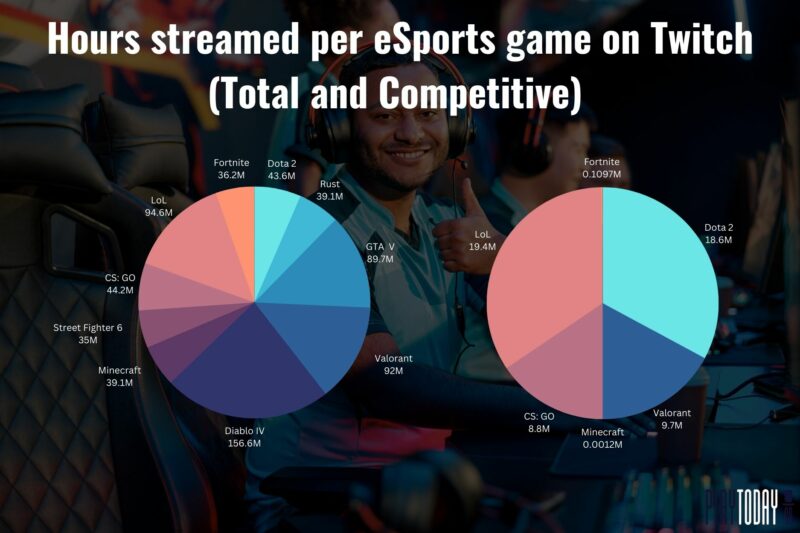 The stats indicate which game is the most followed by the gaming community. Twitch is the top streaming platform for gaming in terms of streamers and viewers, with an average of 2.5 million visitors.
Facts and Statistics Behind eSports' Betting Scene
As the popularity of eSports is increasing, so is its betting scene. While it currently holds a small fraction of the online gambling industry's worth of $67 billion, it is predicted to expand soon. 
So, what are the most popular games and teams? Which countries are the most active? Keep reading to find out.
9. In 2020, loot.bet's largest winning bet was €6,520 in net profit for a €20 wager.
(Esports Insider)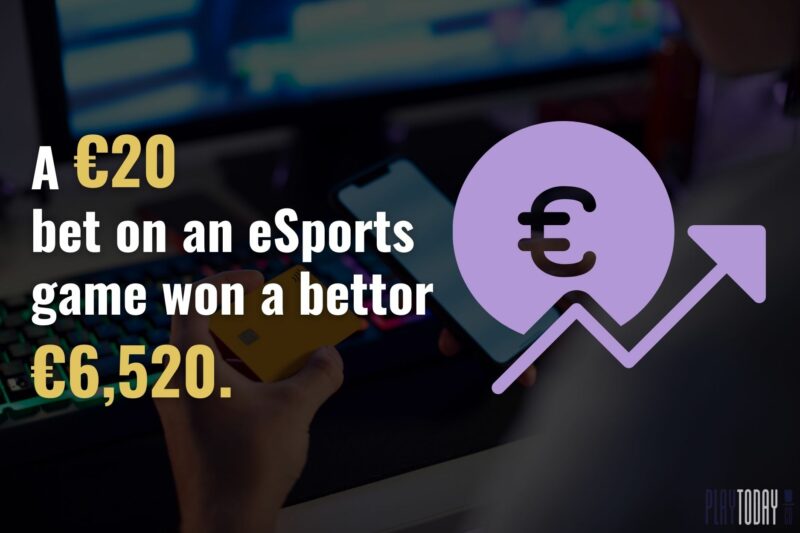 While numbers for 2020 might have been affected by the pandemic, 2021 saw much higher numbers regarding eSports bets.
Some games achieved a higher average bet amount than others. The stats reveal the top three games in average wagers:
League of Legends:

€32.34

King of Glory:

€30.60

Call of Duty:

€27.20
Interestingly, some of the most popular games, such as Fortnite and CS: GO, did not rank too high.
When it comes to volume, things are a bit different. The top spot goes to CS: GO, with over half of all global bets. See below for details:
CS: GO:

53% of all wagers 

DOTA 2:

35% of all wagers

League of Legends:

7% of all wagers

Other games:

5% of all wagers
10. The eSports bettors population was around 58% in 2020.
(Esports Insider)
Despite pandemic protocols leading to the postponement of most eSporting events in 2020, its betting scene was unaffected, with an estimated 67% increase in the volume of eSports bets.
Concerning the global eSports wagering activity, the betting patterns show inconsistency.
Regarding the average quantity of bets per client, the statistics below highlight which countries bet the most in which games.
| | | |
| --- | --- | --- |
| Game | Most Active | Least Active |
| CS: GO | 🇭🇺 Hungary | 🇵🇱 Poland |
| DOTA 2 | 🇯🇵 Japan | 🇷🇺 Russia |
| League of Legends | 🇨🇭 Switzerland | 🇺🇦 Ukraine |
11. CS: GO takes the top spot for most betted on eSports game in 2023.
(Abios Gaming, ESTNN)
Among the many eSports titles in the competitive scene, three games have been consistently seen at the top of the betting charts from 2021-2023, namely:
CS: GO

DOTA 2

League of Legends
Recalling the stats on the largest player base and prize pool, it's unsurprising that the 3 are the most betted on as they also hold the most fans and highest prizes in the competitive scene.
Factors That Make CS: GO Betting Popular
(Abios Gaming, Liquipedia)
The CS: GO scene is one of the oldest gaming communities, as the base for the game started in 1999 with the original Half-Life mod, which was followed immediately by a global scale.
The game's competitive is also easy to follow due to its consistent schedule scattered throughout the calendar year, making the games easy to bet on.
The Most Prominent eSports Teams To Bet On
(Abios Gaming)
Aside from the games, fans also have their favorite teams to support, affecting their betting decisions. The eSports teams below are considered top-tier and are the most followed teams in recent years.

eSports Facts and Statistics: Growth and Trends
The future of eSports considers many factors, including the legalization of eSports betting across the US and the increase in new eSports demographics.
The world has seen how the industry evolved, from its obscure origins with "Spacewar!" to becoming a multi-billion dollar industry.
Continue and learn about the current and upcoming trends surrounding this massive video game industry phenomenon.
12. The mobile eSports scene is booming, gaining a 12,900% viewership rise in hours watched from 2017-2022.
(ES Charts, ES Charts, Newzoo)
With flagship games such as Mobile Legends, Honor of Kings, and PUBG Mobile, the mobile gaming community stands to continue its growth in the industry,
Viewership data from 2017 saw around 5 million total hours watched for the mobile eSports scene, which rose to 650 million by 2022, signifying a 12,900% rise within the last six years.
Mobile eSports stats show that while PC games still have the highest viewership in terms of hours, some mobile games have moved into the top five.
13. 2020 saw managements diversify their eSports organizations with lifestyle brandings and content creation.
(WePC, Gosu Gamers, Yahoo News, Youtube, Net Influencer)
eSports organizations are moving towards positioning their companies as lifestyle brands and are moving towards content creator strategies.
A great example is the partnership between OG eSports and Red Bull, a popular energy drink brand worldwide.
The partnership has led to several activities beyond gaming, such as their video content on YouTube, one of which currently has 6.8 million views.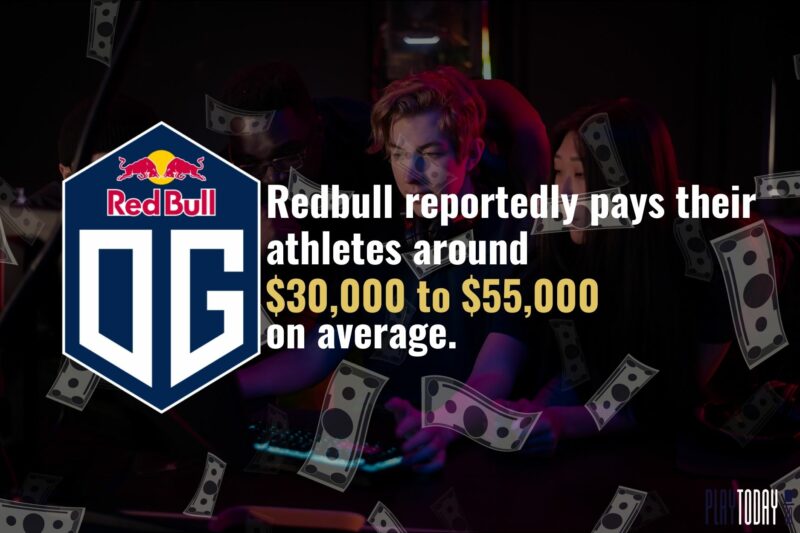 By linking with lifestyle brands, organizations become mainstream and solidify their income streams while diversifying their fan base.
Moreover, by signing content creators, companies will get more exposure and new sponsors. Having those influencers on board will also improve negotiations with various platforms.
14. The eSports market is projected to show an 8.31% CAGR for 2023-2027.
(Statista)
Experts see things going nowhere but up for eSports as a whole from 2023 onwards. The industry is forecasted to gain around a market volume of US$2.235 million by 2027.
Calling back to the statistics on viewership, it's unsurprising how consistent the revenue growth of eSports is, as the community growth doesn't seem to slow down.
15. For 2023, sponsorships and advertising are the leading segments funding the eSports market, with a volume of $894.60 million.
(Statista)
Ads and sponsors have evolved in how they support the industry. Aside from funding the organizations, companies have diversified the ways to create income streams for both parties.
Revenue growth from sponsors and ads highlights constant growth, predicting a $982.2 million industry by 2024, as shown below: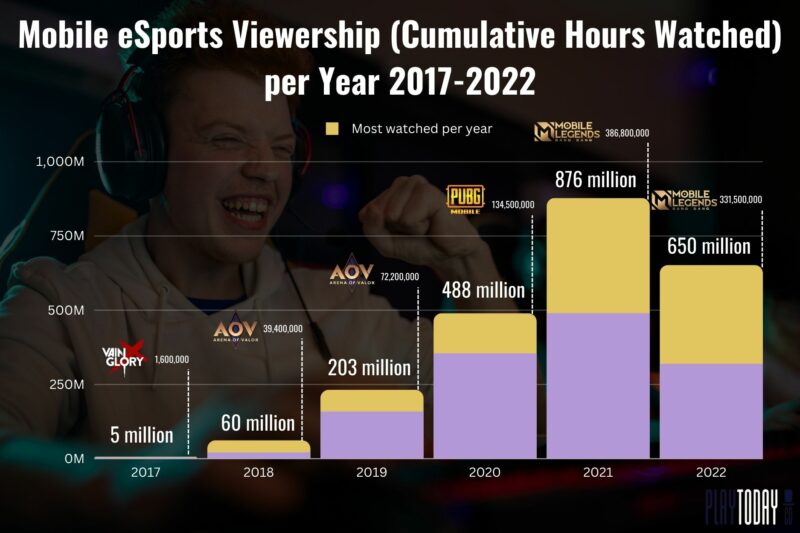 The top companies supporting eSports like Coca-Cola and GG.Bet has partnered with organizations to promote their lifestyle causes while bringing more audiences to the scene.
The Bottomline
More and more professional athletes and teams are starting to participate in eSports. The industry's market share and revenue will grow significantly in the next few years.
That's why we are confident that our eSports statistics will help you get an insight into the industry and perhaps even increase your chance to place a winning bet.
FAQ
Is eSports the fastest growing sport?
While the answer might not be as clear as yes or no, we can safely say that eSports is among the fastest-growing sports. Data show that in 2020, it was only behind the NFL in terms of viewers. And it has grown 163% in the last seven years.
Why is eSports so big?
There are many reasons why eSports are so popular. One is leisure — you can watch eSports right from your couch or computer. It's also very accessible, meaning that you can play or watch from multiple types of devices.
Also, there are many games and sports to choose from, keeping it exciting and engaging. Many professional players across multiple sports have embraced and started participating as well, helping to increase the popularity of eSports.
What are the benefits of playing eSports?
Playing eSports is not only fun but beneficial too. Experts agree that eSports help with cognitive and social development, such as critical thinking and socializing. It also improves problem-solving skills and critical thinking.
And on top of all that, with the growth of eSports, there are many possibilities for college scholarships, and the future job market looks bright.
Is eSports the most-watched sport?
While eSports is growing in popularity, soccer is the most popular and watched sport. There are an estimated 4 billion soccer fans in the world.
How big is the eSports market?
The COVID-19 pandemic affected the eSports industry and its worth in 2020, and it saw a decrease to $947.1 million in 2020 from $957.5 million in 2019. The good news is that the eSports market is expected to grow to $1.08 billion in 2021.
What is the eSports market growth?
The forecast for eSports is to reach $1.08 billion in 2021. That is a staggering 13% growth from 2019 and 14.5% from 2020. The forecast is for the industry to reach $1.62 billion in 2024, a mind-blowing 69% increase from 2019.
List of Sources: