The 21 Knockout Stats & Facts in Boxing History
Boxing is a sport loved by many despite the health risks that come with it. It is most prevalent in Europe, North America, Latin America, and some parts of Asia like Japan and the Philippines.
A 2021 US survey revealed that 33% were boxing fans, making the sport the fourth most popular in the country.
Below are some interesting facts about the boxing world you may have yet to hear.

Highlights of the Article
The earliest evidence of boxing originated in the 3rd millennium BCE.
The first Code of Rules in the history of boxing was written in 1743.
Earnie Shavers and George Foreman are the hardest punchers.
Studies show that 90% of professional boxers suffer brain injury.
The Mayweather VS Pacquiao 2015 boxing match generated 4.5 million buys – the highest PPV record ever.
Guinness recorded that the quickest knockout in boxing history took four seconds.
The longest boxing match lasted for over seven hours.
Women's boxing was introduced as an Olympic sport in London in 2012.
The highest bet on a boxing match was worth over $200,000.
Billy Bird still holds the record with the most knockouts at 138.
Boxing Stats and Facts
Boxing became more popular after it was legalized in 1920 in the US. In 2021, 6.7 million people in the US who are above six years old claimed that they practiced the sport at least once.
The sport also created names of not only prominent athletes but also the highest-paid athletes in 2023.
Get ready for a round of interesting facts and stats about Boxing worth noting.
Most Memorable Boxing Statistics
Behind Boxing's potential risks are countless impressive records and accomplishments gathered over the years.
For example, the American boxer Mike Tyson was hailed as the heavyweight champion at 20 years old, making him the youngest heavyweight champion ever.
Here are some of the most exciting boxing stats and facts worth exploring.
1. 90% of boxers suffer from brain injury during their career.
(NRI, AANS, Verywell Fit)
Stats indicate that boxing carries major health risks. Boxers often receive direct punches in the face, causing eye injuries.
Boxing injury statistics also show that boxers often sustain cuts, bruises, tooth damage, broken ribs, internal bleeding, etc.

Side Note
Since they are exposed to hits to the head, boxers are likely to suffer from Parkinson's or Alzheimer's disease later in life.
2. Floyd Mayweather's match recorded the highest boxing Pay Per View (PPV) numbers at 4.6 million buys.
(Statista, The New York Times)
Floyd Mayweather's match against Manny Pacquiao in 2015 broke the PPV record with 4.6 million buys at $100 each — the highest PPV and still the top-earning boxing match revenue ever.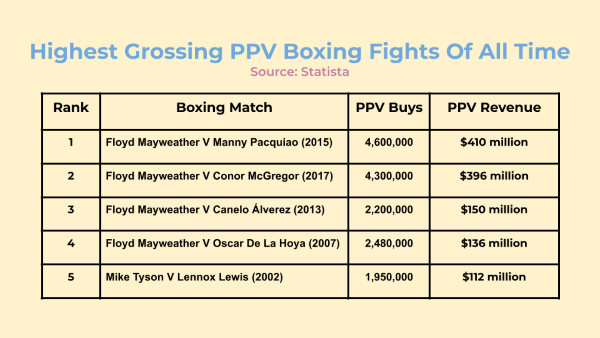 Although both boxers were past their prime, people anticipated this match more than any other match due to their impressive win-loss record, which later produced numbers and shattered records.

Side Note
In 2010, Floyd Mayweather made it to the list of the highest-paid athletes earning $65 million.
3. Billy Bird has 138 knockouts, the highest count in boxing history.
(Boxing Undefeated)
Billy Bird, active in the 1920s–1940s, has the most knockouts of any boxer in history. Out of the 356 matches he played in his career, he won as many as 138 by knockout.
His ability to read his opponent's fighting style from the get-go is greatly attributed to this record.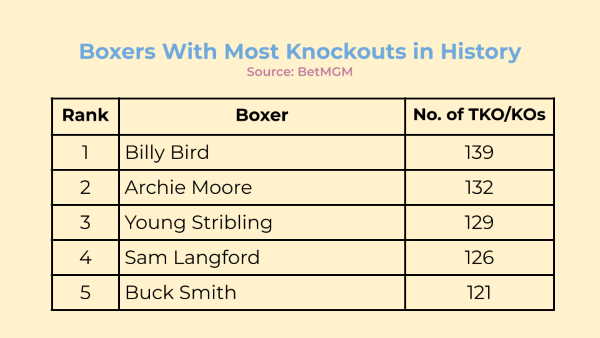 4. Boxing is becoming more popular in the US, with 6.7 million people reportedly participating.
(Statista, IBISWorld)
2021 saw 6.7 million people in the US participate in boxing, opening many opportunities for some industries to expand, eventually increasing boxing's share in the global sport's revenue.
The market size behind boxing gyms and clubs reached $1.2 billion in 2022. The boxing industry promotion's value reached $440 million.
By 2023, the number of businesses in the boxing gym and club industry has increased by 1.4% from 2022.
5. The highest bet on a match in boxing history was worth over $200,000 (£150,000).
(British Boxers)
Mayweather vs. Pacquiao set boxing records for PPV revenue and viewership. Moreover, pundits wagered the largest single bet on a boxing match on this fight.
The bookmaker was William Hill, and the bettor was a man over 80 from Northern Ireland. This man dropped over $200,000 wager at 1:2 odds.
The wagerer's intuition was correct because Mayweather won that night, making them much richer.
Worth Knowing Boxing Facts
"The Art of Self-Defense" or "The King of Combat Sports" are just some of the names boxing is known for. Today, it is one of the most popular sports and recreational activities across all ages.
These are some of the interesting facts about boxing. Here are a few more worth checking that made boxing one of the most anticipated sports events:
6. The hardest punchers in boxing history are George Foreman and Earnie Shavers.
(Inside the Ropes Boxing, Britannica)
Earnie Shavers and George Foreman have some of the most impressive boxing punch stats in boxing history.
Out of 74 triumphs, Shavers won 68 with knockouts. Even Muhammad Ali, one of the greatest boxers, said Earnie was the hardest puncher he fought.
Foreman's won his heavyweight title in fights where he would leave the opponent unable to fight in record time. He had a final career record of 76 wins, with 68 by knockouts.

Side Note
7. The number of rounds in boxing is capped at 12 maximum.
(Just Athletics)
The maximum number of rounds in a boxing match is 12, and the entire round lasts three minutes. This applies to World Championships, Olympics, and Commonwealth Games, too.
8. The boxing punch number system includes six moves.
(Straight to Boxing)
There are six basic punches in boxing which are organized by numbers. Here as follows:
Jab = 1

Straight/Cross = 2

Lead Hook = 3

Rear Hook = 4

Lead Uppercut = 5Rear Uppercut = 6
Trainers and boxers can strategize in creating the best combos based on this guide.
6 Basic Punches In Boxing l Numbers Explained
9. Boxing is an excellent exercise for overall health.
(WBCME, Livestrong.com)
Aside from improving one's cardiovascular health, boxing also enhances stamina and hand-eye coordination. Other benefits include better sleep quality and an increase in self-confidence and morale.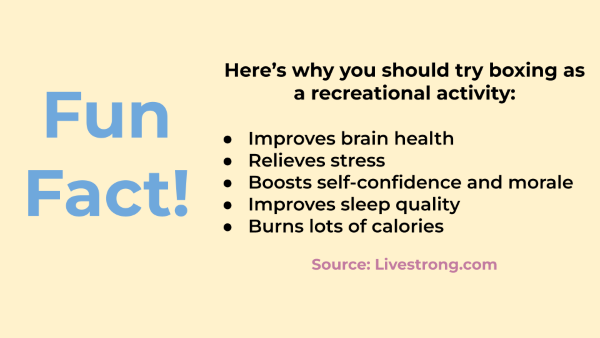 10. Boxing gloves could cause more harm than bare-knuckle boxing.
(Complex)
BYB Extreme's President Mike Vazquez claims boxing gloves could cause more long-term damage than bare-knuckle punches.
Considering the material used in making the gloves, Vazquez says that boxing gloves protect a fighter's hands but not the person receiving the punch.
11. Women's boxing was introduced as an Olympic sport in London in 2012.
(Fact Monster)
Although women's boxing has existed since at least the early 18th century, it was added to the Olympics for the first time in 2012.
That year, the first Olympic gold medal in women's boxing went to Nicola Adams from the UK.

Side Note
12. Sugar Ray Robinson's dream about killing his opponent in a match came true.
(ESPN)
In 1947, the night before his fight with Jimmy Doyle, Sugar Ray Robinson had a dream in which he killed his opponent during the fight.
What happened next was one of the strangest stories in boxing history. Robinson's dream came true as his opponent lost consciousness during the fight and never woke up.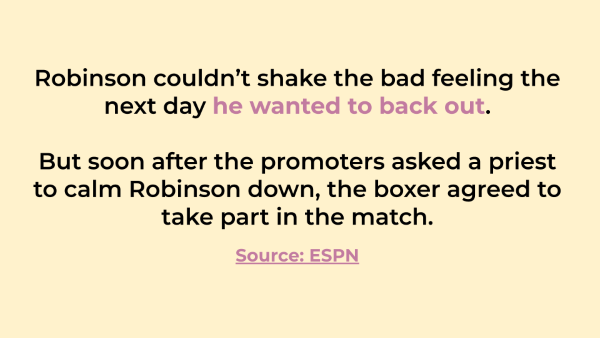 13. The fastest knockout in boxing history took four seconds.
(Guinness World Records, History of Sports)
The fastest knockout ever took only four seconds.
It happened on November 4, 1947, when Mike Collins performed the best and quickest KO in boxing history against Pat Brownson during the Golden Gloves tournament in Minneapolis, Minnesota.

Side Note
Golden Gloves is not considered a professional boxing tournament. This is why the referee refused to give the 10-second count after the first knockout (which is how boxing tournaments are played now) and called it quits.
History says that Collins had changed his strategy to a "southpaw" posture upon entering the ring, which confused Brownson, and he took the win in a blink of an eye.
14. The longest fight in boxing history lasted for over seven hours.
(The Vintage News)
The 1893 Jack Burke and Andy Bowen fight was the longest boxing match recorded, lasting for seven hours and nineteen minutes in 110 rounds.

Side Note
The match started at 9 pm and ended at 4 am the next day with 27 rounds in total.
Both fighters showed endurance despite the bruises.
However, this did not stop most spectators from falling asleep and going home.
"It's not over until someone says it's over" was what used to be the rule in boxing back then, as both fighters refused to give up. The referee decided on a draw between the two fighters and split the win.
A Brief History of Boxing
Boxing is as old as human history. The boxing we know today isn't exactly what it was when it was first developed and popularized in ancient Greece.
It was also popular during the ancient Roman Empire but was stopped in AD 393 due to its savagery.
It wasn't until 1740 that boxing developed to take the form of a sport.
Here are some of the most notable facts that will take you through the history of boxing.
15. The earliest appearance of boxing was in the 3rd millennium BCE.
(Britannica)
The earliest known visual portrayal of boxing comes from relief carvings created in the 3rd millennium BCE by the ancient Sumerians.
A carved jar from Minoan Crete in 1500 BCE is the first thing that shows that boxers wore gloves. It shows helmeted boxers with stiff plates on their hands.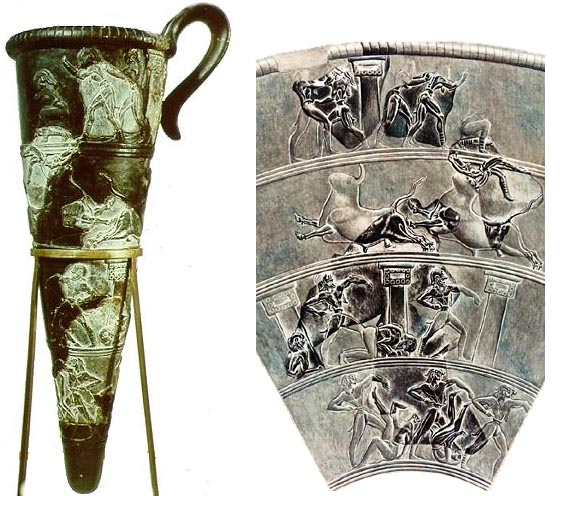 16. The earliest sign of rules in boxing history comes from Ancient Greece.
(Britannica)
Ancient boxing had no rounds or referees. The match continued until one of the players held up a finger to signal defeat or until one of the opponents could no longer fight.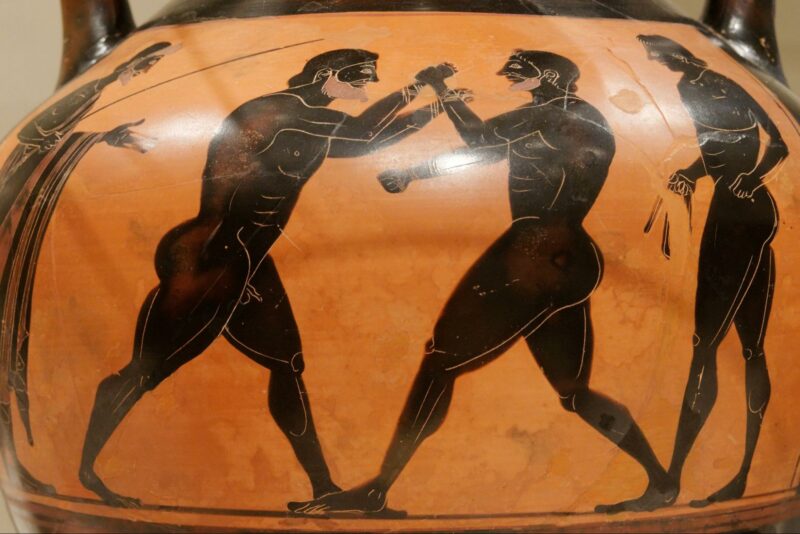 It also had no weight divisions and clinching. Since there were no rules, ancient boxing caused injuries, disfigurement, and sometimes, death.
17. Boxing became an Olympic Sport in 688 BCE.
(Olympics, Sport-Olympic)
Boxing first became an Olympic event in Greece in 688 BCE.
Fighters wore leather bands called himantes around their hands, wrists, and sometimes breasts for protection. They wore nothing to protect their heads or faces.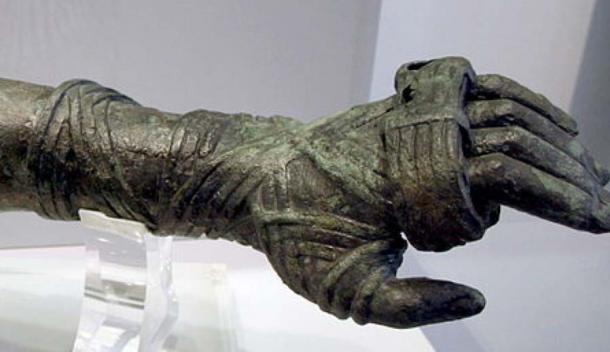 Onomastus of Smyrna was the first boxer to win a boxing gold medal in history.
18. Boxing was a popular spectator sport in the ancient Roman Empire.
(Cambridge, Onward Athletics)
The savagery of boxing sport in the ancient Roman Empire did not stop people from all classes to watch and enjoy.
Even Augustus, the first emperor of ancient Rome, was an avid fan of the sport and enjoyed watching matches between Roman and Greek boxers.
However, around 400 CE, Emperor Theodoric the Great completely banned the sport due to its brutality.
Boxing returned later to the sports scene in 1681 when a formal fight was recorded in Britain and became popular in the UK starting 1698.

Side Note
Ancient Roman boxers wore leather hand thongs with metal spikes or blades to make the caestus. This resulted in even more brutal disfigurements, injuries, and death. 
19. The first Code of Rules in the history of boxing was written in 1743.
(Britannica, BBBOFC)
The first official Code of Rules was developed in 1743 by Jack Broughton, recognized as the Father of Boxing.
Broughton's rules, with minor changes, were used in boxing until 1838 when it was replaced by the more detailed London Prize Ring Rules.
The Queensbury Rules, drafted by a boxer named John Graham Chambers in 1857, later replaced the London Prize Ring Rules.

Side Note
The Queensbury Rules standardized the use of gloves, rounds, breaks, and referees in boxing.
20. The history of boxing in America started after World War I.
(City Journal, Marine Theater Company)
The American Expeditionary Forces did a lot of boxing for entertainment and training in their camps in France. General John Pershing praised the sport's benefits for young men.
When those who had undergone military training programs returned to college campuses, intercollegiate boxing was introduced into higher education.
In the early 20th century, New York State legalized boxing. Boxing saw its golden era in the USA from the 1960s to 1970s and has become one of the most popular sports in the world.
21. The rise of television brought some of the biggest fights in boxing history.
(Men's Journal, New York Times)
Boxing's popularity soared when television came.
The first televised boxing match, aired on BBC TV, was between middleweights Archie Sexton and Lauri Raiteri at the Broadcasting House in London on August 22, 1933.
Boxing matches eventually started being distributed through the pay-per-view (PPV) service.
The heavyweight match between Evander Holyfield and George Foreman was the first boxing match aired by HBO Pay-Per-View on April 19, 1991.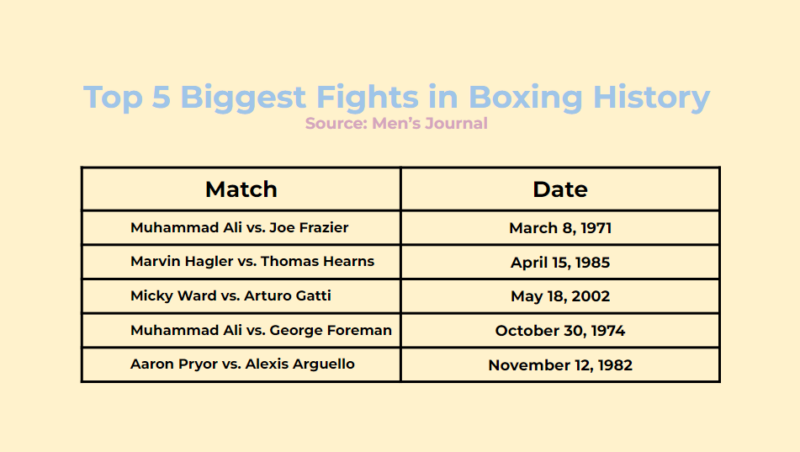 The Scorecard
Boxing has come a long way since it was first established – from what used to be a "never say never" until someone says so to the maximum 12 rounds duration today.
It's also no longer a man's world for this sport, as women's boxing has started to gain traction among sports fans.
Despite its health risks, many boxers have made a career out of this sport because of its high pay and popularity.
FAQs
Who invented boxing?

The earliest evidence for boxing comes from Sumerian artifacts estimated to be around five millennia old. The relief carvings depict two persons fighting with their fists.
Who is statistically the best boxer of all time?

Statistically, Rocky Marciano is the best boxer of all time, with a perfect 49-0 record in professional fights at 43 finishes. 
Who is the most feared boxer of all time?

Sonny Liston has been the most feared boxer ever since. In addition to his huge muscles and fists, he was an ex-con and a rumored Mafia member.
Which boxers have never lost a fight?

Here are 13 male boxers who have never lost a fight:

Jimmy Barry

Joe Calzaghe

Ji-won Kim

Mihai Leu

Ricardo Lopez

Rocky Marciano

Terry Marsh

Floyd Mayweather Jr.

Jack McAuliffe

Sven Ottke

Dmitry Pirog

Harry Simon

Pichit Sitbangprachan

Edwin Valero

Andre Ward
What country is known for boxing?

Based on market size and popularity, the US, the UK, Mexico, Russia, and Japan are the top countries known for boxing.
List of Sources: